If you look around, you will come across plenty of inspiring women who have crossed plenty of hurdles to reach where they are now. Their journey has been made possible because women before them have broken down seemingly impossible barriers. Indian history is filled with inspiring women who have paved the path for future generations. It would be a shame to let these women be forgotten and their achievements buried. This list of Top 10 Inspiring Women In India will encourage you to work harder for your goals and give it your very best shot. Top 10s Only is honoured to compile this list of distinguished and inspirational ladies in India. Each of the women on this list of top 10 inspirational females in India has made their mark in history with their skill and sheer determination.
Get Inspired By This List of Top 10 Inspiring Women In India!
Inspiring Indian Women No 1: Anandi Gopalrao Joshi – First Female Allopathic Doctor
Anandi Gopalrao Joshi has the distinction of being the first female doctor in India. Born in 1865, she was named Yamuna by her parents. However, it was later changed to Anandi by her husband. She was married off at the tender age of 9 to Gopalrao Joshi. Interestingly, it was Gopalrao who was adamant about Anandi receiving a proper education. He enrolled her in a missionary school, which was almost unheard of in the early 1800s.
It was again Gopalrao who sent Anandi to the United States to study medicine. She completed her two-year course in medicine at the Woman's Medical College of Pennsylvania and graduated in 1886 with an MD. Her thesis topic 'Obstetrics among the Aryan Hindoos' covered information from American textbooks as well as ancient Ayurvedic texts, making the thesis one of a kind in those days. She came back to India after her studies and was appointed as the physician of the female ward at the Albert Edward Hospital. Unfortunately, Anandibhai fell victim to tuberculosis after a year of her appointment. Although medicine arrived for her all the way from America, there was no improvement. Her death, at the tender age of 21 in 1887 was mourned all across the country. Nevertheless, she is considered among the top inspiring women in India even today. The Institute for Research and Documentation in Social Sciences. Lucknow awards the Anandibai Joshi Award for Medicine every year in honour of Anandibhai's contributions to medicine in India.
Inspiring Indian Women No 2: Arati Saha – First Asian Woman to Swim Across English Channel
Arati Saha's name deserves a spot on this great Indian women's list. She is well-known as the first Asian woman to swim across the English Channel in 1959. Born in 1940, she learned to swim at the young age of four. Her father soon noticed that she had a penchant for swimming and enrolled her in the Hatkhola Swimming Club. This led Arati to compete at the Shailendra Memorial Swimming Competition in 110 yards freestyle and win a gold medal, jumpstarting her swimming career.
She soon went on to win over twenty-two state-level competitions in West Bengal between 1945 and 1951. She managed to create an all-India record when she was only ten years old. She participated in the 1952 Summer Olympics at age 12. In 1959, Arati became famous for being the first Asian woman to successfully swim across the English Channel. The swim constituted forty-two miles from Cape Gris Nez, France to Sandgate, England. This accomplishment has made her one of the most inspiring women from the Indian subcontinent.
She was the first Indian female sportsperson to be awarded the Padma Shri in 1960. The Department of Post honoured Arati Shah by bringing out a postage stamp in 1999. A bust of this inspiring lady was erected near her home in 1996. The hundred-meter lane where the bust was placed was also named after Arati Shah. Arati Shah passed away in 1994 after battling jaundice and encephalitis. She is still greatly revered for her accomplishments to date. Recently, Google honoured her by featuring a Google Doodle on its homepage as a tribute to this amazing woman.
Inspiring Indian Women No 3: Captain Prem Mathur – First Woman Commercial Pilot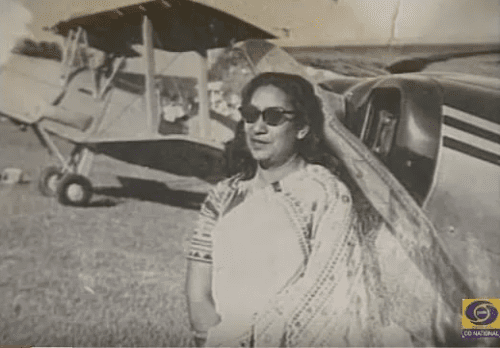 Captain Prem Mathur has the honour of being accorded as the first female Indian commercial pilot. Born in 1910, Mathur was the youngest of five siblings. While one of her brothers was a flying instructor another one worked in the same industry. Soon after the Second World War, her younger brother bought a few old war aircrafts. He sold one of these aircraft to the Lanka Flying Club. That is when he hired Captain Atal to deliver the aircraft to the club. Captain Atal played a pivotal role in Mathur's life.
When she showed no signs of fear while flying in a plane, Captain Atal decided to give her the controls and instructed her on how to fly the plane. This encouraged Mathur to seriously consider becoming a pilot. She managed to get trained after crossing a lot of hurdles. However, she was rejected by several airlines. Captain Prem Mathur refused to give up and continued trying until she finally got her first break at the age of 38. In fact, India became the first country to have a female pilot when Indian Airlineshired Captain Prem Mathur as a co-pilot in 1953. If you are looking for Indian women's inspirational stories of success, Captain Prem Mathur's story hits the bullseye. Mathur passed away in 1992 at the age of 82, surrounded by her family. Her sheer determination of flying a plane through the Indian skies is an inspiration to the young and old alike.
Inspiring Indian Women No 4: Harita Kaur Deol – First Female Pilot to Fly Solo in IAF
Harita Kaur Deol is one of the top 10 inspiring females from India. She is hailed as the first woman to fly an Avro HS-748 aircraft without a co-pilot in 1994. Born into a Sikh family in 1971, Deol was passionate about her dreams and turning them into reality. Her father was an Army veteran Colonel Deol, who had a hand in encouraging Harita to turn her dreams into reality. In 1992, the Indian Air Force put out advertisements for vacancies for eight female pilots.
Deol was one of the lucky applicants who made the cut. She and six other cadets became the first female Short Service Commission Officers in the IAF. Soon after, Flight Lieutenant Harita Kaur Deol had the chance to become the first female pilot to fly solo in the IAF. She scripted history by being the first Indian female to fly solo in an Avro HS-748 aircraft and reach a milestone for the IAF by flying at 10,000 feet.
Unfortunately, she died at the age of 24 in 1996, when the Indian Airforce aircraft she was co-piloting faced technical glitches and crash-landed killing all 24 Airforce personnel aboard. Nevertheless, she was a trendsetter and remains an inspiration to women in IAF.
Inspiring Indian Women No 5: Janaki Ammal – First Indian Woman Botanist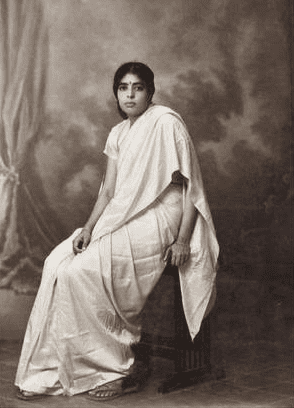 Meet Janaki Ammal, the first Indian woman to be awarded a PhD in Botany. Born in 1897 into a blended family with 19 siblings, she lived in an age when the majority of Indian women were denied an education. When it was her turn to be married, Ammal decided to pursue her studies and went on to attain a bachelor's degree from Queen Mary's College in Madras followed by an honours degree in botany from Presidency College in Madras. She was awarded the Barbour Scholarship in 1924, which enabled her to focus on plant cytology at the University of Michigan. She received her doctorate in 1931, becoming the first Indian female to receive a degree in botany in the U.S.
She then went on to make several significant contributions in her chosen field. Did you know that she is credited with making India's sugarcane varieties sweet? She was also an activist and spoke out against the hydroelectric project in Silent Valley in Kerala. She also produced different hybrids of the Indian eggplant.
It's no wonder that Janaki Ammal has a flower named after her, the delicate Magnolia Kobus Janaki Ammal. She braved through a patriarchal world to fulfil her academic dreams and make a name for herself. She is considered one of the top 10 women in Indian history. It was during her work at the Sugarcane Breeding Station in Coimbatore that Janaki Ammal was able to improve the indigenous sugarcane varieties of India. Janaki Ammal moved to England in 1940 to work at the renowned John Innes Institute. She also co-authored a book, Chromosome Atlas of Cultivated Plants, with Cyril Dean Darlington. She went on to become the first salaried female staff member at the Royal Horticultural Society in Wisley in 1946. This is where she conducted investigations of the Magnolia Kobus Janaki Ammal, a shrub that bears flowers with purple stamens and bright white flowers.
Although Ammal made her way back to India in 1950, the famous garden at Wisley is still home to the beautiful Magnolia Kobus Janaki Ammal blooms every spring. In her later years. Janki Ammal became a strong advocate for the preservation and value of India's indigenous plants. The Padma Shri was conferred upon her by the Government of India in 1977. The National Award of Taxonomy was instituted in her name in 2000 by the Ministry of Environment and Forestry.
She passed away in 1984 at the age of 86. Hailed as a pioneer in her field, Janaki Ammal has a well-deserved spot on every Top 10 list of inspirational females in India. The enduring biodiversity of Silent Valley and the beautiful magnolias at Wiseley's is a testament to the work carried out by Janaki Ammal.
Inspiring Indian Women No 6: Laxmi Agarwal – A Daring Social Activist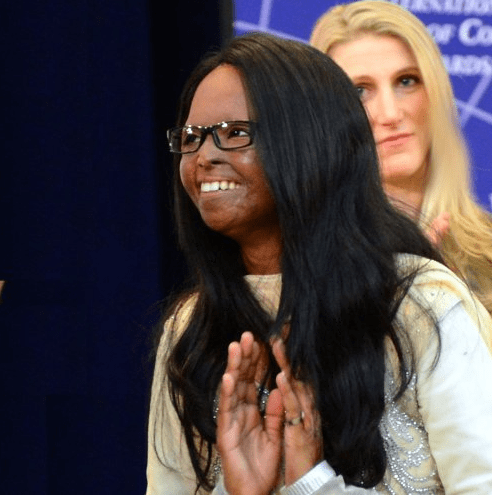 Laxmi Agarwal was only fifteen years old when she was attacked with acid by her stalker. However, she refused to let this keep her down and played a huge role in regulating the sale of acid in the country. In fact, she helped spearhead the campaign that was monumental in pushing the Supreme Court to regulate the sale of acid. Agarwal was also the former director of Chhanv Foundation, a non-profit organization dedicated to helping acid attack survivors in India.
Born in 1990, her undefeatable spirit has made her famous all across the country and even prompted Meghna Gulzar to direct a film, Chhapaak, about her story with Deepika Padukone playing the lead role. This helped bring about awareness of acid attacks and the experiences that the survivor of the attack goes through. Bollywood has often taken inspiration from real life to bring forth movies with inspirational and strong women characters. Laxmi Aggarwal is a campaigner for the right of acid attack survivors.
In 2014, she was awarded the International Women of Courage award followed by the International Women Empowerment Award in 2019 by UNICEF, the Ministry of Drinking Water and Sanitation, and the Ministry of Women and Child Development for her "Stop Acid Sale" campaign. Laxmi Agarwal is one of the top 10 inspirational females despite being the victim of a horrible attack that scarred her for life.
Inspiring Indian Women No 7: Miss C.B. Muthamma – First Woman IAS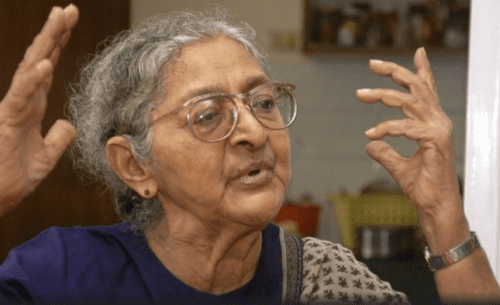 Chonira Beliappa Muthamma aka Miss C.B. Muthamma has a lot of firsts to her name. She was the first female to clear the IAS examination in 1948, the first female to join the Indian Foreign Service, and was also the first female Indian Diplomat as well. In time she soon became the first female Indian Ambassador also. Born in 1924, Muthamma was one of four children. Her mother was adamant that her children get the best education available. This support enabled Muthamma to graduate with a triple gold medal and then go on to attain a Master's degree from Presidency College.
After that, she started her career in the IFS after successfully clearing the exams in 1948. In those days, female diplomats were almost unheard of. She was made to sign an agreement that deterred her from marrying while she was in service. However, Muthamma played a huge role in gender discrimination in the Indian Civil Service. She even filed a case with the Supreme Court against these issues. Without a doubt, Muthamma is one of the inspiring ladies of India who have paved the path for future female officers in the Indian Civil Service.
When the time came for Mutumma to be promoted, she was unjustly overlooked. This forced her to file a petition against the government in the Supreme Court. Muthamma argued that the current rules pertaining to the employment of women were discriminatory. Finally. The Supreme Court Bench ruled in favor of Muthamma in 1979 and the discriminatory provisions in relation to foreign service personnel were struck down. This was a landmark judgment in India. Soon, Muthamma was posted as the Indian Ambassador to Hungary, being the first female Ambassador from India. Later she was posted in Ghana, followed by her last posting in the Netherlands. She passed away in 2009 at the age of 85. Thanks to her, women who joined the IFS in the consequent years did not have to bow down to discriminatory rules anymore.
Inspiring Indian Women No 8: Kamaladevi Chattopadhyay – First Feminist Icon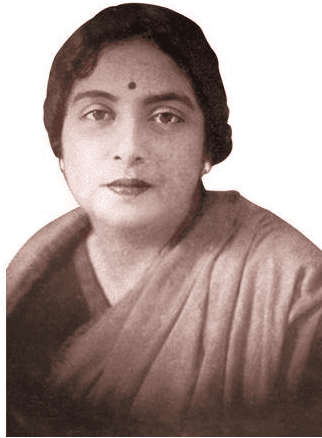 Kamaladevi Chattopadhyay is a pioneer in her own right. Born in 1903, she is regarded as the first feminist icon in India. Counted among the top inspiring female personalities of India, Chattopadhyay was also a freedom activist and a social reformer.
She played an important role in the Indian freedom struggle and political reforms in the country. She was the first female to contest the Madras provincial elections. This proved instrumental in getting her appointed as All-India Congress Committee's secretary within the year. During World War II, Kamaldevi visited America to share with political activists about India's non-violent approach to attain freedom. Although this act got her banned from returning to India, Kamaladevi South Africa, Japan, Vietnam, and China with her message.
She is remembered for her contribution to boosting handlooms, handicrafts, and theatre in India after Independence. Chattopadhyay played a pivotal role in the upliftment of social standards by being a part of several cultural institutions like the Central Cottage Industries Emporium, Crafts Council of India, Sangeet Natak Akademi, and the National School of Drama. She was honoured with the Sangeet Natak Akademi Fellowship in 1974, the Padma Bhushan in 1955, and the Padma Vibhushan in 1987 for her work. She soon passed away in 1988, at the age of 85. Kamaladevi is one of the rare women who lived her life to the full.
Inspiring Indian Women No 9: Shila Dawre – First Female Autorickshaw Driver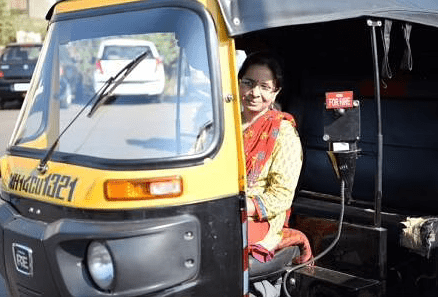 If you have noticed female auto-rickshaw drivers in your city or town, you have Shila Dawre to thank. One of the top 10 ladies in India, she was only 18 years old when she left her home to realize her dreams. In the 1980s, female drivers were a novelty and female auto-rickshaw drivers were non-existent. Shila Dawre took the bold step of entering this male-dominated platform and became a trailblazer. She is living proof that if you have a dream and work hard enough, no obstacles can keep you down. Shila Dawre has entered the Limca Book of Records as the first female auto rickshaw driver in India. Shila Dawre drove several vehicles from 1988 to 2001. Unfortunately, she had to stop driving due to certain health issues. However, this did not stop her from starting a travel company with her husband.
Inspiring Indian Women No 10: Saalumarada Thimmakka – First Female Environmentalist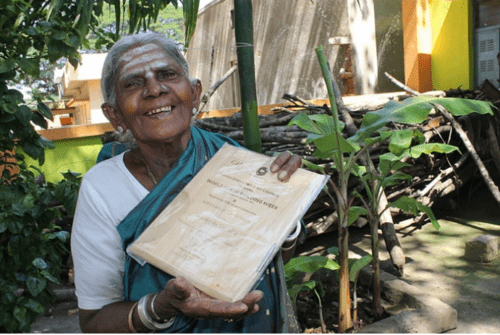 Saalumarada Thimmakka is considered one of the most inspiring women in history. Born in 1910, she became well-known as the first female Indian environmentalist. With no formal education, Thimmakka went ahead to plant over 385 banyan trees along the highway stretch between Hulikal and Kudur in Karnataka. The media took notice of her in 1995 when this inspirational woman was awarded the National Citizens Award.
Married to Bikaalu Chikkaiah at a young age, they found it difficult to start a family of their own. They took up pilgrimages, rituals, and prayers in hope of having offspring. This is when they started planting banyan trees in the hope of a child. They started caring for the saplings which soon formed a canopy along the road for 4 kilometers.
Thimmakka has planted more than 8000 other trees with her husband's help. Her work was recognized by the Government of India, and she was awarded the Padma Shri in 2019. She was also awarded an honorary doctorate by the Central University of Karnataka in 2020.
Inspirational Indian Women: Paving The Path For Future Generations
These inspirational women in Indian history were trailblazers in their chosen path. It is time to introduce them to the next generation to make sure their hard work and perseverance do not disappear into obscurity over time. Who knows, it might even inspire the new generation to explore new paths and make a name for themselves in the near future. After all, girls are no less capable than boys in achieving their dreams.