Tamil Nadu has a long and proud history and has produced some of the most renowned freedom fighters in the country. However, there are also many lesser-known Tamil freedom fighters who made their mark in India's struggle for freedom, but their names are not widely known. There are many unsung heroes who contributed to the movement whose names remain unknown and are not even mentioned in the history books. They played an important role in the struggle for independence, and many of them sacrificed their lives for the cause.
Here's a look at some of the Top 10 Lesser-Known Tamil Freedom Fighters In India.
Top 10 Lesser Known Tamil Freedom Fighters Of India
The sacrifices and struggles to achieve Indian Independence are not limited to famous names. Each province in India and Tamil Nadu has equally contributed to the freedom movement. There is a long list of people from the Madras Presidency who stood up for their rights. Men and women from Tamil Nadu actively and bravely fought for the country. Here is a list of the freedom fighters from Tamil Nadu, the Indian top 10 freedom fighters who are not well-known because history texts have failed to acknowledge their significant contribution to India's freedom struggle.
1. Tiruppur Kumaran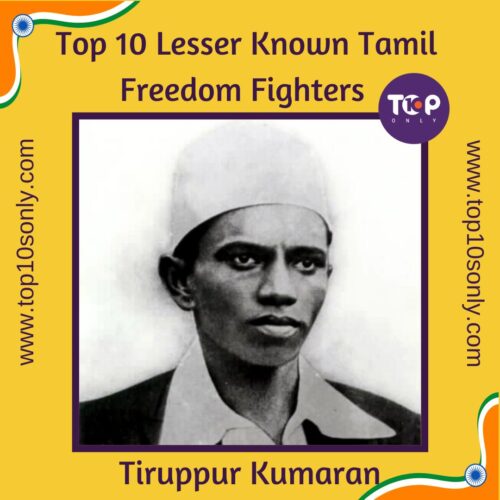 Tirupur Kumaran, or Kodi Kaatha Kumaran, is a freedom fighter and revolutionary. He is one of India's top 10 Tamil freedom fighters who took part in the Independence movement. Born in Chennimalai in Madras Presidency, he led various protests against the British and was the founder of the Desa Bandhu Youth Association. On January 11, 1932, he died as a result of injuries sustained during a police assault while on a protest march. He was given the phrase Kodi Kaatha Kumaran (Kumaran who protected the flag) as he died holding the Indian Nationalists' flag, which was banned by the British. He is one of the top 10 freedom fighters of Tamil Nadu, and a commemorative stamp was issued by India Post for his 100th birth anniversary. There is also a statue in his honour in Tirupur, which is used during public demonstrations.
2. Subramaniya Siva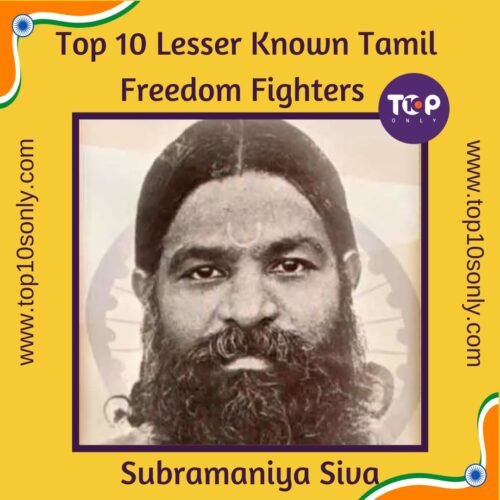 Subramaniya Siva, born on October 4, 1884, is one of the famous freedom fighters from Tamil Nadu. He was a prolific writer and a staunch activist for the Thanittamil, or Pure Tamil movement and lived during the Indian independence movement. He was born in a Brahmin family in a small village near Dindigul and joined the freedom movement in the year 1908. He was arrested in 1908 and sent to Madras jail as one of the first political prisoners. He developed leprosy while incarcerated, but he persisted in his travels and independence activism until his death from the same illness in 1925. He was the author of many books and journals. He is among the top Tamil Indian freedom fighters who fought for our freedom from the British. Along with a memorial in Papparapatti town, he also has a bus stop named after him at Batlagundu.
3. Vanchinathan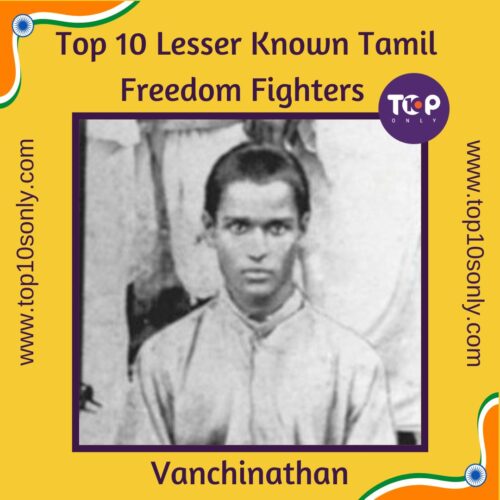 Vanchinathan is popularly called Vanchi and is one of the most notable leaders in this list, containing the names of the top 10 Tamil freedom fighters. He is one of the most prominent Tamilians who took part in the Indian freedom movement. He believed that the only way to achieve freedom was through the use of force. He is among the Indian freedom fighters from Tamil Nadu due to his assassination of Robert Ashe. Vanchi exacted vengeance on Ashe for the closure of India's first indigenous shipping company, the Swadeshi Steam Navigation Company. Vanchi, who shot Ashe while he was travelling to Madras by train, is automatically added to the top 10 list of Indian freedom fighters thanks to this act of valour. The railway station where Ashe was shot dead was named Vanchi Maniyachi.
4. Velu Nachiyar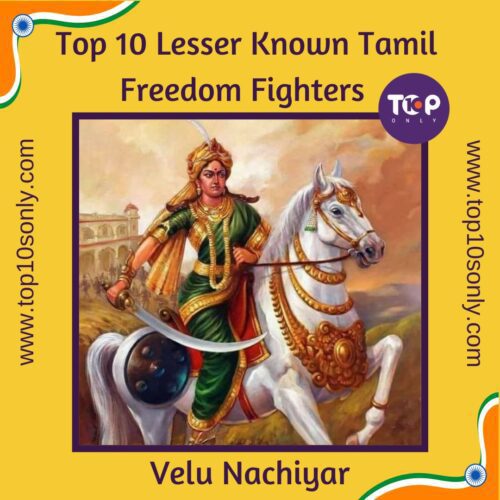 Rani Velu Nachiyar was a queen of Sivaganga in the 18th century and is at the top of the Tamil Nadu freedom fighters' women's list. She was trained in war weapon usage, martial arts, and various methods of combat. Her husband was killed while battling the East India Company soldiers, and that is when she got into conflict. She is one of the top female freedom fighters of India, who, with the support of Hyder Ali, Dalit commanders, and feudal lords, fought bravely with the East India Company. She is one of India's unsung Tamil female freedom fighters, and Tamils refer to her as Veeramangai. Check out this list of other top ten inspirational women in India!
5. Maruthu Pandiyar Brothers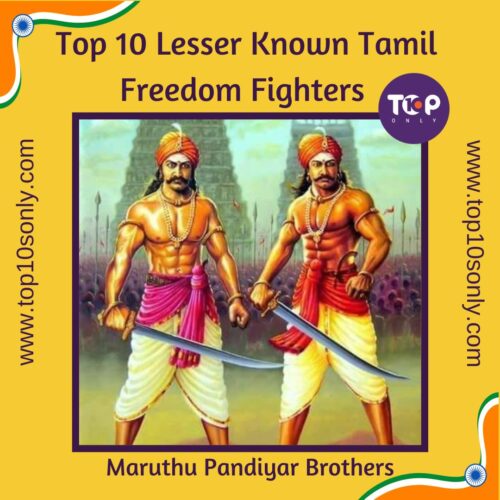 Despite their contributions, the Maruthu Pandiyar brothers—Valla Maruthu and his younger brother Chinna Maruthu—were among the not-so-famous Tamil freedom fighters of India. They were generals of Sivagangai's Muthu Vadugar. These two brothers assisted in bringing back Velu Nachiyar to the throne after Sivagangai's ruler was killed in the battle of Kalaiyar Kovil. Additionally, they put up a strong fight against the British and significantly damaged and destroyed the British troops. They may be in the list of Indian top 10 freedom fighters who are not well-known, but they were the founders of guerilla warfare in India during the early colonisation period. A film was made in their name called Sivagangai Seemai, and the Indian Government also released a stamp in their honour. Locals also worship them, and they even have a temple dedicated to them in Kedah, Malaysia.
6. Kuyili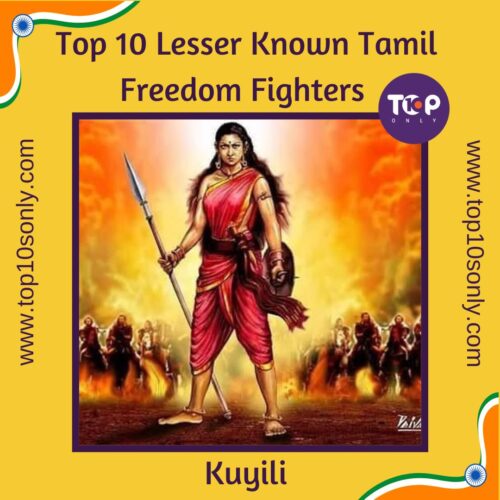 Kuyili was a commander-in-chief to Velu Nachiyar, the queen of Sivagangai. The queen was a not-so-famous Tamil freedom fighter, and so was her second-in-command. Though both went unrecognised, they played an important role in Tamil history. Kuyili, also called Veerathalapathy, was the first Indian to be a suicide bomber and a martyr in Indian history. Kuyili, along with Velu Nachiyar, participated in many campaigns and battles against the East India Company. Kuyili, as commander-in-chief, was sharp and brave. She planned a surprise attack on the British. She made great use of the chaos and destroyed all the weapons of the British army by immolating herself in the storage area. Her bravery allowed Velu Nachiyar to win the battle and also reclaim the kingdom. Though she remains one of the unknown Tamil freedom fighters, her actions helped in restoring the identity of the people of Sivagangai.
7. Veerapandiya Kattabomman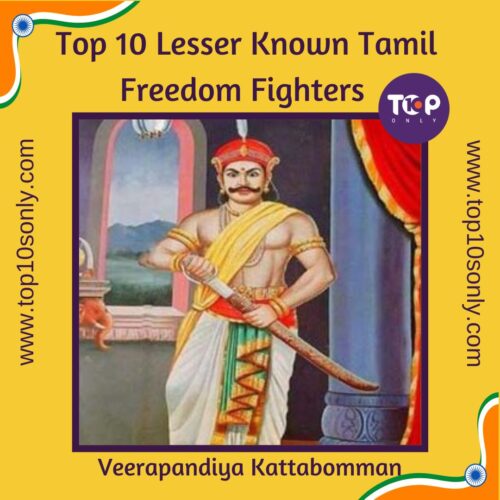 Veerapandiya Kattabomman, who is a brave freedom fighter of Tamil Nadu, was a king who ruled Panchalankurichi during the 18th century. He fought against the British East India Company and did not accept their sovereignty. After an unsuccessful battle with the British, he was captured by them with the help of the other rulers and was later hanged to death. The site where his hanging took place is a powerful local shrine. The Government of India has also erected a memorial at Kayathar in his name. He is among the top 10 freedom fighters of India in Tamil, and there's even a movie called Veerapandiya Kattabomman (starring legendary actor Sivaji Ganesan) based on him.
8. Dheeran Chinnamalai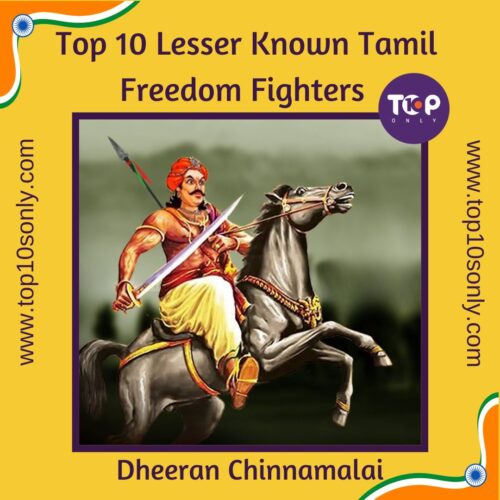 Dheeran Chinnamalai was born in Melapalayam, Erode, in 1756. He was called Theertagiri Gounder at birth but became Dheeran Chinnamalai later in his life. Around 1799 to 1805, the Polygar Wars were fought between the British East India Company and the Polygars. Theertagiri and his brother learned martial arts, which they later put to use when he formed the Kongu Tamil Youth Association and taught them martial arts. He subsequently became a chieftain and revolted against the East India Company. He was one of the unknown freedom fighters of India in Tamil Nadu, who had a vast army and was instrumental in winning many battles against the British. Many statues and memorials were built in his honour and stand tall even today. He may be a not-so-famous Tamil freedom fighter for the common man, but India Post has recognised his contribution and released a stamp to commemorate his achievements.
9. Pulidevan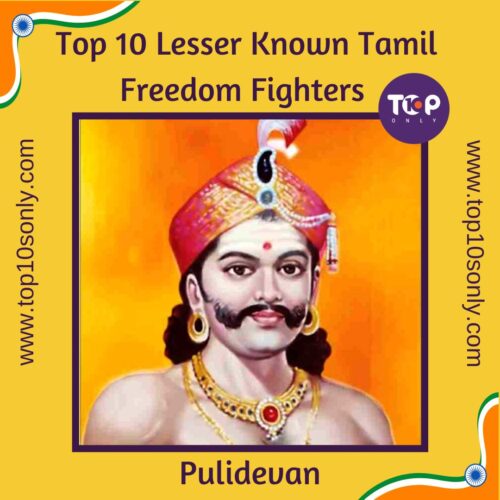 Pulidevan, also called Puli Thevar, where Puli means a tiger in Tamil, was a Poligar or a Palayakkar. He was a chieftain of the Hindu Maravar community and lived from 1715 to 1768. He holds the distinction of being the first Hindu local ruler in the entire subcontinent to rebel against British oppression, even before Mangal Pandey was hanged. As a result, he not only appears as a leader in the names of 10 Tamil freedom fighters but also in the name of the entire country. He was a warrior of great ability and was known for his war strategy as well as diplomacy. Puli Thevar was maligned by British historians as a deceitful person, but he remained invincible until Yusuf Khan suppressed the revolts. Later, he escaped, leaving no clues to anyone, and he remains an immortal hero in Tamil Nadu history.
10. Maruthanayagam Pillai alias Muhammad Yusuf Khan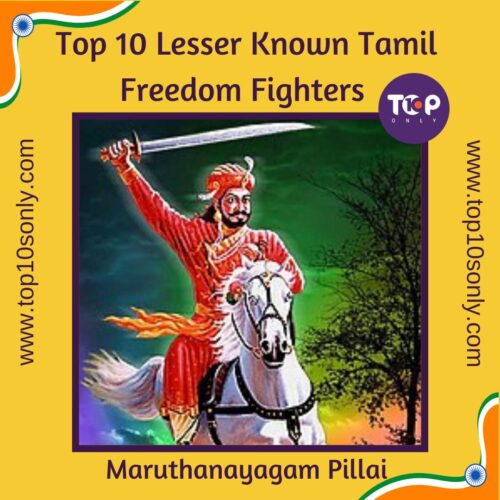 Maruthanayagam Pillai, also known as Muhammad Yusuf Khan, was an 18th-century Indian freedom fighter who fought against the British East India Company. He was born in a small village in Ramanathapuram district of Tamil Nadu. He was a warrior and a noble who fought for the freedom of his people from the oppressive policies of the British. He led a revolt against the Company and was eventually captured and hanged in 1764.
He was a brave and courageous leader who was respected by his people. He was also a great organizer and was able to bring together large numbers of people to fight for their cause. He is remembered for his courage, determination and leadership. He is also credited for uniting various small kingdoms and principalities under his banner to fight against the British. He is venerated as a martyr in some parts of Tamil Nadu.
Tamil Nadu has a long history of brave warriors such as the Cholas, Cheras, and Pandyas. From this land, there were many common men and women, leaders, and politicians who fought for Indian independence. Only a handful are celebrated, while the rest remain out of the limelight. The above list of the best freedom fighters in Tamil Nadu is an attempt to finally give them the recognition they deserve.
Frequently Asked Questions
1. Who are the Tamil Nadu freedom fighters?
There are many Tamil Nadu freedom fighters, but some of the more prominent names are G. Subramaniam Iyer, Salem Ramaswami Mudaliar, Rangaiah Naidu, and many more. There are also several unsung heroes, such as the ones mentioned in our list of the top 10 lesser-known Tamil freedom fighters.
2. Who is the first freedom fighter in Tamil Nadu?
Maveetan Alagumuthu Kone was the first freedom fighter to revolt against the British. He fought a war against the British from 1750 to 1759. 
3. Who are the female freedom fighters of Tamil Nadu?
Rani Velu Nachiyar, born in 1730, was India's first Tamil female freedom fighter. Her commander is believed to have been a brave female freedom fighter named Kuyili.
4. Who is the bravest freedom fighter?
Every freedom fighter is the bravest, as he or she gave up their life for the freedom of the people of this country. But Kuyili was one of the bravest and first female suicide bombers in the battle for freedom.
5. Who are the unknown freedom fighters from Tamil Nadu?
Puli Thevar, Maruthanayagam Pillai, Veerapandiya Kattabomman, Subramaniya Siva, and Kodi Kaatha Kumaran are just a few of the unsung freedom fighters from Tamil Nadu. Their immense sacrifice needs to be honoured, and their life stories must serve as inspiration for future generations.