Daughters have always held a very special place in every parent's heart. From the day she is born, she wraps up everyone in her family around her little finger. Her smile lights up the home, and her cry pierces every heart. A daughter is the apple of her father's eye and the loyal comrade of her mother. So, is it any wonder that she has a day dedicated to her?
Celebrating Our Daughters – International Daughter's Day
The true nature of a nation can be determined by how it treats its daughters.
A strong woman is a daughter who was nurtured in a progressive environment. However, not all daughters are lucky. In an effort to rectify this, every year, on the 4th Sunday in September, nations come together to acknowledge the importance of young girls, our daughters. This day is celebrated worldwide as "International Daughter's Day".
Let's commemorate our daughters today with the Top 10 Happy International Daughter's Day Quotes & Sayings, compiled by Top 10s Only. These quotes/messages are guaranteed to bring a smile to your daughter's face!
Top 10 Happy International Daughter's Day Quotes & Sayings
1. "My daughter is turning out just like me. Well played, Karma, well played" – Unknown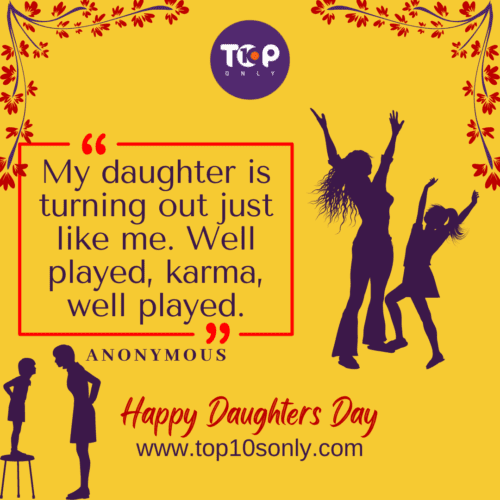 Karma always strikes when you least expect it! Our daughters are said to be an advanced version of us. So, beware if you've been a handful to your parents! Remember, what goes around always comes around! On this International Daughter's Day, we dare you to put this funny quote & image as your Instagram/Whatsapp/Facebook status! Rest assured, all your friends (and daughters) secretly agree with this!
2. "Never grow a wishbone, daughter, where your backbone ought to be" – Clementine Paddleford
This quote is an inspirational message for daughters, and what better time to share it than on International Daughter's Day! This daughter's day quote aims to instil strength and courage into the heart of each and every daughter as she prepares to face the world on her own. As parents, we are duty-bound to ensure that our daughters possess strong personalities with the strength to speak up for themselves and are thus never intimidated by the pressures of society.
3. "A daughter is God's way of saying, 'thought you could use a lifelong friend" – Unknown
According to this best daughter's day quote, the bond between parents and their daughters is very powerful. Our daughters are destined to be our greatest allies and our closest confidantes. They are attentive listeners and will hear all your stories. They will always have your back as we have theirs. A daughter will not be scared to tell you the truth, as hurtful as it may be. They instinctively know when something is off with us and will not rest until they know what it is. They laugh with us and more often at us! In short, our daughters tick all the boxes on the friendship list!
4. "Courage, sacrifice, determination, commitment, toughness, heart, talent, guts. That's what little girls are made of" – Bethany Hamilton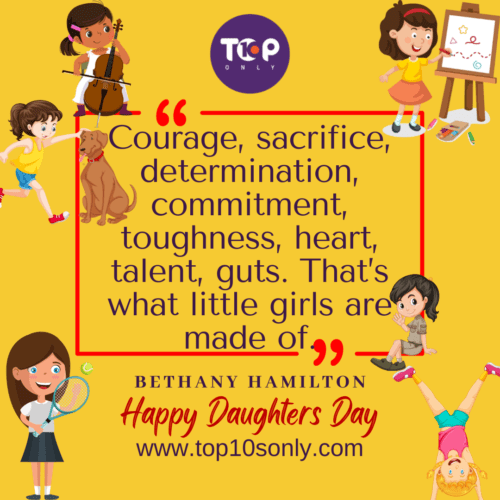 International Daughter's Day is the perfect day to acknowledge the true value of our daughters. According to this inspirational daughter's day quote, every daughter is inherently strong, and her personality is more than capable of withstanding many a storm. May all parents draw inspiration from the strength of character and resolve of their daughters!
5. "I don't want my daughter to follow in my footsteps. I want her to walk the path beside me and go even further than I could have ever dreamed" – Unknown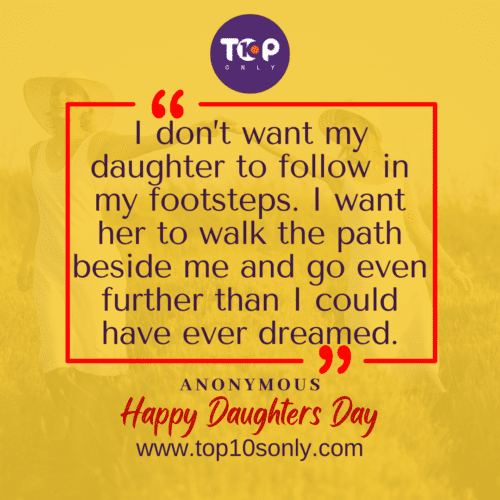 This is a beautiful message/quote meant for all daughters. Every parent dreams of their daughter's success. In many cases, this success will only be achieved by taking a different path than the one the parents had taken. On this International Daughter's Day, let us, as parents, have the wisdom to let our daughters choose for themselves their path to success.
6. "Having a daughter makes you see things in a different way" -Tracy Morgan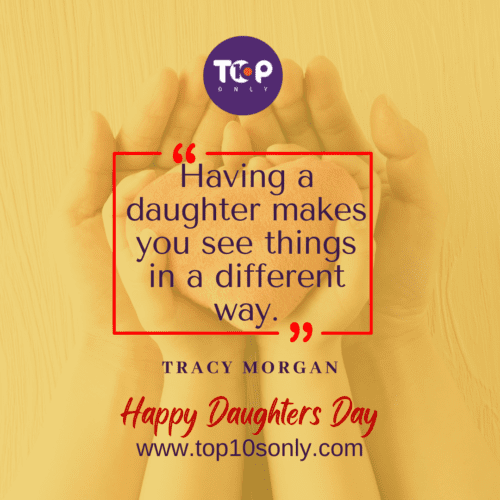 This is one of the best short and sweet quotes for International Daughter's Day, ideally suited for sharing on social media platforms like Instagram and Whatsapp. According to this quote, parents undergo a profound transformation when a daughter enters their lives. Many parents notice that their outlook slowly changes as they raise their daughters. They begin to see things differently, and their attitudes undergo subtle changes.
7. "A daughter is the happy memories of the past, the joyful moments of the present, and the hope and promise of the future"- Bruce Barton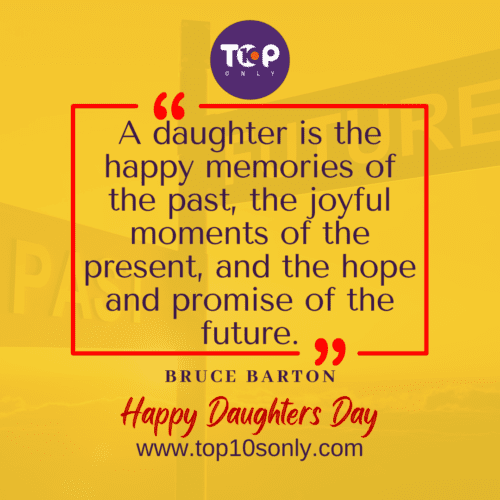 If you are looking for beautiful Happy Daughter's Day quotes by famous personalities, look no further than this quote. A daughter is the source of timeless joy. Her childhood antics were delightful, and these will often be thought of nostalgically in the future by her parents. As an adult, she will be a dedicated citizen of her country, loaded with many duties and responsibilities. She will single-handedly manage every aspect of her life, often doing so with a smile. What better way to honour our daughters than by celebrating International Daughter's Day!
8. "A daughter may outgrow your lap, but she will never outgrow your heart" – Unknown
A child is always a child in their parent's eye. A daughter remains a daughter, regardless if she becomes a mother or a grandmother. A parent's love for their daughter is timeless. It never diminishes with age. She is forever the apple of their eye. This poignant quote on daughters growing up will surely tug every parent's heartstrings on this International Daughter's Day!
9. "My daughter is not the child that I expected. She is so much more" – Brenda Kosciuk
Our daughters have so much potential! Never make the mistake of underestimating them. They are intrinsically resilient and smart. They are intuitive, and their sensitivity is a source of comfort in many families. Given the right environment, our daughters will thrive and succeed. May this deeply thought-provoking quote by Brenda Kosciuk for International Daughter's Day remind everyone of the great inner strength that resides within each daughter!
10. "What I wanted most for my daughter was that she be able to soar confidently in her own sky, whatever that may be" — Helen Claes
Our daughters deserve the chance to dream and to be independent and free. They must be given the opportunity to follow their own paths in life and to fulfil their aspirations, on their own terms. We parents must strengthen our daughters' confidence and resolve because the world is designed to be tough on them. May this motivational quote/message on International Daughter's Day inspire our daughters to break through every glass ceiling they encounter in their life's journey!
We hope you liked our list of Top 10 International Daughter's Day Quotes, Messages & Sayings. Make sure to celebrate this daughter's day by sharing these quotes/messages with images via social media platforms like Instagram, Whatsapp and Facebook!
If you are looking for more inspirational articles, try reading about the Top 10 List of Inspiring Women In India.