Friends help make life seem better and easier. Who better to turn to than a friend when you are in trouble? While some friends grow apart, other friendships linger around far longer than expected. Long-lasting friendships are a valued treasure that needs to be nurtured and cared for. After all, a true friend is worth more than gold! Some friendships are formed due to common interests, while others are formed due to a bond over a common experience. Regardless of how the friendship starts, one cannot disagree that having friends in your life makes it all the better! Let's look at a few popular friendships that defied boundaries and how they made a mark in history.
List of Top 10 Popular Friendships That Defied Boundaries in Indian History
1. Kopperuncholan And Pisiranthaiyar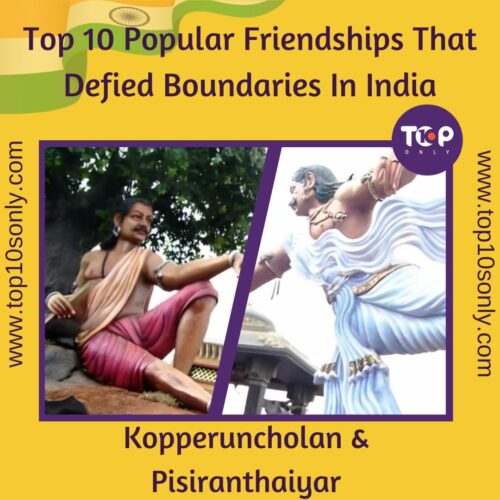 Among notable famous friendships in Indian history is the one between Kopperuncholan, an early Chola King, and Pisiranthaiyar, a poet from the neighbouring Pandya Kingdom. About 2000 years back in South India, these men showed the world what true friendship means. Both men never met each other during their lifetime but shared a great deal of affection for one another. Pisiranthaiyar was impressed by Kopperuncholan's country's governance, while the King was fascinated by the poet's literature.
As time went by, Kopperuncholan's rule was under threat from his two sons. In order to avoid killing his sons or having his sons take over his throne, he decided to die via Vadakkiuruthal. This is an act where one shed's life without food or water by sitting in a spot facing north. The King was so sure of his friendship that he fixed a spot for Pisiranthaiyar as well next to him. Unfortunately, Pisiranthaiyar was late and arrived after the King passed away. Nevertheless, he sat in the spot allocated for him by his friend, the King and shed his life like Kopperuncholan.
2. Rani Velu Nachiyar And Kuyili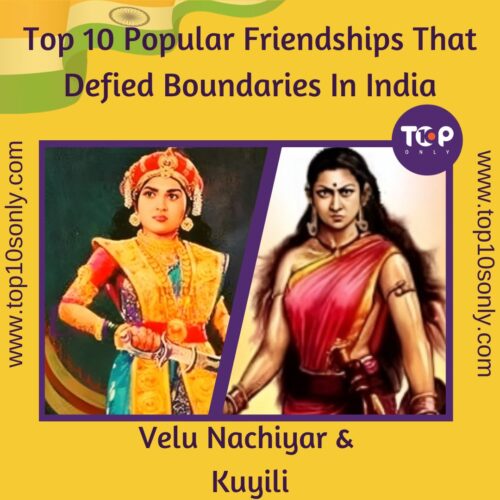 Queen Velu Nachiyaar of Sivaganga was the first ruler to wage war against the British back in the 18th century. This was the first war of Indian Independence though we hardly find any mention of it in history. Her commander-in-chief Kuyili, a Dalit, was her close aide and friend who saved the exiled queen's life on many occasions. Though she was born in a low caste, Kuyili and her father enjoyed special privileges in Velu Nachiyar's court. Kuyili and Velu Nachiyar's friendship and respect for each other is always a talking point. There was an instance where on her will to save Velu Nachiyar's life, Kuyili single-handedly fought off an intruder. In the process, she was severely injured, and Velu Nachiyaar ripped a portion of her saree to dress Kuyili's wounds.
In her quest to reclaim her queen's kingdom and pride, Kuyili had shown loyalty, street-smartness and courage. However, her last act of love and sacrifice for Velu Nachiyaar was the crowning glory. Kuyili, known for her bravery, is believed to be the first suicide bomber in the history of mankind. Dressed as a civilian, she asked her companions to pour oil and ghee on her, doused herself with fire and walked into the armoury of the British, catching them unaware. This brave act helped Queen Velu Nachiyar reclaim her fort. Two brave women who knocked out the British (though temporarily), their love and respect for each other inspires. Nevertheless, this is one of the top 10 best friendships in India that are still remembered today. 
You can read more about these brave warriors and more in our article that lists the top 10 lesser-known freedom fighters from Tamil Nadu!
3. Jadunath Sarkar, GS Sardesai And Raghubir Sinh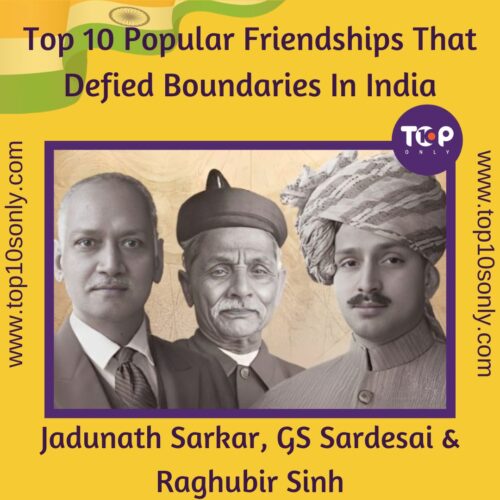 Any list of the best 10 friendships in India would be incomplete without mentioning the legendary trio, Jadunath Sarkar, GS Sardesai, and Raghubir Sinh. These three historians forged a bond that lasted over half a century as they corresponded with one another regularly. Sardesai and Sarkar met for the first time in 1909 after four years of exchanging letters. Since then, the two had met frequently. Sinh joined Sarkar and Sardesai, and the trio infused all their energy into writing Indian history. Their close and supportive friendship and shared interests in research and writing history accurately helped them develop an unbreakable bond and still treasured today. Their bond has also been immortalised in the book History Men by T.C.A. Raghavan.
4. Bal Gangadhar Tilak And Mohammed Ali Jinnah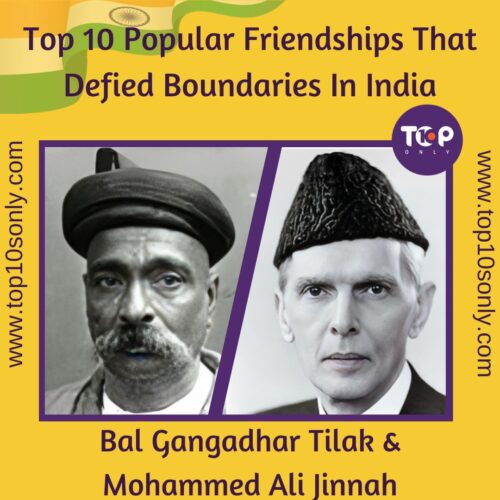 One of India's most interesting historical friendships has to be the one between Mohammed Ali Jinnah and Lokmanya Bal Gangadhar Tilak. This friendship lays to rest the myth that Jinnah was a Muslim communalist while Tilak was alleged to be a Hindu communalist. The association between these two gentlemen clarifies that friendship can cross bounds when there is a common goal in sight. In this case, this was to oust the British from India and start self-rule. The two became acquainted and soon had long conversations at Tilak's home and Jinnah's chambers in the High Court. They met regularly to discuss the day-to-day activities of the political propaganda of introducing self-rule in India. Jinnah was quite vocal about his friendship with Tilak and even talked about him during his public meetings. Both these men believed in the union of the Hindu and Muslim communities for peaceful rule in the country. Even when Jinnah changed his political stand, his friendship with Tilak never faltered. No wonder this remains one of the best examples of friendship in world history.
5. Ratan Tata And Shantanu Naidu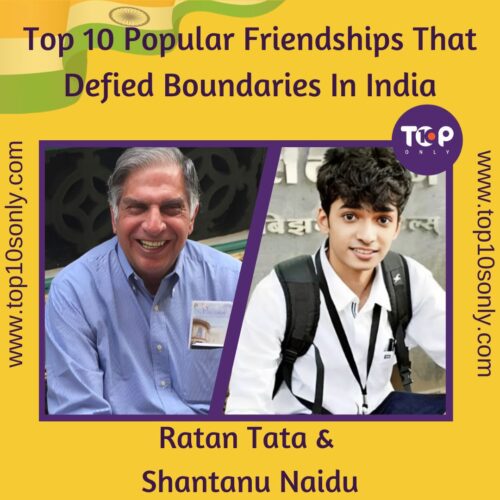 While talking about best friends in history, the unlikely friendship between Ratan Tata and Shantanu Naidu comes to mind. Ratan Tata led the Tata Group for 21 years and is still going strong today. He found himself a friend in the young Shantanu Naidu via their mutual love for dogs. Tata contacted Naidu when the latter mentioned his innovative work in developing glow-in-the-dark collars for stray dogs in the company newsletter. They soon started exchanging emails. Tata even attended Naidu's graduation from Cornell University, which interestingly is also Tata's alma mater. Naidu soon took up the post of business assistant to Tata, and their friendship has continued to flourish to date. Naidu also introduced Tata to Instagram to help him better connect with the younger generation of today. The two have a strong bond that is based on mutual respect and camaraderie. This is one of the famous friendship stories that you should know about, as it breaks all barriers of age.
6. Gandhiji and the English Couple, Henry and Millie Polak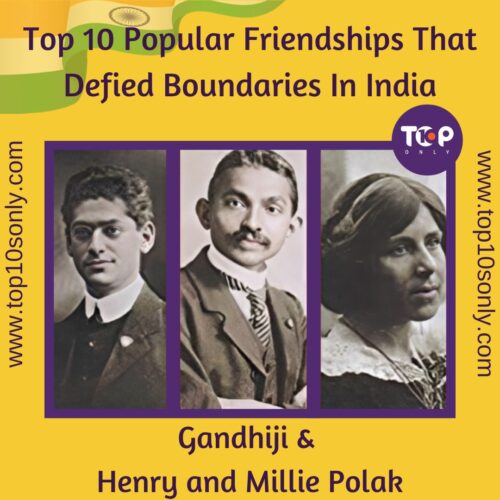 Gandhi's master biographer uncovered a cross-border friendship. Although Gandhi's time in South Arica has been written about over and over again, his friendship with Henry and Millie Polak during this period has often been overlooked. Henry was a radical Jew, while Millie was a Christian feminist. Their families were against their union, and Henry was sent to South Africa to dissuade him from marrying Millie. But destiny had other plans. Henry met Gandhiji for the first time at a vegetarian restaurant in Johannesburg. Gandhiji helped convince Millie's parents so that she could join Henry in South Africa and ultimately marry him. He even bore witness to the marriage in front of the Registrar of European Marriages. Henry and Millie moved in with Gandhiji and Kasturba. This was considered revolutionary during that time when racial prejudices were the norm. Over the years, Gandhiji forged a strong friendship with Henry and Millie. Henry even joined the Indian struggle for freedom, while Millie helped Gandhiji run his campaigns when he was imprisoned.
7. Srinivasa Ramanujan And Godfrey Harold Hardy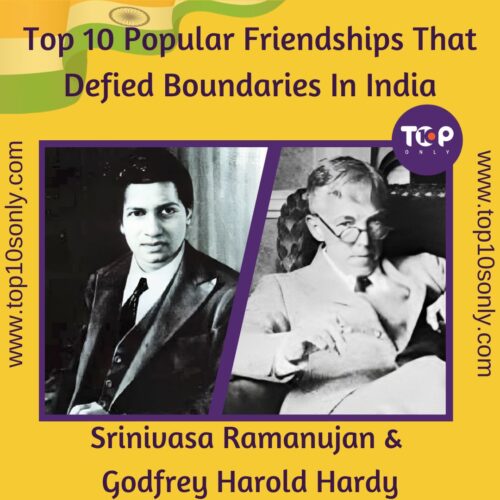 Another global legendary friendship to make the list is the unlikely bond between Srinivasa Ramanujan, the famous Indian mathematician, and Godfrey Harold Hardy, a leading Cambridge Mathematician of his times. Born in India, Ramanujan tried to gain the attention of leading mathematicians by sending letters. This included a list of his discoveries to Hardy in 1913. The letter intrigued Hardy, who was eager to nurture talent. Hardy realised that Ramanujan was exceptionally talented and extended an invitation to the Indian to Cambridge. Under the strong mentorship of Hardy, Ramanujan soon emerged as one of the leading mathematicians of his time. Their friendship was beneficial to each other and fruitful to the world of mathematicians as well.
8. Queen Victoria And Abdul Karim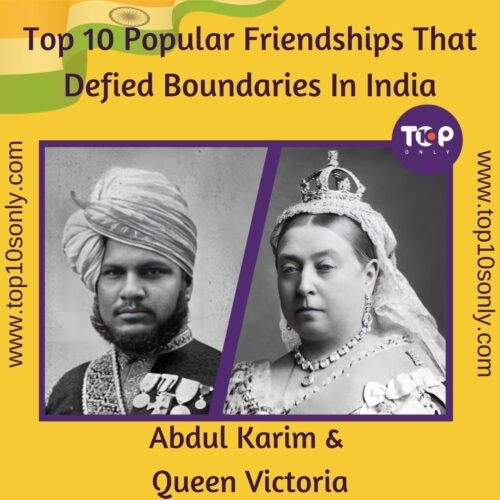 As Queen Victoria neared her reign, she struck an unlikely friendship with an Indian servant, Abdul Karim. His initial duties included helping Queen Victoria address the Indian princes at her court. However, Karim soon gained the Queen's trust and confidence and soon became a trusted advisor to Queen Victoria. He even introduced her to Urdu and the flavoursome Indian curry. Among famous friendships beyond boundaries, the one between Queen Victoria and Karim is legendary. There is also a movie, 'Victoria and Abdul', based on this beautiful friendship between two people from different backgrounds.
9. Ravi Shankar And George Harrison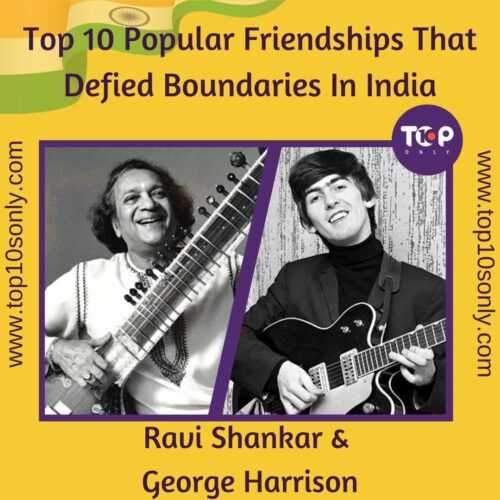 George Harrison forged an interesting friendship with Ravi Shankar, which was beneficial to the music industry. Harrison picked up a sitar in a store in London in 1965 and even added its unmistakable drone to the "Norwegian Wood" in Rubber Soul. When a string on the sitar broke, he came in contact with the Asian Music Circle. He was soon introduced to the work of Ravi Shankar via the AMC. The two great artists had an opportunity to meet in 1966. This led to a fruitful friendship that rocked the music world. The fusion of two different music styles gave way to legendary classics that are popular even today. Harrison even wrote the famous "Bangla Desh" to help bring attention to the humanitarian crisis in Bangladesh. These two musicians deserve a top spot on a list of top 10 celebrity friendships in India.
10. Indira Gandhi And Pupul Jayakar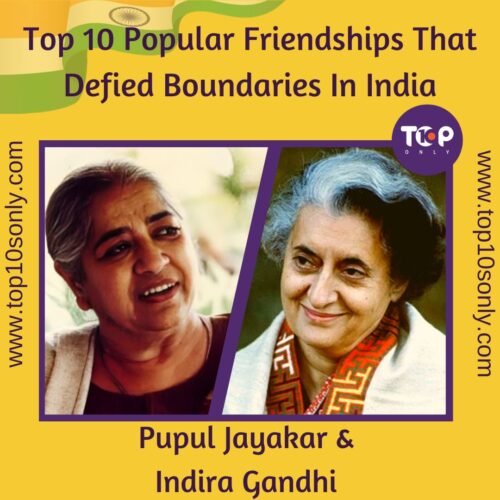 Among the many examples of great friendships in Indian history, the one between Indira Gandhi & Pupul Jayakar requires a special mention as they were best friends. The two women grew up in Allahabad together and formed a strong and close bond that lasted until the end. Although Indira Gandhi requested Jayakar to write her biography in the 1970s, it wasn't until the assassination that Jayakar started writing the biography until the assassination. The bond between the two women brought happiness and peace to both of them. Like the one depicted in Saand Ki Aankh, friendship between women is a great example of how having a support system goes a long way in making life easier. Indira even shared a premonition of her death with Jayakar after the infamous Operation Bluestar. Jayakar remained by Indira's side through thick and thin and offered her unwavering support.
Lasting friendships are a great blessing to have in one's life. These incredible friendship stories across time and borders are proof that friendships know no boundaries. So, shower extra attention to those special friends in your life today and let them know how much you value their presence in your life.