Roger Federer, Rafael Nadal, and Noval Djokovic are commonly referred to as 'The Big Three' in tennis. The trio has been dominating world tennis from 2003 until 2021, winning 83% of the Grand slam titles. These grand slam winners each have 20 Grand Slams and more than 80 ATP titles. All three have held No 1 rankings for more than 200 weeks, with Djokovic and Federer doing much better by holding it for more than 300 weeks. Apart from having the same number of grand slam titles, these three greats have some traits in common. That is probably why they have been able to achieve what they have. Here's a list of those common traits:
List of Traits Among Grand Slam Giants 
Top 10 Common Traits of The Big Three Grand Slam Giants #1: Perseverance
Tennis is more about perseverance than strength. The Big Three though extremely talented, fit and skillful, have a common trait. That is perseverance! It is a fact that you can reach a professional level only through hard work and perseverance. But, to reach the top and stay there, you should be at it all the time. These players never give up and fight as long as they can and come back from deemed-loss situations. Even if there are setbacks, they come back harder and win grand slam awards.
For instance, Roger Federer has faced many injuries that have threatened to cut short his career. In 2016, many believed that he would no longer win any more titles. But on the contrary, he rose from this situation, and in 2017, he had the most wins since 2012.
Another aspect these three thrive on is that they are never complacent despite having so many grand slams and ATP points, and they strive to be much better than the previous day.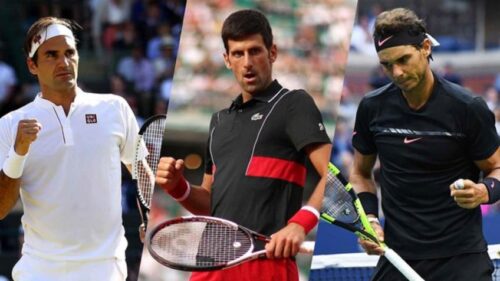 Top 10 Common Traits of The Big Three Grand Slam Giants #2: Positive Attitude
Novak Djokovic, in an interview, explained how he practices positive thinking – He repeats good thoughts so that he starts to feel them. He also said that if someone in the crowd chants his opponent's name, he hears his name! This may seem iffy, but it seems to have worked for him.
Rafael Nadal, another great of tennis who has rewritten grand slam tennis history, has seen many tough situations, including injuries. But, due to his positive attitude, he fought through it and made successful comebacks.
In one of his quotes, Roger Federer says that positive thinking is what helps him in difficult situations.
What is this positive attitude that these three are talking about? A positive attitude is a way of thinking. It is the art of focusing on the good even when the situation is not going your way. An optimistic attitude is not ignoring problems but approaching problematic situations hoping that things will get better.
Top 10 Common Traits of The Big Three Grand Slam Giants #3: Never Give-Up Mindset
Federer, Nadal, and Djokovic are three tennis greats that have a never-say-die attitude. No matter what happens, they do not get discouraged or give up easily. Djokovic especially is synonymous with the Never give up mindset. The 2021 French open final against Nadal is a classic example of this mindset. Federer had to be content with the runner's up title as Djokovic came back from two sets down to win the finals. It is not only this match but on six other occasions where he has come back from near defeat to win matches.
Nadal, the king of clay, is no different and fights every shot, every rally, game, and set with all his might. Federer too has shown through his comebacks that he never gives up! No wonder so many grand slam titles are in their names.
Top 10 Common Traits of The Big Three Grand Slam Giants #4: Hardwork
The Big Three have different playing styles, but some common traits make them super successful. All of them are extremely hardworking and hence see themselves on the grand slam winners list very often.
For instance, Roger Federer was written off after his knee surgery in 2016. In a post-match session, he said that only hard work could help achieve the goals irrespective of who you are.
Nadal vouched for hard work and said that he and his team work hard and passionately to improve every year. The proof is for everyone to see.
Djokovic is also among the hardest workers in tennis. When there is no difference in skills or talent with an opponent, he works harder than his opponents. He outlasts them, thus truly showcasing the results of his hardwork.
Top 10 Common Traits of The Big Three Grand Slam Giants #5: Mentally Tough
Irrespective of the ambitions that you have, success is difficult to achieve. It takes a toll on your energy due to the daily grind. There will be failures, lack of self-belief, stress, fatigue, burnout, and much more. Achievers like the big three overcame it to reach their goals.
How is it that they can achieve success and create grand slam records while so many fail? Through mental strength! It is not just pure talent but a blend of passion, perseverance, and mental strength.
Mental strength is the ability to continue working towards your goal even when the going is tough. Roger Federer, Novak Djokovic and Rafael Nadal have high levels of mental toughness, which has helped them forge ahead despite the many challenges and obstacles they face. Just a look at their career record and history shows you their grit.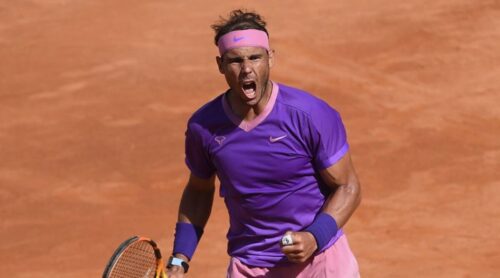 Top 10 Common Traits of The Big Three Grand Slam Giants #6: Multidimensional
There are many players in the history of tennis that have won many grand slams. What differentiates Federer, Nadal, and Djokovic from other grand slam all-time winners is that they are multi-dimensional. Of course, they all have their strengths and weakness. Overall, they have a great game and do not rely on one aspect of the game. The Big Three have solid groundstrokes, great serves, and innovative shots, making them multi-dimensional. Another aspect is that they work on their fitness and do not rely on skills alone. Moreover, they can outsmart their opponents. That means their opponents get very few opportunities to beat them. Just look at their records from 2003 and there is solid proof.
Top 10 Common Traits of The Big Three Grand Slam Giants #7: Confidence
The body language of a player is a reflection of the confidence they have. Having confidence is having the belief that you can reach your objective no matter what. The level of confidence is the difference between those successful and those who are not. The Big Three believe in their abilities.
Nadal, Federer and Djokovic do not think negatively, and that shows on the grand slams and other courts. They are positive and push themselves to give their best. Also, they are aware of their strengths and weakness. They do not ignore weakness but work on it, and that gives them confidence.
The 2021 Wimbledon finals was a great example of confidence. Federer came back from two games behind in the final set. He then went on to win the set and the match by breaking Nadal twice. The confidence in his game and determination was visible in the way Federer went about the whole task as he believed he could win.
Top 10 Common Traits of The Big Three Grand Slam Giants #8: Victory Oriented
The huge number of victories they have achieved in their careers is inexplicable and may not happen again in professional tennis. Federer started the trend in 2003 at Wimbledon, winning the first grand slam of his career. Two years later, Nadal won his first grand slam, the French Open. Three years later, Djokovic won his first, the Australian Open. From then on, there was a race with none giving up. They have fought against all odds and now find themselves tied with the most Grand Slam victories in tennis history.
The common trait here is their victory-oriented approach. If tennis were a marathon, then these three would be pushing each other, with Djokovic looking to break away from the other two. Remember the Disney Pixar Cars movie? Just like that – all three tied!
Top 10 Common Traits of The Big Three Grand Slam Giants #9: Cool Customers
Nadal, Djokovic, and Federer are cool customers. They do not get distracted by anything and think only about victories. They always keep a cool head even when criticized, written off, or booed by the crowd. They maintain a calm demeanour, which has helped them gain the top spot where victory matters most.
Among the three, Djokovic has faced criticism for his antics on and off the field. But he has never lost sight of the large scheme of things, that is winning as many Grand Slams as possible and overtaking the other two.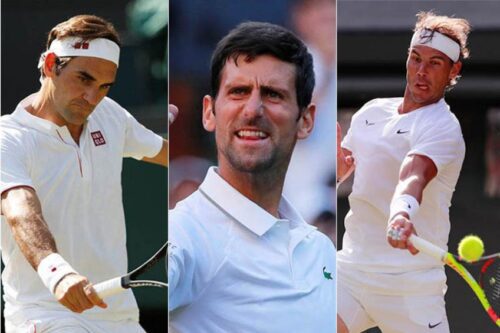 Top 10 Common Traits of The Big Three Grand Slam Giants #10: They Are Big Match Players
Nadal, Djokovic, and Federer relish playing the big games. They are good at playing the big points better than their opponents. That is why they have more victories and grand slams than others. Big players win decisive points as they have other traits like positive thinking, self-confidence, and perseverance backing them. They are also great at soaking in pressure. Whether playing for the gold medal in the Olympics or playing on the Centre Court at Wimbledon, they rule the play and win matches.
Despite being at the top for close to two decades, the Big Three are grand slam champions still dominating the world. The most significant era of tennis is not ending anytime soon though there are many youngsters trying to push their way through. It is a testament to their desire and dominance that has seen them claim more than 60 grand slams. Do you have these traits in you? Do you believe you can go the distance? Let us know in the comment box below.
Alternatively, if you are not much of a Tennis follower, our Top 10 Moments of Sachin Tendulkar's Cricketing Journey could be to your liking.