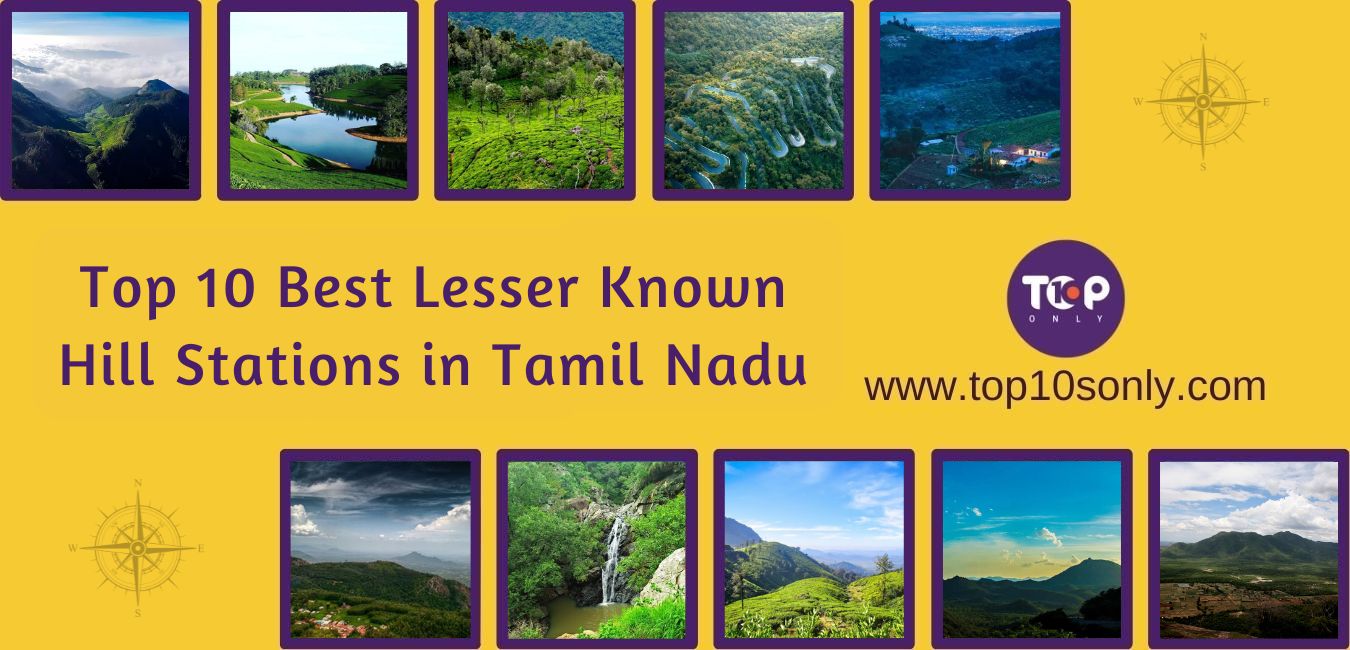 Tamil Nadu is home to many traditions, cultures, and heritages. There is a serenity in this land that one can find when visiting this place. Apart from the rich history it holds, Tamil Nadu is famous for its hill stations. Here are some of the best lesser-known hill stations in Tamil Nadu that one must explore if one is an enthusiastic traveller. Although popular hill stations like Kodaikanal and Udhagamandalam pop right into your head when you talk about hill stations, here are some of the unexplored hill stations of Tamil Nadu.
Top 10 Best Unexplored Hill Stations in Tamil Nadu
Tamil Nadu is a state full of natural beauty and stunning landscapes, especially its unexplored hill stations. These top 10 best lesser-known hill stations in Tamil Nadu can be reached by train or by road, and offer a unique tourism experience for those who seek to escape the hustle and bustle of city life.
1. Yelagiri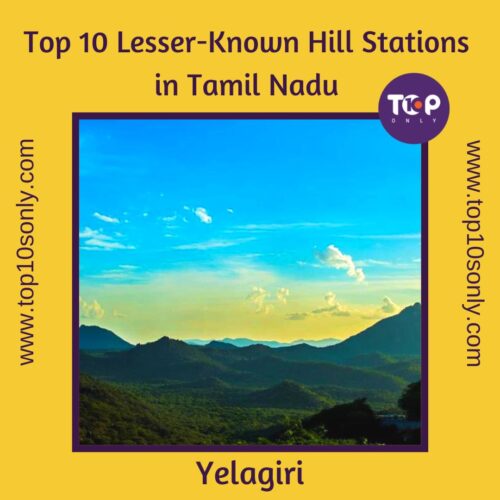 Yelagiri is an offbeat hill station in Tamil Nadu that is hidden between the towns Jolarppettai and Vaniyambadi, in South India. Although known for its parks, temples, lakes, etc, the main tourist attraction of Yelagiri is the Swamimalai hills, which is the uppermost point. Yelagiri has numerous places of interest, such as Fundera Park, Cloud Forest Entertainment Park, etc. If you are a person who loves adventure, you can sign up for the outdoor adventure camp offered by the government of Tamil Nadu. Activities such as zip lines, paragliding, trekking etc are offered for those who want their adrenaline pumped up.
Best Time To Visit Yelagiri
Advisable months to visit are between November to February.
2. Valparai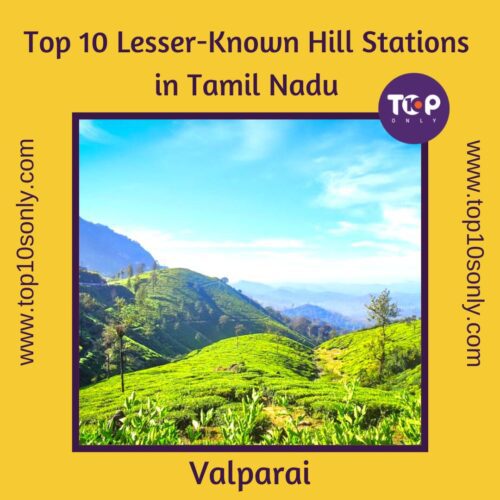 Valparai also known as Poonachimalai is a Forest Tourist Place in Tamil Nadu housing a number of coffee and tea estates amidst thick flora and fauna. Similar to any other hill station, even though you have scenic viewpoints to visit, this place is notable for its dams and waterfalls. Nirar, Sholayar, and Aliyar are the prominent dams; then you have the waterfalls such as monkey falls and Chinnakallar falls. If you care for a dip, then this is the spot you should be. But if you prefer to surround by a bonfire then the estates are your pick. One of the eminent estates of Valparai is the Akkamalai estate aka the roof of Annamalais; a locality that is surrounded by fine tea shrubs and white mist.
Best Time To Visit Valparai
Months between October-November & March-May are a perfect time to visit this scenic Tamil Nadu destination.
3. Kolli Hills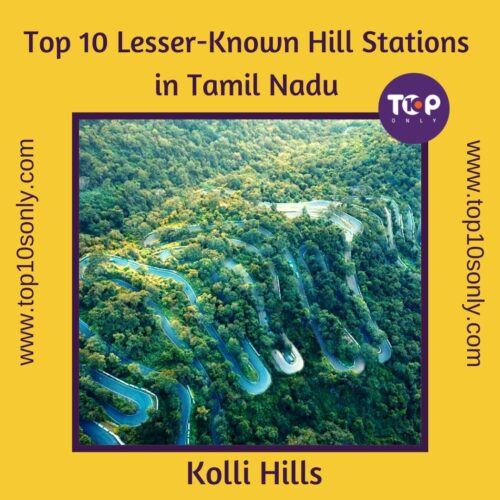 Kolli Hills, or the Kollimalai, is a Hill Station situated near Trichy and Namakkal districts. If driving is your fad, then this would be one destination drive for you. Crossing the numerous and dicey hairpin bends (almost 70) is a task on its own that would take you to a spectacular view. Known for its herbal and medicinal farms, the Kolli Hills are said to be one of the coolest places in Tamil Nadu. The temperature is said to drop considerably during the month of January. If you are familiar with millets such as foxtail, barnyard, little millets, etc., then this is where these are cultivated. Plants that are used for practices such as siddha, Ayurveda, and unani are grown on these mountains, and if you wish to tour these herbs, then your ultimate destination is the Siddhar Caves. Would it tingle your excitement if we were to tell you that these caves allow only one or a maximum of two people per visit?
Best Time To Visit Kolli Hills
The locals would agree that the months from August to December and March to June are the best times.
4. Javadi Hills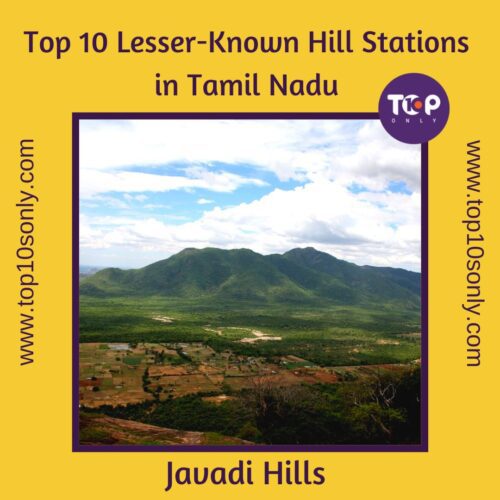 Looking to get away to less crowded hidden hill stations in Tamil Nadu? Well then, Javadi Hills are your best bet. Get away from the bustling crowd and immerse yourself in this scenic and unpolluted place. It is known for its breathtaking waterfalls. So if you are a fan of trekking, then pack your bags and follow the trails Javadi Hills can offer, trust us, it will not disappoint you. You can find yourself gaping at such amazing and scenic waterfalls. Campers are also welcome to explore the tranquillity that Javadi Hills can offer. Rich in flora and fauna, it is the perfect spot to light a campfire and spend an unforgettable evening star gazing.
Best Time To Visit Javadi Hills
Try hitting this awe-inspiring hill station during the time from October to March.
5. Pachamalai Hills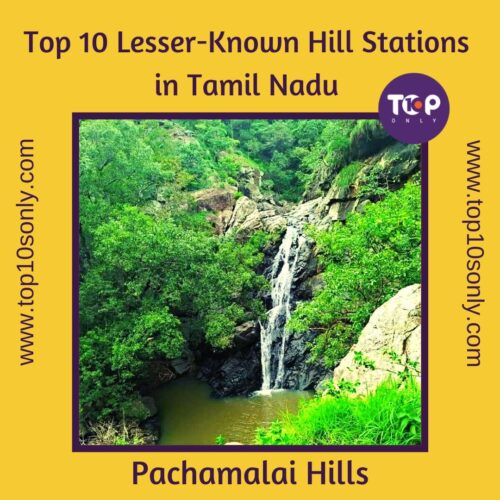 The name is self-explanatory; Pachai- meaning green, and Malai- meaning hills, are a few of the lesser-known hill stations in South India. Despite the fact that these hills are not explored to their full capacity, they are slowly gaining popularity for their guided trekking enroute through Kambaar, Mamarathu Cholai, Kaliyamman Koil, Korayu Falls, etc., to name a few. These trekking are guided by our very own Tamil Nadu Forest department. They can accommodate individual trekkers or even a group. The hills span across 3 major districts, Perambalur, Tiruchirapalli, and Salem, which is why it is claimed to be one of the most stunning hill stations in Tamil Nadu. 
Best Time To Visit Pachamalai Hills
The ideal time to visit would be between September to June.
6. Kalrayan Hills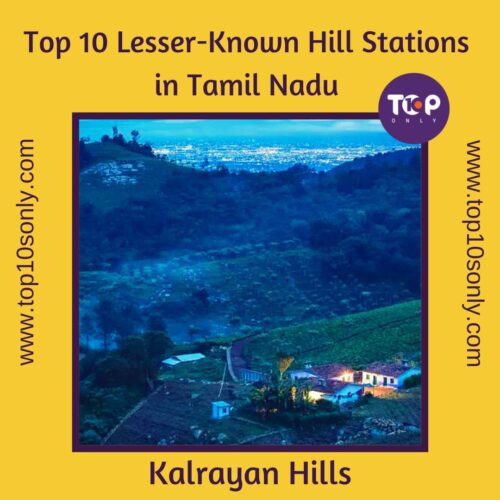 Home to the Gomukhi Dam and the Megam and Periyar falls, the Kalrayan Hills are also one of the best hill stations to visit in Tamil Nadu. Periyar falls are the primary attraction of Kalrayan notably during the monsoon season as the turbulence of these falls can be well utilised. Gomukhi Dam is next in line as a tourist spot, this dam is surrounded by green vegetation a perfect example of how the locals utilise the best of nature. Similar to the Javadi and Pachamalai Hills, the Kalrayan Hills are also known for their trekking trails. If you wish to get away from the bustling cities and have as little as a day on two on hand, then this is the destination for you, a perfect tourist place in Tamil Nadu for two days.
Best Time To Visit Kalrayan Hills
From the month of July until November is your best shot to visit this beautiful Tamil Nadu hill station.
7. Masinagudi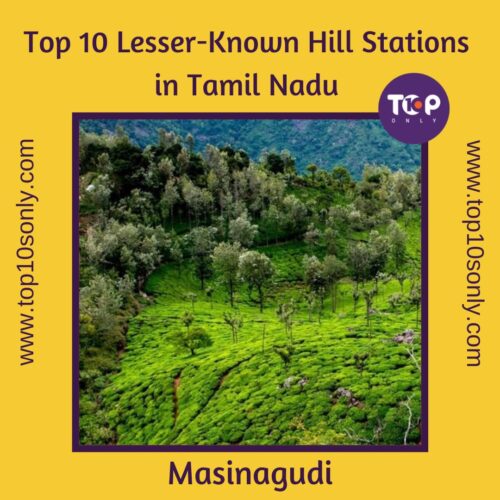 Masinagudi is hands down one of the most famous hill stations in Tamil Nadu. This place is highly known for its wildlife safari. Hire a jeep and wade through the forests of Mudumalai to get a sneak peek of all the wild animals in their natural environment. Of course, luck has to favour you but even so, it is a ride that one shouldn't miss. It also houses the Theppakadu elephant camp where you get to see them being trained and if you are fortunate, you could even feed those elephants. 
Best Time To Visit Masinagudi
Typically, October to May is the best time to visit this picturesque hill station.
8. Anaimalai Hills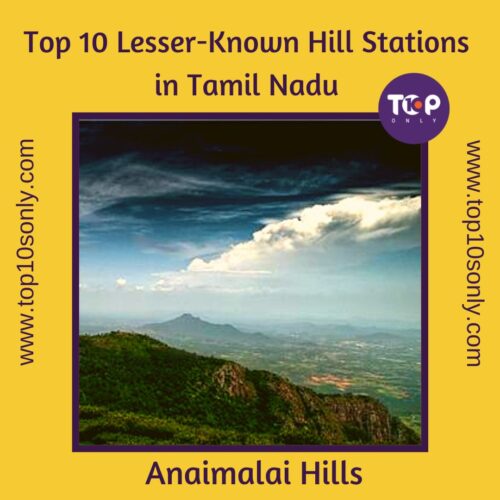 Another place that grabs the attention in our top 10 Tamil Nadu hills list is the Anaimalai Hills. Famous for its tiger reserve, the inhabitants of these hills include Panther, Wild Bore, Spotted Deer, Peacock, Elephants, Leopards and lion-tailed macaques. Apart from wildlife, these hills are also known to hold a vast extensive plantation of teak, eucalyptus and even pine trees. It is the perfect holiday getaway for people who love wildlife. The central attractions also include Annamalai Sanctuary, Varagaliar elephant camp, Thoonakadavu Lake etc. 
Best Time To Visit Anaimalai Hills
December – June are the months preferred to explore this place.
9. Kolukkumalai Hills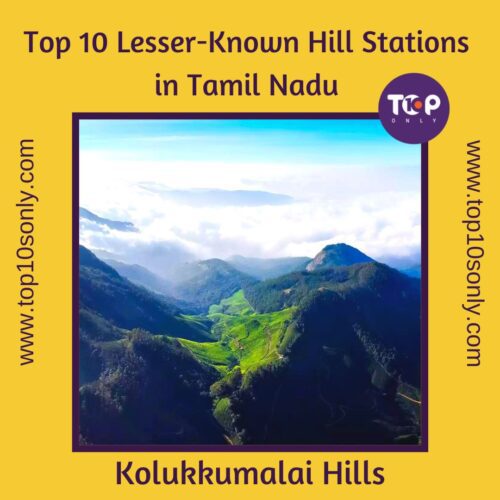 Key in the words "Hills Tourist Place in Tamil Nadu" and Kolukkumalai is bound to come up in your search. Known for its celestial sunrise, these hills are also famous for their tea gardens. It is believed that of all hill stations, Kolukkumalai has the most renowned tea as there is a common belief that tea cultivated at higher altitudes is the most delicious one. To visit these tea factories, one may have to rent an off-road vehicle which is found in abundance at your disposal. Ever heard of Neelakurinji flowers? These hills are said to have them in abundance, which is why this destination is one of the most desired among others.
Best Time To Visit Kolukkumalai Hills
The ideal time to visit is between September to March
10. Meghamalai Hills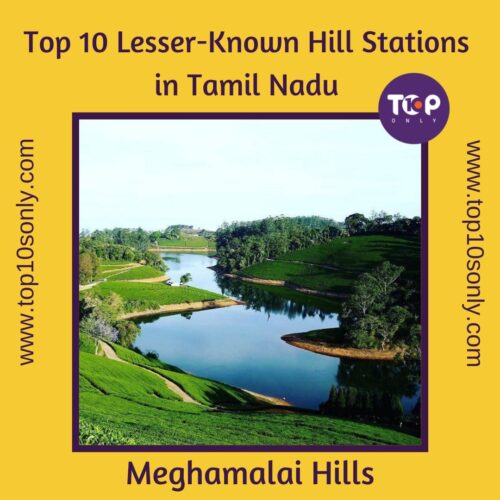 Although this is a tea estate, many consider this a tourist spot since the drive to this place is breathtaking. One has to wade through 17 hairpin bends to get to this locality. Apart from the dams, falls and viewpoints, these hills are popular for Srivilliputhur and Meghamalai Wildlife Sanctuary. Most hill stations are celebrated for their coffee and tea plantations but Meghamali also has cinnamon and cardamom groves. Another highlight of this place is the Maharaja Mettu point, a picture-perfect location that gives you a view of Gudalur, Cumbum and Canel Falls, which is why they are one of the most stunning hill stations of Tamil Nadu. This is a famous viewpoint that attracts the trekking crowd.
Best Time To Visit Meghamalai Hills
October to March is the perfect time to visit.
When we talk about hill stations or tourist places in Tamil Nadu, famous hill stations such as Ooty come to mind. Little do we know that such places are also the perfect spot for a quick getaway from a monotonous life in the city. These places do not compromise on their beauty, yet they provide a traveller with all that is needed for a lifetime experience, from outdoor adventures to trekking and taking a ride through the wildlife; you name it and these offbeat places have it. Above are some of the unexplored hill stations that Tamil Nadu has to offer. Instead of always hitting the common spots, we urge you to try one of these lesser-known hill stations of Tamil Nadu and trust us when we say that, they can surprise you.
Frequently Asked Questions About The Hill Stations In Tamil Nadu
1. How many hill stations are there in Tamil Nadu?
As many as 25 hill stations are spread across Tamil Nadu that one can explore. Some of these are explained in the article above that lists the lesser-known hill stations in Tamil Nadu.
2. Which is the best Hill Station in Tamil Nadu?
Destinations such as Kodai, Udhagamandalam (aka Ooty), Kotagiri, Yercadu, and Conoor are the top picks among the others.
3. Which is the most beautiful Hill Station in Tamil Nadu?
Referred to as the Princess of Hill Stations, Kodai or Kodaikanal is known to be the most beautiful hill station in Tamil Nadu.
4. Which is the most peaceful hill station in Tamil Nadu?
Meghamalai tops the list of the most peaceful hills in Tamil Nadu for its lush greenery and unpolluted environment.
5. Which Hill Station is not crowded?
Pothigai Hills, situated in the Tirunelveli district, is known to have less crowds, and it is the go-to destination for trekkers because of this very factor.