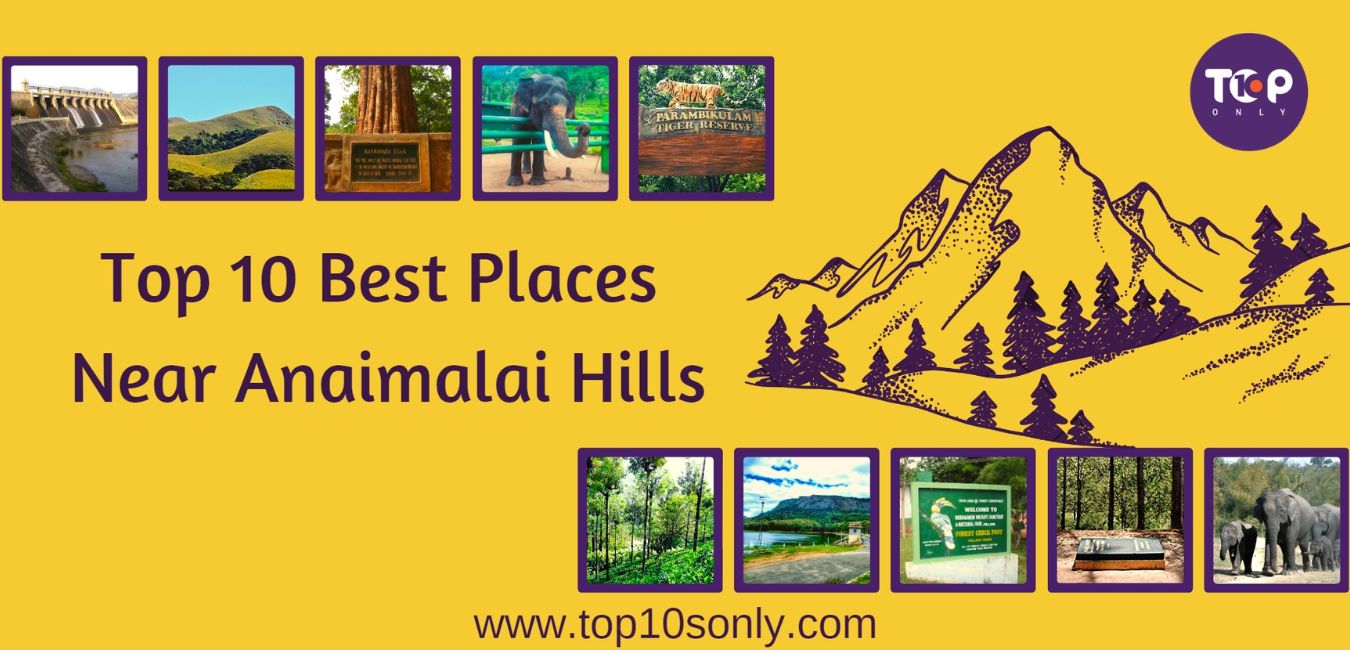 Anaimalai Hills, also known as Anamalai Hills or Elephant Mountains, captivate with their awe-inspiring beauty. Nestled in the Coimbatore district of Tamil Nadu, these holy hills of Thiruvannamalai are the southern extension of the Western Ghats. Positioned at the convergence of the Western and Eastern Ghats, the Anaimalai Hills possess a magical charm. South of the Palakkad Gap, they give rise to the Nilgiri Hills, while serving as borders to Kerala in the southeast and the Cardamom Hills in Tamil Nadu's southwest. Top 10s Only has curated the Top 10 Places To Visit In And Around Anaimalai Hills, Tamil Nadu, ensuring you experience the best of this enchanting region.
Top 10 Places To Visit In And Around Anaimalai Hills in Coimbatore, Tamil Nadu
Welcome to Top 10s Only, your ultimate guide to the world's most fascinating destinations. Join us on a virtual journey to the mesmerising Anaimalai Hills and uncover their unique allure. What is special about Anaimalai Hills? Prepare to be captivated as we explore the top ten must-visit places in this natural wonder. Get ready to immerse yourself in its breathtaking beauty. Let's embark on this extraordinary adventure!
1. Indira Gandhi Wildlife Sanctuary And National Park (Anamalai Tiger Reserve)
Anaimalai Hills' top 10 tourism spots include the Indira Gandhi Wildlife Sanctuary and National Park, also known as the Anamalai Tiger Reserve, a biodiverse haven located in the Western Ghats. Spanning 958 square kilometres, this sanctuary showcases varied vegetation, from rainforests to grasslands and shola forests. It was declared a sanctuary in 1976 and encompasses Pollachi, Udumalai, and Valparai taluks. A portion of 108 square kilometres was designated Grass Hill National Park in 1989. The sanctuary serves as a vital watershed area for Coimbatore and Erode districts, with rivers feeding major reservoirs. It is a hotspot for rare and endangered species, boasting over 2,000 plant species, including 400 with medicinal value. The sanctuary's rich ecosystem supports diverse wildlife, including tigers. It stands as a remarkable testament to the Western Ghats' natural heritage.
How To Reach Indira Gandhi Wildlife Sanctuary and National Park
To reach the Indira Gandhi Wildlife Sanctuary and National Park, located in the Western Ghats, travel 76 kilometres south of Coimbatore or 36 kilometres south of Pollachi. Take NH209 from Coimbatore to Pollachi, then follow the Pollachi-Parambikulam State Highway to reach Top Slip via Sethumadai.
Best Time To Visit Indira Gandhi Wildlife Sanctuary and National Park
The best time to visit Indira Gandhi Wildlife Sanctuary and National Park is from June to September and November to December, as it offers better chances to spot wildlife.
2. Kannimara Teak
Discover the awe-inspiring Kannimara Teak, a centuries-old tree thriving within the Parambikulam Tiger Reserve, one of the good tourist spots in Anaimalai Hills, Tamil Nadu. Despite the passage of time, it continues to grow, adding 1.85 metres in height and 9 centimetres in girth over the past five years. The local tribes revered this "virgin tree," which got its name from the myth that it would bleed if it was about to be cut down. As a result, it became a symbol of reverence, honoured through annual rituals and pujas. The fame of the Kannimara teak spread worldwide, earning it the Union government's Mahavriksha Puraskar in 1994. People from all corners of the globe now embark on a pilgrimage to witness the extraordinary beauty and resilience of this legendary tree, strengthening the bond between humanity and nature.
How To Reach Kannimara Teak
To reach the Kannimara Teak in Parambikulam Tiger Reserve, take buses or taxis from Pollachi. Coimbatore Railway Station (96 km away) is the nearest train station, and Coimbatore Airport (110 km away) is the closest airport. From both, take buses or hire vehicles to reach the reserve.
Best Time To Visit Kannimara Teak
The best time to visit Kannimara Teak is from October to March, when the weather is pleasant, making it a preferred choice.
3. Topslip
Welcome to Topslip, a protected tiger reserve in the Annamalai mountain range of Tamil Nadu's Western Ghats and one of the best Anaimalai Hills sightseeing places. Named for the timber that used to slip down from the hills during the British era, Topslip offers a picturesque setting and a mild climate. Its teak and bamboo forests, diverse plant species, and abundant wildlife make it a popular destination. With its stunning landscapes, Topslip has become a favourite location for movie sequences. Birdwatchers will delight in the reserve's 250 bird species. As a national park and medicinal plant conservation area, Topslip offers a unique blend of natural beauty and wildlife, inviting visitors to immerse themselves in its untamed splendour.
How To Reach Topslip
Topslip is located approximately 35 km from the town of Pollachi and about 76 km from Coimbatore. It is conveniently situated only 5 km away from Parambikulam.
Best Time To Visit Topslip
The ideal time to explore Topslip is between November and April, offering favourable weather conditions and a pleasant atmosphere for visitors.
4. Kozhikamuthi Elephant Camp
Experience the wonders of Kozhikamuthi Elephant Camp, nestled in the serene Ulaandy range of Anamalai Tiger Reserve, near TopSlip. This unique tribal settlement is dedicated to training captive Asian elephants under the expertise of the Malasar tribes. Known for their specialised knowledge, these indigenous tribespeople possess the skills to work harmoniously with these magnificent creatures. The elephants at Kozhikamuthi Elephant Camp bring valuable experience in managing conflicts, making it one of the best tourist places in the Anaimalai Hills. They excel at driving out crop-raiding wild elephants and resolving issues caused by stray elephants in human habitats. Through disciplined training and compassionate guidance, these elephants have become invaluable allies in mitigating human-elephant conflicts. Enter the captivating world of these gentle giants at Kozhikamuthi Elephant Camp, where the extraordinary bond between humans and elephants is cherished and protected.
How To Reach Kozhikamuthi Elephant Camp
Kozhikamuthi Elephant Camp is located in the Anamalai hills, approximately 7 km outside of Top Slip, beyond Mt. Stuart Block.
Best Time To Visit Kozhikamuthi Elephant Camp
The best time to visit Kozhikamuthi Elephant Camp is during the morning hours. Tourists can witness elephant activities, interact with them under mahout supervision, and take photos and selfies.
5. Mt. Stuart Block
Considered one of Anaimalai Hills' fun places to visit, Mt. Stuart Block is a pristine haven boasting an ancient forest and captivating history. Here, nestled within the lush surroundings, lies an intriguing forest department bungalow. Amidst this enchanting landscape, you will also find the resting place of Hugo Wood, a revered British officer. Known for his tireless efforts in ensuring the sustainability of teak wood, Wood's tombstone bears a poignant Latin inscription: "If you want to see me, look around." As you venture through this remarkable terrain, keep a watchful eye for the abundance of bears that call this place home, offering the potential for awe-inspiring encounters. However, tread cautiously, mindful of the ample droppings and distinctive pug marks left by these magnificent creatures. Prepare to be enchanted as you delve into the captivating beauty and enthralling history of Mt. Stuart Block.
How To Reach Mt. Stuart Block
To reach Mt. Stuart Block, travel about 3 kilometres from Topslip.
Best Time To Visit Mt. Stuart Block
The ideal time to visit Mt. Stuart Block is from June to March.
6. Parambikulam Tiger Reserve
Parambikulam Tiger Reserve, tucked away in the Western Ghats and enriched by forests that are ecologically similar in Tamil Nadu and Kerala, is one of the best places to visit in the Anaimalai Hills. It is among India's 104 tiger reserves, housing 28 tigers and offering breathtaking natural wonders. The reserve features various habitats such as evergreen forests, deciduous forests, grasslands, and unique marshy grasslands known as "vayals." One of its notable attractions is the Parambikulam Dam, which encompasses 18 square kilometres of backwaters. Visitors can enjoy watching otters and admire stunning views of the Sungam Range, Thoonakkadavu, Nellipudi Mountains, and the Kalyanathy, Karimalai, and Vaidi mountains from the dam. Exploring the reserve is made convenient with Swaraj Mazda vehicles, offering a memorable journey through captivating landscapes. Parambikulam Tiger Reserve is an invaluable conservation area that preserves the natural beauty of the Western Ghats.
How To Reach Parambikulam Tiger Reserve
Parambikulam Tiger Reserve can be reached via Sethumadai in Tamil Nadu. By road, it is 90 km from Palakkad; by rail, it is 95 km from Palakkad Railway Station; and by air, it is 111 km from Coimbatore International Airport and 153 km from Cochin International Airport.
Best Time To Visit Parambikulam Tiger Reserve
The best time to visit Parambikulam Tiger Reserve is from October to March, when the weather is pleasant and ideal for exploring the reserve.
7. Varagaliar Elephant Camp
Deep within the forest's embrace rests the Varagaliar Elephant Camp, a sanctuary that is considered to be one of the Anaimalai Hills' best tourist places and provides refuge to 21 domesticated elephants. Here, a profound bond between man and beast thrives. Although inaccessible to regular tourists, this camp plays a vital role in resolving conflicts that arise between humans and elephants on the Valparai Plateau. Unlocking the wonders of this sanctuary once required special permission, granting glimpses into a unique realm. Dedicated caretakers, hailing from the "Malasar" tribe, devote themselves to the well-being of these gentle giants. Varagaliar's elephants possess incredible strength and serve as valuable allies, manoeuvring through challenging terrain and aiding in the endeavours of the jungle. This captivating sanctuary reveals the extraordinary connection between humans and these majestic creatures, fostering a harmony rarely witnessed elsewhere.
How To Reach Varagaliar Elephant Camp
To reach Varagaliar Elephant Camp, head deep into the forest, approximately 24 kilometres from the core area. Special permission, previously obtained from the Deputy Conservator of Forests in Pollachi, was necessary for access. However, please note that regular tourists are currently restricted from visiting this captivating sanctuary.
Best Time To Visit Varagaliar Elephant Camp
The best time to visit Varagaliar Elephant Camp is during the dry season, which typically falls between the months of December and February, when the weather is pleasant and the chances of rainfall are low.
8. Thoonakkadavu Lake And Dam
Thoonakkadavu Lake and Dam, a prominent tourist place near Anaimalai Hills, beckons visitors with its captivating allure. Nestled within the Parambikulam Aliyar Irrigation Project, Thoonakkadavu Reservoir stands as a hidden treasure. Stretching across the Thoonakkadavu River, a tributary of the renowned Parambikulam River, this reservoir exudes an irresistible charm thanks to its lush hills, dense forests, and abundant wildlife. Standing atop the dam, visitors are treated to awe-inspiring panoramas that captivate the senses. Thoonakkadavu Lake and Dam have become beloved destinations for travellers seeking an unforgettable rendezvous with nature's embrace. Prepare to be enchanted as you discover this mesmerising sanctuary concealed within the captivating Parambikulam
How To Reach Thoonakkadavu Lake And Dam
Thoonakkadavu Lake and Dam can be reached by taking the road from Pollachi town in Tamil Nadu. It is located on the route from Topslip to Parambikulam Dam. Despite being situated in Kerala, both Thoonakkadavu and Parambikulam are accessible through a road journey starting from Pollachi in Tamil Nadu.
Best Time To Visit Thoonakkadavu Lake And Dam
The best time to visit Thoonakkadavu Lake and Dam is between June and September. During this period, the weather is pleasant, and the surroundings are lush and vibrant.
9. Akkamalai Grass Hills
Situated at an altitude of 2400 m within the Anamalai Tiger Reserve, the Akkamalai Grass Hills are one of the best places to visit in the Anaimalai Hills. These majestic hills border Kerala's Eravikulam National Park, offering a breathtaking natural landscape. This montane shola-grassland ecosystem offers stunning views, a cool climate, and unforgettable sunsets. The merging of hills and forests creates a pristine green paradise, home to diverse wildlife like Nilgiri Tahr, elephants, bison, Nilgiri Langurs, Indian Gaur, bears, and vibrant bird species. To enter, visitors must obtain permission from the Anamalai Tiger Reserve Office in Pollachi, as this protected area is reserved for conservationists and wildlife enthusiasts. Explore Akkamalai Grass Hills to immerse yourself in nature's marvels and experience the harmonious coexistence of breathtaking landscapes and abundant wildlife.
How To Reach Akkamalai Grass Hills
In Tamil Nadu, it takes about 16 km to get to Akkamalai Grass Hills from Valparai Bus Station.
Best Time To Visit Akkamalai Grass Hills
The ideal time to visit Akkamalai Grass Hills is from January to May. During this period, the weather is pleasant and conducive to exploring the area. The recommended time for visiting Grass Hills is from 6 a.m. to 5 p.m.
10. Aliyar Dam
Anaimalai Hills' important places include Aliyar Dam, situated in the Coimbatore district of Tamil Nadu, which is a renowned reservoir and popular tourist spot in Valparai. Constructed between 1959 and 1969 for irrigation purposes, the dam spans the Aliyar River. The inauguration took place on October 2, 1962, by India's former Prime Minister, Jawaharlal Nehru, and it was later commissioned in 2002 for hydroelectric power generation. With a height of 81 metres, the dam offers breathtaking panoramic views of the Anamalai range and the lush coconut groves. Visitors can enjoy a well-kept park at the base of the dam that is run by the Tamil Nadu Fisheries Corporation and includes an aquarium, a small theme park, and a play area. Additionally, boating activities are available, allowing visitors to experience the tranquil waters of the dam. The Aliyar Dam is a must-visit destination, captivating nature lovers with its scenic beauty and recreational opportunities in Valparai.
How To Reach Aliyar Dam
Situated in the Coimbatore district of Tamil Nadu, the Aliyar Dam is an earthen dam located in Aliyar village. It is approximately 24 km away from Pollachi and around 43 km from Valparai.
Best Time To Visit Aliyar Dam
The ideal time to visit Aliyar Dam is during the monsoon season, specifically between July and September.
The Anaimalai Hills offer a remarkable escape into nature's embrace. With their mystical allure and serene landscapes, these hills provide a sanctuary for those seeking tranquilly and natural beauty. Whether you explore the curated top 10 destinations or wander off the beaten path, the Anaimalai Hills, ranked among the top 10 best places to see in Anaimalai Hills, promise an unforgettable experience, leaving you enchanted by their unique charm. From breathtaking vistas to hidden treasures, this captivating region invites you to immerse yourself in its wonders and create lasting memories amidst its awe-inspiring surroundings. Discover the magic of the Anaimalai Hills and let nature's splendour captivate your senses.
This vacation, why not plan a trip to one of the ten hill stations listed in our Top 10 Best Lesser-Known Hill Stations in Tamil Nadu article? And also, be sure to check out our Top 10 Best Travel Gadgets For Cold Weather Destinations before you start packing!
Frequently Asked Questions About Top 10 Places To Visit in Anaimalai Hills, Coimbatore & Tiruppur District
1. What are the Anaimalai Hills famous for?
The Anaimalai Hills are renowned for their wildlife, particularly elephants. The Parambikulam Wildlife Sanctuary and Anamalai Tiger Reserve, located in the hills, are famous for their thriving elephant populations, attracting wildlife enthusiasts from around the world.
2. Where are the Anamalai Hills?
The Anamalai Hills are situated in the southern Western Ghats of central Kerala, extending across the border into western Tamil Nadu in southern India.
3. What is the difference between Anamudi and Anamalai?
The main difference between Anamudi and Anamalai lies in their specific geographic features and nomenclature. Anamudi is the highest peak in the Peninsular Plateau, located within the Anaimalai Hills. On the other hand, the Anaimalai Hills are a mountain range.