Looking for a perfect getaway to unwind and rejuvenate amidst the serenity of nature? If that's the case, then look no further than the picturesque Javadi Hills in Tamil Nadu, a breathtaking range of hills located in the majestic Eastern Ghats. The Javadi Hills offer an excellent escape from the hustle and bustle of city life with their lush greenery, cascading waterfalls, and serene landscapes. Tops 10s Only brings you the list of the Top 10 Best Places To Visit In The Javadi Hills In Tamil Nadu, each offering a unique experience for visitors. From trekking to wildlife spotting, the Javadi Hills have something for everyone. So, get ready to escape into the lap of nature and experience the tranquilly of the Javadi Hills—an unforgettable journey awaits you!
Explore The Top 10 Best Places To Visit In And Around Javadi Hills, Tamil Nadu
The Javadi Hills stretch across Tirupattur and Tiruvannamalai districts, acting as a natural divider between the two regions. Many fruit-bearing plants and therapeutic shrubs are found here. Sandalwood trees are another typical tree that may be found in the mountains' southeast region. The Javadi Hills are among the most beautiful sightseeing places to visit. The hills are covered in lush vegetation, and when dusk falls, they take on a lovely purple tinge that matches the granite's bluish-grey hue.
The Javadi Hills house many tourist attractions, the best of which are listed below.
1. Bheemanmadavu Falls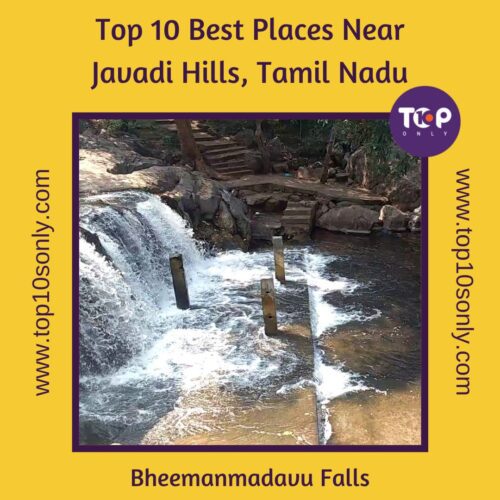 Bheemanmadavu Falls is one of the best places to visit near Javadi Hills. This seasonal waterfall is also sometimes called "Bheema Falls." It is located in the centre of the reserve forest, 5 km from the settlement of Jamunamarathur. This waterfall is part of the reserve forest that was replanted with fruit-bearing trees and sandalwood trees. There is a popular belief that Bhima, the strongest of the Pancha Pandavas, worshipped the Sun God here. Hence, Beemanmadavu Falls bear his name. While journeying to this picturesque spot in Javadi Hills, one can see the surrounding lush, dense forest and the hill's rustic charm.
Best Time To Visit Bheemanmadavu Falls
If you're planning to visit waterfalls, timing is everything! The best time to experience the full majesty of the falls is between September and May, when the weather is mild and pleasant. However, if you're looking for the most awe-inspiring views, plan your visit during the rainy season. The falls will be at their absolute best, with water cascading down in full force and creating a breathtaking sight that's sure to leave you in awe. The ideal time to visit Bheemanmadavu Falls would be between 10 a.m. to 6 p.m.
How To Reach Bheemanmadavu Falls
Beemanmadavu Falls is located at a distance of approximately 80 kilometres from Thiruvannamalai. You can either take a train or drive by road from Thiruvannamalai.
2. Vainu Bappu Observatory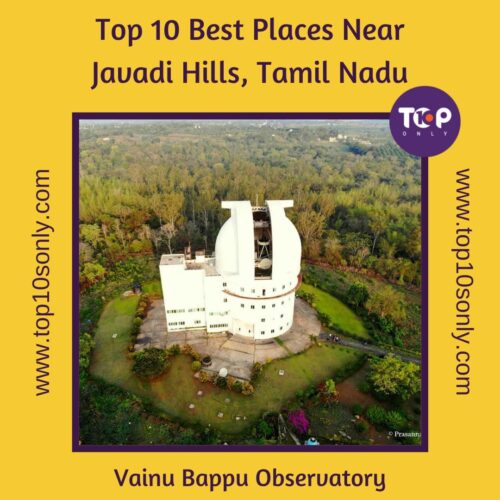 If you're a fan of astronomy or simply looking for an unforgettable experience in Javadi Hills, be sure to visit the Indian Institute of Astrophysics Observatory – a must-visit spot on any traveller's itinerary. This observatory, touted as Asia's largest, boasts a state-of-the-art computer-controlled telescope that's sure to take your breath away. Since its establishment in 1967, the observatory has served as a hub for astronomy research and stargazing. It's also known for promoting public-scientific exchanges, making it one of the most popular destinations in the Javadi Hills area. Don't miss out on this incredible attraction that has been frequently listed as one of the best 10 places to visit during a trip to Javadi Hills!
Best Time To Visit The Vainu Bappu Observatory
Visit the observatory any time between 7 p.m. and 10 p.m. on a Saturday night with ideal visibility for stargazing.
How To Reach Vainu Bappu Observatory
Vaniyambadi (29 kilometres from Vainu Bappu Observatory) and Jolarpettai (46 kilometres from Vainu Bappu Observatory) are the closest train stations, and both provide connections to Bangalore, Chennai, Mumbai, and New Delhi. By using the route Hosur-Krishnagiri-Vaniyambadi-Alangayam-Kavalur, one can go from Bangalore to the Vainu Bappu Observatory, which is situated close to the village of Kavalur.
3. Komutteri Lake (Kollappan Lake)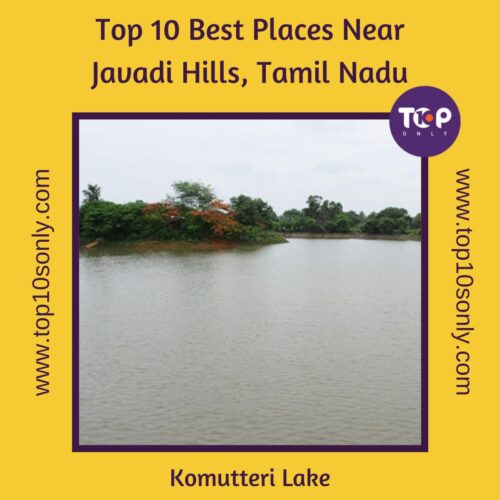 One of the most picturesque destinations in the Javadi Hills is Komutteri Lake, which is also referred to as Kollappan Lake. As the largest body of water in the region, this serene lake is surrounded by lush greenery and an abundance of flora and fauna, providing a peaceful and relaxing setting for visitors to enjoy. One of the main attractions of the lake is the man-made island in the middle, which can be reached by boat. This is the perfect spot to have a picnic with family and friends while admiring the stunning views of the lake and its surroundings. It's no surprise that the Komutteri Lake is listed as one of the top 10 popular tourist spots in Javadi Hills and is a must-visit for anyone exploring Tamil Nadu.
Best Time To Visit Komutteri Lake
The best time to visit Komutteri Lake is between the months of October and March.
How To Reach Komutteri Lake
Komutteri Lake can be reached by road, roughly 79 km from Thiruvannamalai.
4. Keezhanur Neolithic Site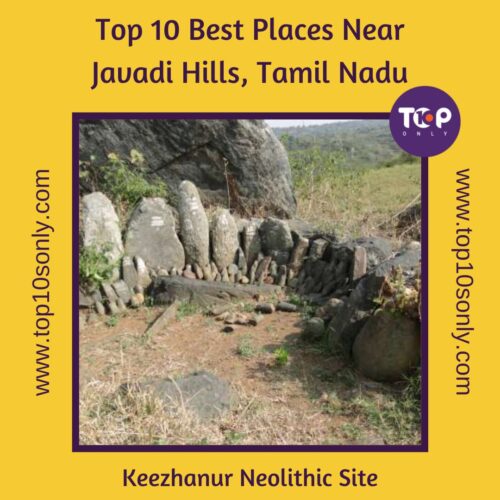 The Keezhanur Neolithic Site, located near Javadi Hills, is a must-visit for history enthusiasts. This archaeological site has uncovered polished stone artefacts dating back to 5,000 years ago. Among the discoveries are grooves on a bedrock located in Pathari that were used for sharpening polished stone axes during Neolithic times. These grooves, also known as kuuzhieruthu paarai, can be found on the western side of the village and are shallow troughs used for polishing the edges of the stone axes. The site also boasts over 75 polished stone axes kept for worship close to the Ganesha Temple (Pillaiyar Koil), located about a kilometre east of the village. As one of Javadi Hills' top 10 popular tourist spots, the Keezhanur Neolithic Site offers a fascinating glimpse into the lives and cultures of our ancestors. Don't miss the chance to witness this piece of history firsthand.
How To Reach Keezhanur Neolithic Site
Pathari village, home to the Keezhanur Neolithic Site, is situated about 15 km west of Athipattu village in the Kalasapakkam taluk of Tiruvannamalai district. To reach the hamlet of Keezanur in the Javadi hills, an off-shoot of the Eastern Ghats, head 5 km north from Pudurnadu in Tiruppattur taluk of Vellore District. The major village of Pudurnadu is located 21 km east of Thanneerpandal, which can be found on the Tiruppattur-Chengam main road, 7 km south of Tiruppattur. With these directions in mind, travellers can easily navigate to the stunning natural beauty of the Javadi hills and immerse themselves in the rich history and culture of the region.
5. Anguththi Sunai Waterfalls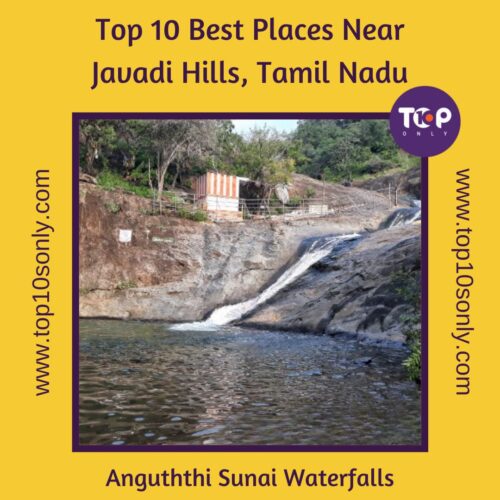 Javadi Hills boasts of a hidden gem known as Anguththi Sunai, also referred to as Angudhi Sunai or Anguthai Jonai. This waterfall is nestled amidst the picturesque beauty of nature and is an ideal destination for a day trip with your family and children. The location is relatively unknown, making it a safe and peaceful spot to explore. The area is maintained by the forest department. There are four different layers of the waterfall, with each layer being unique in its own way. The final layer has a sliding pool, into which experienced swimmers can slide from a height of 100 feet. However, this can be risky. The water is pure and fresh, but do carry food with you as there are no nearby restaurants. Don't miss out on this underrated natural beauty while trekking through the hills and forests of Javadi.
How To Reach Anguththi Sunai
To reach the Anguththi Sunai Waterfalls, we need to drive for 1 km until we reach a small stream. The first layer of this waterfall can be reached after a 1-kilometre hike. Check out this article that lists the Top 10 Best Travel Gadgets You Need On An Adventure Holiday! The items listed here will help you as you navigate towards this beautiful tourist spot!
6. Melpattu Neermathi Tree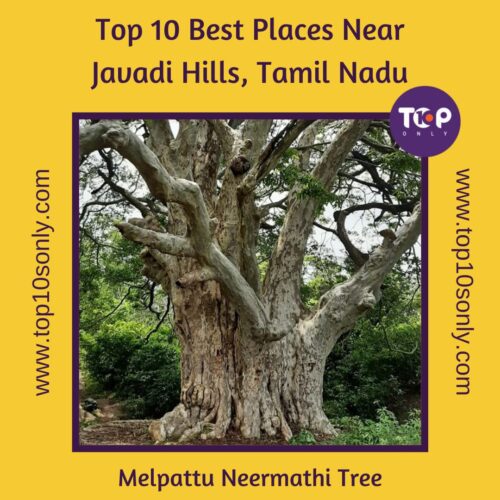 Nestled in the serene Javadi Hills lies a treasure trove of natural beauty – the magnificent Melpattu Neermathi Tree, also called Neer Madhi Tree by the local residents. A true marvel of nature, this grand old tree has stood tall for over a thousand years, inspiring awe and admiration in all who lay their eyes upon it. Tourists travelling around the vicinity of Javadi Hills often find it fascinating to watch this tree. Families from far and wide flock to this beloved tourist spot, seeking a respite from the chaos of city life. Here, amidst the tranquil surroundings, they bask in the shade of the mighty tree, enjoying precious moments of togetherness with loved ones. The locals believe that the Melpattu Neermathi Tree retains water during the monsoons, which enables it to survive the summers, and they also believe that standing under this tree feels cool due to this unique feature. The Melpattu Neermathi Tree is definitely the best tourist spot for a one-day trip near Javadi Hills.
Best Time To Visit Melpattu Neermathi Tree
It is open all day to visitors.
How To Reach Melpattu Neermathi Tree
You can reach this marvellous ancient tree in the Javadi Hills by road, taking either a car or a bus from Vellore, Polur, or Villipuram.
7. Amrithi Forest And Zoological Park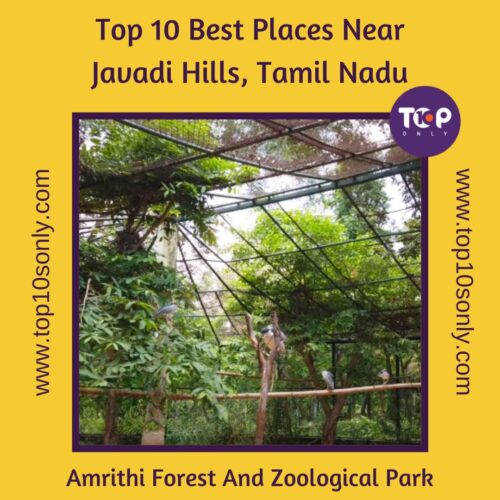 Still looking for the best place to visit while touring Javadi Hills in Tamil Nadu? If so, why not include the beautiful Amrithi Forest and Zoological Park in your travel itinerary? This place is abundant with trees, medicinal plants, and several species of birds and other creatures. Trekking through this deep woodland gives hikers a pleasant experience and raises ecological awareness. Amirthi Zoological Park occupies a 25-acre area in the Amirthi forest. The area is lovely for picnics and is home to many different species of birds and animals, including spotted deer, parrots, lovebirds, peacocks, crocodiles, etc. Here, a wide variety of herbal plants, trees, and trees that produce sandalwood are also seen. Within the park, there is a children's play area, two rest cottages, and one meditation hall that is open to the public. As one of the top 10 popular tourist spots around Javadi Hills in Tamil Nadu, this is an ideal spot for a hike or for adventure lovers.
Best Time To Visit Amrithi Forest And Zoological Park
It is open all day during the months of October to February.
How To Reach Amrithi Forest And Zoological Park
The closest point is Vellore, and one can choose to drive from here.
8. Parvathamalai Hill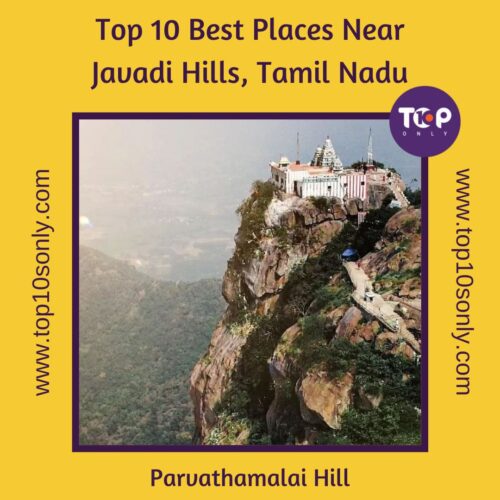 Visitors to Javadi Hills should not miss the chance to see the famous Parvathamalai Hill situated nearby. Approximately 20 kilometres or so away from Polur, Parvathamalai Hill is situated close to Thenmadimangalam Village. It is accessible by Thenmadimangalam or through the Kadaladi hamlet, which is 25 kilometres north of Tiruvannamalai. There are several alternate names for Parvathamalai, including Mallikarjunamalai, Thenkailayam, Kanthamalai, Naviramalai, and Parvathagiri. Parvathamalai displays eight unique shapes from eight different angles on the hill. The Shri Malligarjuna Shivan Temple is a beautiful temple located right at the top of Parvathamalai Hill. The climb to Parvathamalai Hill is challenging and exciting, making it an adventure for all hiking lovers. Upon reaching the summit, trekkers can enjoy numerous opportunities to soak up the breathtaking panoramic vistas of Tiruvannamalai and Javadi Hills.
Best Time To Visit Parvathamalai Hill
The recommended time of year to undertake the Parvathamalai trek is between September and February.
How To Reach Parvathamala Hill
There are plenty of buses that shuttle between Thiruvannamalai and the Parvathamalai base point. Further on, you will have to trek either through the Kadaladi route or the Thenmathimangalam trail.
9. Valiyamparai Caves (Kullar Caves)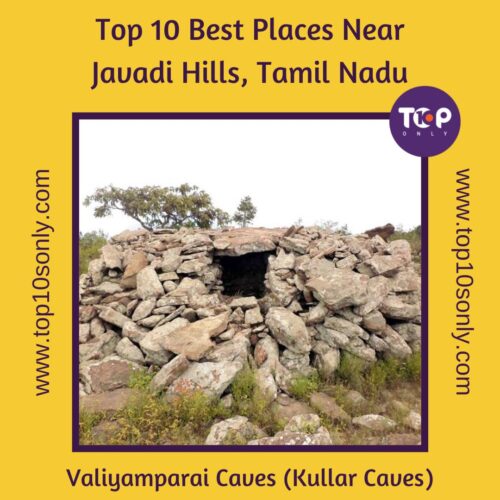 Tucked away in the heart of the Javadi Hills lies Valiyamparai, home to magnificent 4000-year-old stone caves, most of which are around two feet tall. Despite enduring countless seasons and weather conditions, these caves have stood strong for centuries, built with sturdy stone blocks and tiles. Upon exploring these caves, one can't help but marvel at the hundreds of small stones of varying shapes and sizes neatly packed inside each one. These are believed to be prayer offerings made by the early dwellers of these caves. While the majority of these caves were constructed in a semicircle shape, a few others were rectangular in shape. The largest of them all was around six feet long and four feet wide and high. According to local legend, the Valiyamparai Caves (Kullar Caves) were once home to early hunting communities or possibly even short-statured tribes who lived there thousands of years ago. So why not visit this historic place and see for yourself the wonders that these ancient caves hold? We guarantee these are some of the must-see places to visit en route to a trip to Javadi Hills, especially if you are a lover of trekking and hiking.
Best Time To Visit Valiyamparai Caves
It's best to visit Valiyamparai Caves during the daytime as there is a lot of trekking involved. Also, it's best to check if prior permission is required as the caves have been deemed as a historical site.
How To Reach Valiyamparai Caves
To reach the caves, trekkers must first arrive at Keel Cheppali, a small tribal village. From there, they will need to trek for approximately 7 kilometres through the lush jungle. The route also takes them through another tribal hamlet, Mel Cheppali.
The trek to the caves typically takes around five hours to complete, so visitors should plan accordingly and be prepared for a moderate level of physical exertion. But with stunning natural scenery and the promise of exploring ancient cave dwellings, the journey is sure to be worth it.
10. Moorajan Falls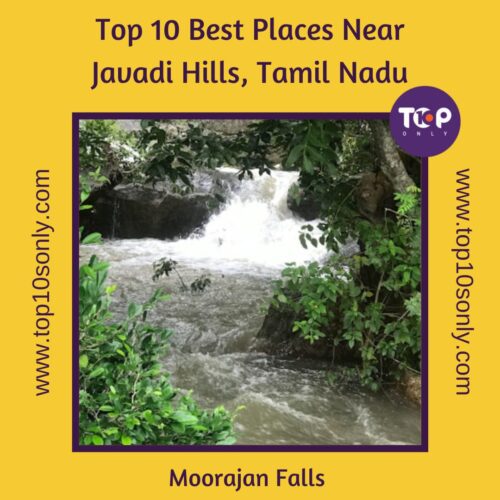 Discover the tranquil beauty of Moorajan Falls, one of the top 10 must-visit destinations in Tamil Nadu, nestled near the stunning Javadi Hills. Take a refreshing dip in the cool waters or soak in the lush green surroundings while swimming. This idyllic spot is perfect for a peaceful picnic or an invigorating trek, depending on your preference. Note that water is only available during the rainy season, but you'll be rewarded with a traffic-free and serene environment. Gather your friends and family for a group visit or embark on a solo trekking adventure. The Moorjan Falls is a must-see gem near the Javadi Hills in Tamil Nadu.
Best Time To Visit Moorajan Falls
June to November is the best time to visit the Moorajan Waterfalls near Javadi Hills.
Javadi Hills, located in Tamil Nadu, are among the 10 best places to visit in the lesser-known TN hill station list and a must-visit for anyone seeking an escape from the monotony of everyday life. With stunning waterfalls and breathtaking views, this hill station offers the perfect getaway. Whether you're travelling with family or going solo, there's something for everyone here. From the top 10 attractions, you'll find the perfect spots to unwind and immerse yourself in the natural beauty of this serene location. Don't miss out on the opportunity to experience the magic of Javadi Hills – it's sure to be an adventure you won't forget!
If you're still wondering where to travel on this vacation, check out the awesome tourist spots we've listed out in our Top 10 Best Places To Visit In Valparai, Tamil Nadu!
Frequently Asked Questions About Javadi Hills, Tamil Nadu
1. How far is Javadi Hills from Thiruvannamalai?
Javadi Hills, a scenic spot in Tamil Nadu, is located approximately 75 km from Tiruvannamalai.
2. Why is Javadi Hills famous?
Jawadi Hills are renowned for their sandalwood trees, medicinal plants, fruit-bearing trees, breathtaking waterfalls and scenic tourist attractions such as Amrithi forest and Zoological Park, Moorajan Falls, Parvathamalai, etc.
3. What is the best way to reach Javadi Hills?
Javadi Hills is an easily accessible tourist destination is Tamil Nadu. Here are the ways to reach this beautiful place:
By Air:
Vellore Airport is near Javadi Hills. It is approximately 78 kilometres away.
By Rail:
The closest railway station is located at Katpadi, which is approximately 54 kilometres away.
By Road:
Roads to Javadi Hills are well maintained, making it highly accessible by car and bus.
4. Which is the best time to visit Javadi Hills?
The ideal months to visit Javadi Hills are from October to March. Following the powerful monsoons, November brings a wispy winter feel.
5. How many days are enough to see all places in Javadi Hills?
Anything between a week and 10 days is said to be an ideal time required to visit the tourist destinations tucked away in Javadi Hills, such as Bheemanmadavu Falls, Vainu Bappu Observatory, Moorajan Waterfalls, Anguththi Sunai Waterfalls, etc. You can read more about these awesome places in the article on this page!