Tamil Nadu is home to several famous hills stations like Ooty and Kodaikanal. However, often travellers overlook some of the lesser-known yet equally mesmerizing hill stations in the state. Yelagiri is a picturesque tourist destination in Tamil Nadu, popular for its thrilling adventure activities, serene lakes, fascinating temples, and delightful hamlets. Nestled amidst four mountains, Yelagiri boasts of a pleasant climate throughout the year. To reach this scenic town, you have to navigate the 14 hairpin turns on the winding ghat route. Once here, there is a plethora of experiences to enjoy, from exploring quaint villages and immersing yourself in the local culture, to sitting by the tranquil lake or taking a leisurely row in the evening. Let's explore the Top 10 Best Places To Visit In Yelagiri, Tamil Nadu.
List Of The Top 10 Best Scenic Places To Visit In Yelagiri, Tamil Nadu
Yelagiri has so much to offer to all those who visit. Take in the calm atmosphere around the man-made Punganoor lake, which is a tourist favourite. Go to the highlands and the Jalagamparai waterfall. The 5-kilometre hike to the waterfall is well worth it for the breathtaking scenery. Trek to Swamimalai Hills if you're looking for excitement. Go to the top to get a bird's-eye view of the area. Do not skip Punganoor lake's nearby nature park. Listen to the mythology while admiring the Jalagandeeswarar temple's magnificent architecture. If you have the time, be sure to visit the Moksha Vimochana and Velavan temples.
Here are the Top 10 Best Places To Visit In Yelagiri, Tamil Nadu.
1. Swamimalai Hills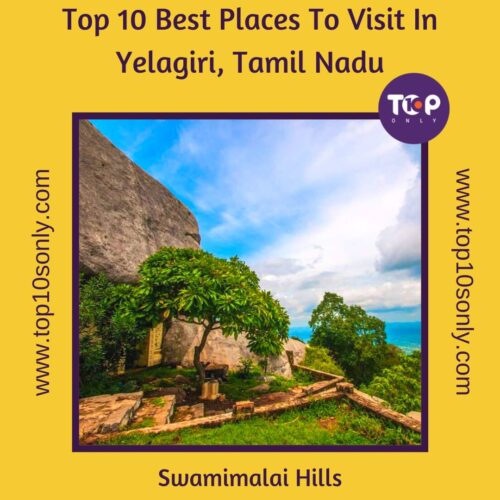 One of Yelagiri's top 10 places, a traveller may be inspired by a variety of reasons to ascend Yelagiri's Swamimalai Hills. The adventure-laden trek to the top of the Swamimalai Hills typically starts at a place called Mangalam village. The trek usually lasts an hour or so. At the top, there is a beautiful Shiva Temple. The ambience of this place is simply spectacular… awe-inspiring scenery, foggy skies, bird chirps, hiking, and the list goes on. Swamimalai Hills is growing in popularity because of its spiritual vibe and the awesome trekking experience.
Best Time to Visit Swamimalai Hills
There are many times of year to visit this location, depending on the needs of various types of visitors. The best time to visit this hill is from May to July if you want sunny, clear weather to fully explore the vicinity of this fauna. Another good time to visit Swamimalai Hills is between September and March if you're especially interested in the adventure aspect and the stunning scenery of this place. Additionally, early hours are the finest moment when you can explore these highlands, to better engage with the natural landscape and fauna.
2. Nilavoor Lake
Nilavoor Lake is the most idyllic location and the top place to visit in Yelagiri located in Tamil Nadu. Dawn and dusk offer the most breathtaking views of this lake. As a manmade lake, Nilavoor Lake is located fairly near the Nilavoor village. It is among Tamil Nadu's most stunning and amazing lakes. The Lake is accessible every day. Whatever time of day, you can enjoy its brilliant beauty. April through December would be the ideal period for travel. The location merits a visit because the winters are so lovely. You'll notice that it's a calm and beautiful day outside. It is breathtaking to see Nilavoor Lake. When you take the family on a visit to such cool hilly areas, you'll be astounded by all the amazing things you see. You won't look back on this excursion into nature with regret, that much is certain.
3. Fundera Park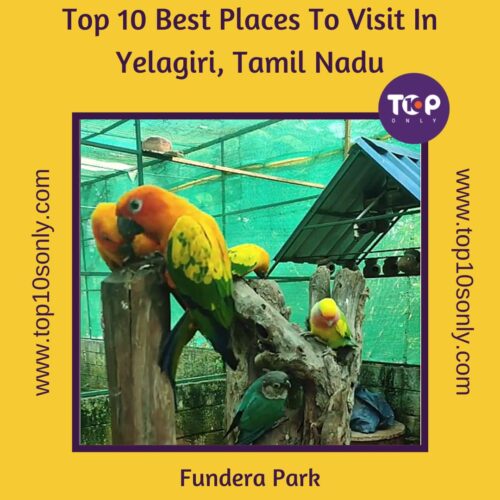 Fundera Park, a well-known and top tourist spot in Yelagiri is undoubtedly a paradise for nature enthusiasts and bird watchers. This zoo and petting farm is home to more than 3000 different exotic bird species. The best way to travel to Fundera Park from Tamil Nadu or Karnataka is by car due to the terrain. In Fundera Park, more than 300 distinct bird species from all over the world are kept in the open rather than in confinement. It could be a large Macau parrot or the smallest dove in the world, the Fundera staff is prepared to encourage and facilitate the visitors to interact with the birds. Visitors are permitted to feed and hold the birds. Petting farm animals like cows, guinea pigs, rabbits, iguanas, and donkeys among others is included in the experience, which begins with caressing birds. A 7D theatre featuring a user-rated and highly recommended VR experience, as well as a herb garden, are included in this lovely picnic area. There are also places to go on family excursions and have kid-friendly picnics.
4. Cloud Forest Entertainment Park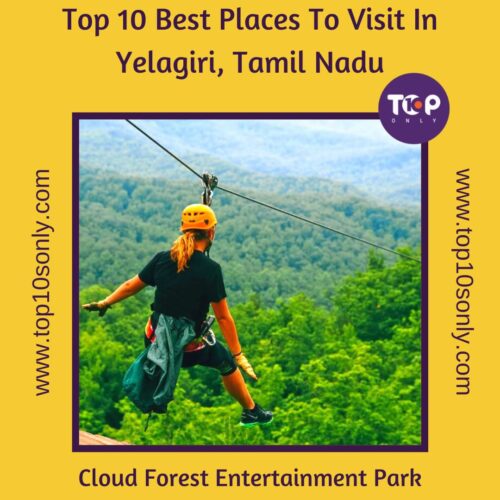 One of Yelagiri's most well-liked attractions for visitors of all ages and the best Yelagiri hill station tourist place for adventure is Cloud Forest Entertainment Park, which offers a variety of exhilarating experiences. This park offers a variety of activities, including obstacle courses, ropes courses, zip lines, and more. Cloud Forest Entertainment Park is indeed the ideal location for a day of excitement and adventure because of its breathtaking panorama of the surrounding hills and luxuriant trees. This park is a must-see location for anybody visiting Yelagiri Hill, regardless if you're looking to test your courage with an exhilarating activity or just take in the gorgeous view.
5. Punganoor Lake
The Yelagiri Hill Station is home to an artificial lake known as Punganoor Lake. It is a man-made, Yelagiri's famous place to visit in Tamil Nadu and one of the most visited attractions in Yelagiri Hills. Also, there is a fountain in the centre and boating opportunities are offered here. The "Mughal Garden" is a garden that is situated near the lake. Being part of Yelagiri travel packages, Punganur Lake is indeed a great location to unwind and take in the natural beauty of this peaceful Tamil Nadu hill station. The local boat club provides both pedalling and motorboat rides. The lake's waters are tranquil. A children's playground, a modest tree-top observation, a walking path along the lake's perimeter, and a few stores can be found there. One can go for a little stroll beside the lake. The activities that have been provided for kids to play include swings, slides, and other activities. Every day, the lake is open from 7 a.m. to 7 p.m. There is a nominal amount collected as an entry fee.
6. Yelagiri Nature Park
Yelgiri Nature Park, a popular and alluring hill retreat in Yelagiri, Tamil Nadu, comprises 12 acres. It is Yelagiri's best place to visit. The park is not distant from Punganoor Lake. The park is the ideal destination for individuals of all ages because it provides a tranquil atmosphere and lovely scenery. There is a tremendous variety of vegetation there. An artificial waterfall or cascade, a children's playground, a musical stream with colourful illumination, a fish exhibit, a seasonal lawn, a bamboo house, and many other attractions can keep kids and even adults delighted for a very long time.
7. Jalagamparai Waterfalls
Both locals and tourists frequent the Jalagamparai Waterfall, among the natural wonders and popular destinations for Yelagiri weekend getaways in Tamil Nadu. The Attaaru River, which rushes through the slopes of the Yelagiri Highlands, creates this breathtaking cascade about thirty-seven miles from Yelagiri Town. This stunning waterfall, which pours from a fifteen-meter-tall peak, is an excellent place to take pictures of the natural world and the terrain. The secluded setting of the waterfall isolates itself from the regular commotion that you would experience when visiting the other tourist destinations in Yelagiri. A soothing bath is an ideal location to unwind in the clear water stream that winds through a dense forest of luxuriant greenery. Many visitors who come with their families enjoy a quiet lunch on the plunge into the picturesque surroundings. The cascade can only be reached by following a walking track, making it the ideal choice for adventurers. Also, you can spend time visiting the Jalagamparai Murugan Temple, which is a shrine devoted to Lord Shiva. All of your senses will be satisfied at once by this location's lush surroundings, hazy aura, and calm mood.
Best Time To Visit Jalagamparai Waterfall
The Jalagamparai Waterfall in Yelagiri is undoubtedly a must-see attraction for everyone who enjoys the outdoors. Schedule a trip during or after the rainy season for the most seductive ambience. The waterfall is stunning year-round, except for the summer when the stream disappears.
8. Yelagiri Forest Hill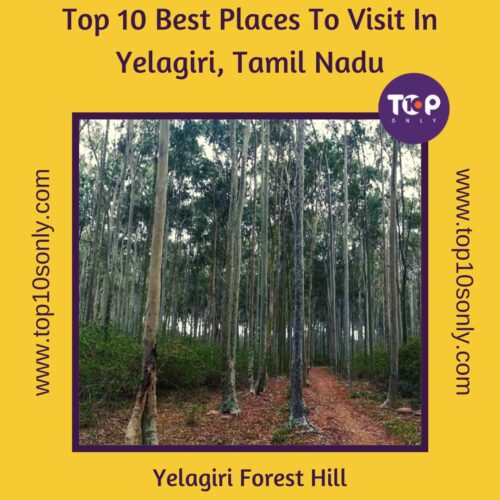 Yelagiri Forest Hill is one of the best tourist spots in Tamil Nadu's Yelagiri hill station. The numerous rose-filled gardens, orchards, and expansive green valleys dotting the Yelagiri Forest Hills' scenery contribute to their breathtaking beauty. Yelagiri Forest Hills are a booming tourist hotspot thanks to recent improvements in sporting activities at the hills. Many snake species may be found on Yelagiri Forest Hill, which is well renowned for its forest setting. A yearly Yelagiri Summer festival is held on the slopes of the Yelagiri Forest during May. For the enjoyment of the guests and locals, a variety of floral and dog exhibitions are held during this event. This three-day event is being held to promote the area's tourism and cultural attractions. Camping amid the vast expanse of green land in the Yelagiri Forest hills is among the most common attractions to do while visiting the area. You may have a tonne of fun and delight while unwinding in the surrounding beauty. Adventure seekers can always enjoy hiking at the summits around the forested hill. While visiting the Yelagiri Forest hill, you can also engage in some adventure by going dirt-cart or buggy riding.
Best Time To Visit Yelagiri Forest Hill
The greatest time to visit Yelagiri Forest Hill and take advantage of the cool temperature is during the monsoon season, which lasts from July to November. Every day of the week, starting at 9:30 AM and closing at 5:30 PM, are the hours of operation for the Yelagiri Forest Hills.
9. Mountain View Adventure Park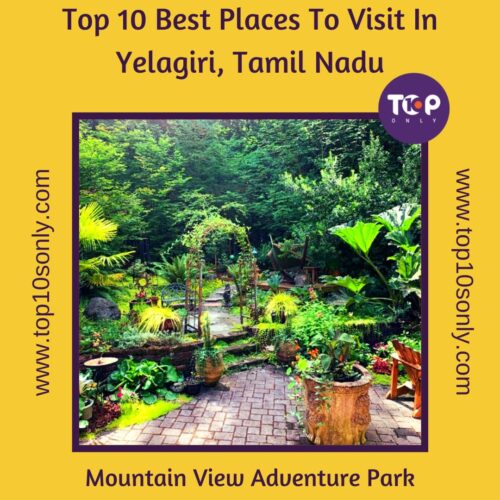 This is the best Yelagiri hill station tourist place for adventure. Mountain View Adventure Park, which provides a variety of thrilling activities, is one of Yelagiri's most well-liked attractions for guests of all ages. ATV rides, paintball, zip lining, bungee jumping, giant swinging, water zorbing, target shooting, archery, and more sports are available at this park. Due to its spectacular view of the surrounding hills and lush trees, Mountain View Adventure Park is in fact the ideal setting for a day of thrills and adventure. For everyone visiting Yelagiri Hill, this park is a must-visit place, whether you want to test your bravery with an adrenaline-pumping activity or just take in the breathtaking scenery.
10. Yelagiri Adventure Camp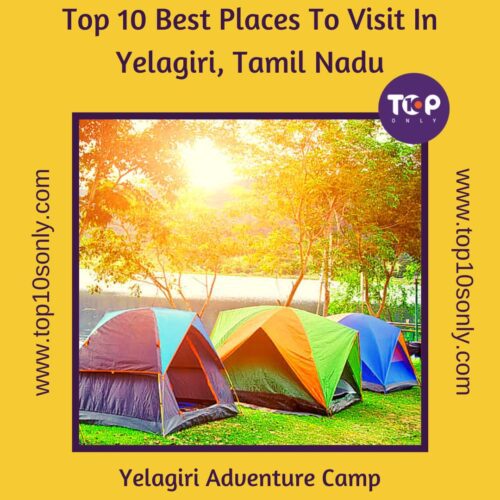 Looking into Yelagiri hill station sightseeing? The Tamil Nadu government has launched the Yelagiri Adventure Camp to promote adventure sports in the hill station. Mountain climbing, trekking, hiking, and even paragliding are all part of the effort to make Yelagiri a popular tourist destination. Modern security and safety procedures are in place, and adventure sports are becoming quite popular at Yelagiri. Experience the rustic surroundings and lush greenery while camping around the cosy fire. Common washrooms are available to freshen up. Scrumptious meals and snacks will be served that are sure to satisfy your tastebuds. At a height of 1410m, which is comfortable for most people, it is situated in the Yelagiri hills. You can easily reach there by private vehicle or public transport. You can enjoy a number of activities like ziplining, archery, wall climbing, rope courses, etc. You are sure to leave the place feeling adventurous.
So that concludes our list of the best places to visit in Yelagiri hills located in Tamil Nadu. With several must-see attractions and things to do in Yelagiri, Tamil Nadu, it is a site that every traveller should explore. Yelagiri offers a variety of activities to enjoy, whether you're searching for a tranquil getaway or an exhilarating adventure. Yelagiri is among the most well-liked tourist destinations in India, and it is easy to see why with its breathtaking natural beauty and interesting attractions. So why do you still wait? Be ready to travel and discover Yelagiri's breathtaking beauty!
Still unsure as to which destination to pick for the upcoming vacations? Fret not. Check out this helpful article about the Top 10 Best Lesser-Known Hill Stations in Tamil Nadu, which lists the ten best hill stations you can visit this year.
Frequently Asked Questions About Yelagiri Hill Station In Tamil Nadu
1. What are the top 10 places to visit in Yelagiri, Tamil Nadu?
Swamimalai Hills, Nilavoor Lake, Fundera Park, Cloud Forest Entertainment Park, Punganoor Lake, etc… are some of the places you can visit in Yelagiri. Have a look at the above article on the Top 10 Best Places To Visit In Yelagiri, Tamil Nadu to have an in-depth look into the places you can visit in Yelagiri. With several major attractions, Yelagiri is a must-visit location for any traveller. Yelagiri offers plenty to offer everyone, whether they are searching for a tranquil retreat or an exhilarating experience.
2. What are the best time and seasons to visit Yelagiri, Tamil Nadu?
Yelagiri is a must-visit place. Despite the fact that travellers are welcome at any time during the year, the busiest travel months are November through February. Yelagiri has a more rainy summer than it has a dry winter in terms of climate. The finest season for touring the highlands to enjoy its beauty is in the winter.
3. What are the popular activities and things to do in Yelagiri, Tamil Nadu?
Boating, trekking, watching the sunset, and ziplining are some of the Yelagiri tourist attractions you can indulge in while in Yelagiri. Yelagiri offers a variety of activities to enjoy, whether you're searching for a tranquil getaway or an exhilarating adventure. Yelagiri is among the most well-liked tourist destinations in India, and it is easy to see why with its breathtaking natural beauty and interesting attractions.
4. How to reach Yelagiri, Tamil Nadu, and what are the transportation options available?
If you are looking for options by air, the closest airport is Bangalore Airport, which is located 192 kilometres northwest of the prime location. Bangalore has daily flights to all of India's main cities.
By train, the railhead that is the closest to Yelagiri is Jolarpettai Junction. The Jolarpettai junction is connected by trains to the railway stations in Bengaluru, Chennai, and Coimbatore.
By road, the hill station is connected to Coimbatore, Chennai, and Bangalore by both public and private buses.
5. What is the climate at Yelagiri, Tamil Nadu?
The town experiences cool, pleasant temperatures all year round because it is a hill station. Yelagiri offers some relief from the sweltering heat that may be felt in most southern cities at times. It rarely gets too hot there because of its latitude. Even the winters don't become particularly cold.