Welcome to the breathtaking town of Coonoor, located in the charming state of Tamil Nadu, India. Known for its picturesque hills, lush green tea plantations, and stunning waterfalls, Coonoor is a paradise for nature lovers and adventure enthusiasts. It's time to discover the ten best scenic places in Coonoor, located in Tamil Nadu. Top 10s Only is here to take you on a virtual tour of Coonoor's most beautiful and awe-inspiring locations. Join us as we unveil the Top 10 Best Places To Visit In Coonoor and experience the magic of this enchanting town.
Explore The Top 10 Best Places to Visit in Coonoor, Tamil Nadu!
Having the reputation of producing lip-smacking Nilgiris tea, Coonoor is one of the most sought places to visit. It is a promised land for trekkers and tourists. This place has a lot to offer; from lush green, plush tea plantations too, cascading waterfalls, and mesmerizing and breath-taking viewpoints, this place is a haven for people who want a quiet weekend getaway. If you are visiting this place for the 1st time, then here are the top 10 best places to visit in Coonoor.
1. Dolphin Nose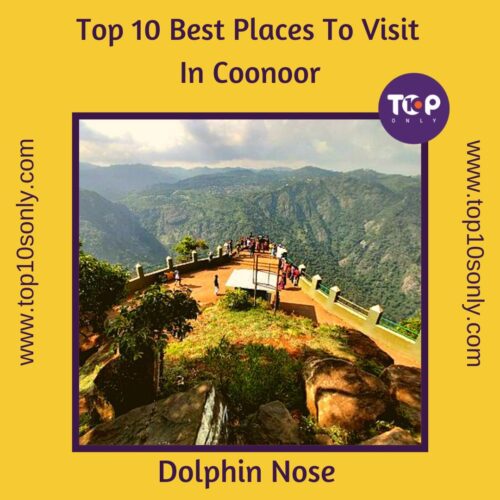 Overlooking the humungous mountains and Catherine Falls, this is one of Coonoors top tourist attractions. This is termed a dolphin nose because as the name indicates, the viewpoint shapes the nose of a dolphin. The drive to reach this scenic place in Coonoor is spellbinding. It brings a sense of calmness to you. Although this place gives picturesque scenery, one can also indulge in house riding, you will find riders strolling around the place offering you to ride for a small fee. If riding is not your forte, then simply sit down with your family for a picnic.
Best Time To Visit
The hours between 9 am to 6 pm are the perfect time between the months of March to May.
2. Sims Park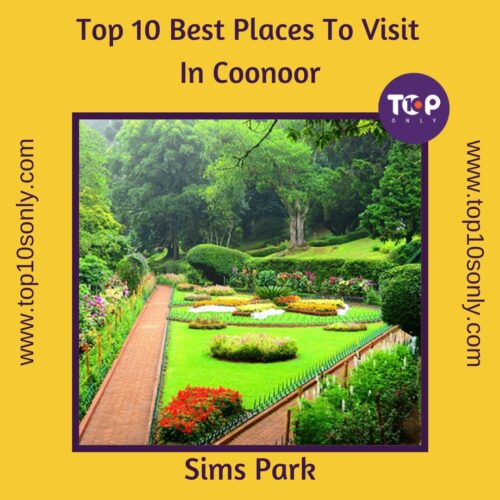 One of the top 10 places to visit in Coonoor is Sims Park. Renowned for its extensive number of trees and flowers, this is the perfect spot for anyone visiting Conoor's top attractions. It is a home ground to some of the unusual flora such as the Rudraksha Tree (Bead Tree) and Queensland Karry Pine. Because of its ample number of ethnic trees, creepers, and shrubs obtained from various parts of the globe; it is the perfect spot for an educational trip for children. The park was commissioned after J.D. Sims who initially started this as a resort and over the years turned it into a Botanical Garden. This is the perfect place in Coonoor to visit with family.
Best Time To Visit
The park is open to visitors from 9 am to 6 pm.
3. Lamb's Rock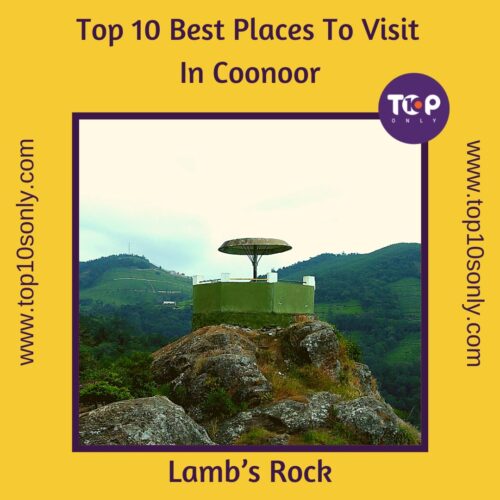 Ranked as one of the must-visit places in Coonoor, Lamb's Rock is an adobe for all picnic lovers. There is an interesting story behind how it got its name. Apparently, the pathway to this sight-seeing spot in Coonoor was paved by a man named Captain Lamb. This spot arrays the magnificent beauty of Haulical Ravine on one end and towards another one can spot the Coonoor stream. Looking below one can find the vastness of Coimbatore Plains. Other than a ravishing view, this place is quiet, which is why it is a perfect spot to have a family picnic. Trekkers love to wade through and after a good hike sit for a sip of a hot beverage overlooking the splendid view this Coonoor tourist spot has to offer.
Best Time To Visit
Go as early as 8 am and get back before 6 pm.
4. Pakkasuran Peak And Viewpoint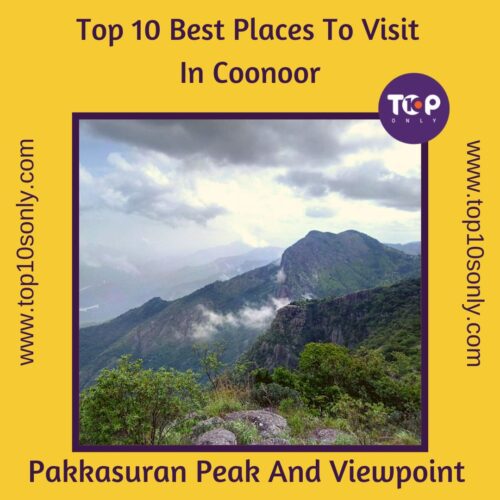 Looking to visit some of the best tourist spots in Coonoor? Your search ends here. This is one of the historic Conoor hill station attractions as this particular locality has a backstory to its name. The locals call this Bagasuran Malai as they believe that place is linked with a folk-lore demon legend Bagasuran. During the 18th century, this particular point was in use as an outpost by Tipu Sultan. There is a fort named Droog Fort that is in ruins now, but one can get a panoramic view of the Ooty-Mettupalayam road track from this viewpoint. Although a good spot for bird watchers, the locals have asked to exercise caution from the bison that roam about this place. Due to its tranquillity, this is hands down the best place to visit in Coonoor for sightseeing.
Best Time To Visit
9 am to 5 pm is the ideal time to visit this place, or else there are chances of running into wild animals after dusk.
5. Law Falls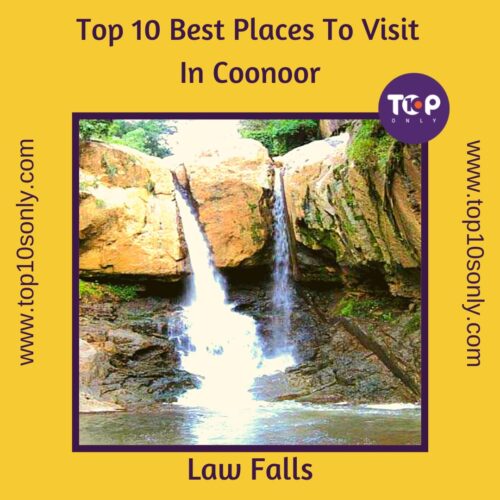 Coonoor Tourism Places holds a lot of attractions, one such is the Law Falls situated on the way from Mettupalayam en route to Ooty. Due to how easily accessible this destination is, it is one of the famous tourist places in Coonoor. This waterfall is believed to have got its name come from Col. Law, and is a perfect spot to unwind and enjoy the cascading water and lush green forest that surrounds it.
Best Time To Visit
Monsoons are the best season to visit and these falls can be viewed from the Dolphin nose viewpoint that we mentioned above. Although open 24hrs, the ideal time would be between 6 am to 6 pm.
6. Nilgiri Mountain Railway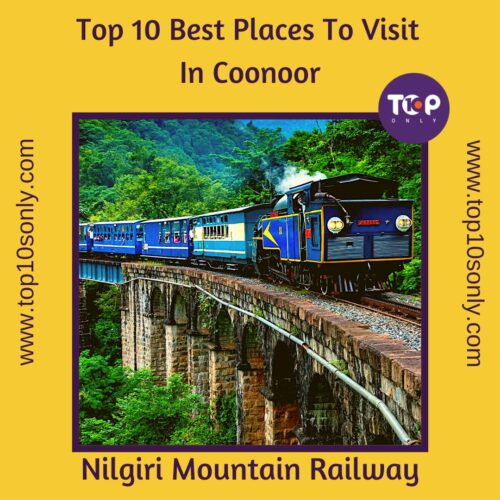 Planning a trip to visit the top 10 best places in Coonoor? Forget mainstream transportation such as buses, cars, bikes, etc. Try the meter-gauge train that starts its journey from Mettupalayam, taking you through the scenic view of the hills that ends at Ooty en route to Coonoor. This is a standalone track railway that was built by the British. The overall journey would be about 5hrs uphill and the time taken to go downhill is less. It is advised to book tickets early because this is one journey that is always in demand by tourists from all places. Through the journey, you can be exposed to misty hills, waterfalls, dense forests, species of animals and birds etc.
Best Time To Visit
Onboard the train From Mettupalayam at 7 am and reach your destination by 12 noon. From Udhagamandalam onboard at 2 pm and reach Mettupalayalam by 5.30 pm.
7. Mukurthi National Park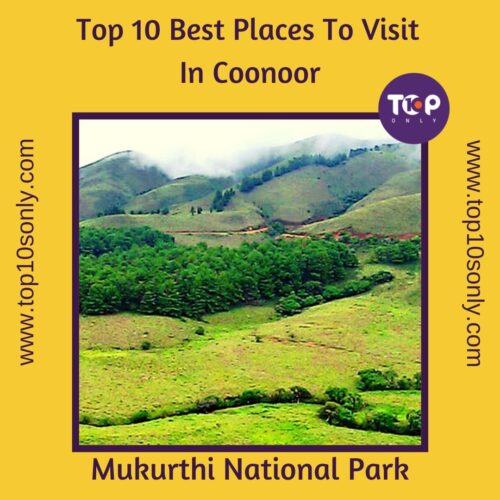 Among the top 10 places to visit in Coonoor is the Mukurthi National Park. It is said to be the 1st park that is a part of Nilgiri Bio Reserve. A perfect spot for trekkers, the Forest Department was kind enough to place watchtowers to aid birdwatchers and researchers. The Mukurthi peak is also situated in this park, although one might need prior permission from the forest department to trek through them, due to the considerable poaching and deforestation that takes place in such areas. Having said this, it is a perfect place one gets to experience flora and fauna at its peak. Some of the fauna that's typically spotted include jungle cats, elephants, jackals, exotic parrots, leopards, barking deer etc.
Best Time To Visit
Peak hours are between 9 am to 5.30 pm.
8. Tiger Hill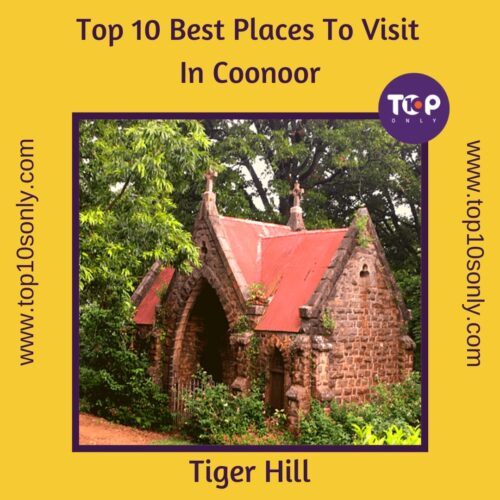 Tiger hills, one of Coonoor's top 10 places to visit is nested on the lowest part of yet another famous attraction Doddabetta Peak. Enveloped by meadows and hills, this attraction is home to a freshwater reservoir. If you are an early riser and wish to view a spectacular sunrise or a sunset for that matter, then tiger hills is your best bet. If you are a fan of old tales and legends, then visit this place and ask the locals on the eerie backstory this holds since this is located near the burial grounds of All Saints Church, which is why this place also goes by the name Tiger Hill Cemetery.
Best Time To Visit
For a beautiful sunrise get here before 6 am and 6 pm for the sunset.
9. Highfield Tea Factory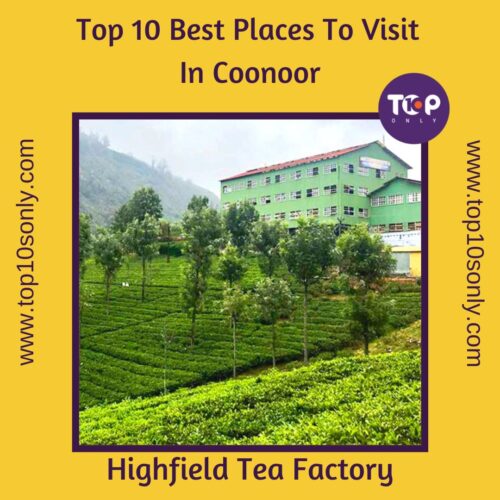 What is the point of visiting the hills known for the famous Nilgiris Tea, if you can't visit the factories that process them? You are not only allowed to taste different flavours of tea but can also see the entire process of making tea. The estate is almost 50 years old and permits you to watch how the flavours are brewed. You can even choose to hire a guide who can take you through the entire factory explaining each process and procedure in depth. Once done, you will be redirected to a small shop that lets you try samples of tea and you can shop according to your preference. Apart from buying different flavoured tea, these shops also have Eucalyptus oil for sale. Located at the Coonoor – Ooty road, this estate tops the Coonoors Tourist Places List.
Best Time To Visit
Opens from 9 am in the morning to 6 pm in the evening.
10. Droog Fort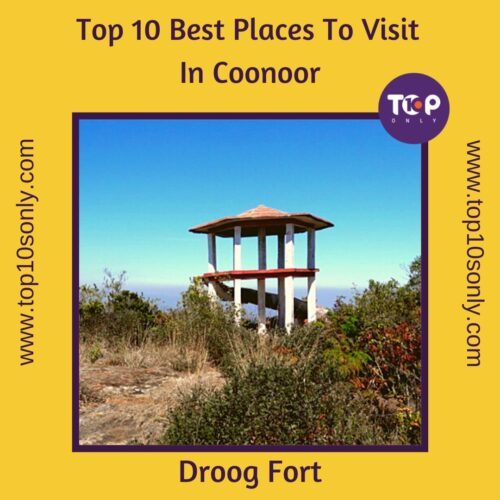 Perched at an altitude of 6000 feet above sea level, Droog Fort in Coonoor is a popular tourist destination that offers breathtaking views of the Western Ghats. Also known as Bakasura Malai Fort, it has a rich history dating back to the 18th century when it was used as an outpost by Tipu Sultan to monitor neighbouring kingdoms. With hidden tunnels and a watchtower, the fort offers visitors an opportunity to explore history while enjoying the beautiful natural scenery. Adventurers can go on Sunday treks, while those interested in local culture can visit the nearby Droog Village to learn about tribal lifestyles.
Best Time To Visit
As the climate is pleasant during the months of October till March, this would be the ideal time to visit this historical spot in Coonoor.
Above are some of the places to visit in Coonoor during the summer. Coonoor is one of the most desired Tamil Nadu sightseeing destinations. Abode to many falls, hills, mountains, caves etc, they also provide adventures if you want to get your adrenaline pumped. Look into the Coonoor Travel guide and you can find yourself open to activities such as horse riding, zip lining, paddling boats, bike rides, golfing etc. Rooted away from the hustle and bustle of the cities, the above are Coonoor's best places to visit, to rejuvenate and recharge yourself. So, what is the hold-up? Plan your next getaway right away.
Check out the Top 10 Best Lesser-Known Hill Stations in Tamil Nadu article if you're interested in looking for more scenic tourist destinations in Tamil Nadu.
FAQs
1. What are the top 10 places to visit in Coonoor, Tamil Nadu?
The top 10 places to visit in Coonoor, Tamil Nadu include, but are not limited to Sims Park, Lamb's rock, Laws falls, Tiger Hills, Highfield Tea Factory etc. You can find details of these awesome destinations in the article above.
2. What are the best time and season to visit Coonoor, Tamil Nadu?
To enjoy perfect weather and to get away from the heat, the ideal months to visit Coonoor would be between March–May. This is the seasonal month to visit Coonoor.
3. What are the popular activities and things to do in Coonoor, Tamil Nadu?
Outdoor activities include Zip lining, Paddle Boat rides in the lakes, horse riding, golf, hang gliding, and river rafting to name a few are just some of the popular activities tourists can indulge in while visiting Coonoor.
4. How to reach Coonoor, Tamil Nadu, and what are the transportation options available
Coonoor is one of the most accessible hill stations in Tamil Nadu.
By Air– Coimbatore International Airport is the closest airport
By Rail– You can board a train from Mettupalayalam that would take you to Coonoor, the meter gauge operates every day at 7 am from Mettupalayalam.
By Road– National Highway 67 connects you to Coonoor, one can board a bus from cities such as Coimbatore, Mettupalayalam, Mysore etc.
5. What is Coonoor famous for?
Although Coonoor has a lot of stunningly scenic locations to offer, it is best known for its lip-smacking Nilgiris Tea.