In the annals of India's history, the freedom struggle has been enriched by the courage and bravery of countless known freedom fighters who are celebrated as icons of resistance. From Mahatma Gandhi's nonviolent Satyagraha to Netaji Subhash Chandra Bose's revolutionary spirit, their contributions are etched in the nation's collective memory. However, beyond the prominent figures lie the unsung heroes of India, whose tales remain obscure. Yes, we are talking about the Malayalam freedom fighters, recounting the heroic tales of those who fought for independence. At Top 10s Only, we unearth the incredible tales of valour of the Top 10 Lesser-Known Malayalam Freedom Fighters Of India, whose unwavering dedication and sacrifices played a significant role in shaping the nation's destiny. It's time to unveil their stories and pay tribute to their forgotten heroism.
List Of The Top 10 Lesser-Known Malayalam Freedom Fighters Of India
Let's explore the lesser-known eras of India's freedom struggle with the unsung freedom fighters of Kerala. These Malayalam freedom fighters, though not as widely celebrated, stood shoulder to shoulder with their more prominent counterparts in the fight for independence. Their bravery, resilience, and sacrifices deserve recognition. Join us as we shine a light on the top 10 freedom fighters of Kerala and uncover the remarkable stories of these forgotten champions of liberty.
1. K. Kelappan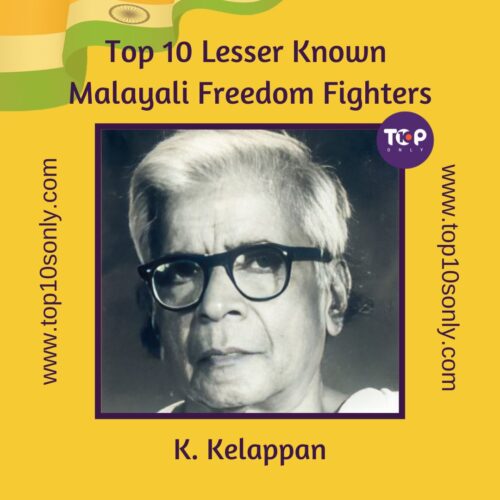 Did you know that there was a man who was so similar to our Father of the Nation, Mahatma Gandhi, that he was popularly hailed as "Kerala Gandhi"? We are referring to none other than K. Kelappan, the first freedom fighter in Kerala, who was a prominent leader during the Renaissance era in Kerala and left an enduring legacy as a social reformer and a fearless freedom fighter. Born on August 24, 1889, in a small village in Calicut, he dedicated his life to two crucial causes: advocating social reforms and fighting against British colonial rule. Kelappan's non-confrontational approach earned him the revered title "Kerala Gandhi." He actively participated in the Non-Cooperation movement and led the Payyannur and Calicut Salt Satyagrahas, making him Kerala's first Satyagrahi in the individual satyagraha movement. His significant role in the Vaikom and Guruvayur Satyagrahas in 1932 elevated him to the forefront of Kerala's freedom struggle. Besides India's independence, Kelappan worked relentlessly to eradicate untouchability, establish Harijan hostels and schools, and promote Khadi and Village industries. His most noteworthy accomplishment, the Guruvayur Referendum, sparked a movement for temple entry for all, challenging caste-based discrimination and paving the way for societal transformation.
2. George Joseph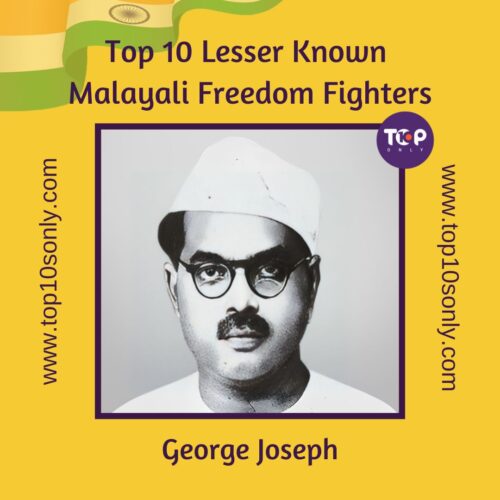 George Joseph, born in Chengannur on June 5, 1887, was a lesser-known yet pivotal figure in India's freedom struggle. During the freedom struggle in Kerala, George Joseph emerged as a dedicated activist, actively participating in various movements and advocating for the rights of the people. Educated in Kerala and abroad, he established himself as a distinguished criminal lawyer in Madurai, fighting against unjust laws like the Criminal Tribes Act. Joseph's encounter with Mahatma Gandhi further fueled his passion for independence. As an editor for various newspapers, he fearlessly advocated for civil liberties and communal harmony. He actively participated in movements like the Vaikkom Temple Entry Struggle and was later elected to the Central Legislative Assembly in 1937. Joseph's close association with leaders like K. Kamaraj showcased his unwavering dedication to the nation's cause. Sadly, he passed away at the age of 50 in 1938, leaving behind a legacy of courage and social reform that remains an inspiring chapter in India's history.
3. Accamma Cherian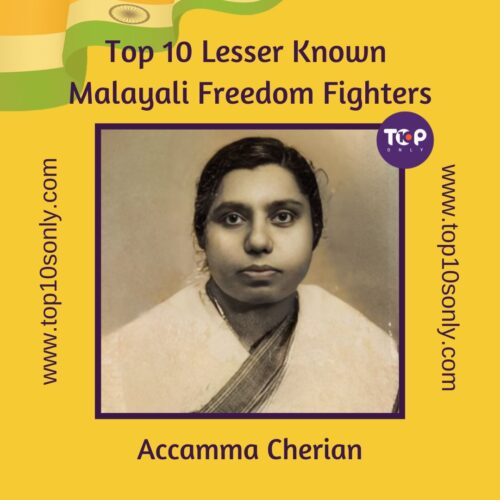 Malayalam women freedom fighters include Accamma Cherian, an unsung heroine from Kerala who played a pivotal role in India's freedom struggle. In 1938, she fearlessly led a mass protest rally that became a turning point in the fight for independence in Travancore (now Kerala). Born in 1909 to a wealthy family, she defied societal norms by becoming a history teacher and later joining the Travancore State Congress, inspired by Mahatma Gandhi's ideals. Despite facing numerous arrests for her activism, Cherian remained undeterred. Accamma Cherian led a large protest urging the revocation of the ban on the State Congress and the dismissal of Dewan C. P. Ramaswami Aiyar. Accamma Cherian's courageous words forced the police authorities to withdraw their orders. She was hailed as 'The Jhansi Rani of Travancore' by M. K. Gandhi. In 1942, she took charge as the acting president of the state congress and passionately supported the Quit India Movement. Post-independence, she entered active politics and secured a seat in Travancore's first free elections in 1947. However, her political journey encountered setbacks when she left the Congress party after being denied a ticket for parliamentary elections in the 1950s. Nevertheless, Accamma Cherian's indomitable spirit and dedication to the nation's cause continue to inspire generations, making her an unsung yet crucial figure in India's struggle for freedom.
4. A.V. Kuttimalu Amma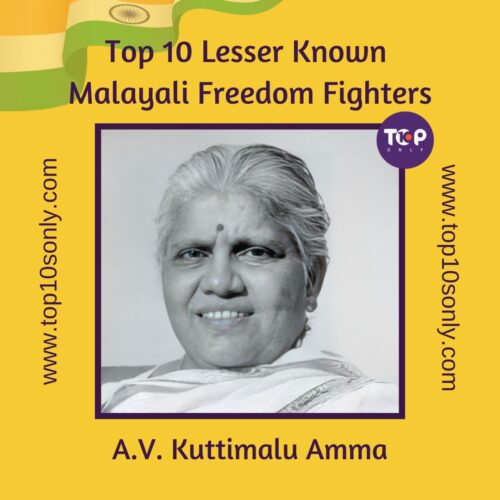 A. V. Kuttimalu Amma, born in 1905 in Kerala's Malabar region, is one of the dedicated and remarkable women freedom fighters from Kerala who actively participated in India's struggle for independence. Influenced by leaders like Mahatma Gandhi, she actively participated in the Harijan upliftment mission and played a significant role in women joining the national freedom struggle during All India Political Sufferers' Day in 1930. Fearless and determined, she led protests against foreign cloth sellers and marched with her baby during the Civil Disobedience Movement, facing imprisonment multiple times. Her contributions extended to the Quit India Movement and social work, caring for orphans and establishing a Juvenile Home. Even after independence, Kuttimalu Amma's dedication endured, making her a founding member of the All Kerala Women's League and receiving recognition with the Mallur Govindapillai Veluthambi Dalava Award. Her legacy as a symbol of courage and unwavering commitment to the nation's welfare remains inspiring.
5. Chempil Arayan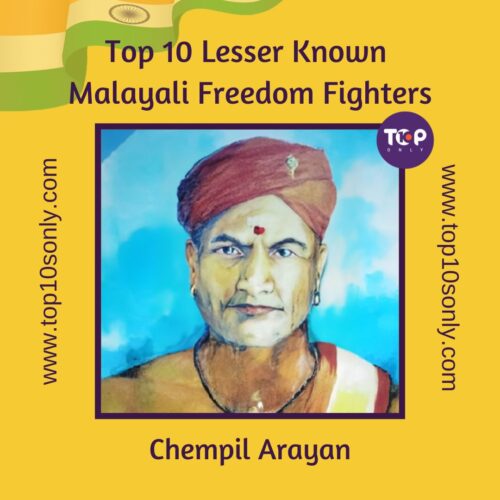 Chempil Arayan, officially named Chempil Thailamparambil Anantha Padmanabhan Valiya Arayan Kankkumaran, deserves his place among the unknown freedom fighters of Kerala as he had played a significant role in India's resistance against British colonial rule. Born in 1761 at Chempu, near Vaikom, Kerala, he served as the Admiral of the Fleet for Avittam Thirunal Balarama Varma, the King of Travancore. On December 28, 1808, while under the leadership of Velu Thampi Dalawa, he led one of the earliest uprisings against the British East India Company, orchestrating an audacious attack on Bolghatty Palace against the Resident of Travancore, Colonel Colin Macaulay. Despite his capture and subsequent release, Chempil Arayan continued to resist, employing his naval prowess on the traditional Kerala boat, "Odi Vallam," called "Hanuman Odi." Though he passed away in 1811, his legacy as a courageous freedom fighter remains etched in the history of Kerala's struggle for independence.
6. Edachena Kunkan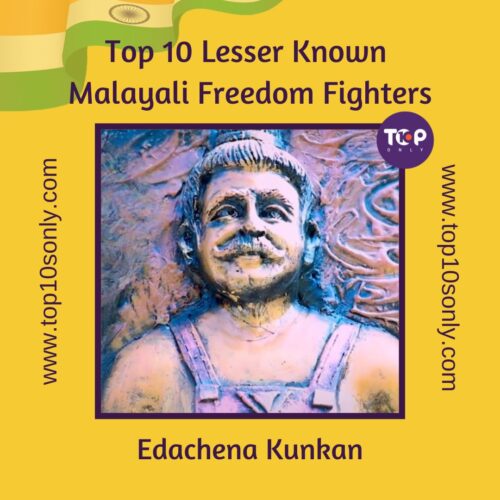 Edachana Kunkan Nair, the fearless commander of Kerala Varma Pazhassiraja's Nair Army, was one of the courageous Malayalam freedom fighters of India who valiantly fought for the nation's independence. From 1797 to 1805 in Wayanad, he staunchly supported Pazhassiraja, even sacrificing five family members for the cause. Edachana's pivotal role was evident during the audacious attack on the British Military Camp in Panama on October 11, 1802. His powerful proclamation from Pulpally temple rallied around 3000 men, primarily Kurichiyas and Kurumars, to rise against British colonial oppression. The resistance forces were strategically deployed across Wayanad. In October 1805, under Pazhassiraja and Edachana's leadership, the rebels converged at Pulpally Murikkanmar temple, fortifying their resolve to confront the British. With Kurichiyas and Kurumas armed from Kurichiyat to Pakkom and Pulpally, they prepared for the ultimate stand against colonial tyranny. Edachana Kunkan Nair's legacy remains an enduring symbol of the indomitable spirit of lesser-known freedom fighters who ardently fought for India's liberation. So strong is his spirit that he was immortalised in the historical biopic "Kerala Varma Pazhassi Raja," starring legendary Malayalam actor Mammootty. The role of Edachana Kunkan Nair was skillfully portrayed by the actor R. Sarathkumar.
7. Vakkom Abdul Khader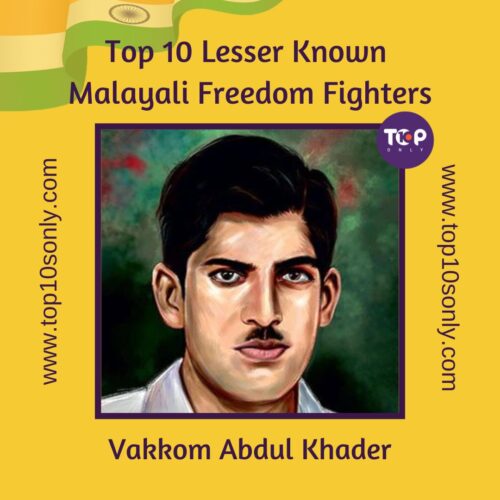 Vakkom Abdul Khader was one of the fearless Malayalam revolutionaries who actively fought for India's independence from British rule. Born on May 25, 1917, Vakkom Abdul Khader was attracted to the freedom movement while he was still a student, and he went on to become a fervent advocate for India's independence struggle. He participated in various agitations for freedom in Travancore and inspired the protesters with revolutionary songs. Due to pressure from his father, he went to Malaysia and became an officer in the public works department there. Due to his patriotic spirit, he joined the Indian Independence League in Malaysia. Later, he joined the Indian National Army. He was very courageous and efficient, so he was trained at the Swaraj Institute, which was set up to train INA soldiers to promote revolutionary activities in India. One batch of INA soldiers was sent there, and Abdul Khader was one of them. They came from Penang, Malaysia, in a submarine and landed at Tanur on the Malabar coast. Police arrested him and sent him to Fort St. George at Madras After trial, Vakkom Khader and his three comrades were hanged to death on September 10, 1943.
8. K. Kumar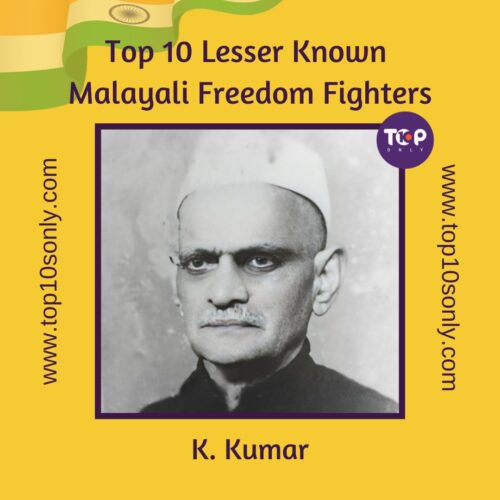 Another important freedom fighter on our Kerala list is K. Kumar, a famous freedom fighter from Kerala born in 1894 in Elanthur village, Pathanamthitta district. As a prominent socio-political leader, he infused the spirit of the national movement into Travancore and served as the president of the Travancore State Congress Committee. Reviving the newspaper Swadeshabhimani, he disseminated the ideals of the freedom struggle until 1932. During the Civil Disobedience Movement, K. Kumar actively participated in the Salt Satyagraha in Malabar, attending meetings in Kozhikode, Thalassery, and Kannur. In Travancore, he joined various agitations, promoting the boycott of foreign goods and picketing shops. His commitment to the cause led to his arrest and a two-year imprisonment. Notably, K. Kumar accompanied Gandhiji on his tours across Kerala, translating his speeches into Malayalam. Post-independence, he continued his endeavours, focusing on Harijan welfare, Khadi promotion, and Sarvodaya education in Travancore. His contributions remain an inspiring reminder of the unsung heroes of the freedom struggle in Kerala.
9. Amsi Narayana Pillai
Born in 1896 in the serene village of Amsi, Thengapattanam, Kanyakumari District, Amsi Narayana Pillai was deeply influenced by the tales of freedom fighters, inspiring him to abandon his Government job and join India's independence movement. As the sub-editor of Swaraj and later the founder of Mahatma Weekly, he spread Gandhian ideals. Amsi actively participated in the Vaikom Sathyagraha and Guruvayoor Sathyagraha, despite facing bans and imprisonment for his revolutionary song, "Varika varika sahajare." In a testament to its timeless impact, the same patriotic song was featured in Superstar Mohanlal's thriller film Lucifer (2019), with writer Murali Gopy lending his voice. Amsi's legacy endures through the Amsi High School he established and his renowned work, "Gandhi Ramayana," which depicts Gandhiji as Rama in a modern retelling of the Indian epic. Amsi Narayana Pillai's unwavering dedication to India's freedom struggle remains an inspiration to this day.
10. Vaikom Muhammad Basheer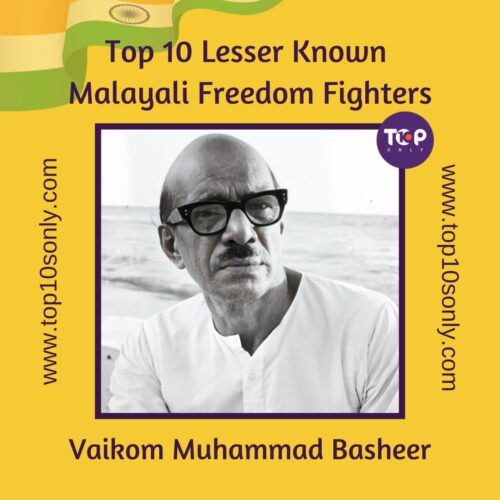 Most people know Vaikom Muhammad Basheer as the brilliant Malayalam author of numerous acclaimed books. But did you know that this illustrious Indian writer was also a famous Malayalam freedom fighter of India? He was born on January 21, 1908, in Thalayolapparampu, Kerala. Driven by Mahatma Gandhi's ideals, he abandoned formal education to actively participate in India's independence movement, experiencing the Salt Satyagraha and drawing inspiration from the bravery of Sukh Dev, Bhagat Singh, and Rajguru during his imprisonment. Embarking on a remarkable seven-year journey across India, Asia, and Africa, Basheer confronted poverty while engaging in diverse occupations. Despite financial challenges, he emerged as a prolific and unconventional writer, gaining fame for his unique language usage and storytelling. His literary repertoire included an array of works such as short stories, novels, essays, and a one-act play, woven with a tapestry of emotions and themes. Fondly known as the "Beypore Sulthan," Basheer's writing style reflected simplicity intertwined with profound expressions. In 1982, his exceptional literary contributions were recognised with the prestigious Padma Shri, establishing his legacy and continuing to influence future generations.
Kerala Freedom Fighters: An Integral Part Of Indian History
Several national leaders from Kerala, with their exceptional vision and dedication, have played pivotal roles in shaping India's destiny and inspiring generations to come. The list of the names of the freedom fighters from Kerala highlights the indomitable spirit of Kerala's brave souls in the fight for independence. Their unwavering commitment, sacrifices, and determination to bring about a free and independent nation deserve to be remembered and celebrated. While their contributions may have been overshadowed by more prominent figures, their impact on India's struggle for freedom remains profound. By unearthing and honouring the forgotten heroism of these remarkable individuals, we not only pay tribute to their legacy but also gain a deeper appreciation for the diverse tapestry of courage that shaped India's journey to independence.
Our freedom fighters deserve all the laurels that we can offer them Let's honour the unsung freedom fighters who have dedicated their lives for our country! Make sure to read about the top 10 Telugu freedom fighters as well as the top 10 Tamil freedom fighters of our country!
Frequently Asked Questions About Lesser-Known Malayalam Freedom Fighters Of India
1. Who are the famous freedom fighters in Kerala?
K. Kumar and Vaikom Muhammad Basheer are both famous freedom fighters in Kerala. To know more about the freedom struggle of India, why not check out the top 10 books written by valiant Indian freedom fighters?
2. Who were the female freedom fighters in Kerala?
There were two women who fought for independence in Kerala: Accamma Cherian and A.V. Kuttimala Amma.
3. Who were the freedom fighters of Kerala for independence?
K. Kelappan, Chempil Arayan, and Vakkom Abdul Kader were the freedom fighters of Kerala for independence.
4. Who is known as the Joan of Arc of Kerala?
Accamma Cherian was known as the Joan of Arc of Kerala.
5. Who gave Accamma Cherian the name "Jhansi Rani of Travancore"?
Due to Accamma Cherian's fearless leadership during the protest, which caused the police to revoke their orders, M. K. Gandhi gave her the nickname "Jhansi Rani of Travancore."