In the annals of Indian history, countless heroes have risen to the call of freedom, their valiant struggles etched in the national consciousness. Many freedom fighters dared to raise their voices against the invaders. Amidst the well-known names, a remarkable group of lesser-known Kannada freedom fighters emerged, embodying the indomitable spirit of their homeland. These courageous warriors, driven by an unwavering love for their nation and a fierce determination for liberation, left an indelible mark on the fight for independence. These unsung heroes of India remain shrouded in obscurity, away from the recognition that they so rightly deserve. Top 10s Only is honoured to present the courageous Top 10 Lesser-Known Kannada Freedom Fighters of India, who selflessly sacrificed their dreams and, in some instances, their lives for the noble cause of our country's independence.
Join us as we delve into the inspiring tales of these unsung heroes, whose unwavering resolve and sacrifices deserve recognition, honoring their legacy as true warriors of India's freedom movement.
List Of The Top 10 Lesser Known Kannada Freedom Fighters Of India
From 1920 to 1947, Mahatma Gandhi led the freedom struggle, but there were many from various backgrounds, such as the illustrious social reformer Kamaladevi Chattopadhyay and Gandhian Nittoor Srinivasa Rau, who helped him much before and after that. There were huge contributions to this struggle from the freedom fighters of Karnataka, many of whom remain unknown to the people. Some took up arms to fight, while others gave their time to protest and advocate freedom. Here is the list of those unsung freedom fighters of Karnataka who played an active role.
1. Karnad Sadashiva Rao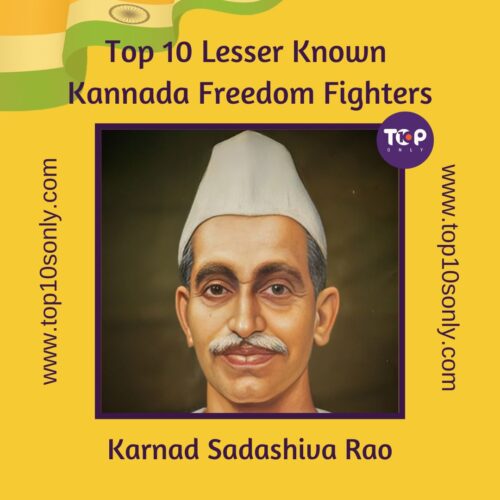 He is among the unknown freedom fighters of Karnataka who was the first man from this state to volunteer for the Satyagraha movement started by Gandhi. He was born in the year 1881 and was the son of Ramachandra Rao and Radhabhai. He went to Presidency College and studied in Bombay for Law. He returned as a lawyer and became reputed in a short span of time. He started getting involved in social work and his main focus was women empowerment. He founded the Mahila Sabha along with his wife Shantabai after successfully managing to get women out of the house. He helped women learn many things like basket-making, sewing, etc and also helped with the basic education of women. 
He supported widow upliftment and encouraged them to break the social shackles and join classes in Mahila Sabha. Karnad Sadashiv Rao also worked toward the upliftment of Harijans and fought for abolishing untouchability. He was the first person to enlist for the Satyagraha movement from Karnataka and played a critical role in inspiring the freedom movement in the state. He was a key member of the Non-cooperation movement in the North Kanara district. He was a man who gave up everything for society and died penniless with no money even for his last rites. As a mark of respect for this first freedom fighter in Karnataka, Mangalore's K.S Road and Bengaluru's Sadashivnagar are named after him. 
2. Kittur Chennamma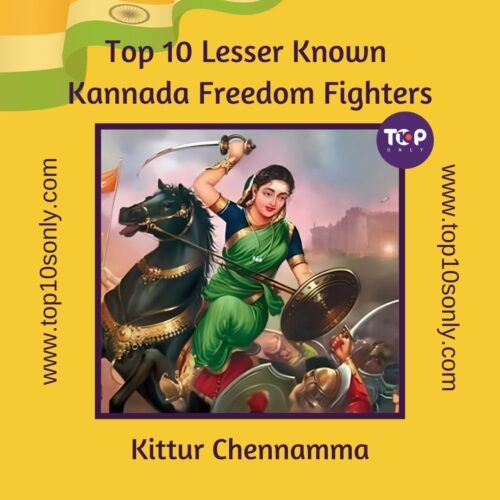 Chenamma was a freedom fighter and a queen of Kittue which is in Karnataka, India. She lived in Colonial India and was born in the year 1778. Chenamma following her husband Mallsarja Desai's death at the tender age of 15 became the queen of Kittur. She is a leading name in the list of freedom fighters from Karnataka and is known for her leadership and bravery during the 1857, First War of Independence also called the Indian Rebellion of 1857. 
It all started when the British East India Company tried to annex Kittur. She led an armed battle against the British by forming a 2000-strong army of soldiers which had many women warriors. She managed to thwart the British attack even after she was outgunned and outnumbered. The British, however, managed to capture Kittur after launching another attack on the Princely State of Kittur. After a gruelling and long battle, she and her adopted son Shivalingappa were captured. She was in Bailhongal Fort Prison and died in 1829. She is among the earliest woman freedom fighters in India and her leadership and bravery inspire many other freedom strugglers. She is the second freedom fighter in Karnataka who is still an icon of patriotism, women's empowerment, and courage even after so many years. In honour of her contribution, the Government of India released a stamp in 2007.  
3. Umabai Kundapur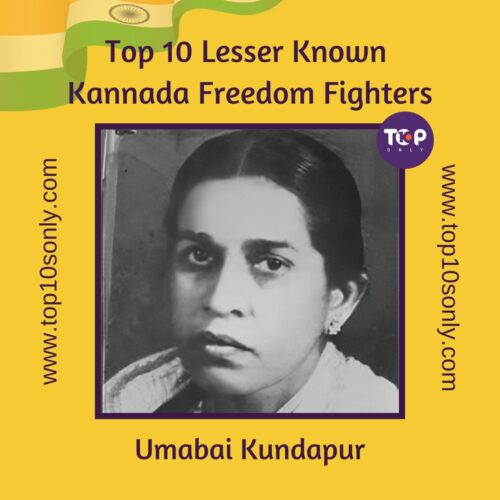 Umabai Kundapur also called Umabai Dabade is from Kundapur a town in the Udupi district, Karnataka. She was born in a farmer family in 1923 and she was moved by the sufferings of the people under British rule. She was influenced by Mahatma Gandhi's ideas and the Indian Independence movement and joined the Indian National Congress. She is among the few Kannada freedom fighters of India who was an active participant in the Quit India Movement, in 1942. 
She organised rallies, processions, meetings, etc and encourage everyone to join the freedom struggle in Karnataka. Umabai promoted Swadesh products and raised awareness about self-sufficiency and self-reliance. She was arrested by the British in 1944 and was tortured in the Bellary jail, but she was neither intimidated nor broken. She continued to inspire the inmates against British rule and was a model of resistance. Post-independence she continued to give her life to many political and social causes. She encouraged women's and children's welfare and the other marginalised sections of society. She was Kundapur Panchayat's first woman member and also became a member of the Karnataka Legislative Council. She died in 1997 and is remembered as a pioneer in the freedom struggle. 
4. N.S.Hardikar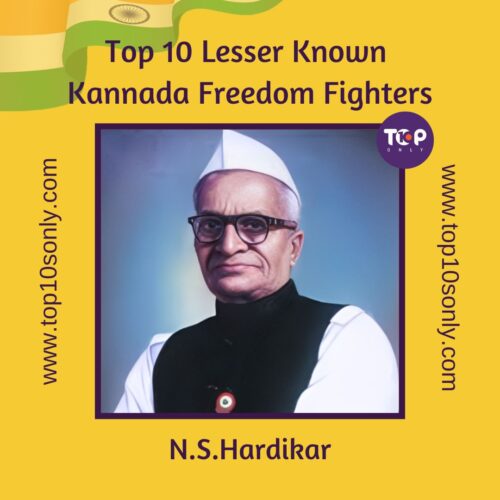 Narayan Subbarao Hardikar also called N.S.Hardikar is a famous Kannada freedom fighters who was also the founder of the Congress Seva Dal. He was born in 1889 to Yamnunabai and Subbarao and went on to complete his Masters's in Public Health in 1916 from the University of Michigan. He was a close associate of Lala Lajpat Rai and was an active participant in political activities in the USA. He was Home Rule League Secretary and also was involved in organizing the Indian Workers Union of America. He and the Hubli Seva Mandal got national prominence in Flag Satyagraha of 1923 when they did not apologize to the British officials to get a reduction in a prison sentence. 
He spent a lot of energy and time spreading the philosophy of nonviolence and truth that Gandhi believed in and was also involved in many activities of the freedom struggle. He was a heroic person and was instrumental in the Seva Dal making some brave moves in the Civil Disobedience Movement. Post-independence he helped in building the Karnataka Health Institute and was given the prestigious Padmabushan in 1958. To commemorate his work the Indian Government released a stamp in 1989 and the Karnataka Government has installed a tall granite structure in the bust Kumara Krupa Road of Bengaluru.
5. Tekur Subramanyam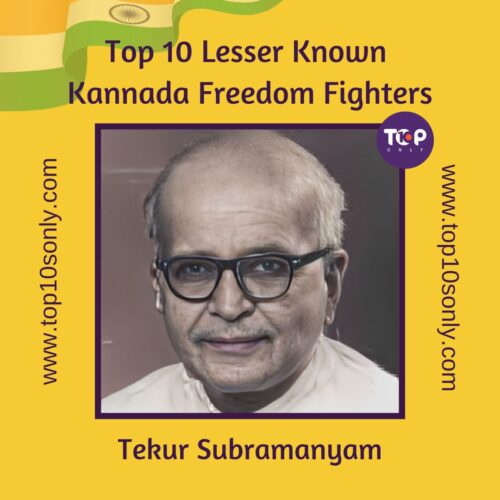 Tekur Subramanyam is a freedom fighter and politician from Bellary in Karnataka. He was the Political secretary to the Prime Minister of the Madras Presidency, Rajaji. Born in 1900 h played an important role in colonial and post-independence politics. He participated in the freedom struggle as a member of Congress and was present in all the movements Gandhi was involved in. He was in prison as many as four times and was also in the infamous Bellaru Alipore Jail and Thanjavur's Central Jail. He endured hardship while in jail and was not allowed to communicate or meet his family.
When the Congress came to power in Madras from 1937 to 1939, his stature as a leader grew and he became the Secretary of the Madras Presidency (Bellary was part of it) Congress Legislative Party to Rajagoplachari. He was the Political secretary to the first Prime Minister of India, Jawahar Lal Nehru.  On the day of Indian independence on 15th August 1947, the Madras Government allowed Subramanyam to hoist the national flag at the Bellary's Sambamoorthy Maidan. He is one of the national leaders from Karnataka who greatly contributed as a legislator of Bellary to the growth of modern Karnataka and was instrumental in unifying the state.  
6. Sangoli Rayanna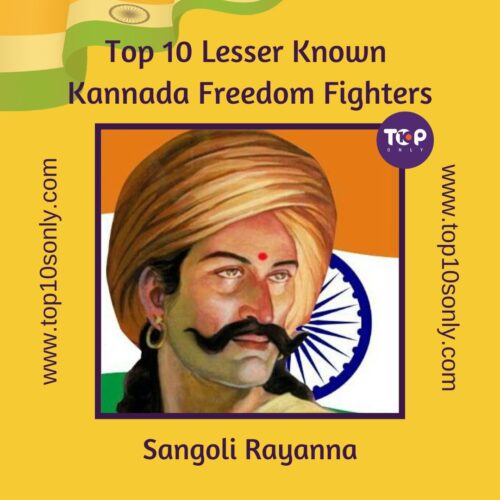 He is one of the most-loved Kannada revolutionaries who was a warrior from Sangoli, Karnataka. He was born on the 15th of August 1798 and was the chief of the army of the Princely State of Kittur which was ruled by Rani Chenamma. She was among the first female warriors to fight against the British. Rayanna and Chenamma fought until their last breath against the British East India Company. 
Sangoli Rayanna is one of the top 10 freedom fighters of Karnataka who participated in the rebellion that happened in 1924 and was arrested by the British and later released. He then went on to fight against them through guerilla warfare by mobilizing people against the East India Company. He and his army plundered treasuries, burnt offices, and waylaid the British army men. The British troops could not defeat this brave man and were caught through treachery in April 1830. He was tried and sentenced and was hanged until death. The last thing he said to the British is "You might hang me but remember, a Rayanna from every home of this country will be born until we get independence." As he said, many freedom fighters gave their lives to bring Independence to India. Symbolically, Rayanna's birth and death dates coincide with the Independence and Republic Day of India. 
7. Rani Abbakka Chowta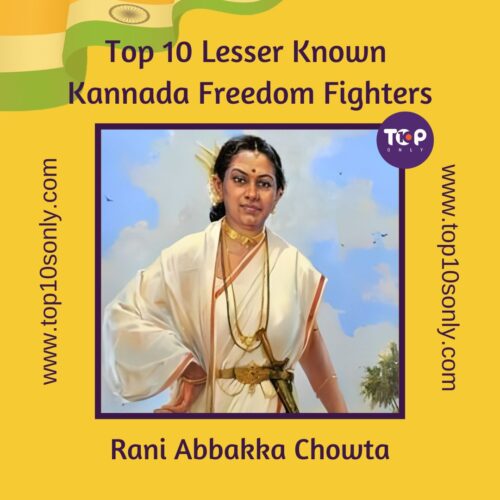 Born in 1525 Rani Abakka Chowta was from the Chowta dynasty which ruled Tulu Nadu or the coastal Karnataka. She was the first Tuluva queen of Ullal and Puttige was the capital. The strategic location of the Chowta Kingdom made the Portuguese attempt to overtake Ullal many times. But Abakka repelled it for more than four decades and hence she was called Abhaya Rani which means the fearless Queen. She was among the most famous freedom fighters from Karnataka to fight against colonialism and is also called the first woman freedom warrior. She along with Rani Chenamma, Keladi Chenamma and Onake Obavva are among the foremost women patriots and warriors of Karnataka.
As per traditional tales and folklore, she was a very popular queen. There are many Yakashaganas and ballads based on her in folk theatre and have told the story of this queen from many generations. She is said to be a loving queen who stood for justice and is said to be the last person to use the Agnivana (fire arrow) in her fights against the Portuguese. As per legends, she fought the battle with her two brave daughters. Rani Abakka died in 1750 as a great freedom Kannada freedom fighter of India.
8. Onake Obavva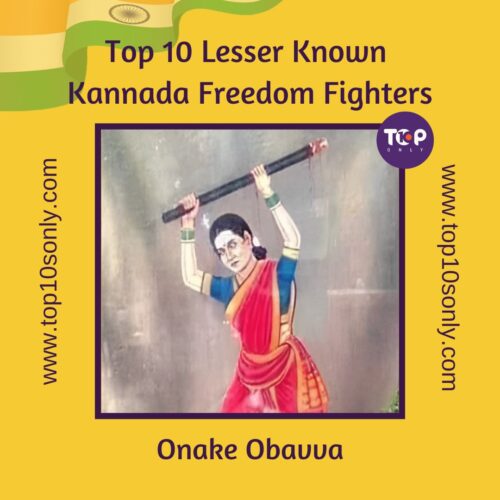 Obavva is the pride of Karnataka and is one of the most celebrated women warriors in the state. There is a famous movie about this freedom fighter in Kannada. She was Kahale Mudda Hanuma's wife who was a soldier who guarded the Chitradurga Fort ruled by Madhukari Nayaka. Obavva's story is one of courage and has now become legendary folklore. One day, while getting water, Obavva heard Hyder Ali's (the father of Tipu Sultan) army invading the fortress through a crevice where only one person could crawl at a time. She then hurried back home to tell her husband, but he was having his meal and not wanting to disturb him she decided to battle them alone.
Obavva took a pestle called Onake in Kannada and bludgeoned each person who came out of the crevice and dragged their bodies to the well. Once her husband came back to the fort, he saw how valiantly his wife had prevented the invasion and blew the horn to notify his army. Unfortunately, Obavva was later killed by a lone invader who came into the fortress without her noticing. Her presence of mind and quick thinking has made her a common name in Karnataka. The hole through which the soldiers came is a tourist attraction and is called Obavanna Kindi.In her honour, the Karnataka Government has decided to celebrate November 11 of every year as Onake Obavva Jayanthi.
9. Keladi Chennamma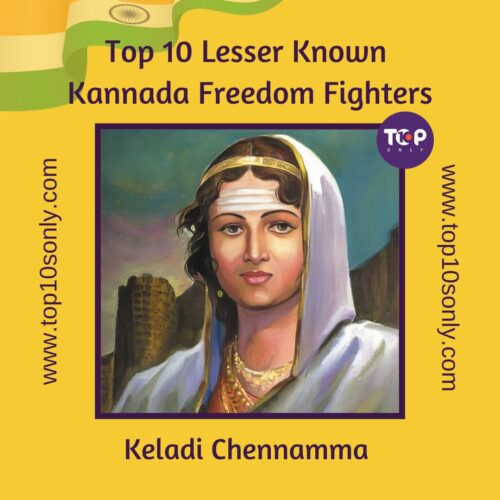 Keladi Chennamma is one of the best women freedom fighters from Karnataka who was a warrior and a prominent queen of the Keladi Nayaka Kingdom. She was born in Keladi in 1671 which is in Shimoga district. Chenamma was married to the King of Keladi, Somashekara Nayaka. Her husband passed away in 1704 and left their young son as their heir. She served as the reigning queen when her son was a minor and played a critical role in the Kingdom's administration. 
In 1734, there was an invasion by Peshwa Baji Rao of the Maratha Empire and Chenamma in her 60s fought the Maratha army and successfully defended their invasion. Her military skills and bravery were the main reasons for the Keladi Kingdom's successful defence. Later this kingdom continued to thrive under her rule and she played a critical role in ensuring the welfare of the people. She died in 1750 but her bravery and her legends continue to inspire the younger generation in India.
10. Belawadi Mallamma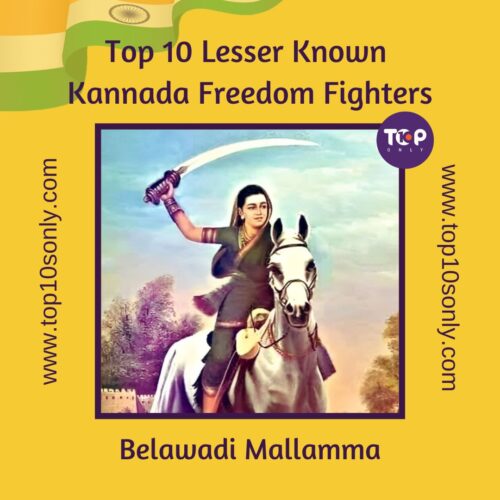 She was born in a small village in the Hubli district, Karnataka called Belawadi. She worked in a cotton mill as a labourer in Dharwad and came from a humble background. She is one of the Kannada women freedom fighters that took part in the freedom struggle against the British and played a critical role in mobilizing the masses through her inspiring speeches. She was very vocal and critical about the economic as well as social injustices of the British. She was renowned for her bravery and courage.. 
One of her acts of bravery was when she and a group of women led by her retrieved the weapons from an army post of the British in Dharwad that the British confiscated. Belawadi Malamma was also actively involved in women's rights and promoted social reforms. She advocated child marriage abolition as well as dowry and promoted women's empowerment and education. She was an ardent follower of Mahatma Gandhi and his philosophy of non-violence. Mallamma passed away in 1941 before she saw an independent India but will remain a pioneer in India's freedom struggle.
Conclusion
The above were some of the unsung heroes of the freedom struggle from Karnataka who gave up their family lives, and careers and dedicated their entire life to bringing freedom to their motherland. This blog on the unsung heroes and heroines of Karnataka is an attempt to bring them to the forefront some of whom might be unknown for this generation but renowned. Hopefully, this will serve as an inspiration and encourage the coming generations to appreciate and protect what they fought for in an Independent and robust India!
Frequently Asked Questions About Kannada Freedom Fighters
1. Who are the famous freedom fighters of Karnataka?
Some of the famous freedom fighters of Karnataka are Kittur Chenamma, Karnad Sadashiv Rao, Tekur Subramanyam, N. S. Haridkar, and Sangoli Rayanna among others.
2. What are the names of Kannada freedom fighters who were from Karnataka?
N.S. Hardikar, Karnad Sadashiv Rao, Umabai Kundapur, and Tekur Subramanyam are some of the famous names of Kannada freedom fighters who were from Karnataka.
3. Who is called Karnataka Gandhi?
H.S. Hardikar is called Karnatak Gandhi.
4. Who is the first lady freedom fighter from Karnataka?
Kittur Chenamma is the first lady freedom fighter from Karnataka.
5. Who were the freedom fighters of Karnataka in 1947?
Tekur Subramanyam, Umabai Kundapur, and H.S Hardikar are some of the freedom fighters of Karnataka in 1947.