Telangana and Andhra Pradesh, the vibrant states of India, have witnessed the unwavering spirit of freedom fighters who ignited the flames of rebellion against British rule. While most people remember the great freedom fighters like Mahatma Gandhi, Bhagath Singh, Netaji Subash Chandra Bose, and so on, there are many more who contributed greatly to the movement but faded away. These were people who raised their voices against British tyranny and fought with all their vigour for an independent India. These unsung heroes of Indian freedom struggle remain hidden in the pages of history books but are anonymous to the majority of the Indian masses. However, it's high time we commemorate the unsung freedom fighters of Andhra Pradesh and Telangana who fought for India and its people. Top 10s Only is honoured to present the Top 10 Lesser Known Telugu Freedom Fighters of India. Let us unveil their remarkable tales and honour their unwavering dedication to our nation and its people.
List Of Top 10 Lesser-Known Telugu Freedom Fighters Of India
The history books in schools and colleges may not have mentioned the contributions of the lesser-known Telugu freedom fighters. But their significance to India's freedom struggle cannot be ignored. Here is a list of the top 10 unsung heroes of the freedom struggle from Andhra Pradesh and Telangana that every Indian should be aware of.
1. Pingali Venkayya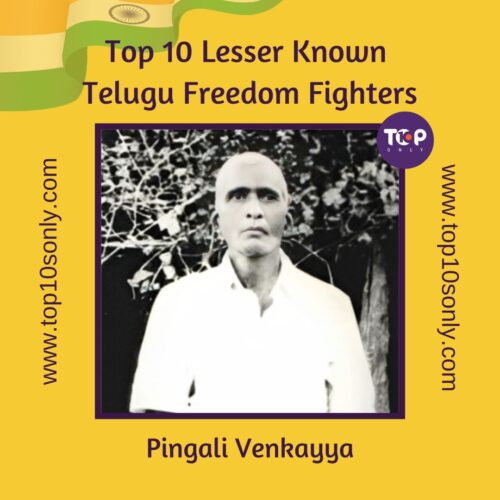 Do you know who designed the pride of our country, the National Flag? It was Pingali Venkayya, one of the prominent Telugu freedom fighters of India. He was born in 1876 in a small village called Bhatlapenumarru which at that time belonged to the Madras Presidency (now in Andhra Pradesh). He was a good student and a polyglot who spoke many languages and went to Cambridge University for his higher studies. He got himself enrolled in the British Army and was part of the Second Boer War in 1899. During the war, he met Gandhi, and that was the start of an association that lasted for 5o years. It was at this war, when he had to salute the British Flag, that he realised that Indians, too, should have a flag.
He returned to India after the war and started designing the flags that could be used for the Swaraj movement. By 1931 he had about 30 probable designs that could be used for a flag and had published a book on it. He met Gandhi again and showed his publication in Vijayawada in 1921. Gandhi, too saw the need for a national flag and then asked him to make a fresh one. Venkayya started with a flag of green and saffron colours which later evolved into a third colour, white, along with a spinning wheel. This flag was then adopted officially by the Indian National Congress, INC in 1931. Despite doing such great work, he is one of the unknown freedom fighters of Andhra Pradesh and Telangana whose efforts were not noticed at that time. He was a staunch Gandhian and worked as a linguist, teacher, author, and devoted party member.
2. Alluri Sitarama Raju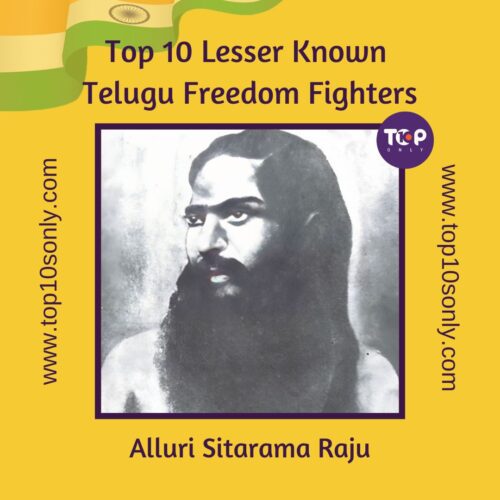 He was an Indian revolutionary who took part in the Indian independence movement. He was a believer in social justice and fought against wrongful British policies. Sitaram Raju did his schooling in his hometown and then moved to Visakhapatnam for further studies. At the tender age of 18, he turned into a Sanyasi by renouncing worldly pleasures. He roamed the forests and hills and soon became one among the Adivasis. He is said to be the second freedom fighter in Andhra Pradesh and Telangana. Sitarama Raju was regarded by them as a mystic who had knowledge of medicine and astrology.
He was deeply moved by the conditions in which the tribals lived under British rule. Sitarama Raju channelled this discontent and created a guerrilla warfare army against the British. The Colonial rule felt threatened by this, and Sitarama Raju continued to do anti-Biritsh activities. He was against the 1882 Madras Forest Act, which restricted the tribal communities' free movement in their habitat. This led to the Rampa Rebellion of 1922, where he was the leader. This concurred with Non-Cooperaiton Movement, and he became a Gandhi follower and asked people to follow Gandhian ways. But he was not for non-violence and believed in the use of force to get India liberated. He was called the Manyam Veerudu or the Hero of the Jungle for his heroic exploits against the British. Sitarama Raju was one of the famous Telugu freedom fighters who was arrested and shot publicly. An interesting fact – A fictional version of this Telugu freedom fighter was portrayed by Telugu Superstar Ram Charan, in the Oscar-award winning global sensation RRR.
3. Duggirala Gopalakrishnayya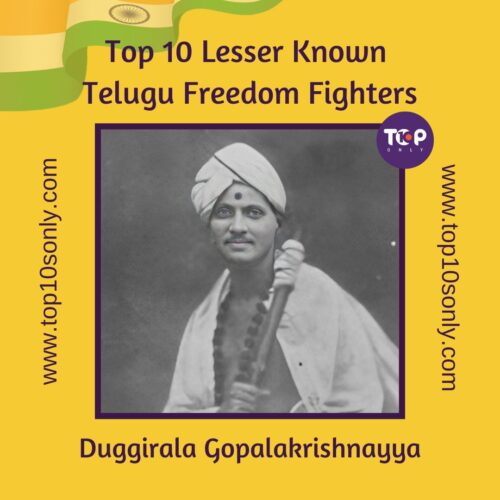 Dugiirala Gopalakrishnayya was a singer, poet, songwriter and revolutionary who followed the philosophy of non-violence. He was born in 1889 in a small village called Penugnachiprolu in the Krishna district. His family was well off, and his father, Kondandaramaswamy was a school teacher and his mother, Sitamma died after giving birth. He did his initial schooling in Bapatla and did his further studies in Edinburg. After finishing his post-graduation, he came back to Guntur and thought of colleges. But he was more interested in the Satyagraha and non-cooperation movement. He later resolved to give his life to the Swaraj movement and quit his career as an educationalist.
He set up a cadre of workers and called them Rama Dandu, or Rama's Army, being a devotee of Lord Rama, and this team worked for the Swaraj movement. This organisation played an important role in the 1921 annual session of Congress in Vijayawada. Rama Dandu was instrumental in helping those who were protesting the merger of Chirala-Perala villages into a municipality. The British ruthlessly arrested and persecuted many people who were in protest. At Gandhi's suggestion, the Rama Dandu moved the residents into a new settlement where a parallel government was formed. Angered by this, the British arrested Gopalakrishanaya, and the settlement had to be abandoned. Post his release when the Non-Coperation movement was withdrawn, he joined Chittaranjan Das's Swaraj Party and became one of the secretaries. He was a great poet himself, a mentor to many famous poets of that time, and one of the top 10 freedom fighters of Andhra Pradesh and Telangana. His later years were led in poverty, and he died in 1928 from Tuberculosis.
4. Durgabai Deshmukh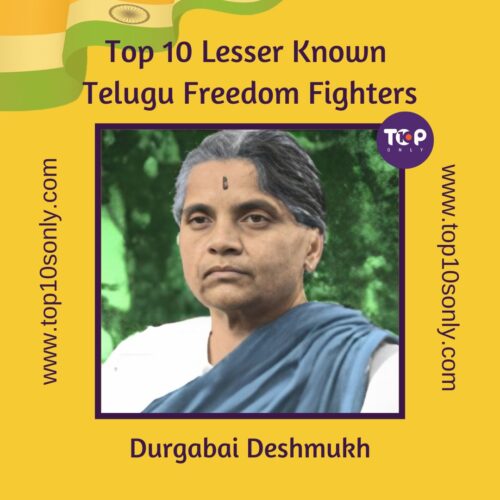 She was a lawyer, one of the few Telugu women freedom fighters, social worker, and politician. She was popularly called Iron Lady because of her enlivened spirit and energetic persona. This firebrand was born in 1909 in Rajamumdri to a middle-class family. She was married off to her cousin at the age of eight. But later, her family supported her when she decided to leave him and start her education. From her early years, she showed interest in politics, and at the age of 12, she skipped school and joined a protest against the imposition of English education as a medium. She was an avid follower of Mahatma Gandhi and wanted to participate in the freedom struggle. She was a social reformer and participated in the Satyagraha movement. She organized women Satyagrahis for the Civil Disobedience movement, and this made the British imprison her between 1930 and 1933 thrice.
She was one of those women freedom fighters from Andhra Pradesh and Telangana who was also a great lawyer who could turn on her magic whenever she felt that the country or the people needed her. Post-independence, she was nominated as a planning commission member and was the first woman to highlight the need for dedicated Family courts. Durgabhai was given the prestigious Padma Vibhushan award for her service to the nation.
5. Uyyalawada Narasimha Reddy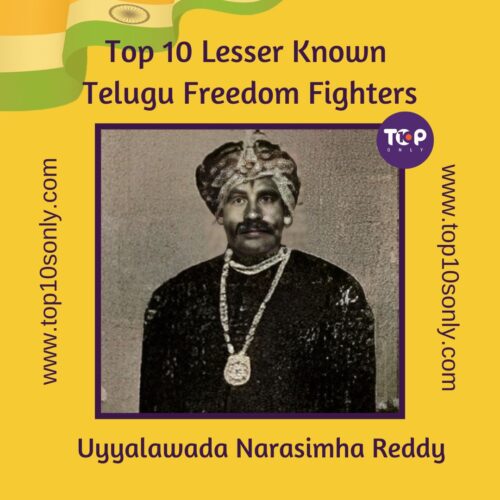 Uyyalawada Narasimha Reddy is one of the heroes of the 19th century, who was the first freedom fighter in Andhra Pradesh and Telangana to start a mass rebellion against the British. He was born to a Polygar family who was once a powerful sect of Chieftains. They belonged to a feudal class that overlooked the administration of the villages. He was known for leading a mass uprising against British atrocities in 1846. Narasimha Reddy was the Chieftain of a village, Koilkuntala, and the British tried to revoke the privileges and attempted to take over the estates of the Polygars. The revolt that followed was not just about the privileges but also a fight against the oppression of the colonials.
Though it started as a revolt by the Polygars, the peasants and other people too joined hands, as they too were affected by the ruthless policies of the British. The revolt was unique as it was one of the first revolts where many peasants took up arms as there was a threat to their livelihood and were led by Narasimha Reddy. Though the rebels fought valiantly, any were convicted and sentenced to death. One among them was Narasimha Reddy. His body remained hanging in a cage for several years until 1877 in Koilkuntla. As a tribute to him, a famous biopic about freedom fighters in Telugu was released in 2019 by Superstar Chiranjeevi, essaying the role of Narasimha Reddy. The Andhra Government, as a tribute to this hero, has named an Airport in Kurnool after him. 
6. Jananayaka Chowdary Satyanarayana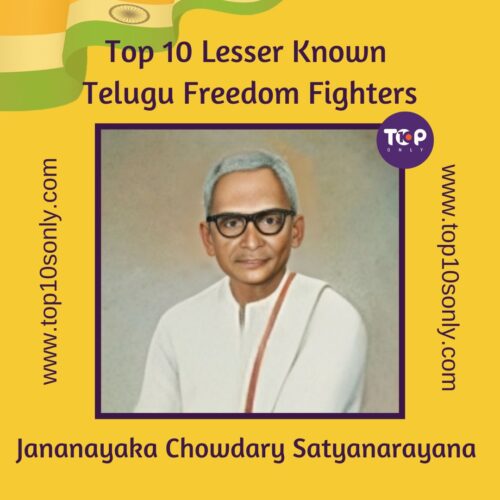 Jananayaka Chowdary Satyanarayana was a freedom fighter who actively participated in the freedom struggle and also fought for the civil rights of the people. He is one of those great personalities who being a zamindar, gave up all his property and fought against the other zamindars for the rights of the farmers. Chowdary Satyanarayana was born in 1908 to Purushottama Naidu, a landlord, and Narayanamma. He did his schooling in SM Puram, his native village, and was influenced by the National Movement and soon joined the Indian freedom movement.
He participated in many activities and also organized my movements against the British. He managed to gather large crowds under his leadership and participated in protest marches. Chowdary inspired the masses to participate in the freedom movement and was arrested and beaten many times by the police. After his release, he made SM Puram, Kothapeta, Dusi, etc., his main centres and mobilised people and resources. He contributed to the Salt Satyagraha and Civil disobedience movement and led many other protests. Chowdary inspired the people of his district and started a large following for the Quit India movement. He fought tirelessly until India's independence in 1947 and greatly contributed to achieving the end result. 
7. Gouthu Latchanna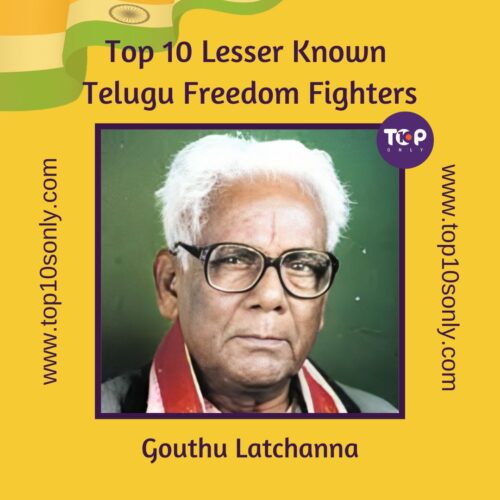 He was a freedom fighter and a leader of the Kissans, the weaker sections, and the backward communities. He was born in 1909 in a village called Baruva in Srikakulum district, Andhra Pradesh. He was one of the most famous leaders of his era and was a champion of the weaker sections of society. He was a freedom fighter who took up the freedom struggle at the very young age of 21. His first activity as a freedom fighter was participating in Palasa's Salt Satyagraha and the Quit India movement. Latchanna was given the title of 'Sardar' for the way he fearlessly fought the British.
Until the British were sent out of India, he fought for it but later took up social work of uplifting the working class, farmers, and laborers. He was a great follower of Mahatma Gandhi and was inspired by the untouchability problem in society. He protested for this cause at the district level and led the Harijans to a well at Baruva. The local people boycotted him, but he was undeterred and started schools for Harijans. He was one of the Telugu revolutionaries who was a sincere and tireless practitioner of humanism and an inspiration to everyone for his selfless service to people and the nation.
8. Kanneganti Hanumanthu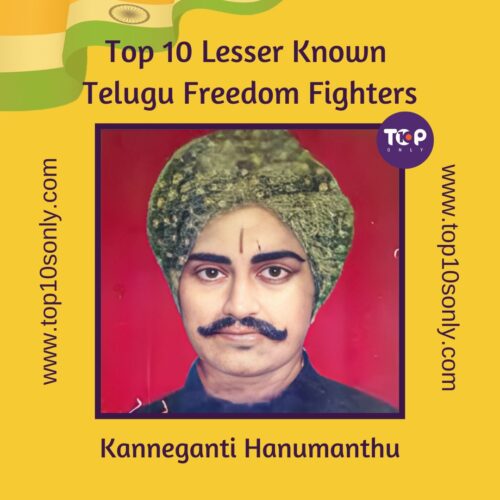 Hanumanthu was a person who played an important role in India's freedom struggle. His claim to fame is for being the leader of the Palnadu rebellion, which was fought against the British against the tax levied on them. Hanumanthu was born in Durga Mandal, Guntur District. He was well-known for the freedom struggle in Andhra Pradesh and Telangana for the Pullari Satyagraha that he led against the tax levied on the peasants by the British for collecting wood from forests and cattle grazing.
Kanneganti Hanumanthu played a major part in not only the Pullari movement but also Andhra Palnadu non-cooperative movement. He was arrested and sent to prison many times by the British. The British even tried to bribe Hanumanthu as he was well-supported by the masses, and all their other strategies were defended. Finally, in 1922, he was arrested after some of his men betrayed him. He was cruelly treated and was shot. His Palnadu Satyagraha was an inspiration to other freedom fighters and revolutionaries.
9. Bhogaraju Pattabhi Sitaramayya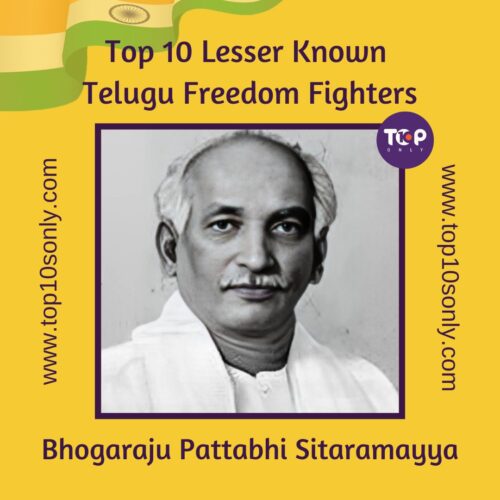 He was a key person in India's freedom struggle and was also an activist and an Indian National Congress member. Post-independence, he was a member of the Assembly and was also Madhya Pradesh's first governor in 1956. Bhogaraju Pattabhi was born in 1880 and graduated from the Madras Medical College and even practiced medicine in Masulipatanam, Andhra Pradesh. But his desire to contribute to the freedom struggle made him wind up his practice and get actively involved in the freedom movement. He participated in the Home Rule Movement, Satyagraha of Gandhiji, Salt Satyagraha, and the Quit India Movement.
Apart from being a freedom fighter, Sitaramayya was one of the national leaders from Andhra Pradesh and Telangana who contributed greatly to the making of the Constitution. He was a member of the Negotiating Committee of the Constituent Committee and deliberated with the Chamber of Princes to integrate with India the princely states. After succeeding in this, he chaired the legislative and administration setup recommendations for Delhi. The Constituent Assembly adopted these recommendations. Subaramayya was often called the historian of INC as he was the author of the History of the Indian National Congress.
10. Tanguturi Prakasam Panthulu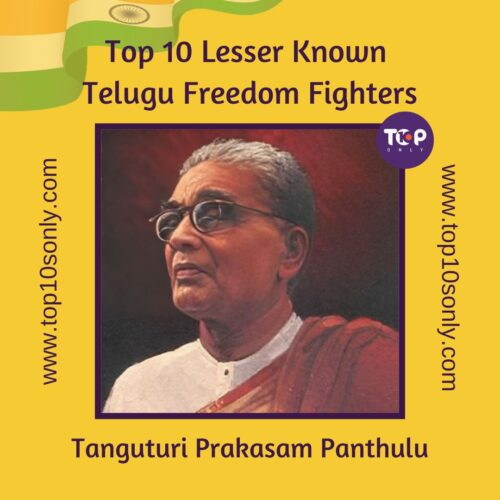 Prakasam Panthulu was a freedom fighter, a student leader, a lawyer, and an excellent author. He played an important part in the Madras Presidency's (Andhra region) freedom movement, and his heroic deeds and patriotism made him well-known to the British officials as a rebel. Tanguturi Prakasam was born in Guntur in 1872. His father passed away at a young age because of this Prakasam had to face many challenges. With the help of his guardian Sri Hanumantarao Naidu, he completed his FA and also studied law. After studying law, he practised as a lawyer and stood out because of his leadership skills. He contested and won the Municipal Chair election at a young age.
He went to London to do his Bar and came back to become a famous Madras High Court Advocate. When the Non-Cooperation Movement started, he gave up law and participated in it. He was the leader of a procession when Simon Commission came to visit Madras. He jumped in front of the police and shouted at them to shoot. This brave act was hailed, and he was called Andhra Kesari by fellow Satyagrahis. He also played a major role in the Quit India movement. He was one of the famous freedom fighters from Andhra Pradesh and Telangana who was elected as the first Chief Minister of Andhra Pradesh, and he died in 1967.
Honouring The Eternal Legacy Of Unsung Freedom Fighters Of India
There were many freedom fighters from the Telugu states of Telangana and Andhra Pradesh who remain anonymous in other parts of the country. While they may be known in their local provinces, they are not as popular as the like of Veer Sarvarkar and Bhagat Singh, but their contribution nevertheless is significant. After reading through our name list of freedom fighters from Andhra Pradesh and Telangana, who among them have you heard or read about? The best way to honour their legacy is to read the top-ranked books about India's freedom struggle that were penned by freedom fighters themselves! That will give a deep and insightful understanding of the struggles, sacrifices, and aspirations of those who fought for India's independence. Reading these books allows us to connect with history on a personal level and gain a firsthand perspective on the challenges faced by the freedom fighters.
Every state in India has its share of heroes. Be sure to read our article that lists the Top 10 Lesser-Known Malayali Freedom Fighters Of Kerala, India!
Frequently Asked Questions About Telugu Freedom Fighters
1. Who are the freedom fighters of Andhra Pradesh?
Pingali Venkayya, Alluri Sitarama Raju, Durgabai Deshmukh, and Gouthu Latchanna are some of the freedom fighters of Andhra Pradesh.
2. Who is the first Telugu freedom fighter?
Uyyalawada Narasimha Reddy is the first freedom fighter.
3. Which Telugu freedom fighter has been portrayed in films?
Chiranjeevi portrayed Uyyalawada Narasimha Reddy in his 2019 film Sye Raa Narasimha Reddy. His son, Ram Charan, portrayed a fictional version of Alluri Sitarama Raju in the film RRR, while N. T. Rama Rao Jr. played the role of Komaram Bheem.