A true visionary, Mahatma Gandhi has inspired millions of people across the globe with his wise sayings and quotes. The timeless essence of his life is reflected in the many inspirational quotes attributed to him, that are valid and applicable even to this day. Today, let's take a look at the most selfless and inspirational man the world has ever seen!
Drawing Inspiration from the Father of Our Nation- Mahatma Gandhi
Born on October 2, 1869, in Porbandar, India, Mohandas Karamchand Gandhi (Mahatma Gandhi) went on to become one of the key anti-colonial nationalists and political ethicists who changed the future of India. Today, we proudly enjoy freedom as a Nation owing to successful campaigns run by this inspirational Indian lawyer who went on to rouse many civil movements across the globe. October 2 is officially commemorated as Gandhi Jayanti, celebrating the birth of an inspirational individual that surrendered his life, to make it an example of the change he wished to see in India and the world.
We at Top 10s Only have always drawn inspiration from this great man. We now pass on his wisdom to you, our readers, by listing the Top 10 Famous Inspirational & Timeless Mahatma Gandhi Quotes. May these inspiring quotes act as a light that guides us even in the darkest of times.
Top 10 Famous Inspirational & Timeless Mahatma Gandhi Quotes
1. "I will not let anyone walk through my mind with their dirty feet."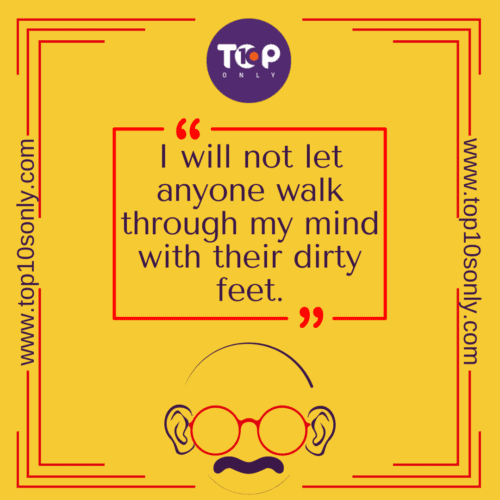 Deep, thought-provoking, and one of Mahatma Gandhi's best quotes, his words speak for themselves. This quote by Gandhiji urges one and all to stop the words/actions/thoughts of ill-meaning people from negatively impacting one's life. You are bound to meet people from all walks of life with different agendas. At the end of the day, it is up to you to gatekeep who will walk through the precious walls of your mind and who won't! This quote is a mighty metaphor used by Mahatma Gandhi to remind everyone to be careful who and what treads their mind.
2. "There are two days in the year that we cannot do anything, yesterday and tomorrow."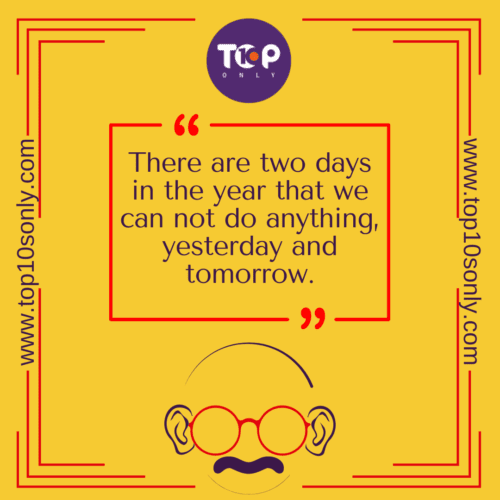 Here is an apt reminder with one of the best quotes from Mahatma Gandhi. This Mahatma Gandhi quote encourages us to live in the present as mindfully as we can. After all, actions from yesterday cannot be reversed, and no one can predict what tomorrow holds. Instead, live today with lots of fierceness, joy, and gratitude, and be mindful of our actions today, over we have control, as they set the steps into tomorrow. Suitable as a personal motto, this quote is one of the best Mahatma Gandhi top 10 quotes of all time.
3. "Service without humility is selfishness and egotism."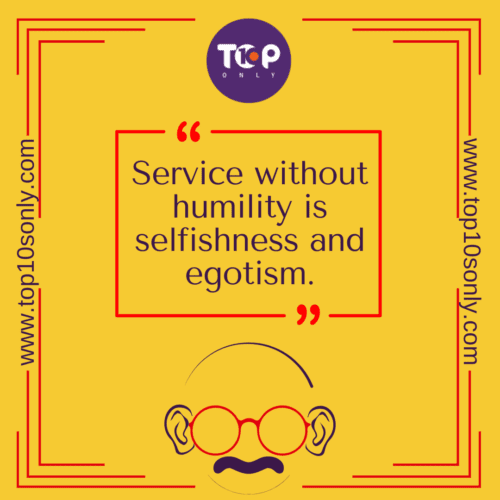 Mahatma Gandhi believed in the simple act of service to others. And, what is service to others without being humble about it and keeping our ego in check? Considered one of Mahatma Gandhi's top quotes about life, his words remind us of the importance of humility when offering service to others as a continuous endeavour, as it should remind us not of our ego-identity but that our existence is a pure and temporary embodiment. Use the act of service in humility and not with a selfish agenda and ego. Remember- True service is never a short-lived PR stunt!
4. "Be the change that you wish to see in the world."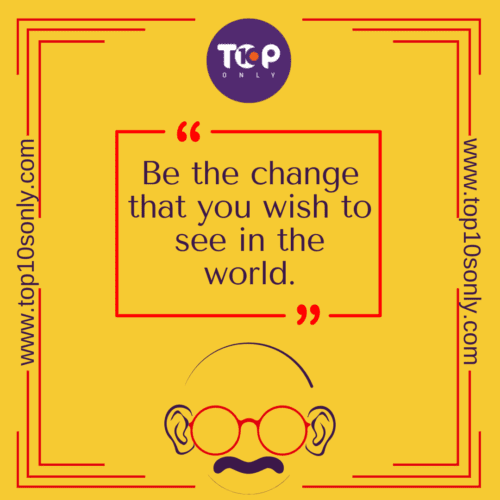 If you are looking to change the world with a wagging finger, think again. Before you trail the path of correcting others, bring a change in your inner world. This can cause ripples strong enough to shake the world! Cited across the world by leaders, coaches, and motivational speakers, this is one of the top ten Mahatma Gandhi quotes that touches upon the main point- if you want to change the world, let every action, thought and moment of yours be a reflection of that which you want to change. Be the example of that which you wish to see in the world first.
5. "To give pleasure to a single heart by a single act is better than a thousand heads bowing in prayer."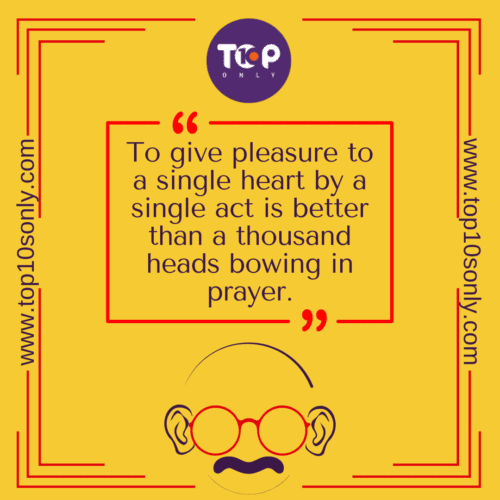 For a man who brought freedom to one of the largest populated countries on Earth, this quote fits into the 'inspirational quotes from Mahatma Gandhi list', as it emphasises the importance of being kind, even at the smallest scale, when wanting to make a large far-reaching impact. Taking the action of being kind or of being service to even one person can make a shift in the overall picture, causing a ripple effect. Who are we to disagree with? This inspiring Gandhiji quote inspires us to pay the kindness forward!
6. "The difference between what we do and what we are capable of doing would suffice to solve most of the world's problems."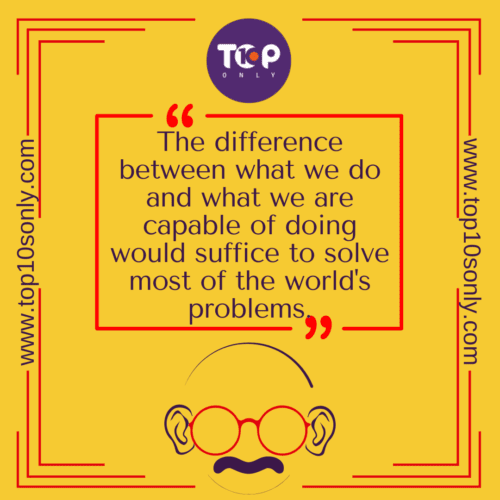 Having faith in one's capabilities, big or small, is so vital to personal and worldly success. Draw inspiration from one of the best quotes on Gandhi Jayanti by reflecting deep into Gandhi's most famous quotes ever that in essence says- self-belief, followed by actioning your belief with a small step is good enough to bring a positive change in the world. No matter how insignificant you may think it is, a small step towards your betterment can bring about a big change, and help solve the world's problems. This Gandhiji quote serves to remind us that once the gap between thought and action is bridged, there are endless possibilities as to how the outcome can be used to solve humanity's problems.
7. "Self-respect knows no considerations."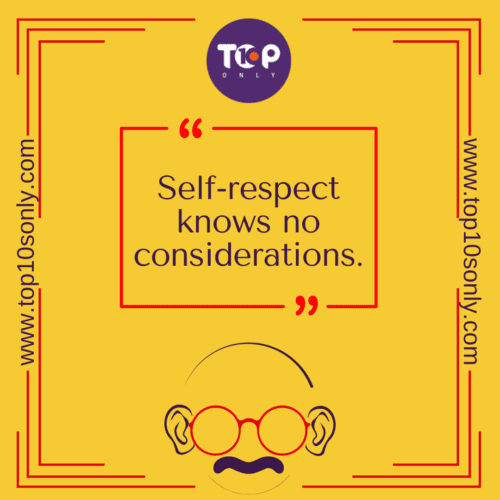 Knowing your worth is a self-assessment project. Definitely one of Gandhi's best quotes on self-respect, it is absolutely frame-worthy and should be hung on your wall as a daily reminder. Self-respect is a customary regimen that one needs to hold regard for every day. Do not degrade yourself to fit into a place, or with people who do not value you. Your talents and intellect are unique and it is what make up your personality. So, never devalue yourself, nor allow others to do so.
8. "Earth provides enough to satisfy every man's needs, but not every man's greed."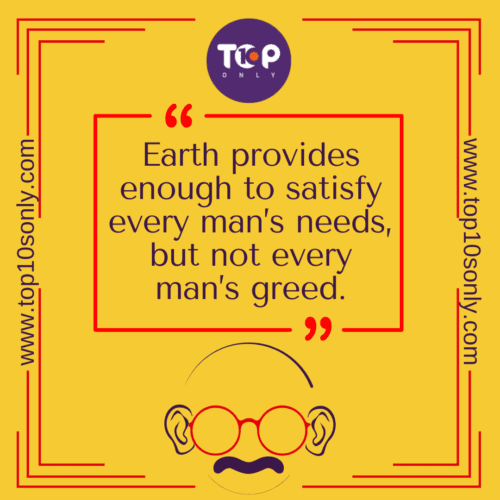 What better way to convey a strong timeless message to the world than through the famous quotes said by Mahatma Gandhi giving guidance to all? Being a simple man with a simple way of living, he led his life as an example, showing mankind doesn't need a lot to survive and thrive. With this quote, Mahatma Gandhi believed the earth provides enough of what mankind needs but abusing these resources to satiate greed can only rip the planet off its timed resources. With each of us making an effort, the world can remain abundant for generations to come.
9. "A 'No' uttered from deepest conviction is better and greater than a 'Yes' merely uttered to please, or what is worse, to avoid trouble."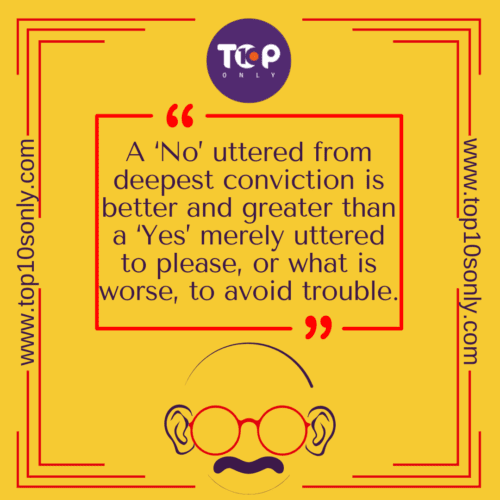 We are all guilty of people-pleasing. We often end up making false promises to momentarily resolve a situation, only for it to pile high and create a mountain of issues that backfire! The beauty of Mahatma Gandhi's famous quotes is that they have a lesson that can be applied in all aspects of life. A promise or commitment kept is far better than an empty promise that breaks trust, impacting a relationship. So, next time you are faced with a situation that calls for you to be assertive, just remember this Gandhiji quote, be confident in your 'No' and say 'Yes' only when you want to!
10. "Silence becomes cowardice when occasion demands speaking out the whole truth and acting accordingly."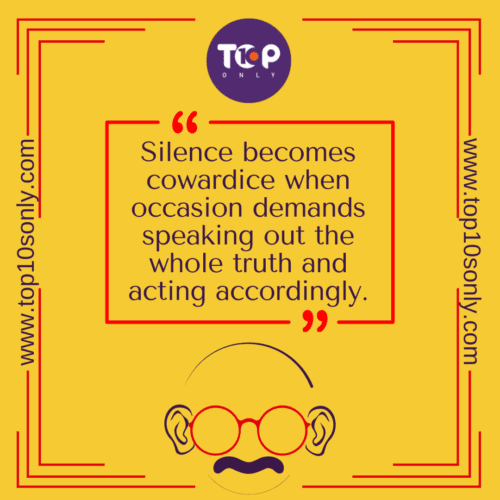 Your biggest power is your ability to respond and react. Mahatma Gandhi believed that we each have a responsibility to cultivate the courage within to rise to the occasion and speak our truth. There is nothing more cowardly than to be silent when there is an atrocity being committed. This Mahatma Gandhi silence quote inspires us to be the voice of change, by taking the side of truth and justice, rather than holding back out of fear.
Gandhi Jayanti- A Day To Celebrate The Words, Wisdom, And Life Of The Father Of The Nation
Mahatma Gandhi was a man who lived his life as a role model for all. His life was an open book on everything he believed in and worked towards that made an impact at every scale. For this Gandhi Jayanti, why not share your favourite Happy Gandhi Jayanti quotes from this list to show your solidarity with a man who had a vision for his Nation? Learn, quote, cite, get inspired by the true meaning of Mahatma Gandhi's quotes above, and be the change you wish to see in this world! Want to get further inspired by more of Gandhiji's sayings and quotes? Browse our list of Top 10 Books Written by Mahatma Gandhiji, written to inspire future generations.