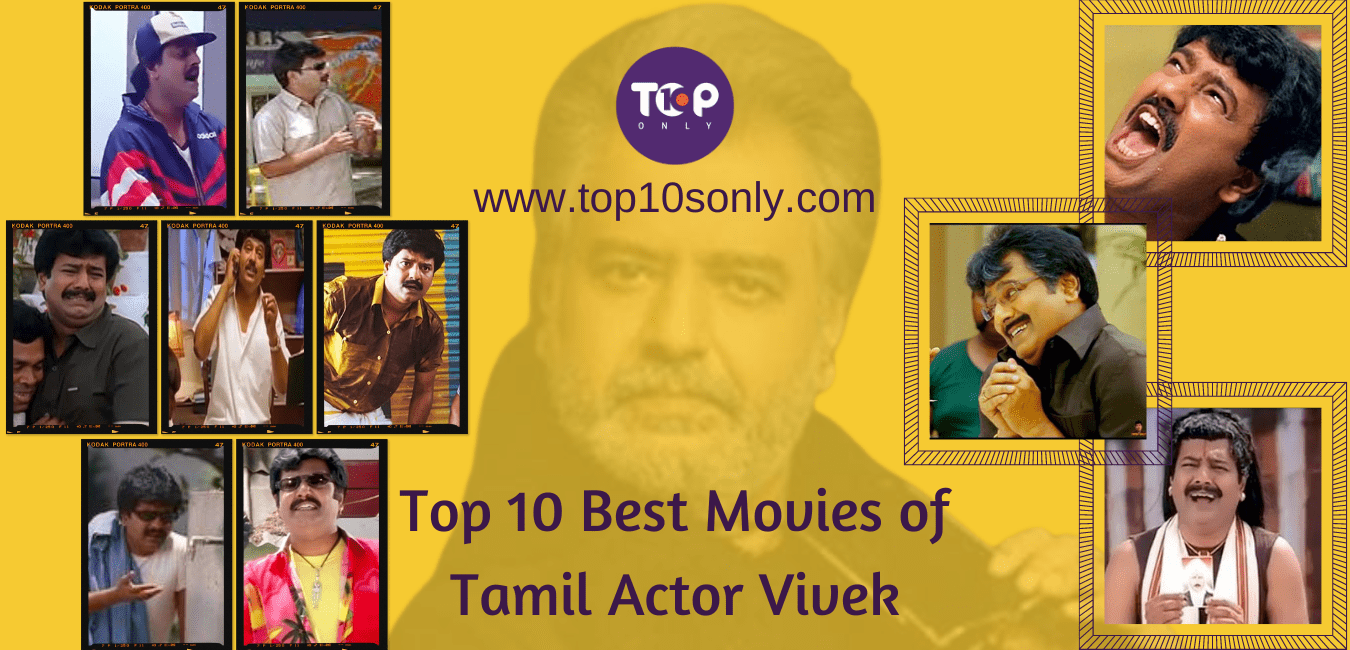 An exceptionally talented Tamil film comedian, the late actor Vivek has had an indomitable position in the Tamil film industry. He began his career in 1987 with the release of the film Manathil Uruthi Vendum, which was directed by the veteran director K. Balachander. From that point on, his film career took off, and his growth in the Tamil film industry accelerated to newer heights with the release of each of his films. He had donned several memorable roles in his long film career. He was given the epithet Chinna Kalaivanar as his acting style often resembled that of another famous comedian, actor N. S. Krishnan.
Vivek's off-screen personality was also commendable. A staunch supporter of former Indian President APJ Abdul Kalam, Vivek launched a mega environment-friendly initiative called Green Kalam in 2010. The project was a huge success, and approximately thirty-three lakh trees have been planted so far. The depth of this great film actor's personality can be gauged from the witty one-liners and satire-laden dialogues that offer a profound insight into the various problems that prevail in society. In fact, many of Vivek's satirical dialogues are still quoted to this day!
Vivek was awarded the prestigious Padma Shri Award in 2009 by the Government of India in recognition of his invaluable contribution to Indian Cinema. He was also conferred the Kalaivanar Award by the Tamil Nadu State Government for his extensive contributions to Tamil Cinema.
Top Ten Best Vivek Comedy Movies
Vivek, also called Chinna Kalaivanar by all his die-hard fans, was a popular film actor and the most sought-after comedian in the Tamil Film Industry. Film critics often lauded him for his excellent performances and impeccable dialogue-delivery styles. Needless to say, movie buffs generally preferred watching films that showcased this great actor's talent in performing scenes filled with slapstick humour. Apart from driving his fans into hysterical bouts of laughter, Vivek's performance would also encourage them to rethink about various aspects of their lives.
At Top 10s Only, in recognition of this great actor's exemplary acting prowess, we have compiled the Top 10 Best Movies of Tamil Actor-Comedian Vivek. In these movies of actor Vivek, the comedy scenes are guaranteed to evoke uproarious laughter and even provoke profound thoughts.
1. Karuthu Kandasamy – Pennin Manathai Thottu (2000)
If you are looking for fun-filled slapstick humour, look no further than this film, which was also a major box-office success. In Pennin Manathai Thottu, which was released in the year 2000, comedian Vivek played the role of Karuthu Kandasamy, a local MLA's son who is an aspiring medical student. Some of the most iconic dialogues of Vivek can be found in this film, and his performance was well appreciated by audiences and critics alike.
Pennin Manathai Thottu was written and directed by ace director Ezhil. The film stars Prabhu Deva and Jaya Seal as the lead pair, with Sarath Kumar in a pivotal role. If you are a die-hard fan of Vivek Tamil actor, this movie should not be missed, as Vivek's comic scenes are guaranteed to still make you laugh!
2. Vicky – Kushi (2000)
Looking for actor Vivek movies to watch online? If you are in the mood for romantic comedy films, then Kushi is the film for you!
One of the most unforgettable roles Vivek has played is that of the quirky dance master Vicky in S. J. Suryah's classic rom-com Kushi! His witty dialogues and numerous funny scenes are the highlights of this film, which was released in 2000. The film is full of humorous moments that showcase the immense comic talent of this great actor.
The film was a commercial success. Vijay and Jyothika as the lead artists in Kushi, while actors Rajan P. Dev, Nizhalgal Ravi, etc., play pivotal roles. Jyothika went on to win the Filmfare Award for Best Actress (Tamil), while music director Deva bagged the Tamil Nadu State Film Award for Best Music Director.
3. Azhagesh or Al Gates – Lovely (2001)
Released in 2001, Lovely is a hit comedy Tamil film that had audiences roaring in their seats with laughter! One of its main highlights was Vivek's hilarious performance, which was praised by many film reviewers. This film was directed by Shakthi with music by Deva.
Vivek played the pivotal role of a comic character named Azhagesh, aka Al Gates, whose main aim in life is to travel to the US. However, a series of misfortunes befall this fellow, who is a close friend of the lead character, portrayed by actor Karthik. The comic sequences, especially the hospital scenes, are extremely funny. Vivek's spontaneity can be easily seen in the rib-tickling scenes that feature him.
4. Chokkalingam or Chokku – Minnale (2001)
Vivek is known for portraying a steadfast and loyal friend to the lead actors in many films. In Minnale, he plays the role of Chockalingam (Chokku), who is a close friend of actor Madhavan's Rajesh Shivakumar character. His support ultimately helps the lead characters, Rajesh and Reena (played by actor Reema Sen), to unite despite several obstacles in their path. Vivek has certainly stolen the show, and his performance as Chokku garnered appreciation from the audience.
Touted to be one of the best Vivek movies to date, Minnale was a commercial success. It was directed by Gautham Vasudev Menon and marked the debut of music director Harris Jayaraj. Actor Abbas plays a pivotal role in this film.
5. Mohan – Run (2002)
Filled with several life lessons, Run is a definite addition to our Tamil actor Vivek movies list! Several scenes from this movie have subtle insights that have been nicely blended into comedy. For instance, Vivek's character Mohan is often shown being disrespectful to his parents. However, with each hilarious misfortune that befalls him, Mohan realises the true worth of his parents. With the right blend of humour and seriousness, Vivek was able to convey the need to be respectful to elders.
Run was a smash hit and was the highest-grossing Tamil film in 2002. The film was directed by N Lingusamy and produced by AM Rathinam. Run starred Madhavan and Meera Jasmine as the lead pair, with Raghuvaran and Atul Kulkarni in crucial roles.
Run was a milestone film for Vivek. It went on to fetch the actor the coveted ITFA Best Comedian Award. In recognition of his exceptional performance in Run, Vivek also bagged the Tamil Nadu State Film Award for Best Comedian, as well as the Filmfare Award in the Best Comedian category.
6. Mano – Parthiban Kanavu (2003)
Yet again, Vivek takes on the role of a good and faithful companion and shows what true friendship is all about. In Parthiban Kanavu, Mano advises his friend Parthiban (portrayed by actor Srikanth) to remain truthful to his wife (played by Sneha). Throughout the film, Mano steers his friend away from trouble and tries to solve his marital problems.
Parthiban Kanavu has several hilarious scenes and is definitely a significant Tamil movie of actor Vivek. He was awarded the Tamil Nadu State Film Award for Best Comedian. This film was directed by Karu Pazhaniappan. Parthiban Kanavu was well received by the family audiences and gained positive reviews.
7. Venkataraman Iyer – Saamy (2003)
Saamy is an important film in our actor Vivek Tamil movie list. As an actor, Vivek remains the undisputed King of Comedy. However, he was much more than that. As a social activist, he was an indefatigable guardian of human rights. Several scenes in Saamy echo his staunch support for social causes. His portrayal of Venkataraman Iyer deserves much praise, as he was able to put forth several problems faced by the underprivileged in our country.
Saamy, which was directed by ace filmmaker Hari Gopalakrishnan, is an action entertainer. Saamy starred Vikram and Trisha as the lead pair. Vivek's acting prowess in this film went on to win him the Filmfare Award (South) for Best Comedian.
8. Narayanasamy or Narain – Dhool (2003)
If you want to have a heart laugh, take a look at the scenes from the next film we have in our actor Vivek movies list – Dhool. Vivek had a really unforgettable role as Narayanasamy (Narain) in this film. His efforts to win the love of Swapna (played by Reema Sen) are quite funny. One of the most comical scenes of Vivek is when he mistakenly assumes Swapna is afflicted with cancer, while in fact, her star sign is Cancer.
Directed by Dharani, with actors Vikram and Jyothika in the lead, Dhool is a socially-relevant film that highlights the ill effects of water pollution caused by the unregulated dumping of hazardous waste into rivers and other water bodies. Being a strong social activist, it's no surprise that Vivek was part of this film. He was nominated in the Best Comedian category for the Filmfare Awards held that year.
9. Kuzhandhaisamy or Kuzhandha – Perazhagan (2004)
Perazhagan is an indisputable addition to the list of best Vivek movies. Vivek, as marriage assembler Kuzhandhaisamy (Kuzhandha), certainly had the audiences laugh with his witty style of humour and impeccable comic timing. His efforts to get a suitable bride for his best friend Chinna, a kindhearted hunch-back, are immensely hilarious.
Perazhagan, directed by Sasi Shankar, starred Suriya and Jyothika as the lead actors. It was a box-office hit. For his memorable role as Kuzhandhaisamy, Vivek was lauded by film critics and reviewers. He also won the 2004 Filmfare Award (South) for Best Comedian.
10. Emotional Ekambaram – Uthamaputhiran (2010)
Our movie list of comedy films by Tamil actor Vivek will only be complete if Emotional Ekambaram is mentioned! By far, one of the most humorous characters portrayed by the master of slapstick comedy, Emotional Ekambaram, from the film Uthamaputhiran, is the source of many humorous sequences and witty dialogues. As Emotional Ekambaram, Vivek really did steal the show!
Directed by Mithran Jawahar, the film stars Dhanush and Genelia as the lead pair. Vivek mentioned in an interview that the role of Emotional Ekambaram was quite challenging as he had to play a serious-looking character who gets himself embroiled in several comical situations, especially when trying to cope with the secret love affair of the two lead characters. This movie showcases some of the best comic scenes of Vivek, especially his sequences with Dhanush, and is a definite must-watch.
Be it an actor, comedian, playback singer or social activist, Vivek excelled in all his off-screen and on-screen roles. There is no doubt that Vivek is Tamil Nadu's favourite actor and one of the best Tamil film comedy actors we have had so far.
Vivek passed away unexpectedly on 17th April 2021 after suffering from a cardiac arrest. Vivek was a true legend. His demise was mourned by people from all walks of life, and this shows just how popular he truly was. With such impressive filmography, his valuable presence in the Tamil Film Industry will be sorely missed.
We hope you have enjoyed reading about the Top 10 Best Movies of Tamil Actor-Comedian Vivek. To further showcase the accomplishments of this great actor, we have also compiled the Top 10 Best Movie Dialogues of Tamil Actor-Comedian Vivek.
Check it out!