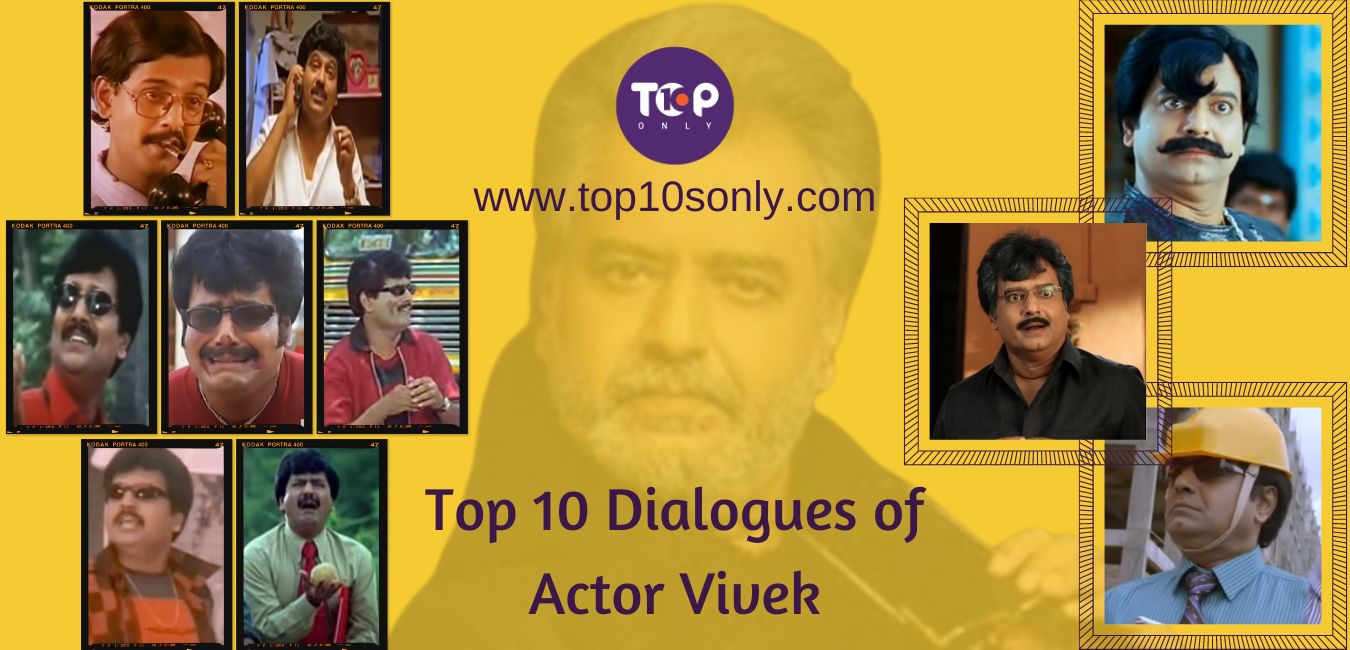 Vivek, also known as Chinna Kalaivanar, ruled the Tamil film industry's comedy genre for many decades. There was a period when Vivek would be a friend of every hero in the industry and appear in almost all the films released then. No one could have missed this highly talented yet humble individual who could make you ROFL in the 90's – we also suspect that the term ROFL was coined only after Vivek 😀. There are so many quotes by this legend that are used in memes – but we at Top 10s Only have curated the Top 10 Best Dialogues of Tamil Actor – Comedian Vivek just for you to read, recall, and smile at!
Top 10 Best Dialogues Of Tamil Actor – Comedian Vivek
Vivek was always popular for his witty humour. He used common phrases and slang words used by many in Tamil Nadu to deliver some strong messages in many of his movies. In some instances, he has also criticised the rituals followed by a few people. Still, since it was covered in humour, it only gave people a good feeling.
1. Innaikku Sethaa Naalaikku Paal – Pudhu Pudhu Arthangal (1989)
In an otherwise serious movie where the hero, ManiBharathi, played by Rahman, undergoes a traumatic married life, Vivek's comedy track gives some respite. He plays the role of Vittal, the PA to ManiBharathi, a popular singer in the movie. This dialogue, 'Innaikku Sethaa Naalaikku Paal' means 'If we die today, tomorrow there will be a milk ritual'. The milk ritual is conducted the day after someone's death when the ashes of the bereaved are smeared with milk and holy water before being immersed in any body of water. 
Definitely one in any top 10 original dialogues list of Vivek, this is a very serious message, asking people to live life to the fullest extent before they pass on. Still, his dialogue delivery and the consequences in which he utters these dialogues throughout the movie, make the audience forget the emotional roller-coaster of the movie and start laughing. The movie was directed by K. Balachander, a person who has sculpted many big names in the Tamil film industry.
2. Neega Verum Daasa Illa Lord Labakku Das-aa – Pennin Manathai Thottu (2000)
In order to understand this joke, you should first understand who is Lord Labakku Das 😀. If anyone acts like they are from a Royal family and does not help with household chores, they are often criticised by asking, 'Nee enna periya Lord Labukudas-a' which means, 'Are you the great Lord Labakkudas?'. This being the base for the joke, let's get into the actual joke now!
In Pennin Manathai Thottu, Vivek acts like a college guy who is the son of a politician and keeps cracking lots of jokes in the movie. In this scene, one of his friends calls up their professor in the middle of the night to ask some doubts about a lesson. Vivek interferes and tells him that he also has a doubt and wants to ask it too. Being a good friend, his friend hands over the phone to Vivek. He picks up the phone and asks the professor if is only Das or Lord Labakku Das. 😅
Ever since this dialogue in the movie – this has been one of the best Tamil quotes by actor Vivek in his movies and is often used in day-to-day conversations.
3. 200 Illai 400 Periyaars Vanthaalum Ungala Ellam Thiruthavey Mudiyaathu Da – Thirunelveli (2000)
The speciality of Vivek's comedy or dialogues is that he gave us some thought-provoking statements inside them. This dialogue, one of Vivek's famous film dialogues, is one like that. To understand this dialogue, you need to first know about Periyar.
Periyar was a great Tamil leader and politician who put his foot down against a lot of rituals that were being followed and also brought in a lot of social reforms to help those from the lower castes.
The dialogue 'Eranooru illai, nanooru Periyaar venthaalum ungale ellam thiruthavey mudiyathu la' means that even if a thousand Periyars are born here, nobody will ever be able to change you! Though it looks like a serious message, the consequences leading to this scene and the way in which this dialogue is delivered by Vivek ensure that it is a comical one.
4. Yaarumey Illathaa Tea Kadaila Yaarukku Daa Tea Aathura; Un Kadamai Unarchikku Oru Alavey Illaiyaa Da – Lovely (2001)
One of Vivek's most famous comedy Tamil film dialogues, this is now a part of so many memes. Vivek plays the part of Alagesh, aka All Gates, a friend of the hero Karthik. Karthik falls in love with a girl, and assuming that Vivek had left for the USA, Karthik hands over a photo of Vivek to his lover's father. The goondas of the girl's father roam all around Ooty and finally find Alagesh and beat him up in front of a tea shop. This dialogue translates into 'In a tea shop where no one is around, for whom are you preparing tea? There are no boundaries to your sincerity!'
This dialogue is used in many memes, and these days also to refer to a person who sincerely does his job even if no one is around to monitor. 😆
5. Yenakku IG-a theriyum… aanaa avarukku yenna theriyaathu – Minnale (2001)
This is one of the most famous comedy dialogues of South Indian comedy actor Vivek from Minnale. The scene starts with Madhavan riding a bike with Vivek as a pillion rider. Madhavan spots the girl he's in love with and abandons the bike and Vivek in the middle of the road to go and see her. The bike rams into a lorry (truck), and the traffic police come to catch Vivek. He tried all possible means to convince the police that he was not riding the bike, but nothing works out. So his final dialogue is this – 'Yenakku IG-a theriyum' which means 'I know the IG(Inspector General of Police)'. Immediately, all the police people and those surrounding him are saluting him. After a short pause, he says, 'Aanaa avarukku yenna theriyaathu' which means 'but, he doesn't know me' and then the whole crowd starts beating him. 😀
6. Yeppadi iruntha naan ippadi aayitten – Thithikudhe (2003)
For those who have seen this comedy, even reading this line anywhere will bring a smile to any grumpy face. It is so popular, that we can also add it to one of the best Tamil movie comedy dialogues of all time. In the movie Thithikudhe, Vivek auditions for a movie scene and gets selected to be featured in a commercial video. He gets too excited, and on the day of the shoot, he asks the director what the dialogue is, and the director says, 'Yeppadi iruntha naan ippadi aayitten' meaning, 'How I was then and how I became!' Vivek tries multiple ways to tell the dialogue, but the director is not convinced. Finally, out of frustration, he says the same dialogue, and the director likes that act, so they go in for the recording. Vivek doesn't know why or for what reason this video was taken. Some days later, he notices that people are looking at him and whispering something, then running away from him. So, out of curiosity, he tries to find the advertisement only to find out that it was an ad for HIV, and they used his healthy picture on one side and a weak and unhealthy picture on another side to depict the effects of HIV. 😀
7. Yennada kaila ladoo va kuduthuttu angey Jilebi ya pichi pottirukkaanga – Thirumalai (2003)
In Tirumalai, Vivek waits at a bus stop, worried that he would not make it to his interview in time. He sees his friend, Thalapathy Vijay, passing by on his bike. Thalapathy Vijay offers to take him for an interview on his bike. They start from Mylapore, and whichever road they take, the traffic police stop them and ask them to take diversions as the roads are all closed. They keep going around here and there until they finally reach a place and ask around for directions. At that time, a passerby gives them a laddoo (a traditional Indian sweet) and talks to them in Telugu. Vivek says this dialogue then, 'Yennada kaila ladoo va kuduthuttu angey Jilebi ya pichi pottirukkaanga?' which means, – 'What's this? They've given us laddoo in our hand, and I can see some jalebis spread there?' Then, he also asks where this place is and finds out that they've entered the Andhra Pradesh border and were near Tirumala Temple. The dialogue delivery of Vivek and also the inner meaning – which is that there are so many diversions inside Chennai city that people may even reach the border because of it, are something that only people of Tamil Nadu will truly understand and appreciate. Watch the video and see if you get the joke.
8. Ivvalavu Aapukku Aparam Oru Soup-Aa – Padikkadavan (2009)
Padikkadavan is a movie in which Vivek has delivered a lot of popular dialogues, and most of them are funny and will make you laugh. One of Vivek's famous comedy dialogues, 'Ivvalavu aapukku aparam oru soul-aa' means, 'After so much beating, are you giving me soup?' The dialogue comes at a time when Dhanush and his friend visit Vivek, thinking that the latter can help the former get back his girlfriend from a far-off town in Andhra Pradesh. Just as Dhanush and his friend enter the residence of Vivek, they find that some guy is beating up Vivek. Right after getting punched left, right, and centre, Vivek comes up with this dialogue, and the whole scene is hilarious. Watch it to understand the brilliance of comedy stalwart Vivek.
9. Confusion Of The Constitution Of The Institution Of The Loose Motion- Emotional Ekambaram – Uthama Puthiran (2010)
Uthama Puthiran is a movie in which the ever-talkative and dialogue-packed actor Vivek went a little low on the number of dialogues. Most of the best parts in the movie showcase his acting skills rather than the dialogue delivery, and it is such a delight to see him on screen and act the way that he can – making us laugh with or without dialogues. Though he had only a few dialogues in the movies, this is surely one of the top ones in which Chinna Kalaivanar acts so confused. The dialogue 'Confusion of the constitution of the institution of the loose motion' means that he's confused and uses up all the complex words in one sentence to show that he is superior to all the other people around him.
10. Ivanunga Mogarai Yelaam Paarthaa Nallavanunga Maathiri Theriyalaiye – VIP (2014)
Here's one of the top 10 dialogues of Vivek that talks about relationships. The dialogue 'Ivanunga mogarai yelaam paarthaa nallavanunga maathiri theriyalaiye' means 'If I look at their faces, they don't look like good people'. The context is that one of Vivek's colleagues is constantly talking to his wife, and he is quite suspicious. Then, one day, his colleague and Dhanush talk something to him about something in the same context, and this dialogue comes up. Vivek's expression and timing are brilliant and makes you laugh. The dialogue after this is when Dhanush says that Vivek's talking out aloud thinking that it's his mind's voice. This complements the dialogue and ensures that there is some light comedy at an otherwise serious point in the movie.
Final Words
'Yenakku saavey kidaiyaathu ley', Vivek's dialogue from Paalaiyathu Amman, is true. Though he is physically not with us today, his dialogues and jokes will live forever and can lighten the mood of any gathering. If you're an ardent fan of Vivek, you can laugh through some of his Best Movies too.
Alternatively, if you're looking for some serious multi-role movies, you can check out our Top 10 Best Kamal Haasan Multiple Role Movies too.
We hope you've enjoyed reading the unforgettable Vivek dialogues in Tamil. If you feel we've missed out on any dialogues you love, do let us know in the comments below.