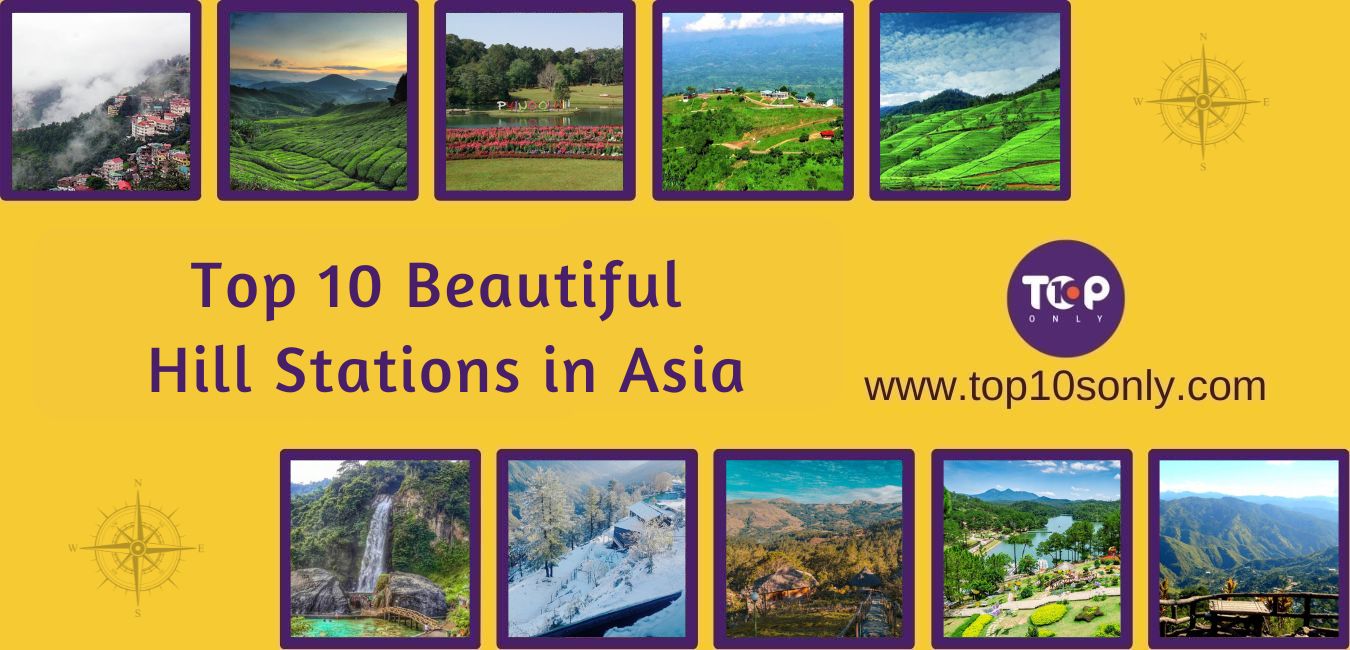 Hill stations are a favourite among travellers who look forward to some soul-searching and wander-lusting. The natural surrounding with majestic landscapes facilitates an astounding transformation, both physically and mentally, that no hustling city can offer. A diverse continent like Asia ensures every traveller has a holistic experience with its naturistic abundance. The high-altitude towns situated among these hill-tops were historically used by the British as a place of refuge and are today considered no less. Whether it's the highlands of Southeast Asia or the peak tops of the Indian subcontinent, every hill station has a story to tell, an experience to soak in. 
List Of The Top 10 Beautiful Hill Stations In Asia
While many hill stations have been commercially advertised through agencies and packaged holidays, there are a plethora of hidden gems tucked within these peaks and ranges that one can explore individually. Some of these have picturesque lakes to indulge in too, making it a perfect spot for boating and other activities. Listed below are the Top 10 Beautiful Hill Stations In Asia that might just have you start planning an early retirement to soak in these cloud-kissing hill tops!
1. Shimla, Himachal Pradesh, India
Best time to visit: Winter(October-March) 8 to -2 degree Celsius and Summer (April-June) 15-30 degree Celsius.
Shimla is a must-visit place, as it is one of the top 10 most beautiful hill stations in India. It is popularly known as the Queen of hill stations for its exquisite beauty.  Snow-capped hills, alluring greenery, and crisp cool climate is truly a destination that probably allows its tourists to experience nature at its sheer best. Indulge in the mesmerizing landscape of Jakhoo Hill, The Scandal Point, and park into the sunsets at Naldehra or Shaily peak when in the capital of Himachal. Are you a big fan of snow sports? Don't miss out on Kufri to whizz past velvety snow in your best gear. Laced out on a 12km ridge, Shimla is an attraction galore for all visitors with its fine blend of scenery, sports, history, ambiance, and shopping. 
Shimla is located in North India. So, if you're more interested in travelling to a hill station in South India, check out our Top 10 Places To Visit In Kodaikanal, Tamil Nadu article!
2. Cameron Highlands, Malaysia
Best time to visit: Off-Peak Season. It is also considered a weekend getaway, and therefore, it gets overcrowded and busy then.
One of the largest hill stations of Malaysia, Cameron Highlands is encapsulated by a quivering breeze that's music to the towering Eucalyptus trees, tea plantations, and lush strawberry farms. It is a must in the list of top 10 hill stations in Asia. Some of the attractions that are unmissable around these highlands are The Cactus Valley, Lavender Farm, Time Tunnel Museum, Big Red Strawberry farm, Sam Poh Temple, and the Cameron Bharat Tea Estate. If you are someone who loves a long stroll in nature, walk through the "Mossy Forest" or challenge yourself with the many levels of trekking trails available. Don't sweat if you are a beginner, they even have trails with moderate to tough trekking levels! As a tourist destination, Cameron Highlands holds the largest range of activities for everyone.
3. Pyin Oo Lwin, Myanmar
Best Time To Visit: November to January are the coolest months of the year making it an attractive destination.
Pyin Oo Lwin is a colonial hill station that was designed by the summer capital of Myanmar to escape Mandalay heat. While temperatures normally range between 30- 40 degrees generally, this summer getaway enjoys a cooler climate during summers. Pyin Oo Lwin is one of the best hill stations in Asia if you want to enjoy the colonial charm in architecture and feel. Some of the must-visit destinations include the beautiful botanical gardens, the abundant waterfalls like Dat Taw Gyaint and Pwe Gauk, Candacraig-the colonial mansion, and the Peik Chin Myaung Cave.
4. Bandarban, Bangladesh
Best Time To Visit: If it's cool weather you want to enjoy- November to February. But if it's the waterfalls you want to bask in, then visit during the monsoons of June to October.
Almost every Asian writer has cashed in on the picturesque beauty of Chittagong hill tracts in their fantasy write-ups. Bandarban is one of the top 10 amazing hill stations and least populated districts of Bangladesh, yet the most travelled to destinations as well. The beautiful amalgamation of lakes, waterfalls and hills make this hilltop a divine destination to relax in. Boga Lake, Buddha Dhatu Jadi, The Chimbuk Hill, and tribal villages, river Sangu are some attractions that cannot be missed. South of Bandarban is the tallest peak of the country, the Nilgiri. Make sure you visit for a memorable photo!
Other attractions include The Jhulont Shetu or the Hanging Bridge, which is tucked in the district.
5. Nuwara Eliya, Sri Lanka
Best Time To Visit: February to May are the most attractive months for the low temperatures with subtle rainfalls.
No matter how much is said about this gem of a place, it falls short in words. Nuwara Eliya literally translates into 'City of Light' and was founded during British colonial rule in Sri Lanka. Buildings here reflect this modern English ambience through names and architecture like the Queen's Cottage, General's House, Grand Hotel, Hill Club, and Town Post Office, which have an untouched colonial feel to them. Don't forget to grab a picture in front of the most photographed half-timbered post office to post on your social media account.
Its endless and vast lands with tea bushes that grow some of the finest tea that exports across the globe. It is definitely one of the top 10 famous hill stations in Asia. Sip on a variety of blends while basking in the dewy mist of fresh mornings! Activities also include treks that promise a stint in tea leaf picking. This place is most popular for vacationers who enjoy golfing, horse races, and sports car hill climbs. 
6. Bogor, Indonesia
Best Time To Visit: Great to visit throughout the year.
Bogor is a city in the West Java region of Indonesia. Known as the 'City of Rain', it is situated only 290m above sea level. Visit the Botanical Garden, the oldest in the country, to enjoy a glorious horizon of plants and flowers. With more than 15,000 species of trees and plants, Bogor's world-renowned botanical gardens remain a matter of research and conservation. The Presidential Palace and Orchid Garden in it make it a fantastic visit for a cool afternoon. Bogor also boasts of tea plantations in Puncak and other spice plantations too. If you are looking for a top 10 hill stations name, then Bogor should make it to the list.
Don't miss the white water rafting in rivers Cianten, Cisadane, and Kalibaru if you want to experience a thrilling encounter.
7. Murree, Pakistan
Best time to visit: To enjoy warm-weather activities, visit from May to late September.
Murree is situated on the southern slopes of the Western Himalayan foothills, ascending to the northeast towards Kashmir. Derived from "marhi", meaning a 'high place', Murree was originally set up in 1853 for British troops garrisoned on the Afghan frontier. Popular belief also says it may have got its name after the Virgin Mary during British times. Whichever the case, Murree enjoys some of the best colonial properties that are now used as grand hotels for tourists. If you want time to stand still and particularly enjoy the British era, come visit, as even the fruits thriving locally include British fruits like cherries, raspberries, and strawberries. Not a fan of the old? Enjoy the recent additions of restaurants that boast of scrumptious local meals. 
8. Maubisse, East Timor
Best time to visit: June to September
Maubisse is a quiet little town surrounded by mountains and one of the top hill stations in Southeast Asia. This serene town allows visitors to truly become one with nature with its coffee cultivation, rising clouds, and green surroundings. They even have a Green School where they educate local communities on how to grow plants in the local area. Want to go top of the range? Book into a colonial-style guesthouse with a gorgeous 360 view of mountain ranges.
9. Da Lat, Vietnam
Best time to visit: Anytime of the year as the weather is dry and rainy with mild temperatures.
Known as the city of eternal spring, this hilltop is an absolute visual delight and can easily be one among the best hill stations in Southeast Asia. The French villas, waterfalls, and gorgeous lakes make Dalat a heavenly abode for every traveler. Once ruled by the French, Dalat is often called the Little Paris with its architecture. Walking down the streets, you are bound to find newlywed couples doing romantic photoshoots along the lakes and waterfalls of Dalat. Other attractions include Hang Nga Crazy House, Dambri Falls, Xuan Huong Lake, Elephant Falls, Dalat Cathedral, Linh Son.
10. Baguio, Philippines
Best time to visit: Summer (March to September) below 30 degrees Celsius and Winter (October To February) between 15-23 degrees Celsius.
This city is blessed with weather that suits every traveler. The cool pine-scented air encourages visitors almost throughout the year. Known as the city of pines, this upland retreat is not the most tranquil one. Baguio is a university town that has one of the largest student populations in the Philippines. However, it remains the crossroad between hill tribe cultures and lowland residents. For most backpackers, Baguio is the gate to northern areas like Sagada, Banaue, and Kalinga. Choose this city to relax after a retreat in a mountain haven with its small scale urban and nightlife. Most scenic spots here enjoy a backdrop of the massive Cordillera mountain ranges and graceful, towering pine trees that make every picture a postcard-worthy memory.
Whether you are someone who's always enjoyed mountains or it's your first in venturing hilltops, make sure to keep this list in hand when choosing your destination. Happy travels!
Still looking for more scenic places to visit?
Check out the places listed in the Top 10 Places To Visit In Munnar, Kerala article!