In the light of day, many of us mock ghost stories, relegating them to the farthest corners of our minds. However, once darkness descends, even familiar, comforting surroundings take on a bizarre and grim look! The stillness and desolation can be felt in every breath we take. Often, the nape of our neck bristles as if we are under the watchful haunting gaze of an unknown evil entity. These bewitching hours, between dusk and dawn, is when the fear of the unknown grips you!
Haunted Places In South India And Their Stories
Need a spine-chilling experience? Just follow the trail of haunted destinations in South India! Some of these abandoned destinations can give you a horror movie experience with you as the main character!
Many spooky places can garner your attention, and these are not necessarily secluded places. In fact, some of the best, most haunted places in South India are found in prime localities in cities like Chennai, Bengaluru, Trivandrum, Hyderabad, etc.
Top 10 Most Haunted Places In South India
Calling all daredevils! If you love exploring uncanny spooky places with a checkered past, then join us as we take you on a quick virtual tour of the Top 10 Most Haunted Places In South India.
1. 25 GB Bonacaud Bungalow – Trivandrum, Kerala
The Bonacaud Bungalow is located 50km away from Trivandrum, in the dense forest at the foot of the Agasthya hill range. This western-style building is said to have been constructed in 1951 for a British tea estate manager and his family. The owner was forced to return to London with his wife after his child was gruesomely murdered. According to popular lore, a mysterious young girl is believed to appear near the windows of this scary ghost house in Kerala. Some stories speak of a local village girl who went to collect firewood near the haunted bungalow. She was subsequently seen to behave strangely and even started talking in fluent English, despite having no prior experience of ever learning the language.
There are no hotels or lodges in the vicinity, and daredevil tourists can walk up to the pine trees to have a peek at this creepy Kerala haunted house. Staying overnight is not advised. Visit in the morning and return before dusk – Do not be a victim of the unknown!
2. F2 Building – Valmiki Nagar, Chennai, Tamil Nadu
Can you believe that there is a haunted house right in the heart of Chennai city?
When darkness settles, mysterious occurrences happen at an abandoned house in Valmiki Nagar, Chennai. One of the creepiest phenomena noted is that mobile screens flicker when you pass this scary house in Chennai. The locals say that a woman committed suicide in the house. Ever since that unfortunate event, bizarre incidents have been happening at that haunted place in Chennai. People have heard the wails of a girl coming from this eerie haunted house. The locals have often reported seeing the 'dead' girl closing the front doors in the wee hours of the morning. Even Google Maps has marked the site as haunted.
3. Kundanbagh Haunted House – Hyderabad, Telangana
Want to visit one of the top 10 haunted places in India? If so, then make sure the Kundanbagh Haunted House in Hyderabad is on your list! This is one of the most haunted places in South India, in Hyderabad, Telangana.
It is believed that many years ago, a woman and her two daughters lived in the Kundanbagh house in Hyderabad. Their corpses were found in the house under mysterious circumstances by a thief who went to loot their house at night. The autopsy revealed that the three had died around six months ago. However, the neighbours were perplexed. They swore the women had been seen even the previous day performing their daily rituals. It seems the presumed dead/alive women had also shooed away the locals who were disturbing them!
If you want to see ghosts in Hyderabad, visit this haunted place in South India! However, make sure to do so with a group of friends/family and avoid night ventures.
4. Kalpalli Cemetery – Bengaluru, Karnataka
If you want to see ghosts, what better place than a cemetery? If you are an adventurer, dare to visit the haunted places in Bangalore!
It's rare to find cemeteries on a travel list. However, there are exceptions! The spooky Kalpalli Cemetery is famous not for its historical value. Thanks to the several unexplained paranormal activities that have occurred here, this notoriously haunted spot in Bengaluru finds itself among the Top 10 Most Haunted Places In South India. It is a top attraction for those who want to experience the creepy secrets of the hidden supernatural world. The nights in this cemetery in Bangalore are not a comfortable experience. Visitors often claim to feel uneasy and experience breathlessness and heaviness in their chests. People roam around to catch a glimpse of the ghost, only to be watched by the unknown.
5. Chittoor Railway Station – Chittoor, Andhra Pradesh
If you thought Andhra Pradesh had no ghostly haunted places, think again! The Chittoor Railway Station in Andhra Pradesh is a recent addition to the Top 10 Most Haunted Places In South India.
As per reports, Hari Singh, a CRPF official, was attacked by RPF and TTEs at the Chittoor railway station in 2013. He died due to the resultant injuries. The locals say that the spirit of Hari Singh now haunts the secluded premises of the railway station. So, if you are at this railway station, make sure you are not alone or, better yet, take a day train. Always ensure extra care when you are in haunted locations like this one.
6. Demonte Colony – Alwarpet, Chennai, Tamil Nadu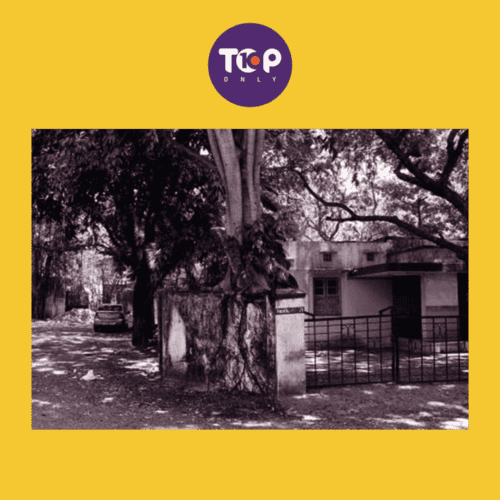 Demonte Colony near St. Mary Road, Alwarpet, Chennai, has always witnessed spooky noises and mysterious shadows.
A businessman, John De Monte, owned the colony in the 19th century. Several misfortunes plagued him. His wife was mentally unstable, and to add more to his tale of woe, his son soon passed away. This was followed by his and his wife's deaths. Since then, there have been several inexplicable disappearances in the colony. Nobody dares venture into this haunted place after sunset due to the reports of weird paranormal activity. The mysterious death of the watchman in the colony only adds depth to the tales, making it one of the best haunted places in Chennai.
7. Lakkidi Gateway – Wayanad, Kerala
The infamous 'Chain Tree' is the spookiest element of the haunted tale of the Lakkidi Gateway in Wayanad in Kerala. This is truly one of the best haunted places in South India places to visit.
This place is believed to be haunted by the restless spirit of a local tribesman, Karinthanadan. Legend has it a cruel and greedy British engineer killed this innocent man. For years, travellers would avoid passing by this area as they were afraid of being harmed by Karinthanadan's ghost. In a bid to exorcise the spirit, a priest captured and chained his vengeful soul to a tree.
However, this haunted tale took a bizarre turn. The tree and the chain are growing longer by the year, and there is no way anyone can explain it. Now that's spooky!
8. Victoria Hospital – Bengaluru, Karnataka
Bangalore is home to some of the most haunted places in our country. One that deserves to be included in our list is the famous Victoria Hospital.
The magnificent landmark of Bengaluru, the Victoria Hospital, is not without its quota of horror tales. The hospital, built in 1893, has seen its fair share of misfortunes, notably the plague epidemic. Over a century, the hospital has been witness to many deaths. The ghost haunting the tree near the tea stall is a popular ghostly tale among postgraduate students. Security guards have also seen a mysterious woman walking in the night and attribute it to the ghost of a lady who died a few years ago in the hospital. Also, another bizarre occurrence at this haunted place is the explicable disappearance of food packets belonging to the patients.
9. Golconda Fort – Hyderabad, Telangana
If you are visiting the Golkonda Fort, enjoy the historical sights, and check out the incredible light & sound show. Enjoy the breathtaking architecture of the fort, but leave before dusk. Do not attempt to stay past 6 pm, as this place is believed to be yet another one of the most horror places in India to visit! Once darkness falls over the desolate landscape, Golconda Fort is rumoured to turn into a hub of paranormal activities!
To their horror, those who have stayed back have experienced weird lonesome shadows and heard the eerie clinking of distant anklets, along with the clamour of utensils and paintings being flung into the walls. The spookiest of all is the ghost of the long-dead dancer Taramati, dancing away to her heart's content at the stage of the royal courtroom, the Baradari.
10 . Theosophical Society – Adyar, Chennai, Tamil Nadu
With such a vibrant and rich historical background, it would be hard to picture the Theosophical Society in Adyar, Chennai being on the list of the haunted places in India.
One of the top highlights of this place is a 400-year-old banyan tree, believed to be one of the biggest ones on Earth. Most of the eerie tales are also connected to this tree. The place surrounding the banyan tree is off-limits at dusk. Those who have stayed late have experienced strange sounds and ghostliness. Visitors have sworn to have heard the banyan tree whisper indecipherable names. Also, loud unearthly screams are heard after sunset.
Well, no one knows if ghosts exist or not, but these spine-chilling stories are sure to awaken your curiosity for the unknown. So, next time you're pondering which places to visit, try travelling to any of the destinations listed in the Top 10 Most Haunted Places In South India! Visit these real haunted places in India if you want nothing short of a fantastic paranormal experience.
However, if you prefer a quiet, relaxing vacation, we suggest you take a look at the Top 10 Beautiful Hill Stations in Asia!