Tennis is a sport that is followed by billions of fans all over the world. Starting off as a recreational sport it has transcended into a fierce contest of matches. That has not only attracted many viewers it has resulted in garnering a huge revenue making it a highly lucrative sport for players.
One of the primary reasons for the popularity of Tennis is the players who dominate the scene with their skills and antics. The fan following for some of the players is unprecedented and so is their influence on the sport. Hence listing the top all-time greats is not easy and is based on the number of Grand Slams they have won.
List Of Top 10 All Time Greats In Men's Tennis
Read below the list of men's tennis all-time grand slam winners. These players are not one-time wonders but those who have proven their mettle over a long time. Thus they are counted among the greatest of all time men's tennis players. Note that it is not in any particular order as all equally deserve to be among the top 10 greats.
1. Roger Federer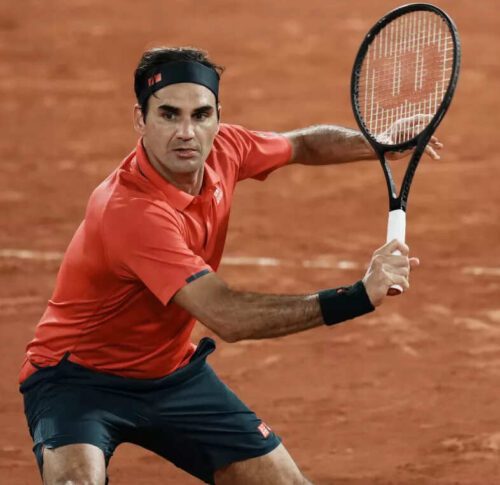 He is among the topmost athletes currently and deserves his spot in the top 10 tennis players of the decade. He along with Djokovic, and Nadal are the top three tennis players having the most number of Grand Slam Titles and also have the record of being in 46 semifinals and 58 quarterfinals of Grand Slams. He has a great all-around play and also throws in some clever tactics along with being swift. He has won 103 titles as a professional and if not for some great opponents like Nadal and Murray he would have won many more.
He has an all-round game and can play on all ground surfaces and that has helped him to keep his number one ranking for a record 302 weeks. He started his professional tennis career as a teenager and won his first Grand Slam at 22. Despite winning so many titles he had a 4-year drought where he won no titles. This most famous male tennis player among the current lot is prone to injuries and there was talk of retirement in 2016 but as a true legend that he came back from injury to win 2017 Wimbledon putting an end to all doubting Thomas! He is an inspiration to anyone who is looking to get back to fitness.
2. Novak Djokovic
In men's tennis, Djokovic's name in the top 5 of all-time greats comes as no surprise due to his many Grand Slam titles. The Serbian has won 9 Australian Opens, 7 Wimbledon, 3 US Opens, and 2 French Open totalling 21 Grand Slam titles to date. He has also won 5 Tour Finals and the Davis cup too. He along with the other modern greats like Federer and Nadal give their fans some of the hardest competition. He is the 5th highest in the open era with 77 title wins and has an 87.7% win record making him one of the greatest players. 
3. Rafael Nadal
He is called the 'King Of Clay' and is believed to be the best player to ever play Tennis. Nadal is the only one who has won 10 times a single Grand Slam winning the French Open 10 times. If you think he is only good at clay, then you are wrong. He has won 2 Wimbledon titles, 4 US Open and 2 Australian Open as well. Adding his 14 French Open titles all totalling 22 Grand Slam Titles- the most by anyone in the History of Men's Singles Tennis so far. Nadal is also a Gold Medalist in the 2008 Olympics Singles and in doubles in 2006. He is the only player to beat Roger Federer and their rivalry is unparalleled with Nadal leading by 24:16. 
4. Rod Laver
Many consider Rod Laver to be among the best tennis players in history with him winning the most number of tournaments (200). After winning a Grand Slam in 1962 he took a break for 6 years and returned to make his mark. In 1968 he won Wimbledon the year of his comeback into the game. In a few year's time, he had won 17 titles and had become a darling of the fans and was fondly called 'The Rocket'. 
His achievements are plenty and his two, all 4 Grand Slam wins in a calendar year are not yet broken. He was also the first player to earn a million dollars in his career which was a huge amount for that time. In all, he won 11 grand slam singles and had very few weaknesses in his game. Laver got into the International Hall Of Fame in 1981.
5. Bjorn Borg
He is listed among the top 10 tennis players of all time as he was the first tennis player in the history of the Open Era to win 11 Grand Slam Singles titles all in just 7 years from 1974 to 1981. He won 5 Wimbledons and 6 French Opens apart from winning Davis Cup and WTC finals. He is also among the very few players to win 3 Grand Slams singles finals without losing a set. His mental toughness and his all-around playing ability make him eligible for the top 10 list honours. 
Apart from his skills and athleticism, he was the first player to sport a rock star look. Winning his 1st grand slam at the age of 18 he became a teenage sensation. Among the other firsts, Borg became the first player to win 1 million dollars in a single playing year.
6. Jimmy Connors
The adage 'Love him or hate him, but you can't ignore him' is apt for Jimmy Connors. He is one player whom fans either loathed or loved him. He introduced egotism into the game and was highly outspoken, controversial, driven and a maniac. When on tour he had very few friends because of this and Connors was the last one to worry about it. Coming to his tennis he is among the top 10 tennis players in the world as he was skilled and swift despite being shorter than other greats.
He won 8 grand slams of which 5 were the US Open, 2 Wimbledon and 1 Australian Open title. He was at his career-best in the late 1970s as the number one ranked player for 60 consecutive weeks. Connor's arch-rivals were John McEnroe and Bjorn Borg with whom he had some fierce battles which were entertaining for his fans and good for the game. He retired from the game in 1996 and started lending his voice in big tennis tournaments as a broadcaster. One of the other reasons for him being in the top 10 is that he won a Grand Slam at the age of 39 which is quite an achievement!
7. John McEnroe
'You Can't Be Serious' is the phrase that he is famous for after his argument with officials in one of the matches. Fans either loved him or hated him but everyone agreed that he was one of the greatest left-hand tennis players and among the top 10 best male tennis players in the world in the history of the game. He had an on-court persona which was argumentative with umpires and officials but his play was a contrast, subtle and smooth.
8. Andre Agassi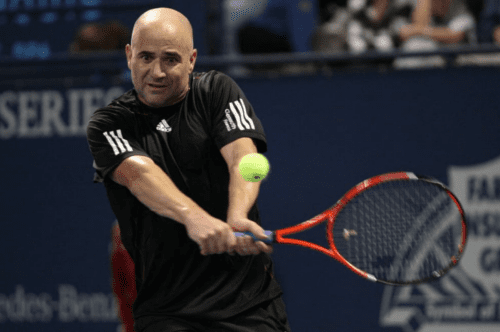 Andre Agassi was a heartthrob with his long pony-tailed hair and jeans outfit. Making his mark in Tennis at the young age of 16 he won his first Grand Slam in 1992. He was part of the 'Golden Age' of tennis and though he was not very successful early on in his career he worked hard to become the first man after Rod Laver to win all 4 Grand Slams in one year. His other major personal achievement is winning the Gold medal in men's singles at the Atlanta Olympic Games.
A born entertainer he was a sight to watch on the court with his bright shoes, neon outfits, and headband. He changed the way men wore their outfits in Tennis and was not just a showman but among the best tennis players in history. He has a great backcourt game, his shot power could overwhelm the best of the opponents and he was so fit that he could outplay them by draining them out.
9. Ivan Lendl
Czech American Ivan Lendl is among the greatest men's tennis players of all time who played in the 1980s. He made it to the final of 19 Grand Slams and won 8 of them. He is the third player in the history of the game after Sampras and Federer to be No 1 for the most number of weeks. His muscular body and stoic pose were imposing to his opponents and his baseline game was second to none. His powerful strokes from the back of the court are something that is hard to forget. 
Lendl brought a new approach to Tennis making nutrition and weightlifting an integral part of the training. His steadfast approach to the game took him to the top spot and helped him remain so for 270 weeks in the 1980s. He had to retire from active tennis at the age of 34 due to chronic back pain. But he continued on to make a mark as a great coach by working with Andy Murray and helping him get his first Grand Slam title in 2012.
10. Pete Sampras
He was nicknamed 'Pistol Pete' by fans for his powerful serve and volley game. Born in Greece but living in California, Sampras won 14 Grand Slams before being surpassed by the great Roger Federer. Of the 14 Grand Slams, he won 2 Australian Opens, 5 US Opens, and 7 Wimbledon along with winning Tour Finals and Davis cup two times. He has 64 singles titles under his belt and holds the record for being the number one ranked player for 286 weeks.
Tennis is not just a game of skills but also of grit and passion. While there are many tennis greats, the above-mentioned are a cut above the rest. Their success stories are inspirational and motivate everyone who plays and follows the game to give their best. 
If you are a true tennis fan, be sure to take a look at the Top 10 Common Traits of The Big Three Grand Slam Giants – Roger Federer, Rafael Nadal, and Noval Djokovic.