Unique in attractions and landscape, Kolli Hills in the Namakkal district of Tamil Nadu is known for its scenic beauty. Located at an altitude of 1300 meters, it is a delight for every trekker, and the hills have a bounty of scenic locales to offer ardent travellers. The untamed charm, enchanting tribal hamlets, pleasant weather, and distinct cultures all make your visit even more special. The hills are a part of the Eastern Ghats, and there's nearly 70 hairpin bends that you'll need to navigate through to get to this beautiful hill station. So, get ready for an adrenaline rush as you prepare for an exhilarating adventure! Top 10s Only brings you the Top 10 Best Places To Visit In And Around Kolli Hills, Tamil Nadu! These awesome destinations will leave you in awe and make your heart race with excitement. Embrace the untamed beauty of Kolli Hills this summer and let your spirit run free among the lush greenery.
Experience The Surreal Top 10 Best Places To Visit In Kolli Hills, Tamil Nadu
The dazzling Kolli Hills derives its name from the Goddess Ettukai Amman, also popularly known as Kolli Pavai, who guards the hills. There is also a famous folklore about the existence of a spirit under the same name. Apart from the diverse tales, the several picturesque attractions are sure to grab your attention. Be it for hardcore trekking, walking by the lakeside, boating, or just enjoying the pristine nature, Kolli Hills is an ideal location for the perfect vacation in Tamil Nadu. Tropical plants, orange and oak trees, vivid plantations, vantage points, endemic fauna and flora, small towns, and local cuisine adds up to the spectacle of the hills.
Here is a quick virtual tour of the top-rated Kollimalai Hills tourist destinations summed up only for you.
1. Agaya Gangai Waterfalls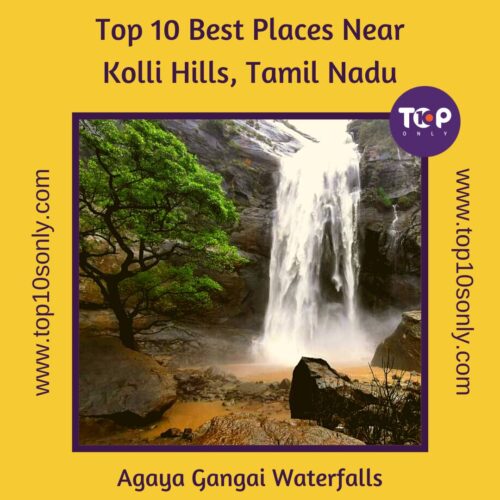 The enthralling 300 feet of Akasa or Agaya Gangai Waterfalls has its own grandeur and charm enclosed within a dense forest. Situated in a beautiful valley, it creates a stunning landscape with mountains on all sides. Ancient caves are located inside the forest area, which was once the meditation site for saints. It is one of the top 10 best places in Kolli Hills, ideal for trekking. The healing herbs found across the forest enhance the medicinal properties of the water, making it a natural spa. Immersing oneself in this waterfall is believed to hold sacred and healing properties.
How To Reach Agaya Gangai Waterfalls
From Ariyurnadu, trekking down through 1300 steps that take about 45 minutes is the shortest route to witness this marvel. The route from Puliancholai takes about 5 hours to reach through a strenuous trek.
Best Time To Visit Agaya Gangai Waterfalls
The end of the monsoon season, especially June to August, is the right time to get soaked in the holy waters of the Agaya Gangai Waterfalls. January to April is also ideal for trekking and sightseeing.
2. Siddhar Caves
Amongst all the beautiful places in the Kolli Hills, one of the exciting places to visit is the historic Siddhar caves. Only a limited number of people can enter these caves at a time. However, it is one of the famous Kollimalai tourist places. These caves are believed to have been the residences of great sages like Agasthiyar. Several saints practised medicine in these areas many centuries ago. The groves of medicinal herbs and ancient materials in these caves stand testimony to the healing powers of Ayurveda.
How To Reach Siddhar Caves
The speciality of Kolli Hills, the Siddhar Caves, can be reached by a short trek through the Agaya Gangai waterfalls.
Best Time To Visit Siddhar Caves
The perfect time for an adventurous trip to these Siddhar Caves is from January to August in the daytime.
3. Namma Aruvi Waterfalls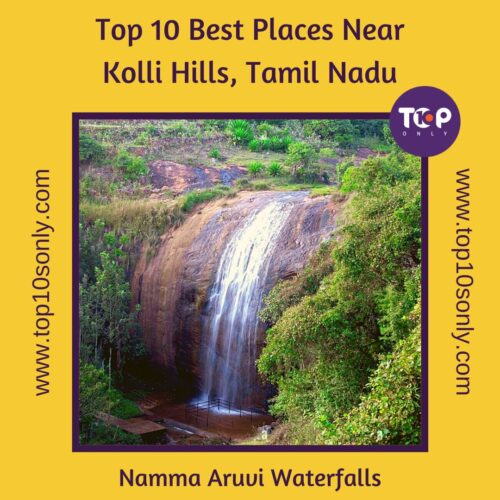 A lovely picnic spot and a great place for photography, the Namma Aruvi Waterfall is one of the best places to visit in Kolli Hills with friends and family. It provides an offbeat experience for travellers. A novel place for trekking and hiking to fulfil your adventure rush. It is less strenuous and suitable for amateur trekkers as well. The rejuvenating waters from the cascade are pristine, and the soft flow is perfect for a drench. The serene green landscape has much more to offer than what meets the eye.
How To Reach Namma Aruvi Waterfalls
The beautiful Namma Aruvi Waterfalls are situated nine kilometres from the Semmedu bus stand. 
Best Time To Visit Namma Aruvi Waterfalls
January to April is the ideal time to enjoy the delicate waters and the pristine surroundings.
4. Vasalurpatty Boat House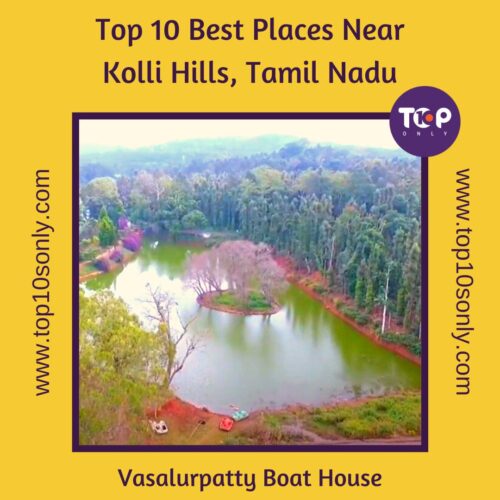 Next up, we have one of the most popular and best Kolli Hills tourist spots – the Vasalurpatty Boat House! One of the most attractive spots on the artificial lake, Vasalurpatty boat House is enclosed by the enchanting green landscape of the Kolli Hills. The tranquil lake has a small natural island covered with huge rocks and greenery. A perennial water source supplies the lake all through the year. Fibre boats are available with a minimum fare to travel through the lake and enjoy its beautiful flora and fauna. As you chill in the lake, it gets you immersed in the beauty of Kolli Hills.
How To Reach Vasalurpatty Boat House
Conveniently located near the town centre, Vasalurpatty Boat House can be easily accessed by travelling just five kilometres along the Solakkadu-Thinnanurpatty road.
Best Time To Visit Vasalurpatty Boat House
Setting aside the monsoon months, the rest of the year from January to August is great for a rejuvenating boating experience. The time best suited is from 10 a.m. to 5 p.m.
5. Maasila Falls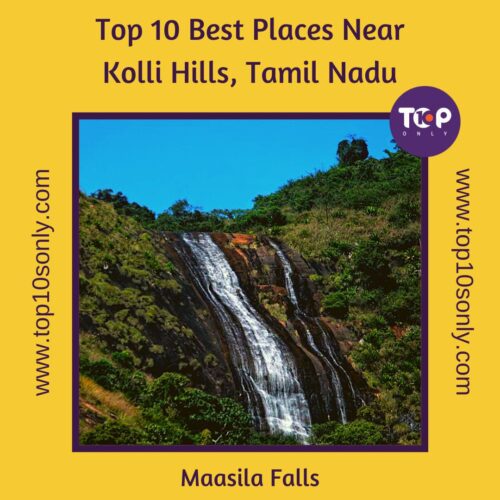 Maasila Falls is a well-known attraction in Kolli Hills, featuring a medium-sized waterfall that is visually stunning. Standing at 200 feet tall, the falls offer a refreshing shower experience and are accessible via a concrete pathway that leads nearly to the top. Unlike other tourist destinations, Maasila Falls remains largely untouched by commercialism, making it an ideal location for a family outing. Additionally, the Masi Periyasamy Temple, situated atop the waterfall, is a significant draw for visitors, providing a breathtaking view that complements the falls' natural beauty. With its picturesque setting, Maasila Falls is perfect for both trekking and photography enthusiasts.
How To Reach Maasila Falls
With easy access from the Semmedu bus stand, this place can be reached within a journey of 12 kilometres.
Best Time To Visit Maasila Falls
The time from January to April is best suited to enjoy this three-tiered waterfall. A nominal fee is collected as entry charges for adults.
6. Puliyancholai Falls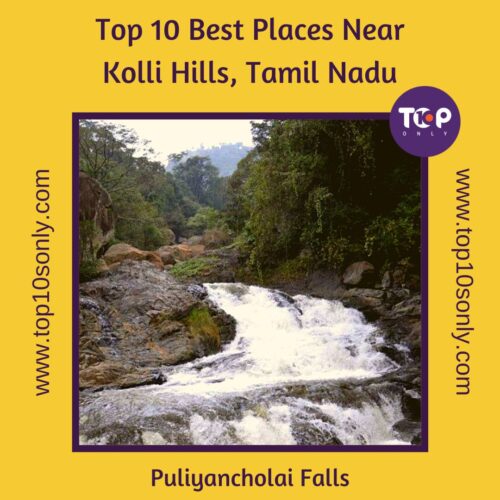 The Puliyancholai Falls, with its aquamarine hue, is a spectacular destination that caters to experience seekers, adventurers, photography enthusiasts, nature lovers, and those seeking fun and excitement. This is a refreshing fall that allows tourists to enjoy a shower in natural springs all through the year. It is one of the top ten best Kolli Hills places to visit. It is identified as a terraced waterfall where the water stream cascades through rocky terrain. Located on the foothills of the Kolli Hills, the Puliyancholai area is also known for its scenic beauty. The thick forest region supports adventurous trekking activities. It is a serene escape from bustling city life. The Lord Shiva temple and Pithukkuli cave are other places of attraction in this region.
How To Reach Puliyancholai Falls
The distance from Namakkal to Puliyancholai Falls is 50 km, while it is 76 km from Trichy. The falls are accessible through the Ariyurnadu route.
Best Time To Visit Puliyancholai Falls
One can easily spend about 5 to 7 hours in this scenic location during the daytime in the months of January to August.  
7. Seeku Parai View Point
The viewpoints in Kolli Hills promote tourism and hold a special significance. The State Government has developed a view tower, park, and road leading to the Seeku Parai View Point to offer an awesome and enchanting view of the stunning green valley. It is surrounded by mountains of varying altitudes. The Kolli Hills top view is best watched from here. One can easily spend a couple of hours getting immersed in these natural surroundings and clicking fascinating pictures.
How To Reach Seeku Parai View Point
Located within 2 kilometres of Semmedu town, it is easily accessible.
Best Time To Visit Seeku Parai View Point
The view tower is open from 7 a.m. to 5 p.m. on all days. However, early morning views are more stunning. 
8. Arapaleeswarar Temple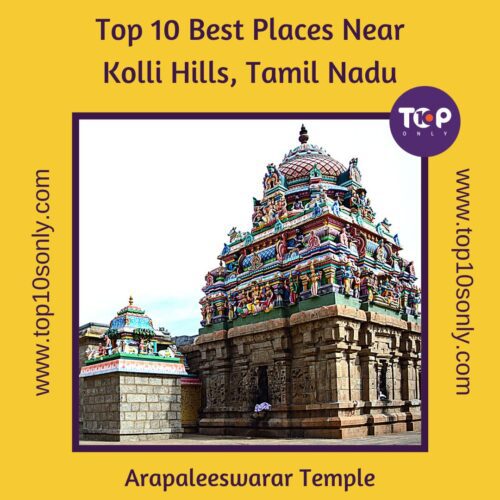 If you are going sightseeing in Kolli Hills, the best visiting places must include the famous Arapaleeswarar Temple. This temple was built by Valvil Ori, the chieftain of the Sangam era, and is presumed to date to the 1st century CE. It holds a rich cultural and historical significance. The temple dedicated to Lord Shiva showcases an excellent Dravidian architectural style. One can also have the darshan of Mother Thayammai, Lord Ganesan, and Lord Murugan in a single spot. There are several interesting historical folklore connected to this temple found in Sangam literature. It is believed that Kolli Pavai was the daughter of Valvil Ori, and the inscriptions in the temple also describe the significant reign of the Chola Dynasty.
How To Reach Arapaleeswarar Temple
Situated at Valapur Nadu, the temple has access from Ariyurnadu.
Best Time To Visit Arapaleeswarar Temple
The temple is open from 7 a.m. to 1 p.m. and 4 p.m. to 7 p.m. in the evening.
9. Thiruppuli Waterfalls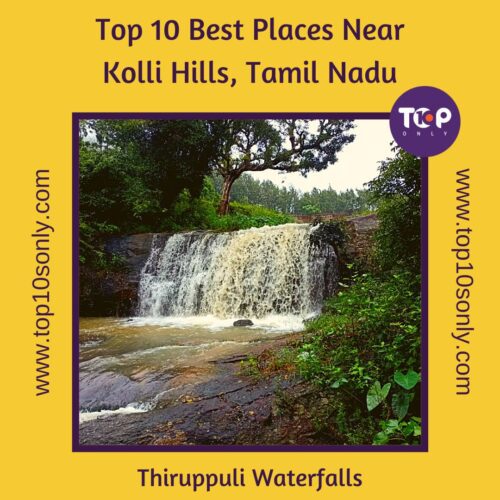 Thirupulli falls, nestled in the picturesque Thirupulli Nadu of the Kolli Hills, is a breathtaking waterfall that lures visitors with its natural charm. This stunning locale is an ideal spot for picnics, allowing one to immerse themselves in the splendour of nature while enjoying some quality time with loved ones. Its scenic beauty makes it an attractive destination for short treks, rejuvenating showers, and photography enthusiasts. The area surrounding the falls boasts numerous plantations, providing visitors with a serene and mesmerizing experience. Thirupulli falls is undoubtedly one of the top tourist places in the Kolli Hills, offering a memorable and fulfilling experience for all who visit.
How To Reach Thiruppuli Waterfalls
Thiruppuli Waterfalls is located on Puliyampatti Road, Thiruppulinadu, and the best route to take while travelling to this destination from Kolli Hills is the Solakkadu – Kolli Hills – Kulivalavu Road. It's easily accessible, located just 13 kilometres away from the Semmedu bus stand.
Best Time To Visit Thiruppuli Waterfalls
January to April is the perfect time to visit Thiruppuli Waterfalls. 
10. Botanical Garden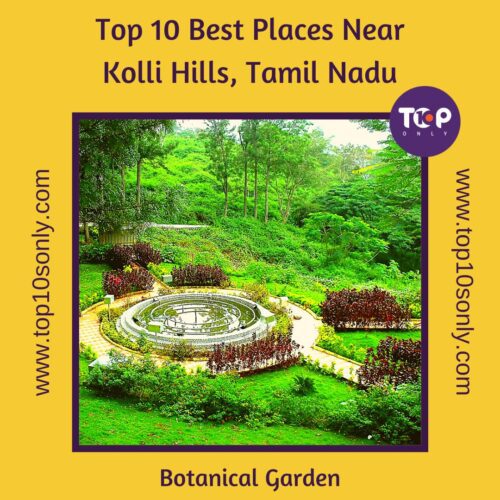 One of the top 10 best Kolli Hills places to see, the botanical garden is situated 3 kilometres from Semmedu town. The green surroundings and bamboo trees enhance the beauty of this place and create a soothing ambience for visitors. This garden is known for its beautiful and eco-friendly cottages. The rose garden and the herbal park are prominent attractions in the Botanical Garden. There's also a children's park that gets merrier with an array of swings, slides, and fountains that keeps the kids hooked to this place. Flower shows are organized with a variety of regional plants and medicinal herbs. An exclusive pineapple research farm facilitates hybrid cultivation. Overall, the Botanical Garden in Kolli Hills is a perfect place for nature enthusiasts, families, and tourists seeking a serene and refreshing experience amidst the lap of nature.
Best Time To Visit Botanical Garden
It is open from Monday to Sunday, 9 a.m. to 6 p.m.
Kolli Hills, nestled in the still Eastern Ghats, is a less-discovered paradise on Earth that offers breathtaking views and scenes. The hill station has become increasingly popular among tourists due to its tranquil identity and beautiful green landscapes. As per the stories, Kolli Hills was an ideal location for sages to perform their penance, seeking a serene environment. The top 10 Kolli Hills famous places list features pristine tourist destinations that showcase the beauty of this hill station in Tamil Nadu. With the maximum number of hairpin bends, one can witness the enchanting beauty of this hill station. The winding roads and beautiful scenery make Kolli Hills a favourite among road trip enthusiasts. The panoramic view of the valley from atop the hill is a treat to the eyes. Overall, Kolli Hills is a perfect destination for nature lovers, adventure seekers, and those looking for a peaceful getaway.
With the vacations just around the corner, it's time to start planning for a well-deserved break. Whether you're travelling solo or with friends and family, there are many places in South India that are ideal for the perfect getaway. Check out the awesome tourist spots listed in our Top 10 Best Places To Visit In And Around Javadi Hills, Tamil Nadu article.
If you are living near Bangalore and want to embark on a journey that's not just fun but also spiritual, check out our Top 10 Best Temple Hills Near Bangalore In Karnataka For A Day Trip article, which lists the famous temples built on hillocks! Also, be sure to check out the must-have gadgets listed in our Top 10 Best Travel Gadgets You Need On An Adventure Holiday article, as these are guaranteed to make your trip more comfortable and convenient.
Happy Journey!
Frequently Asked Questions About Kolli Hills, aka Kollimalai
1. What are the important places to visit in Kolli Hills?
Known for its natural beauty and hidden herbal treasure, the pristine Agaya Gangai and Maasila waterfalls, Siddhar Caves, Vasalurpatty Boat House, Botanical Garden, Arapaleeswarar Temple, Ettukai Amman Temple, Pineapple farms, etc., are some of the many tourist attractions. 
2. Why is Kolli Hills famous?
An ancient and serene mountain range at an elevation of 1300 meters, the Kolli Hills are famous for their landscapes, tropical fruits, and medicinal plants that grow in considerable amounts. It provides a diverse trekking experience with its unique locations.
3. Is Kolli Hills worth visiting?
A visit to Kolli Hills during the weekends allows you to explore the best locations of this place. The tranquil atmosphere, the fragrance of the refreshing medicinal herbs, and the rejuvenating waters can make your visit worthwhile.
4. What is special in Kollimalai?
The mesmerizing mountain ranges, divine pilgrimage sites, and scenic locations add to the speciality of Kollimalai. One can also devour exotic tropical fruits and honey, witness the beauty of coffee and pepper plantations, and get to taste some traditional food. 
5. Which hill has more hairpin bends in India?
Located in Tamil Nadu, Namakkal district, the Kolli Hills has the maximum hairpin bends in India, which are continuous and 70 in number.