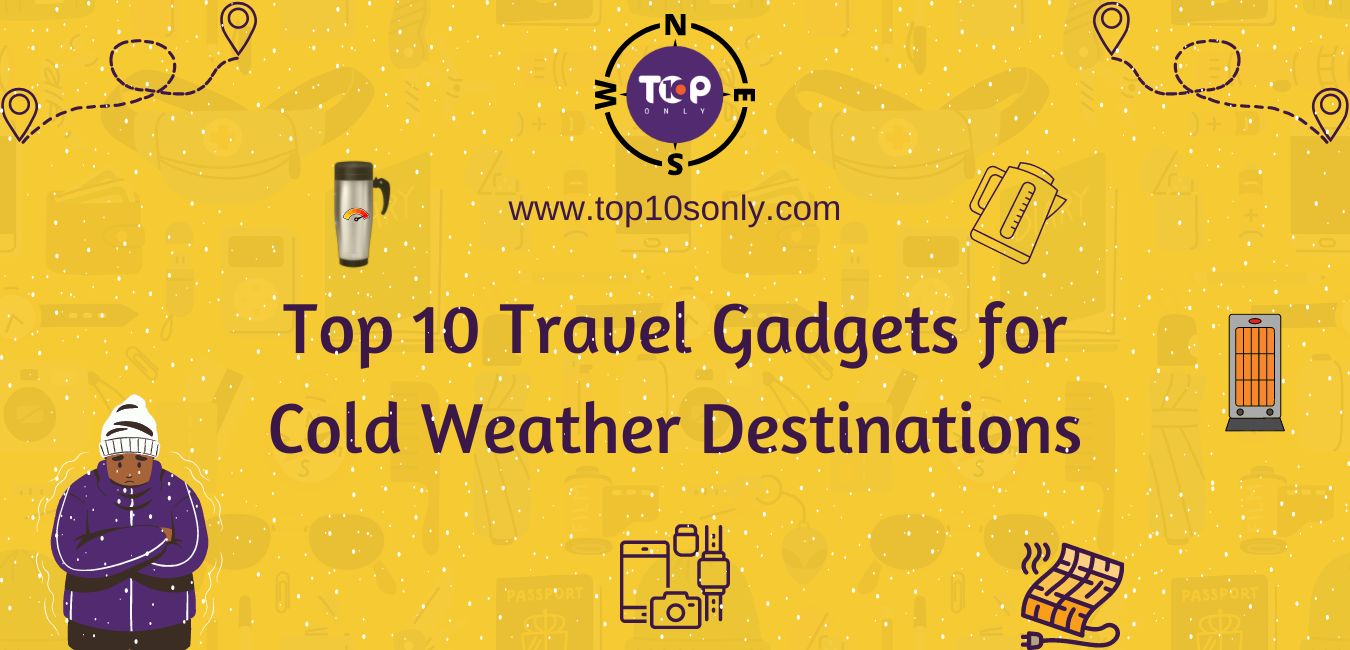 Travelling to cold weather destinations can be a thrilling experience, but it can also be challenging to stay warm and comfortable while exploring new places. Fortunately, with advancements in technology, there are many travel gadgets that can make your cold-weather adventure more enjoyable. In this article, the Top 10s Only team will introduce you to the top 10 best travel gadgets that are a Godsend for tourists travelling to regions that are absolutely frigid and require extra preparation to stay comfortable and safe. Whether you're planning a winter hike or a ski trip, or even just sitting and taking in the scenery, these gadgets will help you stay warm and make the most of your cold-weather vacation. So, pack your bags and let's dive into the world of travel gadgets!
List Of top 10 best travel gadgets for cold weather destinations
Congratulations on your upcoming winter wonderland vacation! It's sure to be an exciting time filled with frolicking in the snow and enjoying the chilly weather. There are so many enjoyable activities to partake in during the winter season, and it's going to be really exciting, especially if you're from a tropical area and have never experienced this sort of climate before. This is why it's important to pack carefully to avoid any adverse reactions to the cold.
Elevate your travel game with these must-have gadgets that guarantee a seamless and stress-free journey. Don't find yourself envying others at your destination who have come prepared – be the envy of others with your tech-savvy gear. Here are the best cold-weather travel gadgets you need to pack.
1. Heated Wearables
This is a must-have gadget for cold-weather destinations. Beat the harsh cold weather by donning clothing items that'll keep you warm all day long. From heated jackets to electric socks, these are some items to keep handy when you travel to a cold destination. Heated clothing comes battery-operated and insulated. You can choose the type you want according to your preference. While heated coats and jackets are worth the investment, we also suggest stocking up on heated gloves, socks, insoles, and leggings. These futuristic wearables will make sure you walk with style while keeping yourselves warm in cold weather. Numb fingers and frostbitten toes are a thing of the past, thanks to the variety of styles and forms that heated clothing now offers. Invest in some stylish yet beneficial pieces of heated wearables to enjoy your vacation without getting frostbite.
2. Insulated Thermal Flasks With Temperature Displays
Here's a useful and cool travel gadget for cold climates. Thermal flasks are bottles with a double-walled container inside of them. During manufacturing, the air between the walls is sucked out, creating a vacuum. This, therefore, creates an environment for the temperature of the liquid, whether hot or cold, in the bottle not to escape. To keep the temperature from escaping, you need insulation, and the best insulator is a vacuum. Earlier thermal flasks were constructed with interior walls made of glass which would get damaged easily if dropped. Today the technology is much better. Nowadays, thermal flasks are made with layers of plastic to reduce heat transfer. Hours later, your liquid will stay as hot as you packed it. This is a must-have item when you travel to a cold destination to pack hot tea, coffee, soup, etc.
3. Electric Blankets
An electric blanket or bed warmer is an electric appliance that generates heat which is distributed evenly over its surface. According to the type you are using, you may be required to place it under the sheets or on top of the sheets. This is an essential travel gadget for tourists. You might never know whether the place you opt to stay offers warm heated blankets, room heaters, etc. An electric blanket comes with a plug that needs to be connected and a thermostat to control the temperature. Make sure to read the instructions properly before using them and use them accordingly only. They are a great investment while travelling to cold destinations.
4. Rechargeable Hand Warmers
A winter travel essential, rechargeable hand warmers are small battery-operated devices that you hold to make your hands warm. You can keep them in your pockets or slip them into your gloves. If you plan to spend most of your time outdoors trekking, camping, etc., this is a must-have item for you. It is great to prevent injuries from the cold, including frostbite. These rechargeable hand warmers use lithium batteries, which are environmentally friendly. They have a large capacity which charges faster and retains the charge for a long time. Hand warmers are good for health as they promote blood flow and increase metabolism. They are easy and convenient to carry, use, and recharge. So get your hands on one of these to keep your hands warm while you travel. Be sure to check out our Top 10 Best Hill Stations In Andhra Pradesh before planning your next vacation.
5. Waterproof Phone Cases
Waterproof phone cases are one of the top 10 travel gadgets for cold destinations. They facilitate the normal use of a phone while protecting it from water, snow, dust, dirt, food, etc. While travelling to a cold destination, getting wet is a frequent incident you may not be able to avoid. As we all know, water and phone don't go well together, so it becomes imperative to find a way to protect your phone from the water or snow. Waterproof phone cases are lightweight and easy to use. You just have to snap them onto your phone like a normal phone case, and voila! Your phone is now waterproof!
6. Portable Heaters
Portable heaters are innovative and travel-friendly travel gadgets to keep warm in cold weather. Portable heaters work by radiant heating. They emit infrared radiation to heat objects and people directly in the line of their sight. These are meant to be used for a short amount of time and are best for travel purposes. These come in especially handy if you are planning to camp or the place you stay provides no heating services. Make sure you read the instructions well before using your portable heater. These are hot to the touch while in use, so make sure these are kept away from the reach of the children. Overall, this is a worthwhile investment for your trip to the cold destination.
7. Portable Humidifiers
Dry and chill weather can cause dry skin and other allergies during cold destination travels. That's why a Portable Humidifier is a winter travel gear you need to pack. Just as the name suggests, they are portable and fit right on top of a desk or nightstand easily. Sometimes the use of an air conditioner or heater can dry out a room completely. That's where humidifiers come in handy! They keep the air moist and healthy. Dry air can cause bloody noses for some people. For those who have sore throats, allergies or body aches, dry air can add to the problem. Having a humidifier at hand can erase having to face all these issues.
8. Solar-Powered Flashlights/Lamps
A flashlight is a must-have gadget for travel, especially in cold weather destinations. You'll never know when you might face an electricity outage. Having a flashlight at hand is always a good hack. Add the solar-powered feature to it, and it increases the advantage of having a flashlight. The solar-powered feature means the flashlight will use a renewable form of energy in the form of sunlight. You don't have to worry about discarding batteries and getting new ones. Most solar flashlights are USB rechargeable, so in case you are not able to rely on sunlight, you can recharge it otherwise too. Some of these flashlights or lamps come with other features like impact resistance, waterproofing and the ability to float. Overall, this is a worthwhile investment.
9. Mug Warmers
A mug warmer is a convenient and economical device used to keep your beverages, such as tea, coffee, hot chocolate, etc, at a constant temperature. This is an innovative travel gadget for chilly destinations. They also perform a double duty of a coaster to prevent the mug from leaving ring marks on the desk or table. It works when plugged in and turned on. The base begins to gradually heat up and signals once it reaches the optimal temperature. The temperature is maintained until the user decides to switch off the device. The mug warmer can be used to heat a small bowl of soup as well. This is especially useful during travel when you need to carry your beverages along and keep them heated as you consume them. You only need to make sure you have a socket or USB port available to connect the device.
10. Foldable Electric Kettles
Having hot water handy is a must during cold weather travels, and one of the coolest travel gadgets for cold weather destinations is a foldable electric kettle. Imagine a kettle that is easy to fold and pack! Wonderful right? You can easily whip it up, unfold and boil water to make hot beverages, use it for other utilities, boil eggs, make soup, etc. A folding kettle can easily boil up to 2-3 cups of water in one go. It is compact, lightweight and easy to carry. It saves energy and automatically shuts off when the water is boiling. Overall, this is a safe and convenient investment to keep handy while travelling to cold destinations.
Travelling in winter may feel challenging, but with the right gadgets, nothing can stop you from enjoying your vacation. All the gadgets we mentioned are sure to make your vacation worry-free and more enjoyable. Every one of the gadgets serves a purpose and is sure to leave you impressed. Take your time to research and invest in the right kind of gadgets according to your preference and needs. Have a wonderful journey!
Planning on undertaking a trekking adventure while on vacation? Fret not we got you covered! Here are the Top 10 Best Must-Have Travel Gadgets For Trekking that you must pack before going on vacations to places where trekking is involved.
Frequently Asked Questions About Cold Weather Travel Gadgets
1. What should I bring on a very cold trip?
Medicine kits with basic medicines, thermal wear, scarves and head caps, sunglasses for eye protection, winter shoes, gadgets like heated wearables, electric blankets, rechargeable hand warmers, etc., are some of the items you should bring on a very cold trip with you. Do give our article on the top 10 winter travel gadgets a read to know more about winter-friendly gadgets that'll make your travel worry-free.
2. What are the best tech gadgets for cold-weather travel?
Heated wearables, insulated thermal flasks, electric blankets, rechargeable hand warmers, waterproof phone cases, etc., are some of the best tech gadgets for cold-weather travel. These will ensure you have a safe, warm and worry-free travel. Give our article on the top ten cold weather gadgets for travel a read to know more about these gadgets and others. It is sure to be of help.
3. Are heated vests/clothing safe to wear?
Yes, it is totally normal to wear heated vests/clothing. Heated clothing has been around since World War II when pilots needed to wear heated jackets when flying in high altitudes. Since then, technology has evolved, and now we get heated clothing in various forms, and they are totally safe to wear. Heated clothing cannot electrocute a person because there is not enough voltage present in it to do so.
4. Are portable humidifiers any good?
Portable humidifiers are great and effective in keeping the air in your room moist even in the dry winter months. It keeps the air quality up, maintains your health and cuts heating costs. Portable humidifiers are easy to handle and clean too.
5. Are electric blankets safe?
Electric blankets are safe to use when used properly, as per the instructions included in the product. One should be careful about the wiring and inspect the cloth for any tears or frays. It is best not to buy any second-hand electric blanket or use one for more than 10 years. When using a new one, the hazards are minimal.