Looking for a place that offers the ideal balance of adventure, nature, culture, and history? Look no further—visit Karnataka, the land of varied experiences! Located in the southwestern region of India, Karnataka is a beautiful, natural place that attracts tourists and travellers from all over the world for its rich cultural heritage and modern infrastructure. A perfect getaway from the bustle of city life is provided by the best hill stations in Karnataka. Everybody can find something to enjoy in Karnataka, whether they are looking for adventure, fascinated by history, or are die-hard nature enthusiasts! Trekking, camping, and hiking are some of the popular adventure activities to indulge in while touring Karnataka's numerous hill stations.
To help you plan the trip better, Top 10s Only has compiled a list of the Top 10 Best Hill Stations In Karnataka. Come, let's explore Karnataka's wondrous hill stations and learn what makes these exotic locales so unique.
Top 10 Best Hill Stations In Karnataka
Karnataka is blessed with a stunning landscape of imposing mountains, lush green forests, and beautiful hills. The state has a number of lovely hill stations that offer relief from the oppressive heat of the plains. Karnataka's hill stations provide breathtaking views of the surrounding countryside as they are tucked away among the Western Ghats' lush green hills and make some of the best tourist places. In addition to being well-liked tourist destinations, Karnataka's hill stations offer access to the state's scenic landscape and rich cultural history, making it one of the best tourist hill stations in Karnataka. These hill stations offer something for everyone, from scenic drives to waterfalls and hiking trails to wildlife sanctuaries.
Here is a list of 10 good hill stations in Karnataka.
1. Agumbe Hills – Shivamogga District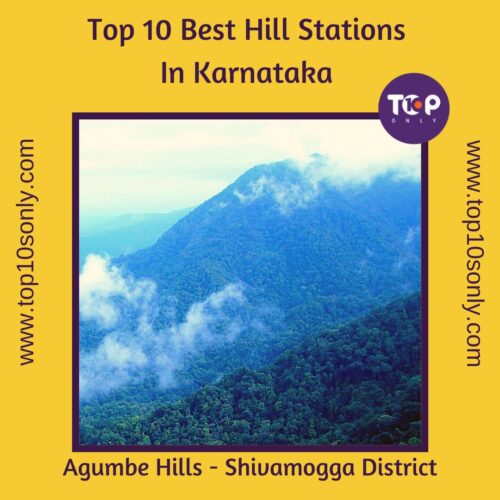 Visitors can enjoy a beautiful sunset view and hiking trails in a quaint Karnataka Hill Station called Agumbe, a small village in the Shivamogga district located at an elevation of 826 metres. Given that it is located in the Western Ghats, a mountain range that has been designated a UNESCO World Heritage Site, it is famous for its scenic beauty and biodiversity, which provides travellers with the chance to learn through guided tours and nature hikes. Agumbe, known as the "Cherrapunji of the South," is known for its heavy rainfall. It is a well-liked location for trekking and nature photography and is famous for its stunning sunsets, making it one of the best hill stations for trekking in Karnataka. Onaki Abbi, Jogigundi Falls, and Barkana are some of the nearby waterfalls to Agumbe. You can choose to hike along the nearby Narasimha Parvatha, Nisha Gundi, or Barkana Falls.
How To Reach Agumbe Hill Station
To get to Agumbe Hill Station, take a train from Udupi Railway Station or a flight to Mangalore International Airport. You can then take a bus or a taxi to Agumbe from there. The road trip takes about two to three hours, and it is well-connected to the hill station. It is advised to hire a local driver because the roads can be risky and winding, and a driver familiar with the area can drive more safely.
Best Time To Visit Agumbe Hill Station
The best time to visit Agumbe Hills in Karnataka is in the winter, which lasts from October to February. It's the perfect time for outdoor activities and sightseeing because the weather is pleasant and cool during this period.
2. Jogimatti – Chitradurga District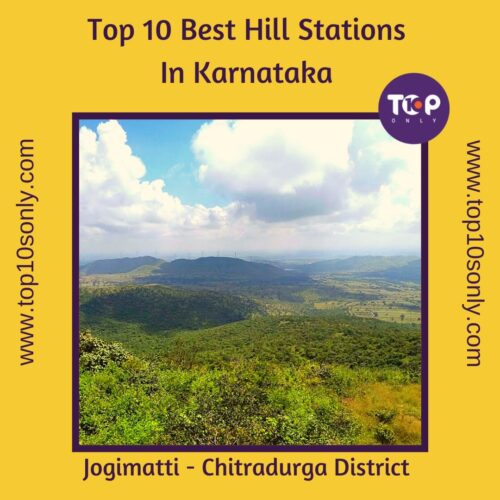 Another beautiful hill station near Bangalore, Karnataka, is Jogimatti. Anyone seeking a thrilling adventure amid breathtaking scenery, lush forests, and a cool climate should head to this area. Jogimatti Hill Station offers activities that appeal to a wide range of interests, including both adventurers looking to explore the untamed landscape and nature lovers hoping to spend time among the breathtaking flora and fauna. Jogimatti is frequently compared to Ooty in terms of scenic beauty, making it one of the most picturesque hill stations in Karnataka. It is a lush green hill station that gets its name from a saint known for his charitable work.
Visit the ecotourism adventure centre, which has been operating for ten years, as well as the Adumalleshwara Zoo, a small zoo close by. Lastly, there is a beautiful waterfall called Himavatkedara or Himavatkedra that has created a natural cave over time. Inside the cave, there are statues of Veerabhadra, Basavanna, and a Shiva lingam.
How To Reach Jogimatti Hill Station
Jogimatti Hill Station is easily accessible from most major cities. By car, Jogimatti is just over 4 hours away from Bengaluru.
Best Time To Visit Jogimatti Hill Station
For the best experience, try travelling to Jogimatti in the winter season.
3. Kemmanagundi – Chikkamagaluru District
Kemmangundi is an alluring hill station nestled in the Western Ghats of Karnataka, India. It is regarded as one of the top ten Karnataka hill stations to visit with family and friends. People who like the outdoors, adventure, and a break from the hustle and bustle of city life frequently visit there on vacation. There is nothing like the lush green forests, scenic valleys, gushing waterfalls, and breathtaking mountain ranges of this hill station to de-stress and rejuvenate tourists.
Kallathi Falls, Z Point, and Hebbe Falls are three breathtaking natural wonders located in the Chikmagalur district of Karnataka state, close to Kemmangundi. Kallathi Falls is a serene waterfall located in a dense forest near Kemmangundi. It is around 122 metres high, making it perfect for nature lovers and photographers. Popular spot Z Point in Kemmangundi provides expansive views of the Baba Budangiri mountain range. The moderate hike is worth it for the stunning sunset view. Hebbe Falls, a breathtaking waterfall, is located about 10 kilometres from Kemmangundi. The medicinal herbs in the waterfall, which are said to have healing properties, make it a great place to swim.
How To Reach Kemmanagundi Hill Station
Take public or private transportation by road to get to Kemmangundi, which is located in the Chikmagalur district of Karnataka, India. The closest major city is Bangalore, and Bangalore International Airport is the closest airport.
Best Time To Visit Kemmanagundi Hill Station
There is no better time to visit Kemmangundi than between September and March when the weather is good and the natural surroundings are at their most picturesque.
4. Sakleshpur – Hassan District
Sakleshpur is also known as "Poor Man's Ooty," as this alluring small town is renowned for its breathtaking scenery, verdant green forests, undulating hills, and cascading waterfalls. It is thus considered one of the best Karnataka hill stations to visit for vacations. Coffee and spice plantations and gardens surround the town, and their aroma permeates the atmosphere. There are lots of trails that provide stunning views of the hills and valleys. Hiking, camping, and birdwatching are all very popular activities here. Visitors are welcome to explore the region's numerous monuments, such as Manjarabad Fort, which serve as reminders of the town's extensive history and beautiful architecture. Other must-see locations in Sakleshpur include Magajahalli Abbi Falls, Bisle View Point and Agani Peak, among others.
How To Reach Sakleshpur Hill Station
The most convenient way to get to Sakleshpur is to take a road trip from Bangalore, which is about 220 kilometres away. You can either take a bus or hire a taxi. Another well-liked choice is to take a train to Sakleshpur Railway Station, which has good connections to important Karnataka cities. Once you arrive in Sakleshpur, you can hire a local guide to take you on a trek or tour of the nearby areas, or you can wander the town on foot.
Best Time To Visit Sakleshpur Hill Station
Sakleshpur is most beautiful between the months of October and March, when the weather is pleasant and the area's natural beauty is at its best, making it the perfect vacation spot for anyone looking for a peaceful and relaxing retreat in the middle of nature
5. Somwarpet – Kodagu District
Nestled among the picturesque hills of the area is the charming town of Somwarpet. It is known for its breathtaking landscapes, vibrant culture, and flavorful coffee. The lush vegetation, misty mountains, and gushing waterfalls will mesmerise you as you travel through the winding roads leading to this small town. The coffee plantations in Somwarpet are also well known for producing some of the best coffee in the world. The town offers the ideal setting for relaxation and adventure with its serene surroundings and picturesque landscapes, making it one of the ten best scenic hill stations in Karnataka.
The tourist attractions in Somwarpet include the Mallalli Falls, Malemalleshwara Betta, and Kotebetta, to name a few. The ancient Sri Vishnu temple in the community attracts a lot of visitors. If you enjoy the outdoors, visit the Pushpagiri Wildlife Sanctuary, where you can see a wide range of animals and plants. Somwarpet and other hill stations like Agumbe Hills are considered offbeat hill stations in Karnataka due to their remote location, unspoiled natural beauty, and lesser-known tourist attractions.
How To Reach Somwarpet Hill Station
Somwarpet is easily accessible by road and is well-connected to major cities in Karnataka. You can take a direct bus from Bangalore, Mysore, or Mangalore if you're travelling by bus. Alternatively, you can take a taxi or your own vehicle from nearby cities to Somwarpet. The closest train station is in Mysore, which is about 100 kilometres away from Somwarpet. If you're flying, Mysore Airport is the closest airport and is about 140 kilometres away. From there, you can take a taxi or bus to reach Somwarpet.
Best Time To Visit Somwarpet Hill Station
The best time to visit Somwarpet Hill Station is usually from August to March when the weather is ideal for sightseeing and outdoor activities.
6. Kudremukh – Chikkamagaluru District
Kudremukh is considered to be one of the most famous hill stations in Karnataka. In Kannada, the name "Kudremukh" means "horse face" because of the mountain range's distinctive shape. The region is also known for its rich biodiversity and is home to several endangered species. A well-liked attraction that is home to a variety of flora and fauna, including rare and endangered species, is the Kudremukh National Park, which is situated in the centre of the hill station. In the depths of Kudremukh Hill is the iron ore company, which executes the mining of iron ore. Kudremukh has become more well-known in recent years as a destination for eco-friendly travel. In order to promote ecotourism and protect the region's natural heritage, the local community has taken an active role. The perfect fusion of natural beauty, history, and culture can be found in Kudremukh, making it a must-visit location for nature lovers and adventure seekers.
How To Reach Kudremukh Hill Station
Roads and railroads are two ways to get to Kudremukh. Mangalore International Airport is the closest airport. Another option is to travel by train to Mangalore, from where one can then travel to Kudremukh by bus or taxi. Buses are another option for getting to Kudremukh from nearby cities like Bangalore, Mangalore, and others.
Best Time To Visit Kudremukh Hill Station
When visiting Kudremukh, the winter and spring months of October to May are ideal. These months have pleasant weather, making them ideal for outdoor activities like hiking and sightseeing. It is challenging to move around and explore the area during the monsoon season due to heavy rainfall and landslides.
7. Kodachadri Hills – Shimoga District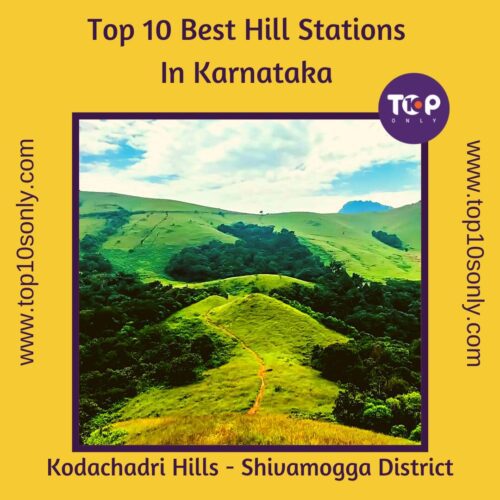 Are you looking for a vacation spot in Karnataka? Look no further than the Shimoga District's picturesque Kodachadri Hills. Kodachadri Hills is a well-liked vacation spot for both nature lovers and adventure seekers due to its verdant green forests, meandering streams, and picturesque landscapes. One of the many locations with mythological significance in the region is the Mookambika Temple, which is located at the base of the hill and attracts tourists from all over the country. Because of its stunning scenery, it draws hikers and trekkers from all over the world. Along the way, there are lush green forests, waterfalls, and streams, making the climb to the summit a demanding but rewarding experience. At Kodachadri Peak, it is said that the saint and philosopher Shankaracharya meditated and attained enlightenment. Based on historical accounts, he practised meditation in the Shankaracharya Cave on Kodachadri Peak. The Kodachadri Peak and the Shankaracharya Cave are still popular tourist destinations today, drawing travellers and devotees from all over the world to experience the incredible natural beauty and spiritual significance of this remarkable location. So for your next vacation, travel to the awesome Kodachadri Hills for a memorable vacation amidst the wonders of nature.
How To Reach Kodachadri Hill Station
From the nearby town of Kollur, one can travel to Kodachadri Hill by bus or taxi. Mangalore International Airport is the closest airport.
Best Time To Visit Kodachadri Hill Station
The best months to visit Kodachadri are from October to May, when the weather is pleasant and great for hiking.
8. Madikeri – Kodagu District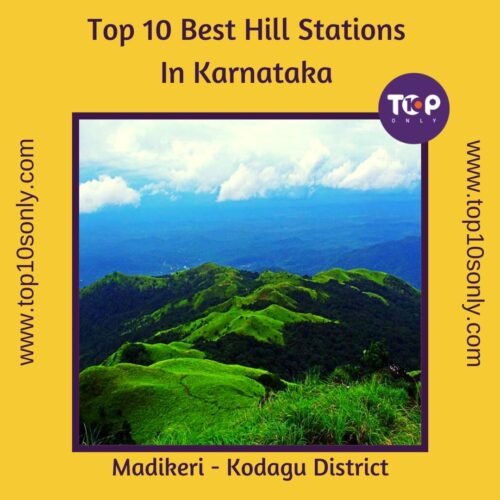 Madikeri is a fantastic location for travellers seeking a quiet retreat amidst breathtaking natural beauty. Madikeri offers an incredible experience for nature lovers and adventure seekers alike. It is known for its lush green hills, misty valleys, gushing waterfalls, and aromatic coffee plantations. For tourists, Madikeri has an abundance of breathtaking attractions. A must-see is the Raja's Seat, an exquisite garden with a lovely view of the valley. Another well-liked attraction is the Omkareshwara Temple, which was constructed using a distinctive fusion of Gothic and Islamic architecture. For those who love the outdoors, Abbey Falls, a magnificent waterfall surrounded by lush vegetation, is ideal. The 17th-century Madikeri Fort serves as a showcase for the area's rich heritage and culture. It's also worthwhile to visit the coffee plantations and the Dubare Elephant Camp, where guests can interact with elephants and get a glimpse of the production of coffee.
How To Reach Madikeri Hill Station
Several methods of transportation are available to get to Madikeri. The Mysore airport, which is located 130 km away, is the closest airport. Mysore Junction, located 117 kilometres from Madikeri, is the closest railway station. Buses are also available from Bangalore, Mysore, and other nearby cities. You can also take a scenic drive through the Western Ghats by taking the well-connected roads to Madikeri.
Best Time To Visit Madikeri Hill Station
Madikeri has a great climate all year long, making it a wonderful destination. However, the best time to visit is from November to February, during the winter months, for those who prefer cooler temperatures and want to experience the misty charm of the hills. Be sure to pack sensibly and include the essential items mentioned in our Top 10 Best Travel Gadgets For Cold Weather Destinations article.
9. Dandeli – Uttara Kannada District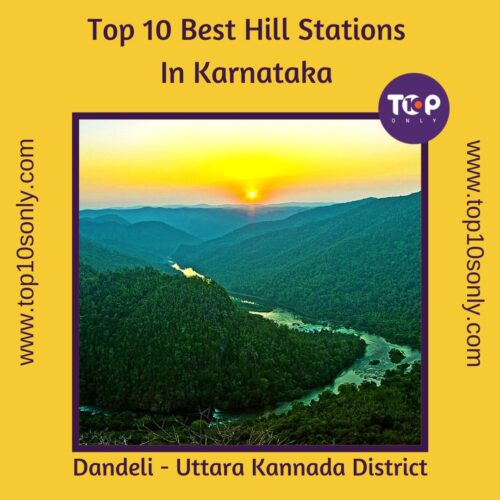 The serene town of Dandeli, which is frequently cited as one of the best Karnataka hill stations for honeymoon couples, is located in the centre of the Uttara Kannada District of Karnataka. Dandeli is the ideal location for couples looking for a romantic honeymoon experience because of its unspoiled natural beauty and idyllic surroundings. The town provides a wide range of adventure activities, including hiking, rafting, kayaking, and camping, and is surrounded by thick forests, lovely rivers, and picturesque mountains. With its distinct ecosystem and varied flora and fauna, Dandeli Wildlife Sanctuary is a popular destination. In addition, the town is home to numerous stunning waterfalls, including the magnificent Dudhsagar Falls.
How To Reach Dandeli Hill Station
Dandeli can be easily reached by air, rail, or road. The nearest airport is Hubli Airport, approximately 70 km away, while the closest railway station is Alnavar Junction, around 35 km from Dandeli. The town is well connected by road, with regular buses and taxis available from major cities in Karnataka.
Best Time To Visit Dandeli Hill Station
The best time to visit Dandeli is between October and May, when the weather is pleasant and outdoor adventures like hiking, white-water rafting, and kayaking are in full swing. Some adventure activities may become risky during the monsoon season, which lasts from June to September, due to the increased river levels.
10. Sirsi – Uttara Kannada District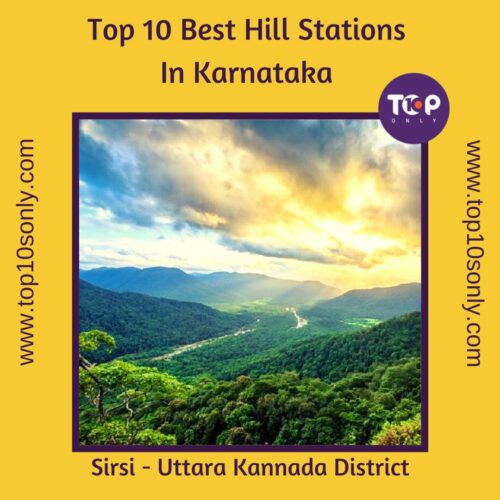 Sirsi is a famous hill station in Karnataka, often also known as the "Gateway of Malenadu." In Sirsi, there are many activities that can keep visitors interested and captivated. Unchalli Falls, Magod Falls, Benne Hole Falls, and Shivaganga Falls are just a few of the many waterfalls that can be explored. The region's cultural heritage can be seen by visiting the Sahashralinga, Marikamba, and Sri Mahaganapathi Temples. Avid bird watchers may find a visit to the Gudavi Bird Sanctuary to be a fantastic opportunity. A trek to Banavasi, a historic temple town, can be undertaken by hiking through the lush green forests of Devimane Ghat. Overall, Sirsi is a great place to visit for those who enjoy the outdoors and adventure. With its breathtaking landscapes and rich cultural offerings, Sirsi is a must-see destination for anyone exploring the state of Karnataka.
How To Reach Sirsi Hill Station
The closest airport is located in Hubli, some 106 kilometres away. From nearby cities like Hubli, Dharwad, and Karwar, the city is well connected by road. The closest train station is in Kumta, which is located about 28 kilometres from Sirsi.
Best Time To Visit Sirsi Hill Station
Due to the pleasant temperatures that make it easy for visitors to explore the various attractions in and around the city, Sirsi is best visited between January and March. The best time to visit Sirsi is right after the monsoon season, between October and November, if you want to see the waterfalls in all their splendour. The monsoon season is best avoided for travel because the roads can become muddy and the hiking trails can become treacherous. It might not be the best time to schedule a visit since Sirsi's summers can be oppressively hot and humid.
These popular 10 hill stations in Karnataka are a delight for nature enthusiasts and those seeking a peaceful escape from busy city life. Therefore, Karnataka's hill stations are the perfect place to take a vacation because they provide a unique fusion of natural beauty and cultural richness. Karnataka's hill stations have something to offer for everyone, whether you're interested in hiking, camping, spotting wildlife, or simply unwinding in quiet surroundings. To experience the tranquilly and beauty of these stunning hill towns, make travel plans right away.
South India is blessed with an abundance of hill stations that offer a respite from the scorching heat and chaos of city life. From the majestic hill station of Ooty and the lush green hills of Munnar to the misty hills of Yelagiri, each hill station is unique and mesmerizing in its own way, beckoning travellers to explore their scenic beauty and peaceful environs.
Frequently Asked Questions About Hill Stations In Karnataka
1. Which is the most beautiful hill station in Karnataka?
There are many breathtakingly beautiful hill stations in Karnataka, making it difficult to choose just one as the most beautiful. A few examples include Agumbe Hills, Kudremukh, Somwarpet, and Sakleshpur. Our article "Top 10 Best Hill Stations In Karnataka" offers more details about each of these wonderful hill stations in Karnakata.
2. Which place is called Ooty in Karnataka?
Sakleshpur is frequently referred to as "The Ooty of Karnataka," and the article on this page has more details on the hill station.
3. Which is the No. 1 hill station in Karnataka?
Karnataka is home to Sakleshpur, Joggimatti Hills, Dandeli, and many other stunning hill stations, all of which make it difficult to choose just one as the best because they are all distinctive and beautiful in their own particular ways.
4. Which are the must-visit hill stations in Karnataka?
Sirsi, Kudremukh, Kemmanagundi, Madikeri, and a number of other breathtaking hill stations are among those in Karnataka that are a must-see for tourists visiting the state.
5. Which are the main hill stations of Karnataka?
A few of the more well-known hill stations in Karnataka include Agumbe, Somwarpet, Kudremukh, Kodachadri Hills, and Kemmanagundi, to name a few. Apart from these, there are several hills that are ideal for one-day trips, especially from places like Bangalore.