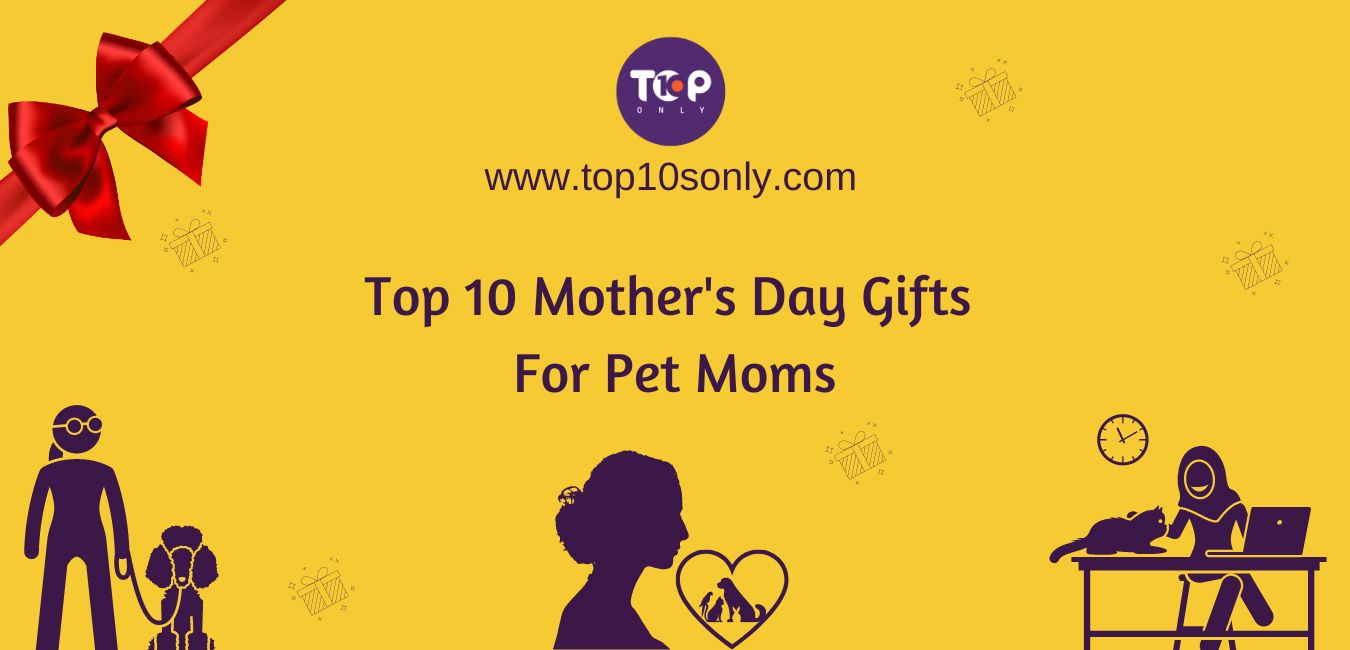 Mother's Day is fast approaching, and most of us will be looking for last-minute ideas to grab a gift. That said, you may have already brought the mother figures their gifts for this Mother's Day. But what about the pet lovers who play an important part in your lives? Stumped right? Don't worry. We have you covered with our list of Top 10 Best Mother's Day Gift Ideas For Pet-Moms.
A Loving Tribute To All Pet Moms On Mother's Day
You may or may not be a pet mom, but use this Mother's Day to show the pet moms that you appreciate their hard work to make sure the pet is well looked after, loved, and healthy. Raising a pet, whether it's a dog, cat, or any other type, comes with similar challenges to raising a human child. It's like a different form of motherhood, involving tasks like potty training, constantly monitoring them to prevent them from ingesting random objects, and making emergency visits to the vet. These responsibilities can be exhausting for pet moms, and they too deserve to be pampered.
It's hard to find the perfect gift for a pet mom. But odds are that she would love something that would benefit both her and her pet baby. So we have curated a list of gifts that range from stylish accessories to tech devices. Read on to fetch one of the top 10 Mother's Day gift ideas for moms who have dogs or cats for your favourite pet moms and their little ones.
List Of Top 10 Best Mother's Day Gifts For Pet Moms
All moms, including pet moms, should feel special and great on Mother's Day. That can only happen when they get the appreciation they deserve through the best and most thoughtful gifts you can give. Remember, pet moms spend a lot of energy, time, and money on their pets. Now is the perfect time to recognise the efforts of these strong fur mamas in your life. Show her some love by picking gift ideas from the below list of pet mom gift ideas for Mother's Day.
1. Custom-Printed Hoodies Or T-Shirts
For a special Mother's Day gift, consider custom-printed hoodies or t-shirts featuring a photo or the name of your loved one's pet. This personalised and thoughtful present is a unique way to celebrate the bond between a pet mom and her furry companion, who often spend a lot of time together. Pick the perfect picture and get it printed on apparel, and let them show it off to everyone. These custom-illustrated sweatshirts/hoodies are one of a kind and will surely be appreciated as a special gift for the pet owner. If you are giving look-alike apparel for both the furry pet and its human mom, ensure that it is comfortable, safe for machine wash and stretchy. So that the pet is comfortable and everyone is happy to wear this gift of yours.
2. Custom-Crafted Jewellery
Custom-crafted jewellery can demonstrate the value placed on the special bond between a pet and its human mom, particularly when personalised with the pet's name or image. Such pieces showcase not only the relationship between the pet and the pet mom, but also the connection between the pet mom and the person who commissioned the jewellery. You can never go wrong when you give customised jewellery to your favourite pet mom. Customised jewellery, like a pendant for a necklace or a bracelet, sends the right message. It shows, even without saying a word, the care, love, and consideration you have for the receiver. It means you have put effort and time into the gift, and it is a great way to say that you are thinking about them. A piece of custom-crafted jewellery is a great way to keep the pet close even when the pet mom is far away, making it one of the best gifts on Mother's Day for pet moms.
3. Customised Stationary Items
In today's digital age, customized stationery is a unique and thoughtful gift for pet moms. This Mother's Day, consider pampering the special pet mom in your life with a set of personalized notes, a stationary organizer stocked with all the essentials, and other custom-made stationery items. For an added touch, include a lovely paperweight featuring her pet's monogram, name, or a short message. If she's an avid reader, a personalized bookmark is also a great option. Taking it up a notch, you can make it one of the top 10 cute gifts for pet moms on Mother's Day by incorporating the name or a cute picture of the pet into the embossing of the stationery.
4. Pet-Themed Mobile Stands
Whether you are cooking your family's favourite dish or watching a show on an OTT platform, your smartphone is always in your hand. However, holding a mobile in your hand for a long time is troublesome, and why take the trouble when you can do something better with it (like petting your furry baby)? A smartphone holder or mobile stand is one such item that is surely going to be appreciated when you gift it to a pet mom. Instead of giving a generic mobile stand that you can find online, personalise it with a photo of the pet. If you are strapped for time, get a super cute pet-themed mobile stand. It sure will be one of the best gifts for fabulous pet moms that will be cherished for a long time. Choose a product that has a sturdy build so that the phone can easily be hooked up without the fear of it falling over.
5. Pet-Themed Key-Holders
If you're a pet owner, you know how easy it is for your keys to disappear into the depths of your bag or pockets. But what if your key holder could not only keep your keys organised but also showcase your love for your furry friend? That's where pet-themed key-holders come in. These functional yet charming accessories can be a great addition to your home decor. Customised key-holders create a distinct memory and are undoubtedly one of the best gifts out there. If you are choosing a keyholder with a photo, then purchase something where the imprint is crystal clear. On the other hand, if you are getting a name etched, pick the right calligraphy so that it is distinctive as well as charming.
A pet-themed key holder with the pet's name or picture on it is a small but trendy Mother's Day gift for busy mothers with cats or dogs and is a joy to have. Every time the pet mom reaches for her keys, she'll remember her beloved pet as well as the person who gifted it.
6. Super Cute And Highly Functional Bandanas
How cute does a furry pet look with a bandana? Aside from the looks, bandanas for pets offer many health and practical benefits, including keeping them cool or warm and protecting them from the sun. It can also be used to calm a stressed pet by smearing it with stress relief oil. If you are shopping for a fashionable pet mom who loves to match accessories with her pet, this is one of the best Mother's Day gifts for women pet owners. Gift a personalised bandana for the pet and pet mom with the name of the pet engraved on it. While choosing it, ensure that it is machine washable, easy to use, and 100% cotton. If the pet mom loves puns, you can also opt for a bandana with a witty pet-related message or pun printed on it. With a variety of colours, patterns, and styles to choose from, a pet bandana can be a versatile and practical accessory that adds a touch of personality to your pet's wardrobe.
7. Personalised Photo Album/Digital Album
Personalised gifts are the best way to make a pet mom feel special on Mother's Day, but what would be the perfect gift that captures the depth of her love for her beloved dog or cat? This is where personalised digital or analogue photo albums come into play. Fill each page of the book with heartfelt and cherished images, making it one of the most personal and unique gifts this Mother's Day. Or gift a digital photo frame where she can feed in the best photos of her pet. Whenever she is alone or with friends, this photo album can help her relive memories. Instead of a photo book, you can also choose a collage canvas. Use some old photos or click high-quality pictures with your camera. Either way, this is one of the really good Mother's Day gifts for pet moms.
8. Paw Print Casting Kit
Still wondering what to get moms who have pets this Mother's Day? Take a look at the next item on our top 10 gift ideas list!
Everyone loves to create keepsakes of their little ones. But what about the fur babies? Pets are an important part of the family, and they often have a big role to play. One way to show that they are an integral part of our lives is with paw print casting kits that can be used to create timeless impressions of the pet's paws. These make a great gift for a pet mom, as they are cute keepsakes that will be cherished. These kits allow taking casts of the pet's paws and leaving them as is as a souvenir. All the pet mom has to do is make a print using the kit and frame the paw print along with a picture of the pet. There is no baking or mixing needed to make it, and the kit comes with sufficient material to make at least two keepsakes, but it depends on the product you gift. Once the process is complete, these paw casts can be framed and hung on walls, incorporated into home decor, or even made into ornaments.
9. Pet Surveillance Camera
Pet moms go to great lengths to pamper their pets, and for a good reason. These pets are more than companions. They are an important part of their lives. Unfortunately for pet moms, there comes a time every day when they have to leave them alone while at work. For pets, their entire world revolves around their human. So when alone, it can be scary, boring, unpleasant, stressful, and even a bit unsafe. Pet surveillance cameras are a great solution and one of the top ten best gadgets for tech-savvy pet moms on Mother's Day. The obvious benefit is that the pet parents can check in on the pet every now and then and make sure they are safe and not getting into any mischief. There are many such cameras available that allow you to monitor your home from your phone. Gift one, and you will have a happy pet mother thanking you for this thoughtful gift.
10. Smart Pet Food Dispensers
Pets lead busy lives. From running behind bugs to chasing their tails to taking a nap, they are always occupied with something or other. So that means they work up an appetite and ask for food, sometimes even after they have had their quota. On the other hand, pet moms are often busy as well. Many pet moms have jobs that require extensive work timings. And all moms have their hands full with household chores! With this in mind, an automatic smart food dispenser that serves food while you are busy with work is an ideal choice for busy moms as Mother's Day gifts for dog lovers or cat lovers. It can be used to serve multiple feeds at a time, serve wet and dry food and is battery-operated, making mealtime less stressful for the pet and the human.
Conclusion
If you know a woman who talks about her pet or spends most of her time with her pet, then she falls into the dog mom category. With Mother's Day coming, now is the best time to give her a little gift to celebrate her love for her pet. Some of the above dog mom or cat mom gifts for Mother's Day are inexpensive, and others are splurge-worthy. No matter your choice, she will surely recognize the thought you have put in to choose this gift.
If you are still wondering what gift to get for your loved ones on Mother's Day, try out the suggestions listed in our Top 10 Best Mother's Day Gifts For Single Moms article. Alternatively, you can even get her a gift listed in our Top 10 Best Mother's Day Gift Ideas For Work-From-Home Moms article. Let us know in the comments which Mother's Day gift idea you liked the most!
Frequently Asked Questions About Pet-Loving Moms
1. Who is a pet mom?
A woman who takes care of her pet, just like how a mother takes care of her baby, is termed as a pet mom.
2. What do you give a pet owner or pet mom on Mother's Day?
Personalized photo frames, customized jewellery, personalized keyholders, and customized apparel are some of the gifts for a pet mom on Mother's Day. For more details, take a look at the article on this page.
3. What can I buy a dog lover who is also a pet mother?
Customized stationery/bookmarks, pet-themed mobile stands, and matching bandanas are some of the things that you can give a dog lover who is also a pet mother.
4. How to be a good pet mom?
Giving them healthy food, taking them out for exercise, loving them, keeping them safe, take them for regular vet visits are some of the things to do as a good pet mom.
5. What are the best practical presents to gift a pet mom on Mother's Day?
A smart pet food dispenser and pet surveillance camera are some of the practical gifts to give a pet mom on Mother's Day. These ensure the well-being and safety of your beloved pet.