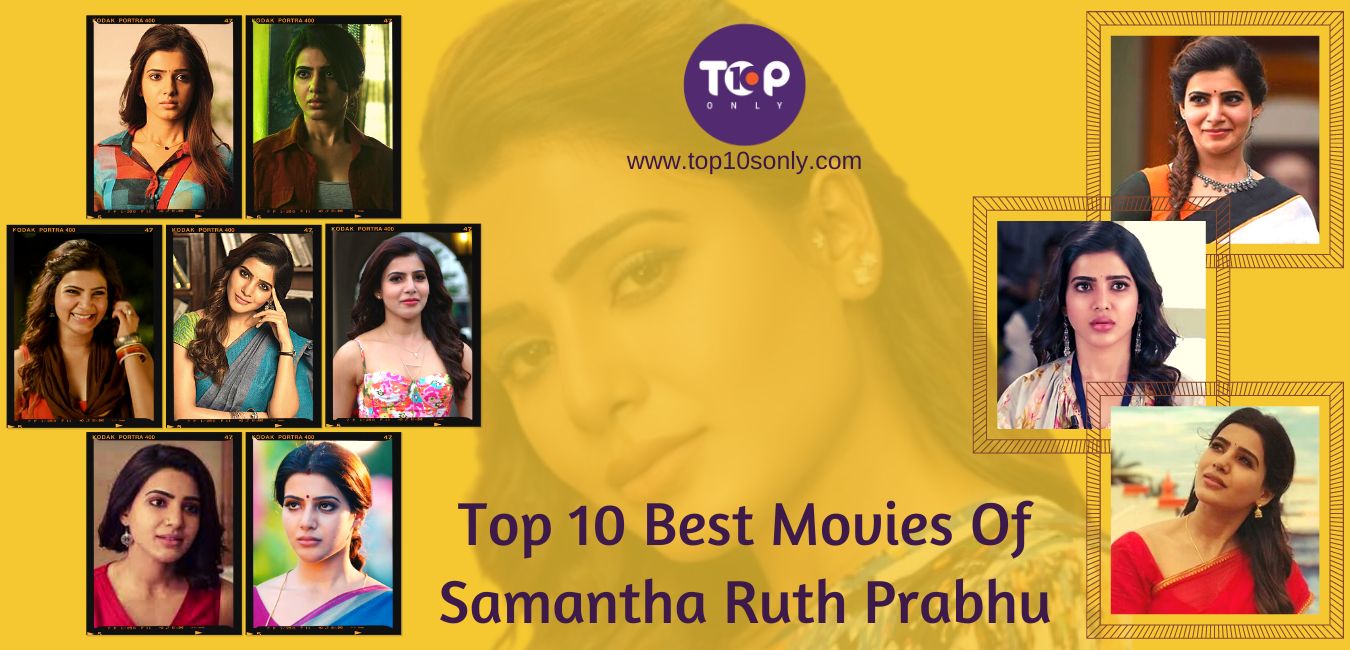 Samantha Ruth Prabhu, the stunning and multifaceted South Indian actress, has taken the film industry by storm with her captivating performances and intriguing beauty. Her charm and charisma on screen have made her a household name not only in South India but across the country. With her impeccable acting skills and flawless looks, Samantha has proven time and again that she is one of the most talented actresses of her generation. Her ability to effortlessly portray a range of characters, from bubbly and vivacious to intense and dramatic, has won the hearts of millions of fans. Whether it's her scintillating dance moves or her impeccable fashion sense, Samantha has always managed to leave her fans awestruck. Her magnetic personality and down-to-earth nature make her a true inspiration to many. So, if you haven't already fallen in love with Samantha Prabhu, get ready to be swept off your feet!
For those who appreciate South Indian cinema, Top 10s Only has compiled a list of the Top 10 Best Tamil Movies Of Samantha Ruth Prabhu, highlighting her exceptional range and talent as an actress. Be sure not to miss out on these cinematic masterpieces!
List Of The Best Tamil Movies Of Samantha Ruth Prabhu
Samantha, the gorgeous South Indian actress, was born on April 28, 1987, in Chennai, Tamil Nadu. When she was young, she lived mostly in Pallavaram and went to Holy Angels Anglo-Indian Higher Secondary School in Chennai to finish her studies before going to Stella Maris College to get a commerce degree. In the latter part of her undergraduate degree, Samantha Prabhu ventured into modelling and collaborated with Naidu Hall, which grabbed the notice of filmmaker Ravi Varman. Subsequently, she chose to enter the film industry, and her dedication and skills eventually led to success in her career. Samantha started her acting career in 2010 with a movie called "Ye Maaya Chesave," which was a romantic drama. And, from this point on, there has been no looking back. She then proceeded to deliver several blockbuster hits and earn critical acclaim for her performances.
Samantha started dating actor Naga Chaitanya in 2010, and they got engaged in 2017 before tying the knot in a grand ceremony in Goa. Their on-screen and off-screen chemistry was much loved by fans, but sadly, they announced their separation and eventual divorce in October 2021.
Today, Samantha is one of the most sought-after actresses in South India and has established herself as a force to be reckoned with. Her rise to success has been nothing short of phenomenal, and she continues to inspire millions with her talent and grace. Now, let's take a closer look at Samantha Ruth's best movies and explore the remarkable acting skills and versatility she brings to each role.
1. Naan E (2012)
Naan E (2012) is a spellbinding Tamil film directed by S. S. Rajamouli and produced by Sai Korrapati. This epic tale of revenge, love, and reincarnation has an incredible cast, including the stunning and talented Samantha in a pivotal role. Alongside Samantha, the movie stars actor Naveen Babu Ghanta, popularly known as Nani, Sudeep, Santhanam, Adithya, and Crazy Mohan, each delivering a memorable performance. With a budget of Rs 30–40 crore, Naan E is a true masterpiece of Indian cinema, with stunning visuals and an outstanding soundtrack composed by M. M. Keeravani. Samantha's fascinating performance and impeccable acting skills in the film make her the highlight of the film, leaving a lasting impression on the viewers. Naan E is undoubtedly one of Samantha's top 10 movies and a must-watch for all fans of Tamil cinema.
Naan E is a unique and thrilling film that combines romance, revenge, and fantasy elements. The film features outstanding performances by its cast, including Sudeep as the villainous Sudeep, Nani as the lovestruck Nani, and Samantha Ruth Prabhu as Bindu. The plot of the movie revolves around a wealthy and influential man named Sudeep, who develops an obsession with Bindu. However, Bindu is already in love with Nani. When Sudeep realises that Bindu loves Nani, he kills him out of jealousy. Nani is then reborn as a fly, seeking revenge on Sudeep for his death. The story follows the fly's attempts to get revenge and bring justice to Nani's death.
Naan E is an exceptional Tamil movie that brilliantly exhibits the acting talent of Samantha in her role as Bindu. The film boasts impressive visual effects and outstanding performances from the entire cast, with Samantha's performance being particularly noteworthy. The storyline is full of unexpected twists and turns, making it an enthralling watch. Naan E is one of Samantha Ruth Prabhu's famous movies and a must-see for anyone seeking a captivating story and remarkable performances, especially from Samantha.
2. Kaththi (2014)
Samantha Ruth Prabhu's movies with Vijay include the Tamil blockbuster Kaththi, directed by AR Murugadoss, produced by Allirajah Subaskaran of Lyca Productions, and features music by Anirudh Ravichander. With a budget of 70 crores, this film was a high-budget production that set a new benchmark in Tamil cinema at the time of its release. Samantha delivered a remarkable performance as the female lead in Kaththi, alongside Vijay. Her portrayal of a strong-willed character was widely acclaimed by audiences and critics alike. Her chemistry with Vijay was also a major highlight of the film. Kaththi is an exhilarating film that seamlessly blends action and drama to deliver a thought-provoking message.
Kaththi follows the story of Kathiresan (Vijay), a small-time thief who cleverly escapes from prison and assumes the identity of Jeevanandham (also played by Vijay), his doppelganger and a social activist fighting against a powerful multinational corporation that threatens the livelihoods of farmers. Along the way, Kathiresan falls in love with Ankitha (Samantha), who shares Jeevanandham's cause. Together with Ankitha and the villagers, Kathiresan takes on the corrupt system and the head of the corporation, Chirag (Neil Nitin Mukesh), who will go to any lengths to achieve his goals. Will they be able to save the farmers and stop the corporation's nefarious plans? To find out, watch Kaththi!
Kaththi is a thrilling action-drama that sheds light on important social issues. Samantha's portrayal of Ankitha in Kaththi was captivating and noteworthy, making it one of Samantha Ruth Prabhu's best action movies. Her remarkable screen presence and impressive acting skills brought the character to life, making her a standout in the film. Alongside Vijay, Samantha's performance added a new layer of depth to the storyline, showcasing their dynamic on-screen chemistry. Overall, Samantha's contribution to the film was invaluable, and her portrayal of Ankitha will always be remembered as one of her best performances.
3. Thanga Magan (2015)
Thanga Magan is a Tamil drama film that beautifully portrays the essence of love, family, and emotions. Directed by ace filmmaker Velraj and produced by G. N. Anbu Chezhiyan, the movie boasts exceptional direction, soul-stirring music, and a talented cast that includes Dhanush, Amy Jackson, and Samantha, who delivers an outstanding performance. The film's music director Anirudh Ravichander's mellifluous tunes further elevate the emotional quotient of the movie. Thanga Magan is a must-watch for Samantha's fans, as she shines onscreen with her powerful portrayal of the character.
Thanga Magan follows the story of Tamizh (portrayed by Dhanush), his wife Yamuna (portrayed by Samantha Ruth Prabhu), and his mother (portrayed by Raadhika Sarathkumar). Tamizh tries to get a job but is rejected by multiple companies. In desperation, he takes on a menial job and turns to alcohol to cope. As Tamizh struggles with his past and present, he narrates his story through a series of poignant flashbacks, revealing the reason for his downfall. Yamuna's unwavering love and support for her husband, Tamizh, shine through as she stands steadfastly by his side during his difficult times. Her compassionate nature and encouragement play a pivotal role in helping Tamizh regain his happiness and overcome his challenges.
In Thanga Magan, Samantha Ruth Prabhu delivers a scintillating performance as Yamuna, the supportive and loving wife who stands by her husband through his struggles. Director Velraj skillfully weaves a tale of love, loss, and family bonds, while Anirudh Ravichander's music elevates the emotional impact of the story. With a talented cast led by Dhanush and Samantha, Thanga Magan is a heartfelt journey that will leave you with a deep appreciation for the power of sacrifice and redemption.
4. 24 (2016)
Get ready to be mesmerized by the stunning beauty and extraordinary talent of Samantha in the blockbuster Tamil movie "24"! Directed by the renowned filmmaker Vikram Kumar and produced by Suriya under his production banner 2D Entertainment, this sci-fi thriller is a visual extravaganza that will keep you on the edge of your seat. With a mesmerizing musical score by A. R. Rahman and a talented cast that includes Suriya and Nithya Menen, Samantha shines brightly, bringing her character to life with her impressive acting skills. Prepare to be captivated by Samantha's impressive performance in "24"!
In the film, Sethuraman (Suriya) is a brilliant scientist who creates a watch that can manipulate time. His twin brother, Athreya ( also played by Suriya), a dangerous criminal, wants the watch for himself and kills Sethuraman's wife (Nithya Menen) in the process. Sethuraman escapes with his child, but Athreya soon catches up and kills Sethuraman but ends up in a coma due to injuries sustained during the confrontation. However, before his demise, Sethuraman manages to leave the watch and his infant child with a stranger on a train. The child grows up to become Mani (Suriya), a skilled watch mechanic who discovers the watch and its powers. With his father's intelligence in his genes, Mani uses the watch to his advantage, including in his romantic pursuit of Sathya (played by Samantha). Nevertheless, Athreya wakes up from a 26-year coma and seeks the watch to regain his lost youth. The story then turns into an intense game of chess between the identical-looking Mani and Athreya, with time travel as their playing field.
Samantha's portrayal of Sathya in "24" adds a much-needed romantic element to the movie, balancing out the intense and action-packed scenes. Her chemistry with Suriya's character, Mani, brings a sense of warmth to the story, making it more relatable to audiences. In her role as Mani's love interest, Samantha's performance gives the character depth, and each scene highlights her natural acting abilities. "24" is one of Samantha's top 10 movies, and her presence in the film enhances the overall viewing experience, making it a well-rounded and captivating watch.
5. Theri (2016)
Samantha Ruth Prabhu's movie list includes the Tamil action-thriller film "Theri" directed by Atlee and produced by Kalaipuli S. Thanu. The film features an outstanding soundtrack and background score composed by G. V. Prakash Kumar and stars Vijay, Samantha, and Amy Jackson in lead roles. Made on a budget of approximately 75 crores, "Theri" was one of the highest-grossing Tamil films of the year, with Samantha's performance as the female lead, Mithra, receiving widespread praise from both audiences and critics.
Samantha Ruth Prabhu's top movies include her role as Mithra, the wife of Vijay's character in the Tamil movie Theri. The protagonist of "Theri" is a simple baker named Joseph Kuruvilla, who lives in harmony with his daughter. However, a series of events leads him to reveal his true identity as a police officer, Vijay Kumar. With his past coming back to haunt him, Vijay must fight to protect his loved ones and bring justice to those who wronged him. Samantha delivers a powerful performance as Mithra in the movie Theri.
"Theri" is an intense crime drama that keeps the audience engaged throughout the movie. Samantha's portrayal of Mithra, the love interest of the protagonist Vijay, was commendable. Her performance was widely appreciated for bringing a touch of romance and emotion to the film. The chemistry between Vijay and Samantha was palpable, adding to the overall appeal of the movie. The film boasts impressive action sequences and a gripping storyline that keeps the audience on the edge of their seats. Overall, "Theri" is a must-watch for Tamil cinema fans who appreciate well-crafted action thrillers with a touch of romance and emotion.
6. Mersal (2017)
Experience the captivating performance of the talented Samantha in Mersal, considered one of the best of Samantha's movies. Directed by Atlee and produced by N. Ramasamy, Hema Rukmani, and H. Murali, Mersal is a cinematic masterpiece that will leave you spellbound. With music composed by the legendary A.R. Rahman, this movie is a perfect blend of drama, action, and romance. Along with Samantha, the movie boasts a star-studded cast, including Thalapathy Vijay, Nithya Menen, Kajal Aggarwal, and SJ Suryah. Made with a whopping budget of over INR 115 crore, Mersal is a visual treat that will take your breath away. Prepare to experience Samantha's outstanding performance on the big screen in this enduring movie that will stay with you long after the final credits have rolled.
The main characters of Mersal are two brothers named Maaran and Vettri, both played by Vijay, who battle against injustice and corruption in the medical field. While Maaran is a devoted physician who takes on corruption head-on, Vettri is a revengeful magician. Despite being separated, the two siblings reunite and realise that they have a common enemy, Daniel, who was responsible for their parents' demise. In the movie, Samantha plays Tara, a reporter, and Maaran's love interest, adding a romantic angle to the plot. Mersal features thrilling fight scenes and delivers a potent message about justice, making it a must-watch for all Tamil cinema aficionados.
Mersal is considered to be one of Samantha Ruth Prabhu's best movies and offers a thought-provoking message about fighting corruption and seeking justice. The story of two estranged brothers coming together to take on a corrupt system is engaging and inspiring. The movie delivers impactful action sequences and touching moments, along with a romantic subplot, making it a must-see for fans of Tamil cinema. Overall, Mersal is a well-crafted film that will leave viewers entertained and moved.
7. Irumbu Thirai (2018)
Prepare yourself to delve into the world of cyber-thriller with Samantha Ruth Prabhu at the forefront of the action-packed 2018 Tamil film, Irumbu Thirai. Directed by P.S. Mithran and produced by Vishal Film Factory, this movie promises to keep you at the edge of your seat with its intense storyline and adrenaline-fueled action sequences. With music composed by Yuvan Shankar Raja, the film boasts a stellar cast that includes Vishal, Arjun Sarja, and Delhi Ganesh, among others. Samantha's performance as the female lead is sure to leave you in awe as she delivers a powerful and impactful portrayal of her character. Irumbu Thirai is a high-octane thriller that you cannot afford to miss! It is one of the many movies on the list of movies of Samantha Ruth Prabhu, showcasing her talent as a versatile actress who can excel in a variety of roles.
The plot of Irumbu Thirai centres around Vishal's character, Major Kathiravan, an Indian army officer with a quick temper, who resorts to acquiring a loan from a bank using false documents for his sister's wedding. However, he discovers to his dismay, that the entire amount in his account has gone missing, prompting him to embark on a frantic quest to apprehend those responsible for the fraud. Along the way, he comes face-to-face with White Devil, played by Arjun Sarja, a highly-skilled and elusive hacker who operates as the kingpin of the Dark Net, seeking to collect personal information on every citizen in the country and scamming people from all walks of life who are in desperate need of money. With the guidance of Rathi, a psychiatrist played by Samantha, and the support of his comrades, Kathiravan must employ all his military training and intelligence to bring down the cybercriminal and safeguard the nation's security.
Irumbu Thirai is a gripping cyber-thriller that keeps you on the edge of your seat from start to finish. Samantha's performance as Rathi Devi, the empathetic psychiatrist who stands by Kathiravan's side through thick and thin, is remarkable. Samanantha's acting was well-received by the audience and critics alike, and her character added depth and emotion to the film's storyline. Overall, Irumbu Thirai is a riveting thriller that highlights the importance of cyber security and raises awareness about the dangers of cybercrime.
8. Seema Raja (2018)
Seema Raja, a Tamil film released in 2018 and directed by Ponram, is a true delight for cinema enthusiasts. Produced by R.D. Raja under the banner of 24AM Studios, this movie features an impressive ensemble cast, including Samantha, Sivakarthikeyan, and Simran, who deliver some compelling performances. The music, composed by D. Imman, is a perfect blend of lively rhythms and soulful tunes that elevate the movie's overall impact. Samantha's outstanding portrayal of her character is undoubtedly one of the standout features of Seema Raja. Her impeccable acting skills, combined with her innate beauty and charisma, make her the ideal fit for the role she plays in the film.
Seema Raja, portrayed by Sivakarthikeyan, is the rightful heir of the Singampatti royal family. He falls for Suthanthira Selvi (Samantha), the physical training teacher in his village. Unfortunately, their romance is impeded by the ongoing feud between Singampatti and Puliyampatti. Furthermore, Kaathadi Kannan (Lal) and Kaaleswari (Simran) from Puliyampatti are eager to grab the villagers' land for their windmill ventures. Seema Raja must find a way to end the hostility and protect his community's territory. How he wins Selvi's affection while also assisting his people is the central theme of the narrative.
Seema Raja is an entertaining movie that showcases Samantha's acting prowess as Suthanthira Selvi. Her natural beauty and charm, combined with her excellent performance, make her character a standout. Samantha received critical acclaim for her performance in Seema Raja. Overall, Seema Raja is a must-watch film for all Samantha fans and Tamil cinema enthusiasts.
9. U Turn (2018)
U Turn, the 2018 Tamil thriller film directed by Pawan Kumar, is a cinematic masterpiece that will keep you gripped from start to finish. Produced by Srinivasa Chitturi and Rambabu Bandaru under the banner of BR8 Creations, this Samantha best movie is a must-watch for all fans of the genre. The music for the film, composed by Poornachandra Tejaswi and Anirudh Ravichander, perfectly complements the dark and suspenseful tone of the plot. But what truly sets U Turn apart is the outstanding performance by Samantha, who plays the lead role in the movie. With her captivating screen presence and exceptional acting skills, Samantha delivers an interesting performance that will leave you in awe. Along with Samantha, the cast includes Aadhi Pinisetty, Rahul Ravindran, and Bhumika Chawla, among others. U Turn is a must-watch for anyone who enjoys a suspenseful thriller, and Samantha's performance is a tour-de-force.
In the movie U Turn, Samantha portrays a young journalist investigating a series of inexplicable accidents in a particular location in the city. As she probes deeper into the matter, she becomes entangled in a complicated web of mystery, murder, and secrecy in her quest for answers. With her safety at risk, she must race against the clock to unravel the enigma and bring the perpetrators to account. Samantha's character's captivating and suspenseful quest to uncover the truth makes U Turn a must-see film for fans of the genre.
There are several Samantha Ruth Prabhu movies streaming online on OTT platforms, and U Turn is one such movie that keeps you hooked until the very end. Samantha's portrayal of the lead character, Rachana, is impressive, showcasing her versatility and talent as an actress. Her performance garnered critical acclaim and recognition. With her compelling screen presence and natural acting abilities, Samantha truly delivers in U Turn, making it a must-watch for fans of the genre.
10. Super Deluxe (2019)
Super Deluxe is a critically acclaimed Tamil film that took the audience by storm upon its release in 2019. Directed by Thiagarajan Kumararaja and produced by S. D. Ezhilmathy and Thiagarajan Kumararaja, this movie features an all-star cast that includes Vijay Sethupathi, Fahadh Faasil, Ramya Krishnan, and the charismatic Samantha. With music composed by Yuvan Shankar Raja, Super Deluxe's soundtrack adds an extra layer of depth to the film, perfectly complementing the gripping narrative and the outstanding performances by the cast. Samantha's performance in the movie is nothing short of spectacular, as she effortlessly delivers a nuanced portrayal of her character. Her remarkable acting skills and striking screen presence have undoubtedly contributed to the film's success and cemented her place as one of the leading actors in the Tamil film industry.
Super Deluxe is a riveting film that follows four interwoven plots, each with its unique twists and turns. Samantha's character, Vaembu, finds herself in a complicated situation after having sex with her ex-boyfriend while her husband is away, but he suddenly dies in the act. Her husband discovers the corpse and decides to dispose of it to avoid the stigma of having an unfaithful wife. However, they are caught by a corrupt police officer who blackmails them. As he advances towards Vaembu, intending to rape her, a twist of fate intervenes, leading to a thrilling climax. The film tackles complex themes like gender identity and societal norms, and Samantha's performance adds a layer of depth to the movie, leaving a lasting impression on the audience. Super Deluxe is a must-watch movie on Samantha Ruth Prabhu's top 10 movies list.
Super Deluxe is a powerful film that showcases the talent of the entire cast and crew, including the incredibly talented Samantha. Her portrayal of Vaembu is nothing short of brilliant, and her ability to seamlessly portray complex characters and emotions is a testament to her remarkable acting skills. Samantha's outstanding performance in Super Deluxe has further cemented her position as one of the leading actors in the Tamil film industry. The film is a must-watch for anyone looking for a thought-provoking and unforgettable cinematic experience.
Samantha Prabhu: A Talented Actress with a Heart for Philanthropy
With a career spanning more than a decade, Samantha Prabhu is one of the South Indian film industry's most gifted and diverse actresses. Her impressive filmography includes some of the best of Samantha's movies which have truly displayed her talent and range as an actress. Her charismatic personality has won the hearts of millions of fans across the country, and her on-screen performances continue to leave audiences mesmerised. Apart from her acting skills, Samantha is also actively involved in philanthropic work. She has been associated with various social causes and charities, including animal welfare, women's rights, and healthcare initiatives. She founded the Pratyusha Support Foundation, which works towards providing medical and financial aid to women and children suffering from chronic illnesses. Samantha's dedication to her craft and her commitment to making a positive impact on society make her an inspiration to many. Her contributions to the film industry and philanthropic work make her a true icon, and her impact will continue to motivate future generations.
If you love watching Tamil movies with strong female leads, check out the Top 10 Best Movies of Trisha Krishnan article!
Frequently Asked Questions About Samantha Ruth Prabhu
1. Which is the best movie of Samantha?
Samantha Ruth Prabhu is known for her exceptional performances in many films, including Ye Maaya Chesave, Eega, Theri, and others. Each of these movies has its unique story and exhibits Samantha's acting skills in different ways. Ultimately, the choice of the best movie of Samantha would depend on individual opinions and preferences.
2. Why is Samantha so famous?
Samantha is a famous South Indian actress who has gained immense popularity for her exceptional acting skills and versatile roles in a variety of films. Samantha Ruth Prabhu created a lot of excitement and buzz among her fans with her stunning dance moves and captivating appearance in the item number of Allu Arjun's Pushpa song "Oo Antava". Her performance in the song received a lot of appreciation and added to her already massive popularity in the South Indian film industry.