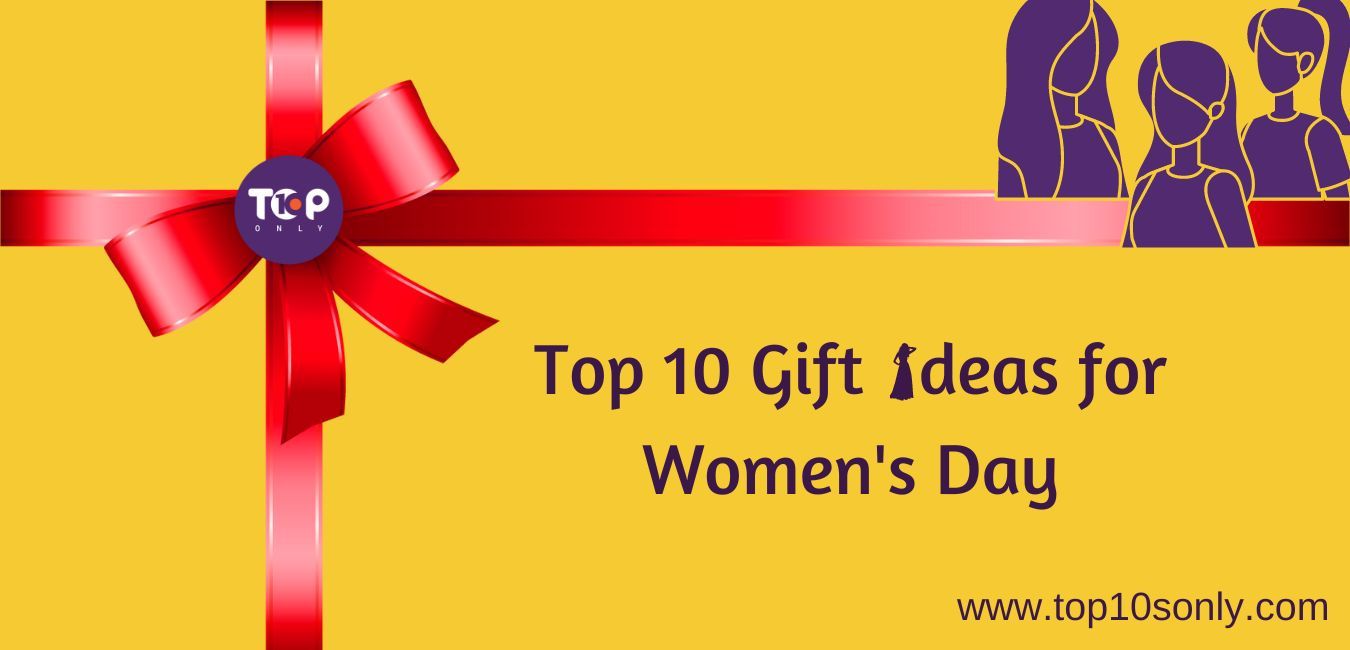 International Women's Day is a special occasion celebrated on the 8th of March every year, honouring women's social, cultural, and political accomplishments. It's a day dedicated to raising awareness and promoting gender equality worldwide. One of the ways to celebrate this day is by giving gifts to the special women in our lives. You can choose from a variety of thoughtful Women's Day gift ideas to show her how much you appreciate her.
List Of The Top 10 Gift Ideas For Her On International Women's Day
A gift is a wonderful way to show gratitude and acknowledge the contribution a woman has made to our lives. But choosing the ideal present is not always as simple as it sounds. Whether it's your mother, wife, sister, or friend, selecting the perfect gift can be a daunting task. The woman you like might already have all she requires. However, you still need to create a special, lovely, and practical gift. We at Top 10s Only bring you the Top 10 Gift Ideas For International Women's Day that are sure to make the ladies in your life skip with joy.
1. E-Reader Tablet
This is one of the top-rated women's gifts for Women's Day for someone who loves to read but finds it challenging to carry physical books around. It comes in affordable price ranges. Tablets with e-readers are excellent. They are lightweight and easy to carry. These devices are perfect for women who love to read while commuting or travelling. Additionally, an e-reader tablet offers a lot of features that a traditional book cannot, such as the ability to adjust font sizes, change the screen's brightness, and access a vast library of books without leaving the comfort of your home. She can use it to read her favourite detective novels or access her emails from anywhere. It will no doubt become her favourite gadget and make her think of you whenever she uses it.
2. Handmade Crafts or DIY Kits
This is a top creative DIY Women's Day gift idea for someone who loves to craft or make things. Craft or DIY kits are a wonderful way for everyone to display their individual style. Whether you choose a jewellery kit or a home décor kit, the woman who receives it will be able to create something truly unique. Even though they will undoubtedly adore their final product, the making process itself is a gift. Crafting and making DIY projects are fun and sometimes messy work. You can also get a few craft or DIY supplies for yourself and participate in the making with her, creating a memorable experience together. You can even photograph these memories and reminisce about them later. This is undoubtedly the best affordable Women's Day gift you can give to the special woman in your life.
3. Fitness or Wellness Class Membership
This is a thoughtful and healthy gift for the women in your life who like to stay active and healthy. You can gift her a prepaid membership or a gift card for gym class. These memberships offer a variety of classes, ranging from yoga and Pilates to strength training and cardio workouts. Fitness classes like yoga, Pilates, or dance can help improve her strength, flexibility, and balance while reducing her stress levels. Wellness classes like meditation or mindfulness can improve her mental health, reduce anxiety, and promote relaxation. This is also one of the best Women's Day gifts for moms who are so busy with their hectic work schedule that they seldom think about their own health and welfare.
4. Luxury Bathrobe or Loungewear
Here is a comfortable and luxurious Women's Day gift idea for someone who likes to lounge around and relax. The fact that bathrobes can be worn all year round is one of the key factors in their popularity as gifts. Your lady friend or relative can take pleasure in receiving lavish embraces throughout the year. A soft and plush bathrobe is the most stylish cover-up after a bath or shower. A high-quality loungewear set can enhance the lifestyle of the woman, whether she is going on holiday and requires one for their stay at a coastal resort or they are relaxing at home doing some household tasks and enjoying a night in. Women's loungewear can be worn both indoors and outdoors and provides a comfortable and stylish option for running errands, grabbing coffee with friends, or just relaxing at home. Treat the women in your life to a touch of luxury with a beautiful bathrobe or loungewear set.
5. Designer Perfume or Fragrance Set
This is a personalised Women's Day gift idea that is ideal for almost every special day dedicated to women. It is a timeless and classic gift that never goes out of style. Perfumes come in a variety of scents and brands, making it easier to choose one that suits her personality and taste. A great fragrance can lift a woman's mood and make her feel confident and beautiful. This is one of the reasons why this is also a popular gift for women on Valentine's Day. A designer perfume set is a sentimental, thoughtful, and heartfelt gift that you can give to a woman. It demonstrates that you have given careful consideration to her characteristics and potential interests.
6. Personalised Wall Art And Prints
This is an ideal International Women's Day present! This beautiful and thoughtful gift is perfect for the woman who loves to decorate her living space with pieces of personalised artwork. If she is into art and collecting artefacts, you can, without a doubt, look for the finest wall art or prints that will impress her. It is immensely rewarding to purchase art as a present since it shows the woman friend/relative that you truly thought about what they would enjoy. Your best present idea ever might be art! Try buying from local and small business artists, as it will be a great boost to the local community. If that is not an option, you can try shopping for personalised paintings and wall art from the numerous online shops available right now.
7. Professional Development or Career Coaching Session
This is another thoughtful, empowering, and personalised Women's Day gift idea for the woman who wants to grow in her career. These sessions can provide guidance and support to help women achieve their career goals and aspirations. A professional development or career coaching session can include resume building, interview preparation, networking strategies, and career planning. The sessions can be tailored to meet her specific needs and goals. The gift of professional development can help women gain confidence and clarity in their career path and ultimately lead to greater success and fulfilment in their professional lives.
8. Fine Wine or Champagne
This is a sophisticated and celebratory gift idea for the special women in your life, and this gift can even be used to formally celebrate National Women's Day! A bottle of high-quality wine or champagne not only represents elegance and luxury but also signifies a celebration of a special moment or achievement. Your lady friend/relative may have their own unique taste and preference. If you know her taste in wine, you can choose a specific type or vintage to make the gift more personalised. Alternatively, you can opt for a well-known and highly-regarded brand to make a lasting impression.
9. Subscription Box Service
This is a unique and fun gift idea for International Women's Day that can provide her with a monthly surprise of products based on her interests. A thoughtful and original present that doesn't lose its appeal after a few days is a subscription box. From beauty and skincare products to gourmet food items and fashion accessories, subscription box services come in a variety of themes and price points. Each month your lady friend or loved one will receive products based on her interests, and it will be like a never-ending shower of gifts. What more could a woman ask for! Depending on your budget, you can purchase 3-month to 12-month subscriptions. Make sure the subscription box you are choosing is in line with her interests, as this is a long-term gifting scheme.
10. Charity Donation in Her Name
It is possible that we may have forgotten to get a good gift for our loved ones. In that case, this could be considered a last-minute Women's Day gift idea. However, this in no way diminishes the worth of this gift idea. This is a meaningful and philanthropic National Women's Day gift idea that can make a positive impact on the world. Giving back is a wonderful way to express gratitude to someone. Many people donate to charities as a way of giving back to their communities. Giving presents that benefit others is a wonderful way to honour the woman you truly care about.
You can choose a thoughtful present for a woman with the aid of these top unique Women's Day gift ideas. Make sure you purchase something exciting and beneficial for her. A present for International Women's Day is meaningful for both the giver and the recipient. Even if the giver can express their gratitude verbally, giving a woman's day gift is preferable because it makes the recipient feel special and loved. Tell us in the comments which of these gift ideas impressed you the most. Or, let us know if you have any unique ways to celebrate this wonderful day called "Women's Day"!
Looking for more gifting ideas for women? Check out the Top 10 Romantic Gift Ideas For Her On Valentine's Day for more unique gifts for the special women in your life!
Frequently Asked Questions About Gifts For Women's Day
1. Why is it called Women's Day?
The United Nations began commemorating International Women's Day in 1975, the year designated as International Women's Year. In 1977, the United Nations General Assembly asked member nations to declare March 8 as a UN holiday in support of women's rights and global harmony. Since then, the UN and a large portion of the world have observed it annually, with each year's commemoration focusing on a different theme or issue related to women's rights.
2. How do you make a woman feel special on Women's Day?
Women strive to be understood and heard. On Women's Day, make them feel special by deciding to understand them better, to hear them better, and to give them more space in society as they deserve. More than gifts, this is what would make them feel special—to be treated as equals.
3. What is the specialty of Women's Day?
The annual celebration of International Women's Day (IWD) on March 8 serves as a main point for the women's rights movement and raises awareness of problems, including equal rights, reproductive freedom, and abuse and violence against women.
4. What is the best gift to give a woman for Women's Day?
The best gift is the thoughtfulness that goes behind the gift itself. The time the giver has taken to research what the woman would like to have and want in life is what makes it special. Take a look at these top 10 gift ideas for International Women's Day for inspiration on finding the perfect gift for the woman in your life. We are sure you'll find great ideas here.
5. How can I make Women's Day special?
Firstly, not just on Women's Day but every day, make the women in your life feel safe to exercise their rights freely around you. Use your voice to advocate for women's rights. Support women-owned businesses. Acknowledge the awesome women in your life. Lastly, get those awesome women in your life these awesome gifts listed on this page.