One of the first lessons we are taught during childhood is to say "Thank You" when someone does something good or useful for us. As we grow older, we often end up mindlessly uttering these words without truly attaching any meaning or emotion to them. This meaningless gesture is often mistaken for gratitude.
However, true gratitude is a virtue that goes beyond basic courtesies. Gratitude is a quality that allows us to appreciate the people in our lives and acknowledge the various acts of kindness done even by total strangers.
What's Special About September 21st?
Did you know that there is an actual day dedicated to being thankful? September 21 is commemorated annually as World Gratitude Day. The main purpose of this day is to remind ourselves and others that gratitude is not something to be overlooked. It is an invaluable virtue and must be expressed in both words and deeds.
Top 10s Only brings you the Top 10 short and inspirational quotes & sayings on gratitude that capture the true essence of thankfulness and appreciation.
1. "When eating fruit, remember the one who planted the tree" – Vietnamese Proverb
This deep gratitude quote is from Vietnam. This proverb embodies the true spirit behind the virtue of gratitude. One needs to be thankful even for past events and actions, as these often impact our current lives.
2. "Enjoy the little things, for one day you may look back and realize they were the big things" – Robert Brault
This is one of the best gratitude quotes about life. We often take many things in our lives for granted. Always remember that everything in life is momentary. Our family and friends and the simple pleasures of life are all destined to pass us by someday. So, appreciate all these while you can.
3. "As we express our gratitude, we must never forget that the highest appreciation is not to utter words but to live by them" – John F. Kennedy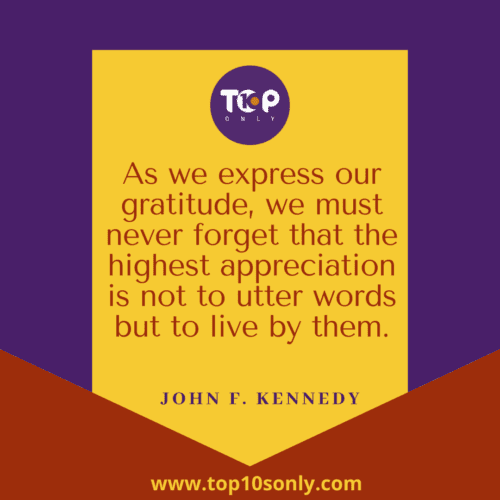 What better way to uphold the spirit of thankfulness than by recalling profound quotes & sayings on gratitude spoken by famous personalities, like this one made by former American President John F. Kennedy. Our actions speak louder than words, so we must strive to ensure that our gratitude is not limited to words. Express your gratitude with deeds that prove that you are truly thankful.
4. "What separates privilege from entitlement is gratitude" – Brené Brown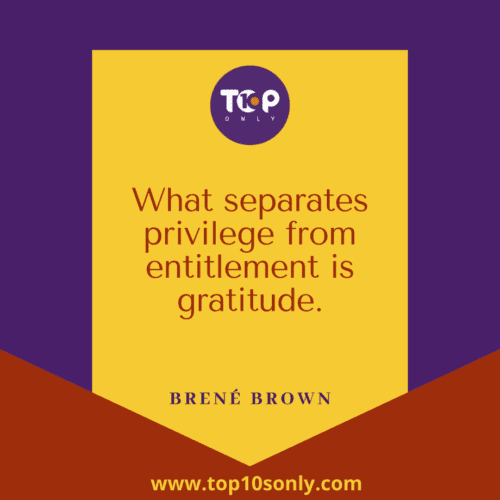 This is a short but great quote & saying on gratitude and is an apt message for people across the world. There is a thin line that separates privilege from entitlement. The privileged are appreciative of all the special things in their lives as they know that others are not as lucky as them. The entitled cannot look beyond their own nose, for they believe it is their right to have all the good things that life has to offer, even if it is at the expense of others.
5. "Appreciation is a wonderful thing. It makes what is excellent in others belong to us as well" – Voltaire
If you're looking for gratitude quotes by famous authors, look no further than this timeless quote by French writer-philosopher Voltaire. Always remember that gratitude is a two-way street. When we express thankfulness, we allow ourselves to open up and absorb the goodness in others. This is truly one of the best quotes & sayings on gratitude!
6. "Feeling gratitude and not expressing it is like wrapping a present and not giving it" – William Arthur Ward
There is nothing more disheartening than doing a good deed and not getting any sort of credit for it. So, remember to appreciate every good deed done. Let's resolve to promote the expression of gratitude and appreciation. We can begin by expressing our gratitude to everyone who has been a positive influence on us, be it our parents, teachers, colleagues, or even total strangers who just smiled and made our day!
7. "Gratitude and attitude are not challenges; they are choices" – Robert Braathe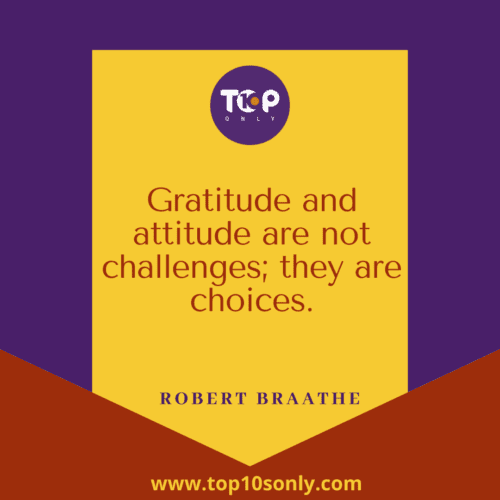 Today, let's take a look at deep gratitude quotes and sayings that are linked to one's core personality. Our personality has been shaped by the choices we make in life. Choosing to ignore the need to acknowledge and appreciate the good things in life and the people who made it possible is a sign of small-mindedness.
8. "I want to say thank you to all the people who walked into my life and made it outstanding, and all the people who walked out of my life and made it fantastic" – Unknown/Anonymous
It's time to lighten up the mood with some funny gratitude quotes. We must remember to be thankful for the family and friends who have enriched our lives. Simultaneously, we should also thank our stars for protecting us from negative people and situations! This is a definite must-share quote & saying on gratitude! If you're still looking for a laugh, check out these Friday Funny Quotes From Will Rogers About Life.
9. "There's always something to be thankful for. If you can't pay your bills, you can be thankful you're not one of your creditors" – Charles E. McKenzie
This is yet another humorous gratitude quote. When times are tough, we tend to become pessimistic. This gratitude quote encourages us to look for the proverbial silver lining. There is always something good to be found in every bad situation. This is yet another thing we can be thankful for today!
10. "In a world that has mastered the art of complaint, gratitude could start a revolution" – Pastor Matt Hagee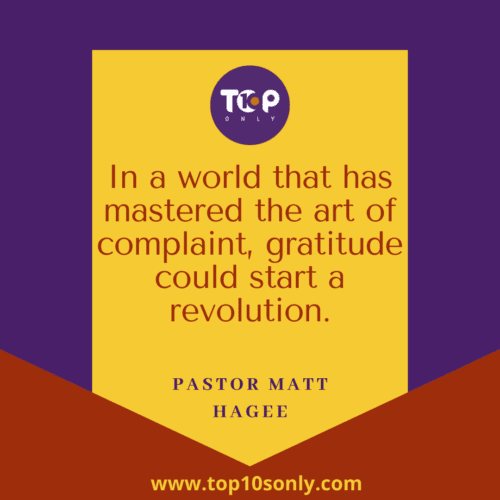 Finally, this is one of the ultimate quotes on gratitude. Today, let us resolve to be united and thankful for all the positive aspects of our life instead of harping on the negatives. History has been witness to many revolutions. Let the next one be that of a grateful human race that appreciates the many privileges that have been bestowed upon it and vows to be eternally thankful for the same!
We hope you have enjoyed these inspirational quotes and sayings on gratitude and thankfulness. Be sure to message your friends & family, and everyone who matters, and acknowledge their invaluable presence in your life.