Not finding the time to work out due to a busy lifestyle is one of the common excuses that people give. Having a home garage gym takes that major excuse away as you have the setup right at your doorstep. Setting up a home garage gym is a great way to start working out regularly. Not only do these top 10 home garage gym ideas save a lot of money on costly gym enrolments and it also saves commute time too. Additionally, there are no distractions as it allows you to stay focused on your workouts and focus on staying fit at all ages.
List of Top Ten Home Garage Gym Ideas
Putting a home garage involves many things like allocating the space, buying equipment, and more. Despite the initial hard work, it is definitely worth the time and effort. If you too have decided to set up a gym at home, we have put together a list of top ten home garage gym ideas to get you started.
Garage Gym Ideas No.1: Clear the garage, sell the junk
Garages are often used as storage areas. If that is true in your case as well, the first step would be to clear your garage. You can even make some money by selling things that you don't plan on using anymore. Clearing stuff and organizing what you need is one of the best home improvement tips too. Since garages are a bit limited when it comes to space, you will also need to consider the vertical space. The wall space can come in handy to store some of your smaller gym equipment. However, you need to use heavy-duty vertical storage solutions as gym equipment tends to be on the heavier side. A heavy steel shelf is a great option as it is extremely durable and can also handle a burden of up to 1,750 lbs (793 kg). It is one of the best garage gym ideas to store your range of home gym equipment.
Garage Gym Ideas No. 2: Gym flooring
An important part of creating a home gym is to make sure you have gym flooring that supports your workout and exercise requirements. While considering the different options for gym flooring, you need to pick one that minimizes your risk of slipping or injuring yourself. Experts in the industry recommend choosing rubber, foam, vinyl, carpet, or cork. Each one comes with its own set of pros and cons. Although rubber is very durable, it is a bit more expensive than the other options. Carpets are another popular option for home gym flooring. You can either opt for wall-to-wall carpeting or carpet tiles. Once you have the gym flooring done, it is time to move on to the rest of your home gym ideas for the garage.
Garage Gym Ideas No.3: Take Stock of What You Already Have
Before heading out to buy equipment for your gym, it is a good idea to take stock of the equipment you already have. Most people invest in smaller workout equipment to use around at home. This is one of the best garage gym ideas on a budget. Experts advise bringing the equipment you already have down to the garage and arranging them before you go ahead and buy new equipment.
Garage Gym Ideas No.4: Choose Gym Equipment
Although gym equipment might seem necessary, you can also find alternative ways to work out and stay healthy. For example, if you can go running outside, there is no need to invest in a treadmill. So take a good look around and then make a list of the equipment you know you will be using for your workout routine. You also need to consider the space you have in your garage before picking out gym equipment.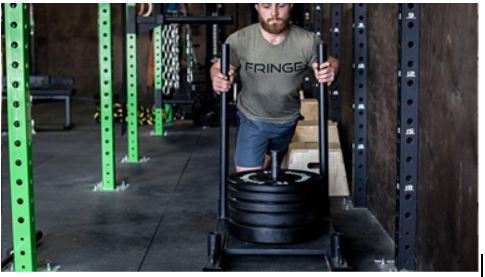 Garage Gym Ideas No.5: Storage Space Optimization
Optimizing the space available in your garage starts with ensuring that you have enough room to train. A functional home garage gym needs to take into account unconventional DIY small garage gym ideas. For example, you can use an overhead bin and wall shelves to store your gym equipment out of the way. It is also a good idea to get rid of any equipment that you do not use regularly. Rather than piling up your home gym with bulky equipment you do not use, it is better to set up a gym with fewer pieces of equipment you use.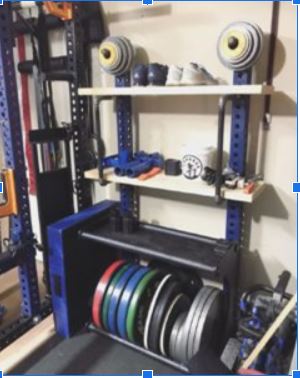 Garage Gym Ideas No.6: Use your wall
Setting up a home gym might seem like a daunting task if you have a small garage. This is why you need to consider the vertical space as well. To maximize the available space in your garage, you need to consider the storage space offered by your walls. You can use plate storage, barbell gun racks, etc., to store your equipment. If you take the time to plan your home garage gym and use the wall space appropriately, you will even be able to continue parking your car in the garage. Wall workouts are another great option if you are tight on space. They don't use bulky equipment yet to help you work on different muscle groups pretty well. There are several garage wall ideas for the gym that you can explore.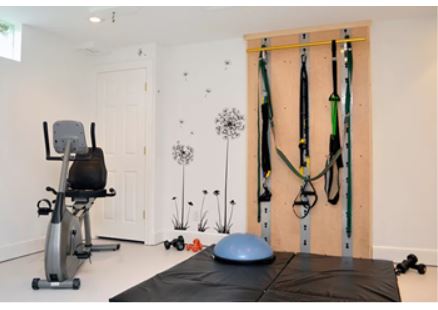 Garage Gym Ideas No.7 – Perfect Lighting And Speakers And Proper Ventilation
It's time to make your home garage gym idea a reality. No workout is complete without the right music. So it's time to add speakers to make your workout more fun. It is also essential to install proper ventilation in your garage gym. An exhaust fan will ensure adequate air circulation, allowing you to breathe fresh air as you work on your fitness routine. If your garage door tends to block the lighting each time it is open, you can install strip-led lighting by the door. So the next time your door is open, your gym will still be well lit.
Garage Gym Ideas No. 8 – CrossFit Garage Gym
Get ready to convert your garage into a CrossFit funhouse. All you need to do is install a strong steel beam across the roof. Can use this to hang the gymnastic rings, often used for strength training. The next step is to take care of the flooring, and you are ready to go. You can even add a hammock to your garage so that you can relax for a while after your rigorous CrossFit session. CrossFit garage gym ideas are often space-saving and not too heavy on the wallet either.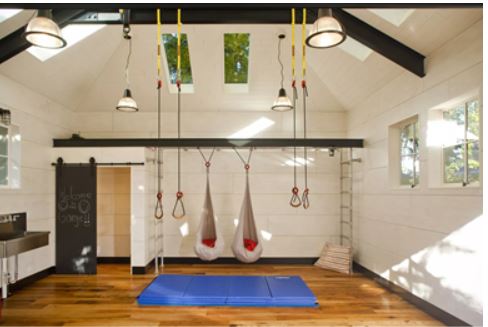 Garage Gym Ideas No. 9 – Luxurious Garage Gym
If you aren't too excited about turning garage into gym ideas, consider a luxury garage gym. All you need to do is invest in a mini-fridge, a surround system as well, as a wall-mounted flat screen. This might motivate you to spend more time in your garage working out rather than snuggling up on your couch the whole day! In fact, this tops the list of DIY garages into gym ideas!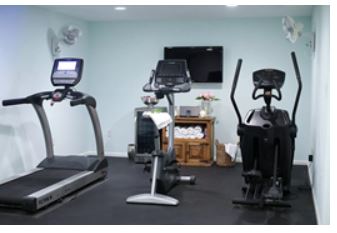 Garage Gym Ideas No. 10 – Dark Basement Garage Remodel
You can convert a dark basement garage into an airy home gym without too much trouble. All you need to do is install some cabinets for storage, get some colourful carpet tiles and bright lighting. You can also have a ceiling fan, or two installed to help you cool down when you work out in your new home garage gym! No wonder this idea finds a spot on the list of top ten home garage gym ideas.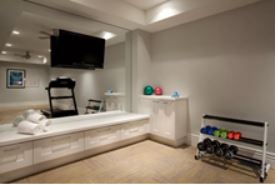 So what are you waiting for? Start off by clearing your garage and start working out in your own personal space!