'All's well that ends well' is a famous saying, and the same holds true while wrapping up a meal with a dessert. Desserts are sweet and leave a pleasant after-taste lingering long after the meal. But is this sweet after-taste okay for a person with diabetes? The answer is definitely NO!
So does this mean a person with diabetes should avoid desserts completely?
Not at all! People with diabetes can still enjoy desserts as long as they are mindful of their selections to ensure their blood sugar levels stay within a safe range. With some simple adjustments and delicious recipes, you can still enjoy sweet treats without sacrificing flavour or nutrition. This list of top 10 good dessert ideas for diabetics is the perfect way to satisfy your cravings for desserts without compromising your health.
Understanding Diabetes
Before looking at the various diabetic dessert options, let's take a look at what diabetes really is. Diabetes is a health challenge that is common and cumulative in prevalence. Each cell in our body requires energy for survival, which is produced from the food we eat. Our digestive tract breaks down carbohydrates from food sources into a simpler form called glucose. Glucose is a major fuel source for energy production inside our bodies. Glucose enters the bloodstream, and there is always a balance maintained between our cell's requirement for glucose and the glucose supply through the blood. Insulin, a hormone, assists in allowing glucose from the blood to enter cells and provide them with energy. For diabetics, the body does not produce enough insulin to move the glucose into cells, and the glucose accumulates in the blood.
What Makes A Good Dessert For A Person With Diabetes?
The cornerstone of any diabetic therapy is a healthy lifestyle. Lifestyle comprehensively includes diet, exercise, sleep pattern, stress levels and certain personal habits like smoking and drinking. Diet is the focal point in the lifestyle management of a person with diabetes, as other lifestyle components, including activity, are based on this. Ending a tasty meal with a sweet dessert is awesome, but sugar and sugar substitutes can affect blood sugar levels. Artificial sweeteners and sugar alcohols aren't good alternatives either, owing to their unwanted side effects, including poor digestive health.
Finding appropriate dessert recipes for someone with diabetes is a bit challenging. So, how to bring in the sweetness naturally? Nature has the answer. Fruits, both fresh and dried, provide a natural solution. The desserts should be made with ingredients that are low in glycemic index.
The quality of carbohydrates in the meal is very important for blood sugar control. The American Diabetes Association says that a diabetic can have 45 to 60 grams of carbohydrates daily. This is equal to 3-4 carbohydrate servings per day. The Glycemic index refers to the scale that ranks carbohydrates based on how quickly they raise blood sugar levels. A Glycaemic index of 70 and above is considered high, a moderate glycemic index ranges between 56 to 69, and a low glycemic index is 55 or below. 
Top 10 Best Diabetes Dessert Recipes Without Artificial Sweeteners
Here are the Top 10 desserts that are sweet but without any added sugar or sweeteners!
These recipes are easy to make and focus on natural ingredients so that you can feel good about what goes into each dish. Enjoy these guilt-free treats and keep living life to the fullest with diabetes while keeping your blood sugar in check!
1. Sweet Date Roti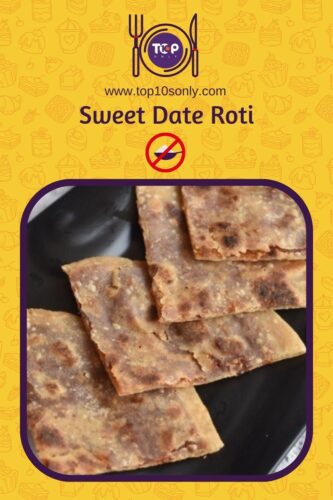 The best easy-to-cook diabetic desserts and snacks need ingredients that have low glycemic index. In a day, a person with diabetes can have 2 to 3 dates, as its glycemic index is moderate, 62. Diabetics can enjoy this dessert without feeling guilty.
Grind 2 to 3 dates with little water ensuring there aren't any lumps
Cook the mixture under low flame for 3 to 4 minutes, until the mixture thickens
Cool the mixture and add it to a cup of whole-wheat flour
Knead the dough until it becomes soft and pliable. Let it rest for 10 minutes.
Make medium-sized dough balls, and flatten them on the rolling board by dusting some whole wheat flour on them.
Turn on the flame, and once the frying pan or Tawa is heated, cook the flattened dough on both sides until brown spots appear.
One or two servings of sweet roti can be enjoyed in a day.
2. Fig-Raisin Diamond Cuts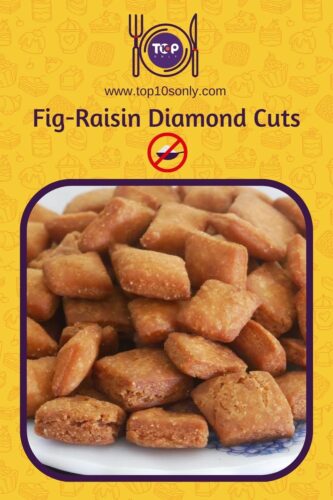 Whole-wheat flour recipes have a beneficial effect on blood sugar regulation due to their low glycemic index. This flour is made from whole grains. Consequently, this flour will be high in fibre and will have a low glycemic index compared to refined grains like white flour. Raisin has a glycemic index of 59. A tablespoon of raisin contains approximately 7.5 grams of carbohydrates, making it permissive for a diabetic. Dried Fig has a glycemic index of 61. ¼ cup of fig is permitted in a day.
Take a cup of whole wheat flour and to it add a tablespoon of raisins and a quarter cup of dried figs. Both should be nicely shredded before adding.
Add water and knead the dough until it becomes soft and pliable. Let it rest for 10 minutes.
Make medium-sized dough balls, and flatten them on the rolling board by dusting some whole wheat flour on them.
Cut the flattened dough into small diamond shapes and spread the cut pieces on a large plate by spacing them away from each other.
Heat sunflower/safflower oil in a pan on medium flame.
Deep fry the diamond cuts until they are crispy and brown.
Up to 10 pieces of these diamond cuts can be enjoyed in a day.
3. Nutty Flaxseed Roll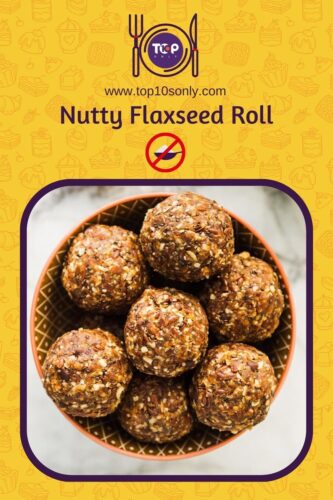 Flaxseeds are low in glycemic index and high in blood sugar-controlling fibre. Hence, a teaspoon of flaxseeds (whole or ground) can be taken in a day to maintain blood sugar levels optimally. If you're looking for dairy free diabetic desserts, try out this Nutty Flaxseed Roll recipe!
In a non-stick pan, heat ½ teaspoon of ghee over a low flame.
Add 3 black dates that are deseeded and finely chopped. Stir continuously and cook for nearly 5 to 7 minutes until it turns into a small lump.
Switch off the flame and add finely shredded almonds, pistachio nuts, cashew nuts and raisins. Each should not exceed a count of two.
Mix well and portion it evenly. When the heat is tolerable, shape each portion into a roll by greasing it with a small amount of ghee
Coat each roll with flaxseeds and refrigerate to set.
Two rolls can be taken in a day.
4. Tricolour Fruit Smoothie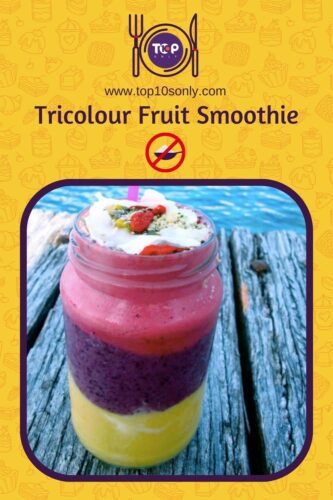 The Tricolour Fruit Smoothie is one of the most delicious diabetic desserts recipes around. There are numerous health advantages for diabetics from eating papaya. It ranges from a healthy digestive tract, improved insulin sensitivity, obstructing cell damage due to high sugar levels and an excellent antioxidant score needed for cell repair. According to the American Diabetes Association, berries are superfoods for diabetes as they are low in glycemic index and are a powerhouse of dietary fibre, antioxidants, and vitamins.
Peel the skin and blend half a cup of papaya into a smooth consistency. Pour into a tall glass.
Blend half a cup of blueberries into a smooth consistency. Use a large spoon and carefully add this as the second layer over the blended papaya.
Finely chop a quarter cup of dried cherries and add them to the top of the smoothie.
A quarter cup of cherries wouldn't give more than 5 grams of carbohydrates, which are relatively low in glycemic index.
5. Fruit n Nut Salad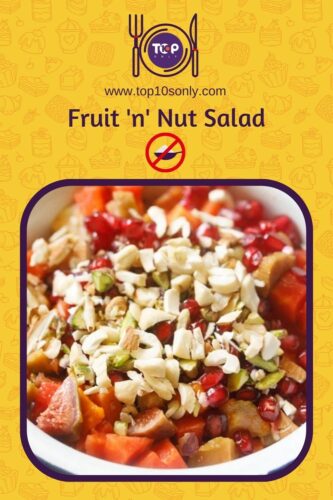 There is a hidden health secret in every fruit's colour. And who said diabetics should not benefit from this? There is a huge list of inclusions, even for a diabetic. Papaya's orange colour surprises you with good healing and improved immunity. Fig is insulin's friend, and it helps clear off sugar from the blood by sending it inside the cell for usage. With their high fibre content, pears and apple aid digestion and ease bowel movements. Don't forget pomegranate, as you will miss out on vitamins, vitamin K, folate, antioxidants, and fibre. Try out our Fruit n Nut Salad recipe that's proved to be a healthy dessert for diabetes-afflicted persons.
Slice fresh fruits in the following proportion- quarter apple, quarter pears, ¼ cup papaya, ¼ cup blueberries, and 2 figs
Also, add ¼ cup of fresh pomegranate seeds.
Take 3 almonds, 2 kernels of walnut, 2 dates, 5 raisins, and 1 dried fig. Shred them finely using a chopper
Mix the fresh fruits along with dried fruits and nuts.
You can enjoy a bowl of this salad without worrying about a sudden increase in your blood sugar.
6. Berrilicious Yoghurt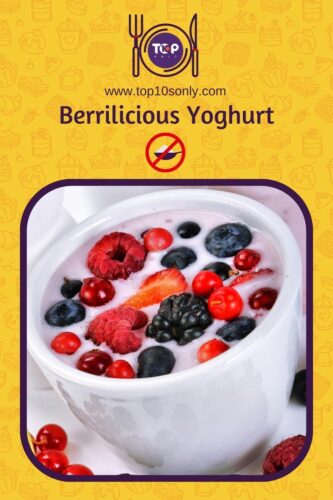 A common side effect that most people experience with diabetic medication is a gastrointestinal disturbance, typically in the form of frequent loose stools or indigestion. A natural remedy for this discomfort is probiotic consumption, as probiotic foods can favourably improve gut health by balancing the good microbe count. Fresh berries like strawberry, blueberry, blackberry, cranberry, and raspberry have a low glycemic index (below 40), making them an excellent option for diabetics. This diabetic quick dessert is good for the tummy and is absolutely delicious!
Take a cup of fresh yoghurt. Make sure it is plain and unsweetened.
Finely chop the following fresh berries- 4 strawberries, 8 blueberries, ¼ cup of blackberries, ¼ cup of cranberries, and ¼ cup of raspberries.
Add the finely chopped fresh berries to the yoghurt and mix it well.
Berrilicious yoghurt can also be chilled and served cold.
7. Naturally Sweet Oatmeal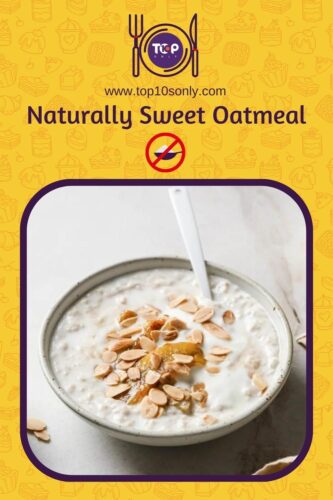 Oatmeal is a tasty and healthy choice for diabetic desserts. Go for minimally processed varieties like steel-cut oats, as they have healthy fibre preserved in them. Cinnamon is a natural medicine for blood sugar control. Its sweet taste makes it a healthy alternative to sugar and artificial sweeteners.
In a saucepan, boil one cup of low-fat milk. Choose milk with not more than 3% fat.
Add 4 teaspoons of oatmeal to the boiling milk. Stir in low flame until the mixture thickens.
Add a quarter teaspoon of cinnamon powder or a one-inch cinnamon bark.
Also, add two to three kernels of finely shredded cashew nut and a little bit of cardamom.
This naturally sweet oatmeal is served hot and preferably in fluid consistency.
8. Sugar-Free Sweet Balls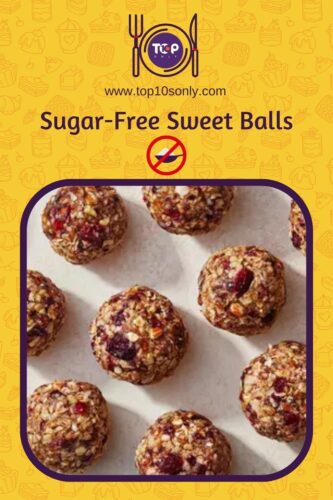 Looking for fancy desserts for diabetics? Try out this next diabetic-friendly – Sugar-Free Sweet Balls! Whole wheat flour and dark chocolate are both considered good for blood sugar control. Whole wheat flour is a storehouse of healthy dietary fibre, while dark chocolate stocks antioxidants and improves the potency of insulin in the body.
Take a thick-bottomed broad pan and keep it on the stove at low flame. Add half a cup of whole wheat flour and roast it for about 10 minutes until it gets a nutty flavour.
Add a teaspoon of peanut butter, mix well and continue roasting for another 3 minutes.
Turn off the flame. Add about 10 raisins, 3 dried figs and 5 dried cherries, everything finely shredded to the roasted mixture.
Also, add about 5 chips of dark chocolate (go for the ones with 70% cocoa). Also, add a drop of vanilla essence.
Mix all the ingredients and break lumps, if any, with a spatula
When the temperature is bearable, scoop large amounts with a spoon and shape them into balls. A little bit of ghee can be added to press the balls firmly, retaining their shape.
Two to three whole wheat balls can be consumed in a day.
9. Nutty Almond Milk Kheer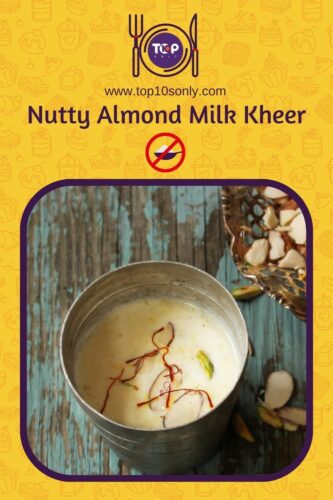 This Nutty Almond Milk Kheer recipe is guaranteed to satisfy your sugar craving. It is a healthy recipe for people with diabetes who love a glass of cool kheer. This easy homemade diabetic dessert can be prepared within minutes!
Take half a cup of almond milk. Soak 3 dates, 3 pistachio nuts, and 10 raisins in this milk for about 15 minutes. Grind them nicely, ensuring all the ingredients blend well
In a saucepan, add ½ a teaspoon of ghee and keep it on medium heat. Once it melts, fry finely shredded almonds and raisins, and keep the count to not more than 3 each. Fry for a few seconds and then remove from flame.
After removing the fried almonds and raisins, add one cup of low-fat cow milk and bring it to a boil at low flame.
Switch off the heat and add the almond milk paste made with dates, nuts and raisins. Also, add the roasted almonds and raisins.
Finish off by adding that extra flavour through a few strands of saffron and a little bit of cardamom powder.
A glass of this kheer is so tasty that you will not regret avoiding the traditional kheer with sugar. This dairy-based dessert is so yummy that even kids will love it!
10. Dry Fruit Oat Bars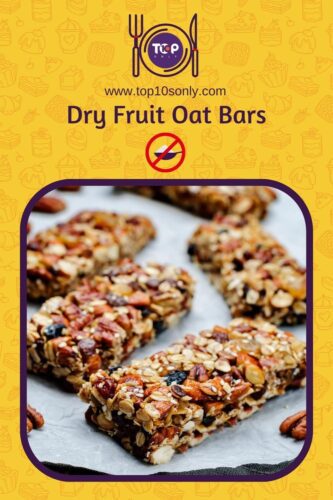 For preparing this next diabetic dessert no artificial sweeteners are required! Dry Fruit Oat Bars are prepared using oats. Whole grain Oats are low in glycemic index and have a high score of healthy dietary fibre. Dried fruits and nuts are calorie-dense and also good in heart-healthy nutrients.
Take 8 almonds, 3 kernels of walnut, 2 dates, 10 raisins, and 3 dried figs. Shred them finely using a chopper.
Add the shredded nuts and dried fruits to a quarter cup of rolled oats and mix it nicely.
In a saucepan, boil half a cup of water and add the above mixture. Keep stirring on a low flame until the mixture thickens.
Pour this mixture onto a greased plate and allow it to cool.
Cut it into square bars.
Two or three bars can be taken in a day.
In conclusion, people with diabetes can enjoy tasty and healthy desserts. Making healthy choices can help people with diabetes enjoy desserts without compromising their health goals. With a little creativity and some simple substitutions, it is possible to make delicious diabetic-friendly desserts that everyone can enjoy. With so many amazing recipes, there is no need to deny yourself the pleasure of a sweet treat. Choose good carbohydrates that are low in glycemic index and score high in dietary fibre. Indulge in naturally sweet desserts, with sweetness coming from fruits and nuts instead of blood sugar spiking simple sugar and sweeteners.
If you are looking for more healthy recipes, try out the ones listed in our Top 10 Best Steamed Foods In The World article!