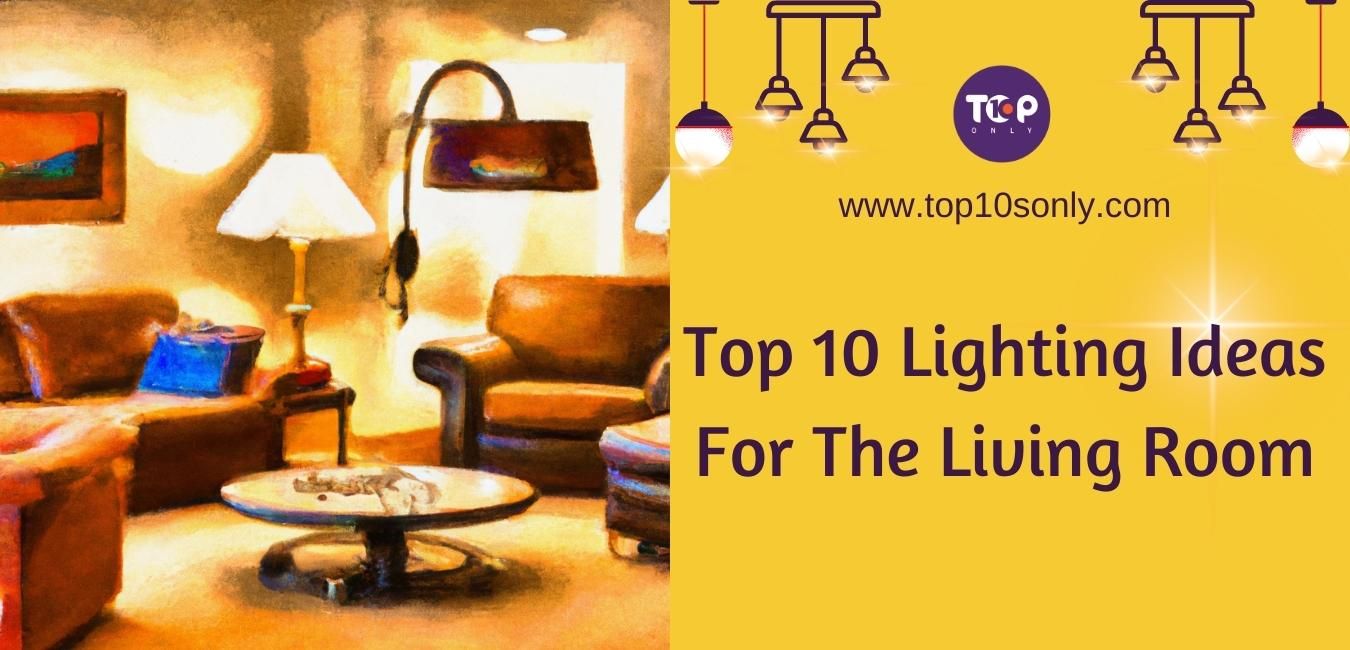 Are you looking for the perfect lighting ideas to transform your living room? If so, you've come to the right place. Here are ten of the best lighting ideas for the living room, guaranteed to give your living space a complete makeover!
Create The Perfect Ambiance With These Living Room Lighting Ideas
Proper lighting in the living room can create an inviting and comfy atmosphere, ensuring the complete relaxation of the family as well as the guests. It gets dull and boring when the rooms are dark and crowded. Perfectly lighted rooms help set the mood and enhance each and every aspect of the room. Appropriate lighting in the living room is essential as it reduces eye strain and uplifts one's mood, especially after a long tiring day of work.
When thinking of the lighting design for a living room, the first thing to consider is how much natural light is available. The trick is to play magic with the shades of light entering your living room. With proper lighting, even the smallest room can look spacious and comfortable.
Top 10 Lighting Ideas For The Living Room
Here are the Top 10 living area lighting ideas to glam up your living room and make it look absolutely stunning!
1. Design A Strategic Layout For Light Fixtures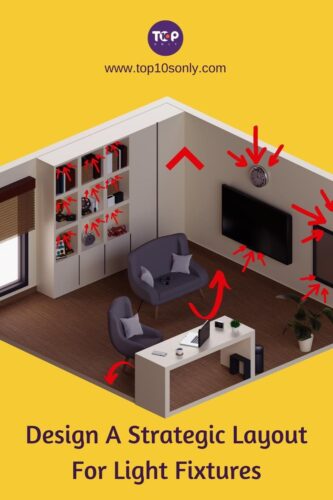 Creating a strategic layout is vital when thinking of big living room lighting ideas. You can convert an old boring room into a stylish and entertaining hang-out room with a few strategic plans in the arrangement or layout of the room. Start by taking into account both natural light sources, like windows & skylights, as well as artificial lighting fixtures, such as lamps, hanging pendant lights/chandeliers or ceiling lights. Also, figure out where each piece of living room furniture will be placed and how you plan to use them. For instance, you will need wall sconces or table/floor lamps near a sofa if you intend to use that space for reading. Arranging your room into elegant spaces based on activity and function will help you decide on the lighting requirements.
2. Find the Right Lighting Fixtures for Your Living Room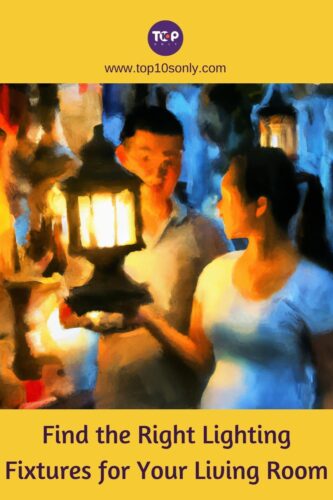 Currently, there are many living room ambient lighting ideas that can be utilized to create the perfect ambience in a living room. To know which lights are good for the living room, you will need to explore various types of lighting fixtures that are currently available. Each of these types of lighting provides a different type of ambience and can create different moods in the room. The popular varieties available include recessed lighting, pendant lights, wall sconces, floor lamps, track lighting and accent lighting. Each of these can be used to create a different atmosphere in your living space. Opt for lighting fixtures that suit your style, functionality and budget.
3. Create A Vibrant Atmosphere With Accent Lighting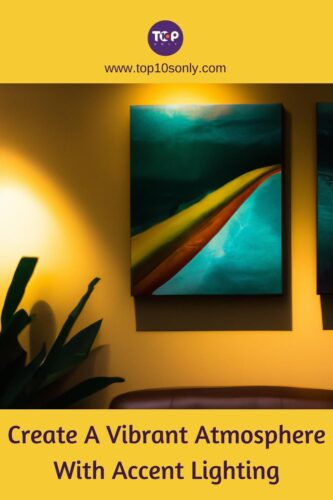 Try giving your living room an impressive makeover by highlighting unique decor pieces with a spotlight. Use track lighting to highlight bookshelves and other furniture to add depth and dimension to the room. Adding wall sconces or uplights to both sides of the television and any artwork in the living room can create a focal point while also providing illumination. Floor lamps with matching lampshades can provide a soft, ambient light in the living area. These living room lighting tips will help create a vibrant atmosphere in your living space.
4. Explore The Different Varieties Of Lighting Sources And Fixtures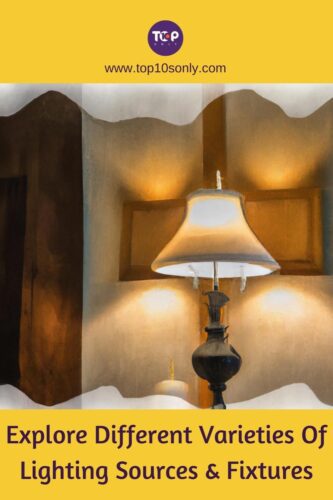 Do some research and find out about the gorgeous varieties of light fixtures. Big or small, the below two options are surely going to be awesome picks.
There is not enough room for cuteness. Give your living room a childish glee and spread the joy with a cute lampshade. You can pick your favourite colour and get yourself the cutest lampshade to spruce up your day.
For contemporary living room lighting ideas, consider using a combination of ambient, task, and accent lighting. Embolden your art collection with an elegant wall sculptural sconce. You can double up your standards of creativity with such a masterpiece. Your walls become classy and well-lit at the same time.
5. Use Recessed Lights Or Spotlights In The False Ceiling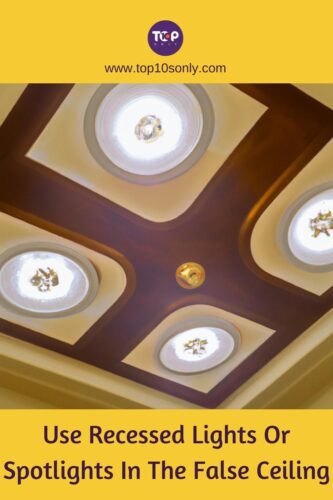 Here are some ideas for recessed lighting in the living room. Recessed lights and spotlights are popular choices for false ceilings and are often used to create an ambient setting. Recessed lighting is ideal for creating a layered look and can also provide directional light, which helps to reduce glare and create a more balanced overall effect. Spotlights can be placed around the perimeter to highlight certain features or objects, such as artwork or plants. Use this type of lighting to highlight artwork on walls, decor pieces, etc. They also provide flexibility in terms of placement since they can be placed at different heights and angles to create interesting shadows and effects.
6. Install Light Dimmers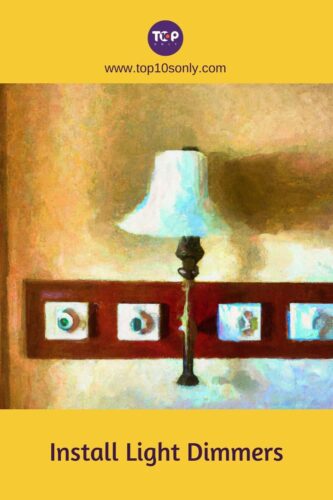 One of the easiest ways of how to get better lighting in the living room is to install dimmer switches for the light fixtures. Dimmers are a great way to adjust the lighting in your living room. They give you control over how bright or dim the lights are, allowing you to set the mood as desired. Dimmer switches are very useful as they also help you save energy. Simply dim the lights when you want to relax or turn on the brightness if you want to do some work, read a book, etc. Dimmer switches are available in various styles, making it easy to find one that matches your living room's decor. This is one of the most simple room lighting ideas.
7. Invest In LED Lights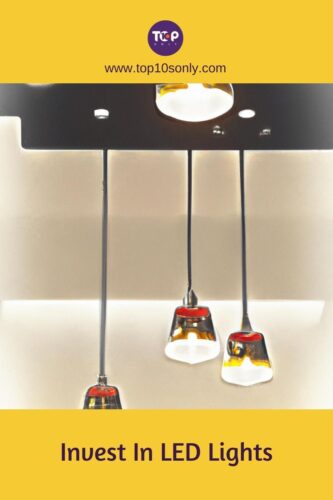 LED lights are an efficient alternative to conventional lightbulbs, and you can use LED lights to create a beautiful and energy-efficient home. Nowadays, many light fixtures are already equipped with LED bulbs, so you can easily upgrade your existing lighting without having to purchase new fixtures. Moreover, existing light fixtures can be retrofitted with LED bulbs and light strips, allowing you to quickly upgrade your lighting system without needing to purchase additional fixtures. There are also some really cool LED strip lighting ideas for the living room that can be used to create a more modern look for the living room. These are very versatile and can be added to the perimeter of the room or under bookshelves, etc.
8. Mix Vintage With Modern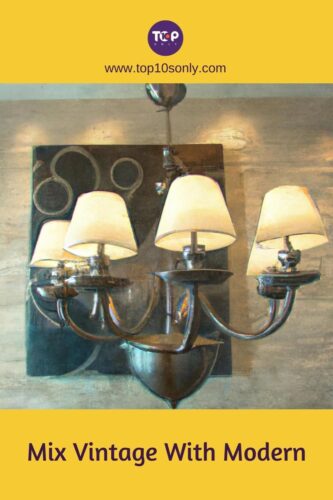 There is a hidden beauty in combining various types of lighting fixtures. You will be able to produce a mesmerising effect with effective combinations. The shades of light need not be all modern or all vintage. For instance, try pairing a vintage chandelier, set in the centre of the room, with modern wall sconces. Blend in the two and create fascinating boldness with a soft finishing edge. This blend of vintage and modern lighting can be used to create a unique atmosphere. There are many such cool living room lighting ideas trending right now. Consequently, it will be easier to find the perfect type of light fixture to create this blended look. Alternatively, you might actually find vintage decor while decluttering your home!
9. Light Up Nooks And Corners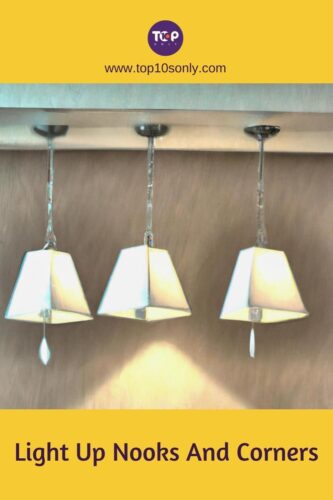 It is amazing how special a corner looks when you dedicate a Mini Pendant to it. Mini Pendants are great space savers and offer an easy way to add style and charm to the living room. Choose between different shapes, such as round, square, oval or hexagonal pendants, to find the one that best suits your style. Opt for glass shades with metal accents for a classic look, or go with wooden shades for a more rustic appeal. Whether it be a reading nook or the coffee table area, the perfect mini pendant will bring love and joy to any corner of your home. Add warmth and cheer to your living room by dedicating this beautiful light fixture just for that space. So why not give your living room corners some extra love with such innovative living room corner lighting ideas?
10. Add Some Colour To The Lights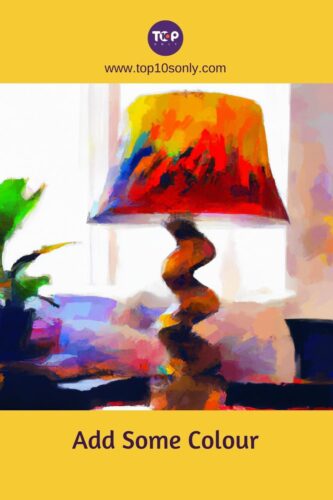 Choose some colourful light fixtures like a cool, vibrant lamp and place it in the white space of the living room. You can keep the elegance of white along with the vigour of just a pop of colour. The result is awesome, as it creates a contrast that is visually appealing and draws attention to the room. It also adds an element of fun and playfulness while still maintaining a sophisticated look. This is definitely one of the most popular modern living room wall lighting ideas currently trending now.
No matter how busy your day gets, you know that home is always waiting. It's up to you to create a loving and welcoming ambience at home. The lights in your living room help instil a warm sense of cosiness which feels inviting every time you enter the house. The possibilities for lighting ideas in your living room are aplenty. Using your imagination and doing some research, you can create an ideal atmosphere that will improve the visual appeal of your house. With so many options available today, it's easy to find something that fits your style and budget. Take some time to consider all the possibilities before making your final decision – you'll be sure to create a warm and inviting atmosphere in no time!
If you are looking for more home improvement articles, read the Top 10 House Cleaning Tips article we wrote recently!