If you are an ardent devotee of Shirdi Sai Baba, then you are sure to love this list of Top Ten Must-See places to see in Shirdi. Even though I have been to Shirdi to get the blessings from him, I was not aware of all these places and have not visited some of them. Thanks to my best friend for introducing me to the Mahaparayan, after which, I started reading two chapters of the Sai Satcharitra book every Thursday. Due to this, I came to know so many places in Shirdi that are worth a visit if you are a true Shirdi Sai Baba bhakt. So, the next time you visit Shirdi, make sure to visit these places:
Samadhi Mandir – Sai Baba's Final Resting Place

Though it was named as Buti Wada in olden days, this is the Maha Samadhi of Shirdi Sai Baba and hence gets its name – Samadhi Mandir. This is the very place where Baba rests, which is loaded with so many positive vibes that you can experience HIS presence and positivity when you enter this place. Since most people come here only to see the place where Baba rests, you won't need special directions to get here. Get into the temple premises and ask for the Darshan entrance. You are sure to get to the place through the lines. A life-size statue of Sai Baba sits alongside his Samadhi and you can feel HIS presence. If you want to have a long look at Sai Baba and feel the vibrations for more than 5 minutes, book an Arathi in advance, you will get to stay there for a good 20 to 30 mins and sing the Arathi for him too.
Dwarakamai – Sai Baba's Old Masjid and Dhuni
You can call it the old masjid or the home of the dhuni, Dwarakamai is a definite must-see during your visit to Shirdi. Situated within walkable distance from the Samadhi Mandir, this was the home where Baba lived most of his life. It has been renovated, still, you can see the stone that Baba used to sit on and the everlasting fire that was lit by Baba, which continues to burn even today. Baba used to bless everyone and distribute the sacred ash 'Udi' from the fire. This ritual is still followed and you can collect the 'Udi' when you visit the temple. To reach Dwarakamai, head out of the Shirdi Temple South gate (the gate near the exit from Samadhi Mandir) and turn left, and walk for a few steps and you will find it on the left side.
Chavadi – A Place Where Sai Baba Rested
The Chavadi procession was a grand affair that used to happen every alternate day when Baba used to proceed from Dwarakamai to Chavadi at night to sleep there. Even now, every Thursday, Baba's photo, his Padukkas and Sataka are taken to the Chavadi in a palanquin. The Chavadi still stands today and is within 30 metres from Dwarakamai. If you are a follower of Shirdi Sai Baba, you need to set foot on it at least once as it is one of the top 10 places to visit in Shirdi.
Gurusthan – Where Baba's Neem Tree Stands Tall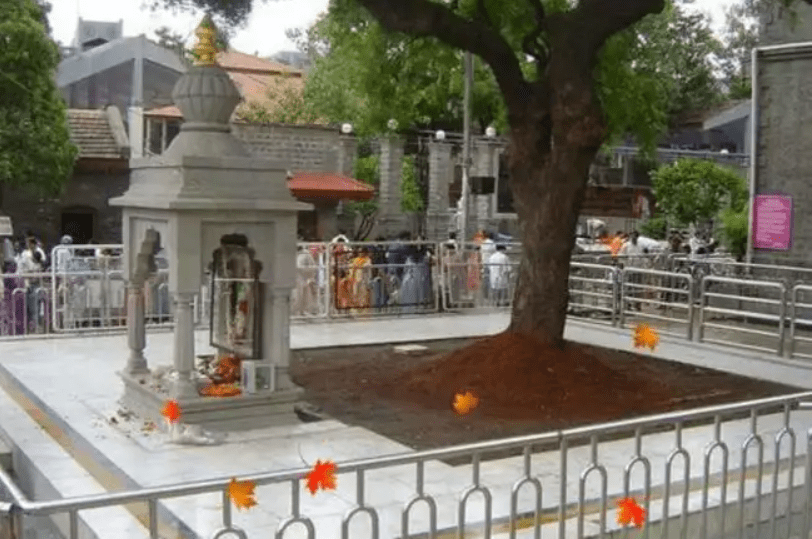 As the name indicates, this is the place where Baba was first found sitting under this tree as a sixteen-year-old. When Baba was alive, he always referred to this place as the place of his Guru. The popular Neem tree still stands here. It is situated inside the Sai Baba Temple premises. Gurusthan is inside the Temple premises and you will reach it right after you exit Samadhi Mandir.
Dixit Wada Museum – Where You Can See Artifacts
The olden day Dixit Wada is today's museum and holds some of the most important personal items of Sai Baba that have been safely preserved for more than 100 years. You are sure to be awestruck because you will lay your eyes on Sai Baba's drinking vessel, Padukkas, Sataka, grinder, gramophones and many more. The museum also hosts some of the original photographs of Sai Baba which can send a chill down your spine. This Museum is inside the Temple premises and just a few steps away from the Samadhi Mandir.
Lendi Baug – An Evergreen Garden
During the lifetime of Baba, he used to take a walk in this garden which is at a stone-throw distance from Dwarakamai. The Pipal tree planted by Baba still stands here. His beloved horse 'Shyamkarna' rests here in this garden. The well where Baba used to take water from is also situated inside this area, which is currently closed. Lendu Baug is also a part of the temple premises.
Khandoba Mandir – The Significance of 'Sai'
The place where Baba alighted when he returned to Shirdi, Khandoba Mandir is where the priest Bhagat Mhalsapati called Baba 'Aao Sai' and the term became synonymous with his name. Lord Khandoba is the main deity here, with idols of Sai Baba and Mhalsapati also present. This is one of the Shirdi top 10 places that you must see. The temple is situated on the Nagar – Manmad Main road and is at about 300 metres walk from Samadhi Mandir.
Laxmibai Shinde's House – See the Nine Coins Given By Baba
Laxmibai Shinde was a very humble devotee of Sai Baba who was the only woman who was allowed into Dwarakamai even when the screen was down. In those days, when the screen was down, it meant that the place was closed for visitors. Laxmibai was one of the devotees present with Baba when he passed away. Just before passing on, Baba gave her nine coins which symbolize the nine forms of devotion shown by the disciple. In this house, you will see Laxmibai's samadhi and also get to see the nine coins that were given by Baba. It is now under the possession of her granddaughter ShailajaMaa. To reach the house, you need to walk for a short distance through the small lane opposite to Chavadi.
Mhalsapati's House – The Priest Devotee of Baba
Mhalsapati was the one who crowned the name 'Sai' to Baba and later became one of the greatest devotees. His house is just a walkable distance from Chavadi and is a must-see place in order to understand the lineage of people whom Baba allowed being close to him. The family still manages the Khandoba temple. Walk further away from Laxmibai Shinde's house and you will be able to see the lane that leads to Mhalsapati's house.
Other Samadhis
If you have time in hand, a visit to the Samadhis of Shri Tatye Patil Kote, Shri Abdul Baba, Shri Padmanabha Iyer, Shri Bhau Maharaj Kumbhar and Shri Nanawali is definite. If you have read the Sai Satcharitra at least once, these names would ring a bell. They are ardent devotees of Shri Sai Baba and are with him even today in Samadhi Mandir Complex. A visit here will be as a mark of respect to these great souls who lived at the same time as Baba and had the privilege to be with him.
A visit to Shirdi is divine in itself – because you cannot step on it until Shirdi Sai Baba permits. Every entry and exit can only be done with his blessings. Hope all of us get an opportunity to visit Shirdi and see all the 10 places mentioned here.