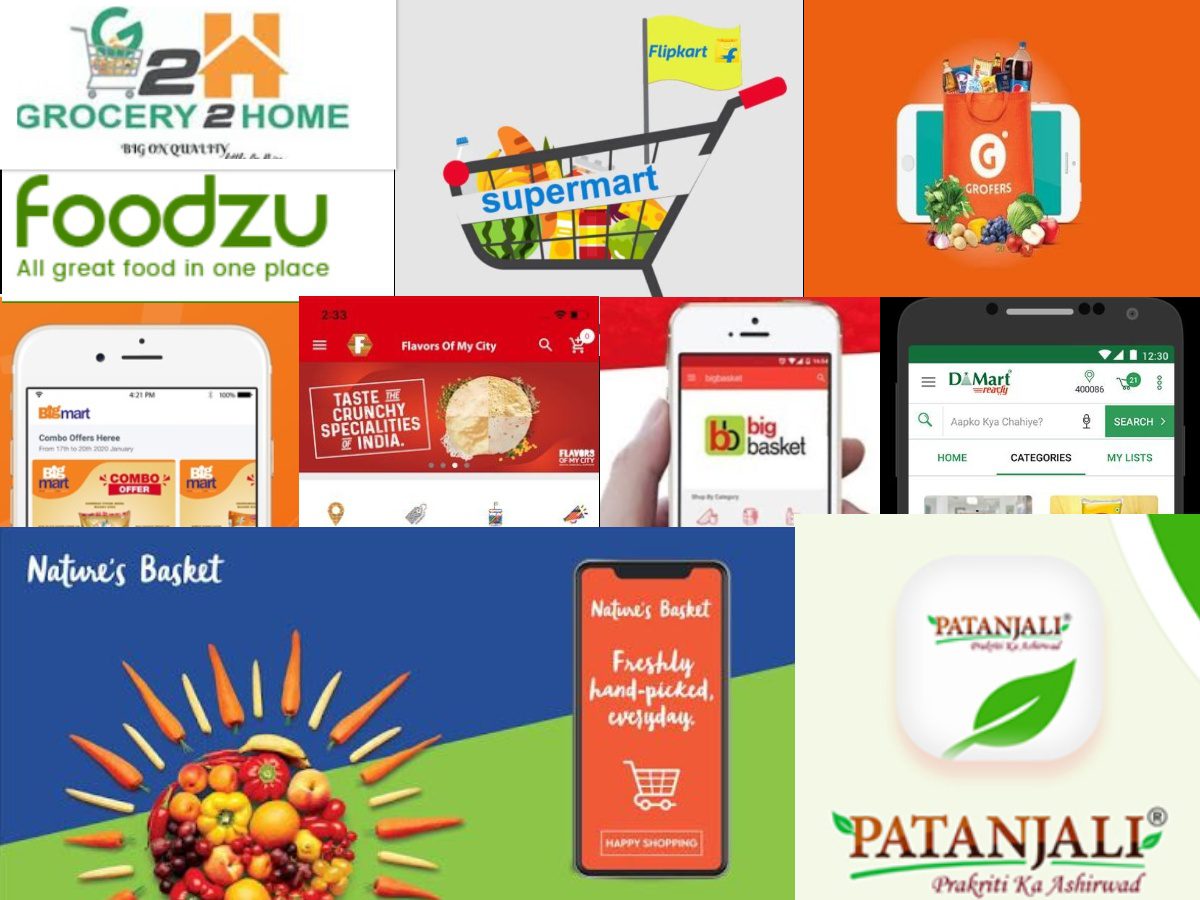 Are you worried about how to go about buying groceries in the new world order? Does shopping for groceries, standing in long queues for billing, carrying those heavy bags back home, or the thought of traffic jams and finding parking space stress you out? If the answer is yes for one or both, then one of the best solutions is using grocery shopping apps. It is a simple yet practical solution to all those grocery shopping woes. Additionally, these grocery apps are a blessing in the current pandemic where people are looking to avoid going to crowded places and want groceries home delivered. However, like everything else in the eCommerce world, there is no dearth of online stores. But only a few are worth your time or memory space on your smartphone! Here is a list of such top 10 grocery apps in India according to me with a mention of pluses and drawbacks about them.
Big Basket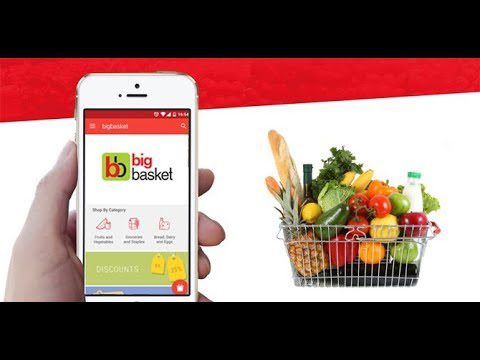 It is one of the best apps for grocery shopping in India not just because it offers a huge variety of high-quality products on its platform but also because of its speedy and reliable delivery. They offer a variety of grocery items in partnerships with top brands in India. Bigbasket also delivers fresh products like fruits, veggies, meat, kitchen and home essentials and pooja items too. For added convenience to all its customers, the company has a website as well as an app. The app is available for both Android and iOS users.
Pluses
Wide variety of products in different price ranges.
High-quality products from top brands.
Multiple payment options ranging from various digital payments and cash on delivery.
Superb return policy, no questions asked on return of products
Multiple delivery options ranging from same-day delivery for dairy products and other everyday needs.
Big Basket Daily also called as BB Daily delivers fresh milk, bread, fruits, and vegetables to your home every day.
The app offers customizations in shopping lists.
Prompt response from customer service.
Drawback
Currently, immediate delivery slots are not available
Cannot update orders
Even after making payments, some of the items are not delivered.
Refunds are into the wallet and not source of payment.
The fresh produce sometimes is not really fresh!
Grofers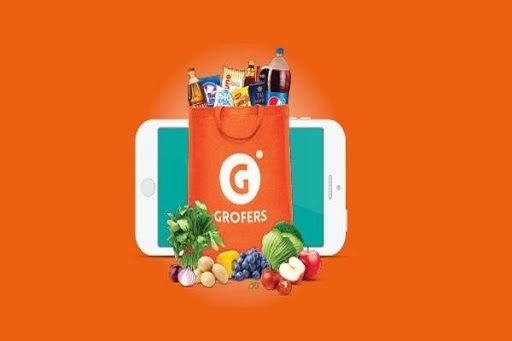 If there is any online grocery store that can give a tough competition to BigBasket then it has to be Grofers. The app has more than 10,000,000+ downloads and is among the top grocery apps in India. The reason for this popularity is that the store has a wide assortment of affordable groceries, daily home needs, fresh fruits, and veggies. Ordering products can either be done through their website or by downloading the app which is available for both Android and iPhone users. This company not just operates in the top cities in India but also provides services to many tier-2 cities too.
Pluses
Easy to use interface which makes finding the products you want to purchase easy.
A huge collection of products includes pet care, pooja essentials, home care, and more.
High-quality packaging and seamless delivery makes for safe transactions
Robust returns and refund policy. Hence hassle-free returns if the products delivered are not up to your liking.
Many discounts and offers on MRP to fit your budget.
Good and responsive customer service.
Can update orders before it gets dispatched.
Drawbacks
The app seems to be unstable and does not work properly at times.
Some of the items are costlier compared to other stores.
Lacks variety that BigBasket offers.
Nature's Basket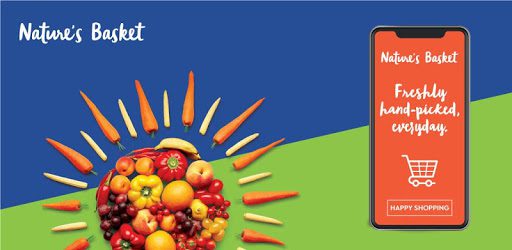 This grocery store was established by leading Indian conglomerate Godrej. It started its operations as an offline store but later got on to the online bandwagon. It now has a website and an app to enable users to order from them. This Indian grocery app is available for both Android and iOS users. The online store was initially available only in select cities, but it has expanded its business to other tier-2 cities too. Nature's basket is a cut from the rest as they offer groceries that are exotic and gourmet.
Pluses
Ingredients to cook international cuisine is available.
Exotic fruits and veggies that are not found in other stores can be found here.
High-quality products with both Indian and international variety to choose from.
Connoisseur's selection offers healthy alternatives for the health-conscious
No minimum order value for delivery.
Offers and discounts when ordered through the app.
Can update orders before it is dispatched.
Drawbacks
It is pricey compared to other online stores.
No free delivery, irrespective of the order value.
Many of the daily usage groceries are not available.
Does not serve all the pin codes even within metropolitan cities.
Flipkart Supermart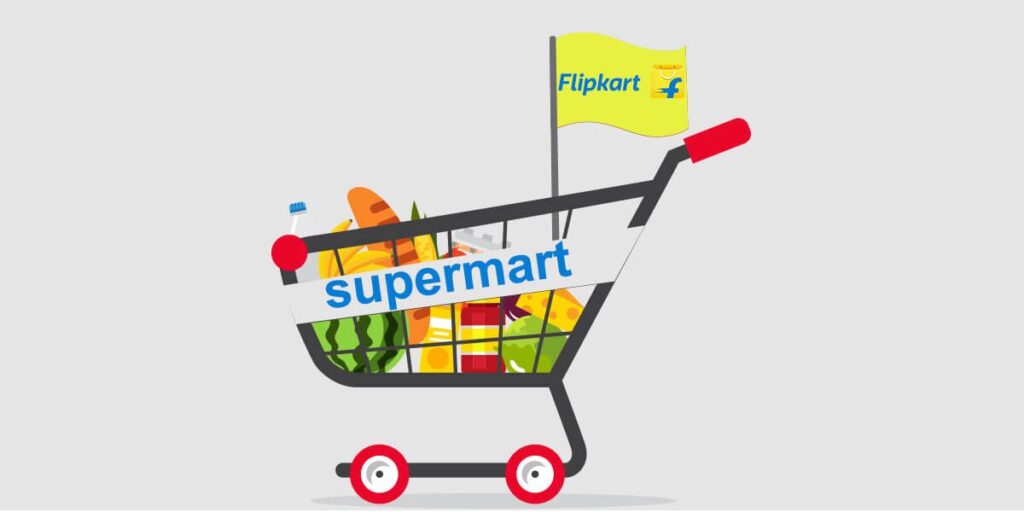 Flipkart is a leading Indian eCommerce store that needs no introduction to Indians. Flipkart has a huge customer base and it is only logical that it utilizes this by offering online grocery services especially in this current situation. Just like Amazon Pantry, Supermart is also adding products and offering many offers to attract more customers. One can order products through its website or download the Supermart grocery app, India available only on Android as of now.
Pluses
Flipkart is great value for money with grocery prices being affordable.
Delivered to many pin codes across the country due to its amazing supply chain.
Guaranteed low prices with some good discounts and offers.
Fast and timely delivery of products.
Drawbacks
It does not offer variety in products other apps offer.
Cannot get fresh vegetables and only few fresh fruits are delivered.
BigMart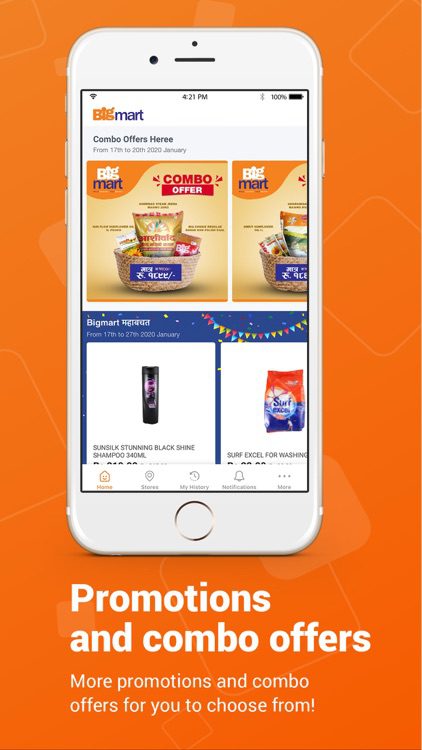 BigMart is another Indian online grocery app that is quite popular among online shoppers. This company started its operations in 2016 and has constantly strived to add more high-quality products to its range of daily essentials and premium staples. It is part of the Big Mart Digital which is a retail chain for Electronic items. The products can be ordered through the company website or through the mobile app. The app is available on the Play Store and Apple Store.
Pluses
A worthy alternative to apps like BigBasket, Grofers, etc. in terms of a variety of products.
Attractive vouchers and loyalty programs for regular customers and hence value for money.
Wide variety of groceries and household items to choose from.
Drawbacks
The app is not that stable
Transaction history is not available
The app is not very user-friendly and ordering products for new customers is not easy
Free delivery only for purchases over Rs 1500.
DMart Ready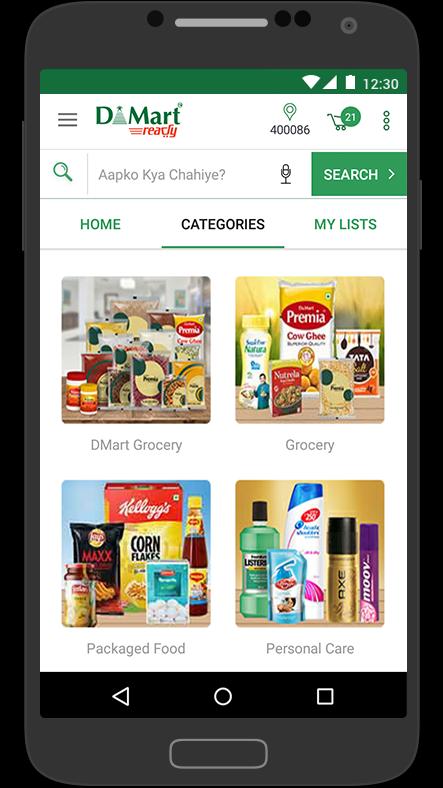 DMart is a leading hypermarket retail chain in India launched in 2002 with stores in various locations. This hypermarket is a popular store for shoppers as it offered products at very low prices. The product range is varied and offers groceries, fruits, vegetables, and other household essentials. Initially, DMart was an offline store until 2017 when it launched a website and a mobile app to cater to customers online. The Indian grocery app is called DMart Ready and is available for download on the Play Store and Apple Store.
Pluses
DMart is a place where you can find products that fits all types of budgets.
Offers both self-pickup options and home delivery options.
Great value for money.
User-friendly app with well-defined categories making it easy for browsing and shopping.
Drawbacks
The app is buggy and unstable.
The app does not allow us to add items to update the order.
Only cash or card as a payment option is available. Ewallets are not accepted.
Returning products are a hassle as there is no home pickup.
Foodzu
It is a Bangalore-based online grocery app that provides the best quality products at reasonable prices. They offer a good stock of grocery, herbal products, baby food, and other household necessities all from top brands. Customers can purchase products from Foodzu either through the app available on the Play Store and Apple Store or through the website.
Pluses
Unique and signature products all available in one place.
Cooked food is also available which is unique for a grocery app.
User-friendly app for easy purchase.
Many payment options including eWallets
Drawbacks
Number of products available is limited
Customer care is not very responsive
Grocery2Home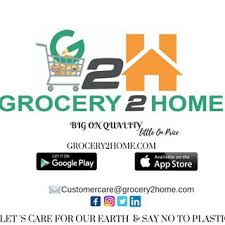 It is among the new entrants in the online grocery sphere, this Chennai based company offers products which cannot be found in any supermarket. Shopping here is cost-effective as it is direct selling without any middlemen. The Grocery2Home app is available for download in the Play Store as well as the Apple store. You can also make purchases using their websites.
Pluses
Delivery slots available from 5 AM to 11:30 PM
The poultry products ordered are fresh as per customer reviews.
Apart from the usual payment options, Sodexo card can also be used
Easy return and refund policy
Drawbacks
You may not know if there is delivery to your area until checkout
Prices are a little higher than other online stores.
Flavors of My City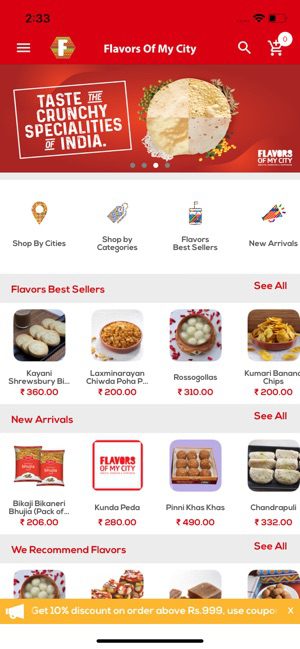 This app is the best grocery app in India for a foodie as it offers various regional eats all in one place. The store has a curated list of groceries like the Calicut Banana Chips, Agra Ka Peetha, Rasgullas from Kolkatta, and much more. If the pandemic is preventing you from visiting those places and trying them, the app will deliver that to your home. You can effortlessly munch on them without even going out of your home! Download the app from your Play Store or Apple Store to start using it!
Pluses
The only store to get authentic regional food items just like how it is supposed to taste.
Huge collection of snacks sourced from various parts of India.
User-friendly UI which makes placing orders easy.
Drawbacks
The packaging of products is not up to mark.
Unresponsive customer service which can be a big headache.
Patanjali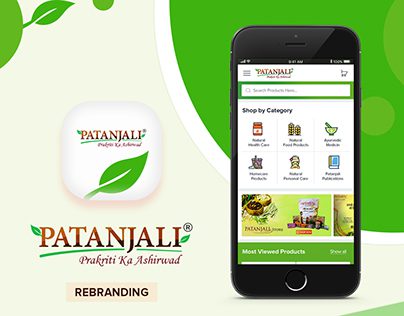 The word Patanjali invokes strong sentiments, people either love their products and vouch for it or completely hate it. Their products range from ayurvedic medicines to food staples to wellness supplements to cleaning products. Given Patanjali's reputation for selling every conceivable product, it is no surprise that they are among one of the popular apps for grocery shopping in India. The app can be downloaded through the Play Store.
Pluses
Ideal for people looking for ayurvedic products.
Can find ayurvedic and natural alternatives for almost all kinds of products available on other apps
All the products available in Patanjali stores including medicines are available on the app.
Drawbacks
Delivery charges for orders less than Rs 500.
The app is not very user-friendly and has very basic functionality.
There is no official app for iOS users.
Many, even those who are tech-savvy, prefer to buy groceries in offline stores as they do not trust the quality of products. However, online grocery stores have taken note of this and are doing their best to address it. They are laying greater emphasis on quality, variety, value for money, prompt delivery, customer service, by leveraging technology to understand customer needs. That has helped in keeping most of the existing customers happy (including me) and adding new ones. If you haven't already tried one of those made in India apps, the time is now!