A 28km drive from Salem and you reach this beautiful destination, Yercaud. Yercaud, which is tucked away in the Shevaroys hills, has a paradise's worth of attractions. The place's name's origin—yeri, which means lake, and kaadu, which means forest—sums up its primary attractions. Enjoy the captivating scenery, go boating on the lake, go trekking and find new pathways, and wander among the plantations and orchards. Visit the botanical park and take a stroll to learn about the countless varieties of orchids there. The variety of features at Yercaud makes it a very well-liked tourist destination. This article takes you around the Top 10 Best Places To Visit In Yercaud, Tamil Nadu so that you don't have to waste time picking places to visit when there.
Top 10 Best Places To Visit In Yercaud, Tamil Nadu
Tamil Nadu is home to many scenic locations, especially breathtaking hills that are wonderful choices for one-day trips. If you're looking for a destination with unspoiled natural beauty and fewer tourists, Yercaud, located in the Salem District of Tamil Nadu, would be a fantastic option. This gorgeous location has a particular vibe thanks to the enticing coffee farms and warm orange orchards. Some popular tourist destinations in Yercaud include the gorgeous Yercaud Lake, Karadiyoor and Lady's Seat Viewpoints, Kiliyur's 90-foot Falls, Silk Farm, and the famed Rose Gardens. The Botanical Survey of India's orchid garden is another one of Yercaud's attractions. The area is home to an incredible collection of flora and wildlife. The beautiful green hills of Yercaud are home to a variety of animals, including bison, deer, squirrel, rabbit, fox, mongoose, bulbul, sparrows, and numerous species of snakes. Without further ado, let's dive into the Top 10 Best Places To Visit In Yercaud, Tamil Nadu.
1. Shevaroyan Temple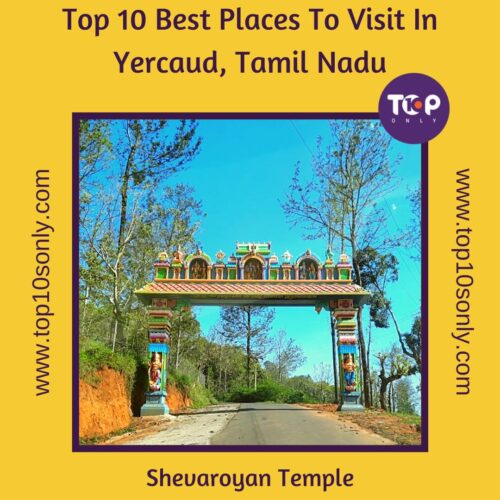 Shevaroyan Temple also known as Shevaroy temple is a 1000+-year-old cave temple on a hilltop located at the highest point, 5326 feet above sea level, in Yercaud. Yercaud's Shevaroy temple is best characterized as a series of small, dimly-lit caves decorated with statues of Lord Servarayan and Goddess Kaveri. Goddess Kaveri is believed to be the protector of the River Cauvery, while Lord Servarayan is believed to protect the Servaroyan hills and its dwellers. The people of Yercaud believe Kaveri Devi to be the protector of the 67 communities that live in this serene hill station.
One can take in the gorgeous town of Yercaud and the surrounding hills from the temple. From this hill, one can see Yercaud township and Nagalur well. Since the area where the temple stands are flat, it is easy and nice to take a stroll with your family around and take in the beauty of the place. Little shops are available in this Yercaud hill station from where you can purchase souvenirs and eatables.
Best Time To Visit Shevaroyan Temple
The best time to visit this place is from September to March, that is, immediately after the rainy season, it is a pleasant climate to visit. The temple is open throughout the day and closes by 6.30 pm. So make sure to plan your visit accordingly.
2. Pagoda Point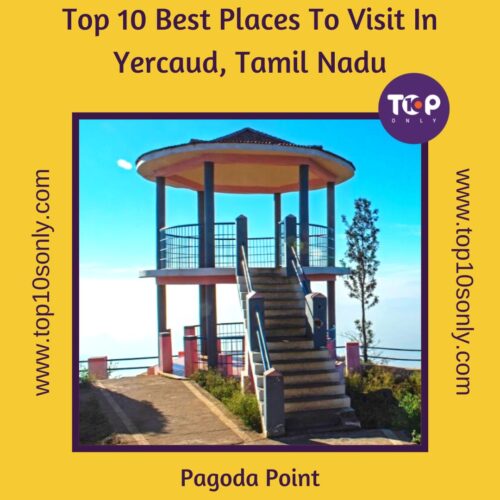 One of the main tourist destinations in Yercaud is Pagoda Point, which is situated in the eastern portion of the Yercaud Hills. The four stone mounds that have been stacked in the form of a pyramid mimicking temple towers are what gave the location its name. Pagoda Point, also known as Pyramid Point, is the ideal location to calm the mind and de-stress. Visitors to Pagoda Point are ensured to be mesmerized by the serene scenery of this gorgeous place in Yercaud. The mysterious Pagoda Point is known for its cool breezes, bird's-eye view over Salem, and peaceful atmosphere.
Best Time To Visit Pagoda Point
The best time to visit Yercaud's Pagoda point is during the winter (November to February) and the daytime or the evening to watch the beauty of the sunset.
3. Yercaud Lake And Boat House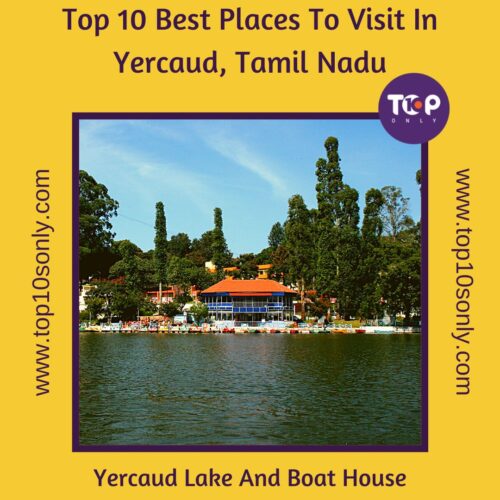 Unquestionably, Yercaud Lake is among the must-see attractions in Yercaud. This lake stands notable as one of the most popular spots in Yercaud and attracts a lot of visitors every year. The pool offers a calming and peaceful experience because it is surrounded by greenery and densely covered trees. Travellers may enjoy all that Yercaud and its highlands have to offer here.
Travellers can also take part in a variety of activities like boating. The lake's charming water features and the picturesque splendour of the surroundings provide the best boating opportunities in Yercaud. Yercaud Lake is also called Emerald Lake and it holds the distinction of being the sole natural lake found in the hill stations of South India. The floating fountain that MALCO built is located in the middle of the lake. When the Yercaud Summer Festival is held in May, the landscape that surrounds the lake is decorated beautifully. The Yercaud boating services are affordable and you can enjoy them for a maximum of 20 minutes. Overall, this is a place you do not want to miss when you visit Yercaud.
4. Grange TreeTop Adventure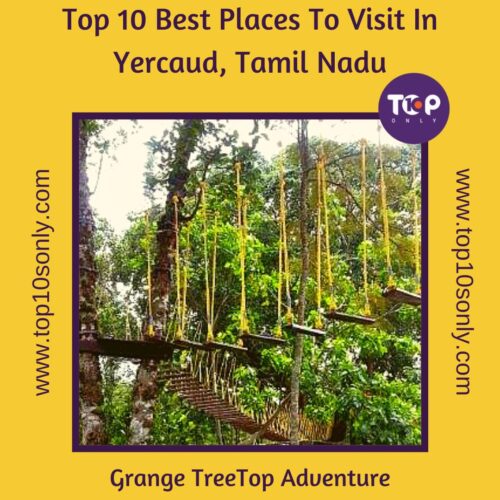 It is impossible to compare with Grange Tree Top Adventure. To encourage people to enjoy nature and live an adventurous life is their purpose. On a stunning coffee plantation, this Yercaud's tourism attraction, Grange Tree Top Adventure Park is located. It provides special chances to spend time with loved ones and friends in this stunning, natural setting. The list of outdoor activities available at Grange Tree Top Adventure Park is endless and includes Zip Line, High Rope course, Commando Net, Low Rope course, Field Target Shooting, Archery, Water Bicycle, Rock Climbing, Tree Climbing, Trekking, ATV Trails, Camping, 4X4 off-roading, Mechanical Bull, Bungee Trampoline, Water Zorbing, and more! Yercaud Lake and Pakoda Point are both about a 4-minute drive from this adventure park.
Best Time To Visit Grange Tree Top Adventure
Visiting hours are from 9 am to 6 pm and you can visit this park throughout the year. It is best to avoid the summertime though
5. Eco Tourism Park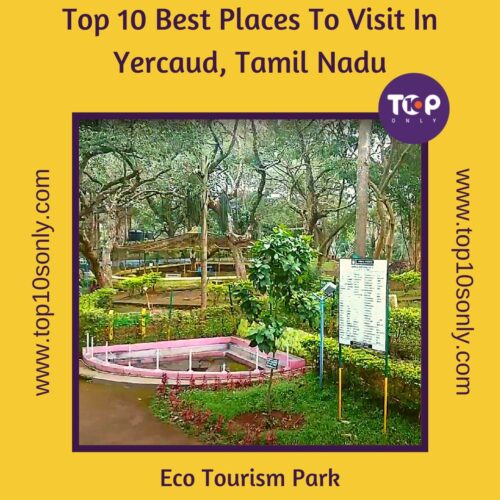 The Eco-Tourism Park is situated on Yercaud Lady's Seat road, beside the picturesque Yercaud lake. This is a perfect spot to unwind by the water. It offers various activities like boating, picnicking, and wildlife viewing, including deer and ducks. You can also explore nearby attractions such as Norton Bungalow and Bear's Cave. It's an ideal place to spend quality time with your loved ones or to take a solo retreat. So, whether you want to enjoy the serene beauty of nature or explore local landmarks, Eco-Tourism Park is the perfect destination.
Best Time To Visit Eco Tourism Park
The Eco Tourism Park is open from 9 am to 5 pm, except on Tuesdays when it remains closed.
6. Lady's Seat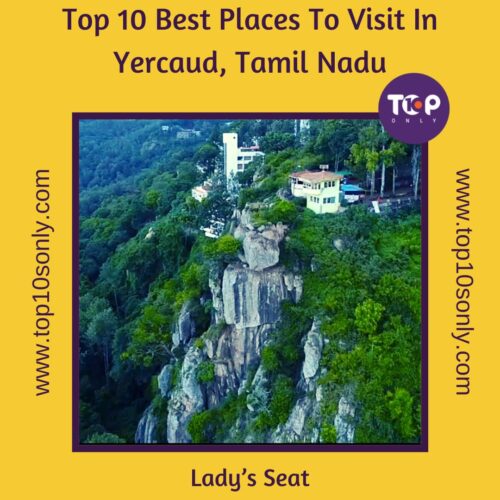 Yercaud Lady's seat is a group of rocks located on the Yercaud hills' southwestern edge, facing the Ghat route and the city of Salem towards the south. A white English lady from long ago supposedly spent her evenings sitting on a seat made of natural rock formations there while admiring the breathtaking scenery. The location also has an observation tower using a telescope so that visitors can take in the stunning view of Salem town and Mettur Dam. Only during the daytime hours is this viewing tower accessible to the public. Using the telescope installed at the Lady's seat, visitors can get a birds-eye glimpse of the plains below. The sun's rays bounce off the river's waters starting at 300 p.m., making this the finest time to see the river. One of Yercaud's promised greatest vistas. You may take in the enlightened view of the ghats while watching the far-off cars weave in and out of the trees along the curving Ghat road. Undoubtedly, the view is breathtaking.
7. Kiliyur Falls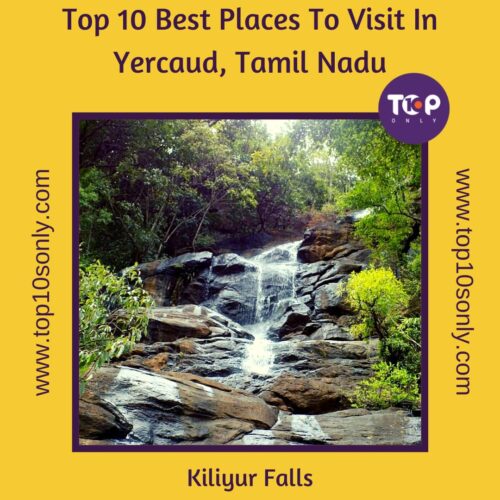 For a family or group outing, Kiliyur Falls is a good option. It's a prosperous getaway because of the clear water and the chilly climate. In Salem, the 300-foot-high Kiliyur WaterFalls is a well-liked tourist destination. They also provide swimming and boating opportunities nearby. To get to the Yercaud Kiliyur falls, travellers must descend 200–250 steps. For any senior visitors who may be present, there are sufficient seating and resting spots close to the steps.
Taking a rental vehicle or driving one's vehicle would be the best way to get to these waterfalls. The arena has plenty of parking space. It is recommended that visitors plan to spend more than three hours at Kiliyur Falls.
Best Time To Visit Kiliyur Falls
The best time to go there is during the daytime when there are opportunities for water activities. Pets are not permitted, however, admission is free to everyone. During the monsoon season, the water levels are at their highest. Just after monsoon is the ideal time to visit Kiliyur Waterfalls to experience their spectacular view.
8. Karadiyoor View Point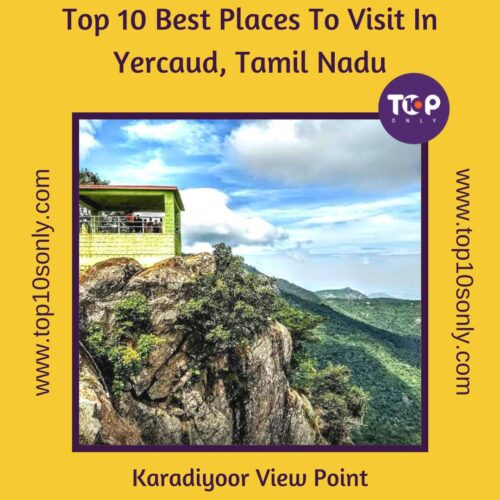 Due to its stunning views, the Karadiyoor Viewpoint at Karadiyoor is without a doubt the finest in Yercaud. The name Karadiyoor translates to "The Land of Bears" in Tamil. Karadiyoor was once home to thousands of sloth bears. However, today this scenic spot no longer contains the bears that gave rise to its name. Nonetheless, the spectacular Karadiyoor Viewpoint, which offers a wave of breathtaking scenery, boosts Yercaud's tourism economy. Sunrise and sunset are lovely to watch from this viewpoint. Trekking to this point in Yercaud can be muddy and mushy so make sure to wear comfortable clothing.
Best Time To Visit Kiliyur Falls
The ideal season for visiting the Karadiyoor Viewpoint is from November to March.
9. Sacred Heart Church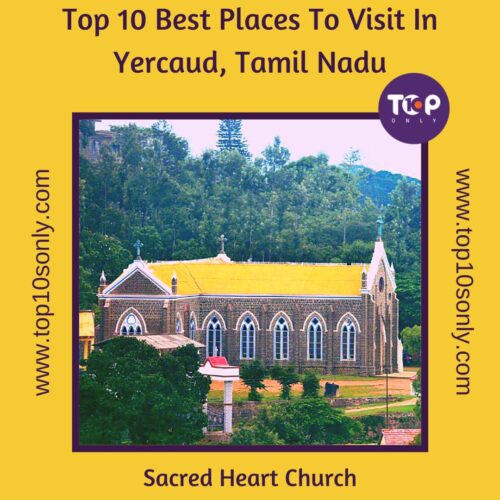 The Sacred Heart Church is a must-visit place in Yercaud's list of places to visit. This beautiful landmark is situated on a hill, and has been standing for over a century. It is a well-maintained place of worship that offers a serene atmosphere, making it an ideal retreat for those seeking tranquillity. The church boasts of exquisite interior architecture and monuments that blend harmoniously with the spiritual ambience of the place. With excellent connectivity to all parts of the town, it is easily accessible by any mode of transportation. Undoubtedly, it is a must-visit destination on Yercaud's list of attractions. Whether you're seeking spiritual fulfilment or simply wish to experience the beauty of the architecture, the Sacred Heart Church will not disappoint.
10. Government Botanical Garden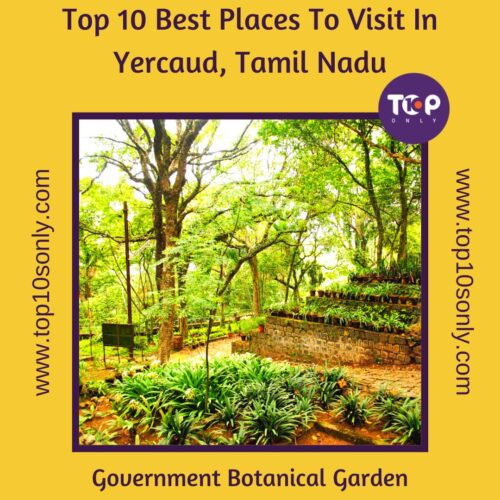 The Botanical Garden is located in Yercaud on Lady's Seat road, 3 kilometres from Yercaud Lake. One of the primary attractions of Yercaud is the Botanical Garden, which is maintained by the southern circle of the Botanical Survey of India. The Botanical Garden is one of the top tourist destinations in Yercaud since it is home to several unique types of flowers and plants. The Botanical Garden is broken up into various sections, including the sensory garden, water garden, rock garden, topiary garden, butterfly garden, and herb garden. All lovers of the outdoors should go there since they can see the most exquisite, vibrant, and unusual plants.
The Orchidarium as well as the greenhouse are located in the garden. It is one of two orchidariums administered by the Botanical Survey of India and is the third-largest orchidarium in the country. About 30 orchid species in danger of extinction reside in the Orchidarium. There is a sizable collection of local orchids there. The garden contains an astounding variety of exotic flowers and plants in addition to orchids. Several plant species that are endangered are protected here, including the stunning Neelakurinji flower, which blooms only once every twelve years. The Botanical Garden is home to a large number of these flowers. Yercaud botanical garden is among the best locations to learn about different plant species.
So those were the top 10 places to visit in Yercaud. We are sure you'll not regret a visit to this beautiful destination. With the exception of the months of July, August, and September, you can include Yercaud in your trip itinerary at any time of the year. The only thing left to do now is for you to pack your bags and get going!
Still looking for more picturesque locations to visit this vacation? Check out our article that lists the Top 10 Best Places To Visit In Yelagiri, Tamil Nadu.
Frequently Asked Questions About Yercaud
1. What are the places to visit in Yercaud?
Shevaroyan Temple, Pagoda Point, Yercaud Lake & Boat House, etc… are some of the places you can visit in Yercaud. Please read our article on the top 10 places in Yercaud to visit to know more places to visit, the best time to visit, etc…
2. What are the best places to visit in Yercaud with family?
Most tourist destinations in Yercaud are family-friendly. You could go boating on the lake, trekking, or wander among plantations and orchards. Take a look at our places to visit in Yercaud, Tamil Nadu article. It is bound to give you a lot of ideas you can go holidaying with your family.
3. What is famous in Yercaud?
The South Indian hill town of Yercaud is well known for producing silk, coffee, spices, and other textiles. It is also a beautiful tourist destination that attracts people all year round. Take a look at our Top Yercaud sightseeing places to visit to find out more about Yercaud.
4. How can I spend 2 days in Yercaud?
Plan your trip to visit the main attractions in 2 days. You can book a resort to stay over at while you are in Yercaud. Try to book a resort from where the spots to visit in Yercaud are easily accessible so you don't waste too much time travelling.
5. Which month is best for Yercaud?
Winter, which lasts from October to February, is the ideal time to visit Yercaud. The temperature is between 13 and 25 degrees Celsius. The region's summer season begins in March and lasts until June. Despite the intense sun, it is also a good time to visit Yercaud because the average temperature then is between 10°C and 29°C.