In a world where connections can be fleeting and superficial, true friendship stands tall as a beacon of unwavering support and profound significance. It is the sacred bond that weaves souls together, transcending distance, time, and circumstance. Genuine friendships are the essence of human connection, enriching our lives with laughter, solace, and a sense of belonging. Through life's ups and downs, true friends become steadfast pillars, offering encouragement, understanding, and a safe space to confide in. As we embark on this heartfelt journey, Top 10s Only proudly presents an exclusive collection of Top 10 Best True Friendship Quotes—each unique, brainstormed, and penned by our dedicated blog team—testaments to the enduring power and undeniable significance of these precious bonds in our lives.
Top 10 Best Friendship Quotes That Celebrate True Friendships
Prepare to be inspired by a collection of heartwarming and insightful quotes that pay tribute to the essence of true friendship! Here, you will find a treasure trove of inspirational friendship quotes about true friends, that are profound as well as witty. These pearls of wisdom are more than mere words and images. They encapsulate the beauty of genuine connections and the depth of emotions shared between kindred spirits. Each quote is a heartfelt reminder of the joy, support, and comfort that true friends bring into our lives. So, let these ten best true friendship quotes be the catalyst to celebrate those special true friends who brighten our day. Feel free to these soul-stirring words to honour the profound significance of genuine companionship and the cherished connections we hold dear. Let us acknowledge and celebrate the true friends who stand by us through thick and thin, making our journey through life all the more meaningful.
1. true friends are a deadly combo of spiderman And Hulk.
they're gonna "sense" And "smash" your troubles away!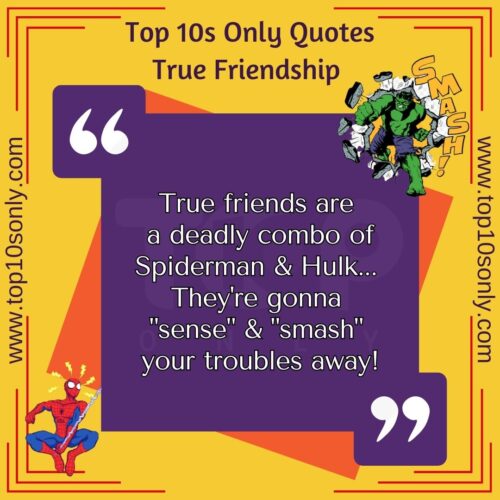 2. true friends know your news before social media.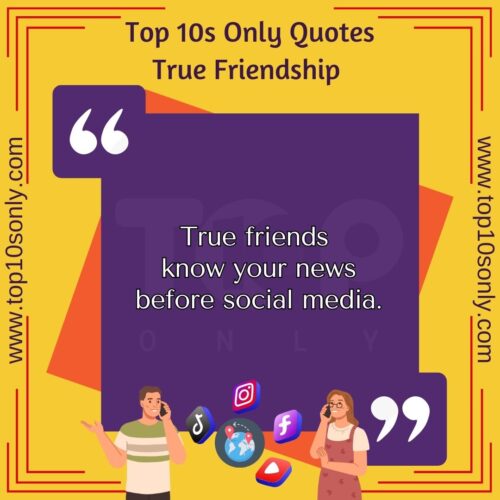 3. where others see your grin, a true friend reads the pain within.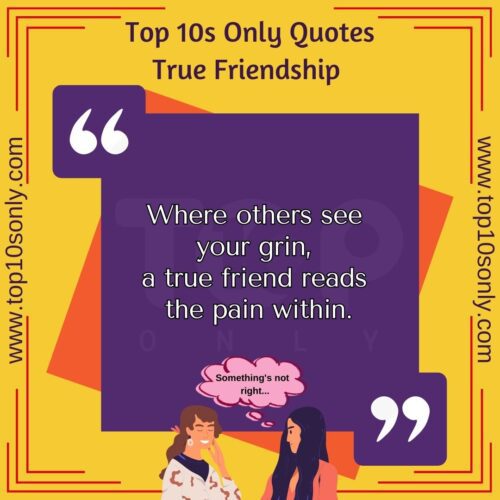 4. a true friend doesn't knock.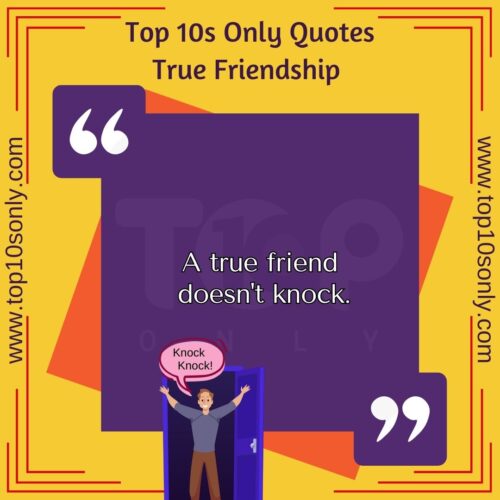 5. a true friend steps aside, unless you are taking a wrong ride.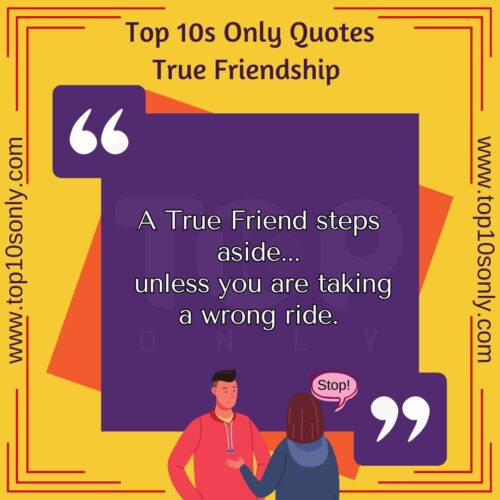 6. true friendship is like a stand-up comedy routine, where inside jokes and witty banter never fail to crack us up.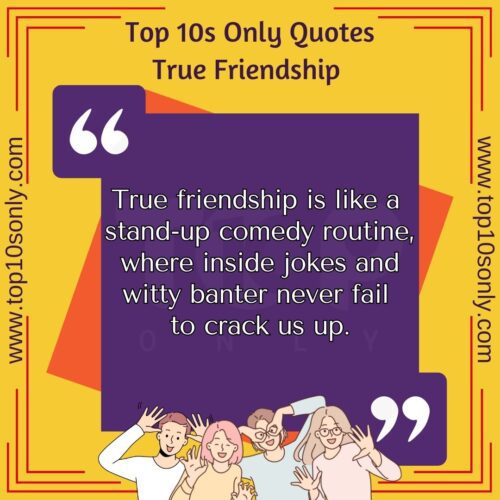 7. a true friend won't just hold up the mirror for you. They drag you to it!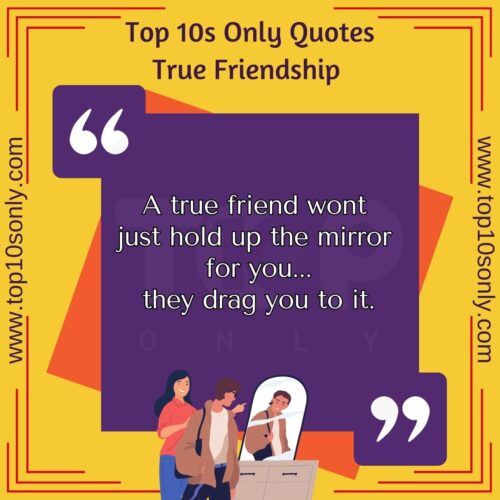 8. true friends are the ones who know your innermost secrets, and still don't blackmail you with it.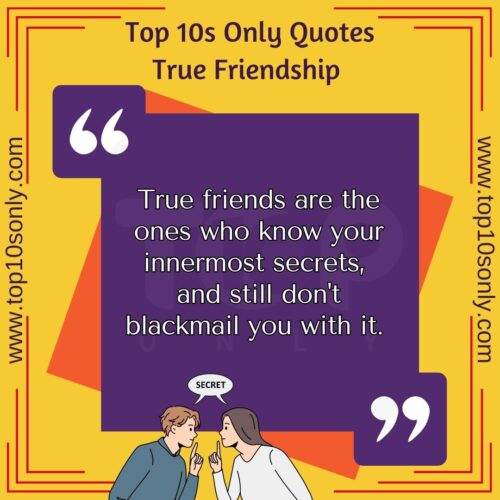 9. true friendship is when we can wipe our dirty hands on our friend's jeans without being judged.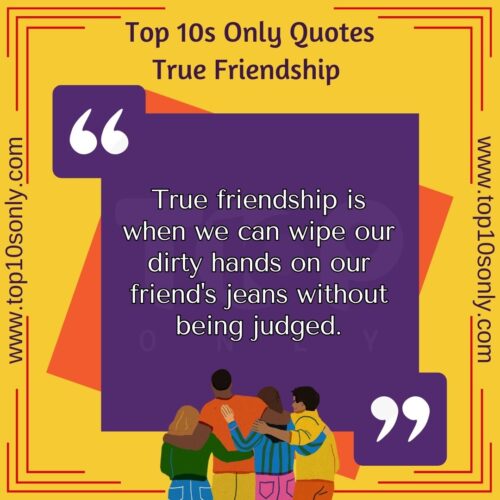 10. true friends are the therapists we never pay for, always there to listen to our rants And offer a shoulder to cry on.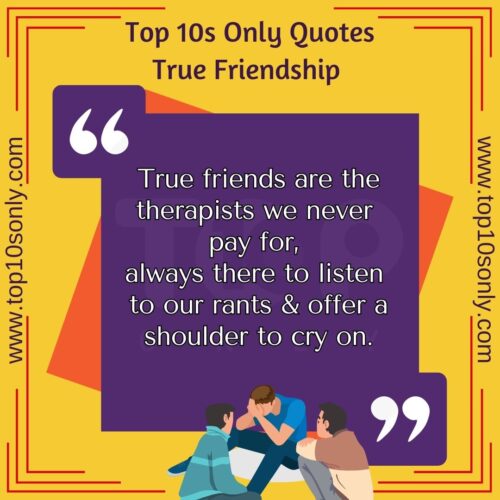 Share These top 10 best friendship quotes that Will Make Your True Friends Smile
We hope you have enjoyed the unique friendship quotes that were exclusively created by the Top 10s Only team as a heartfelt way to say thanks to the countless true friends who have been a genuine source of support. Expressing gratitude to these extraordinary individuals can often be challenging, but fear not, for these quotes about a true friendship serve as the perfect conduit for conveying your appreciation. Share these top 10 best friendship quotes about true friendship with the ones who hold a special place in your heart, and watch as their smiles light up the world. Let these poignant words be the conduit that strengthens the bonds of friendship, transcending distances and making hearts grow fonder.