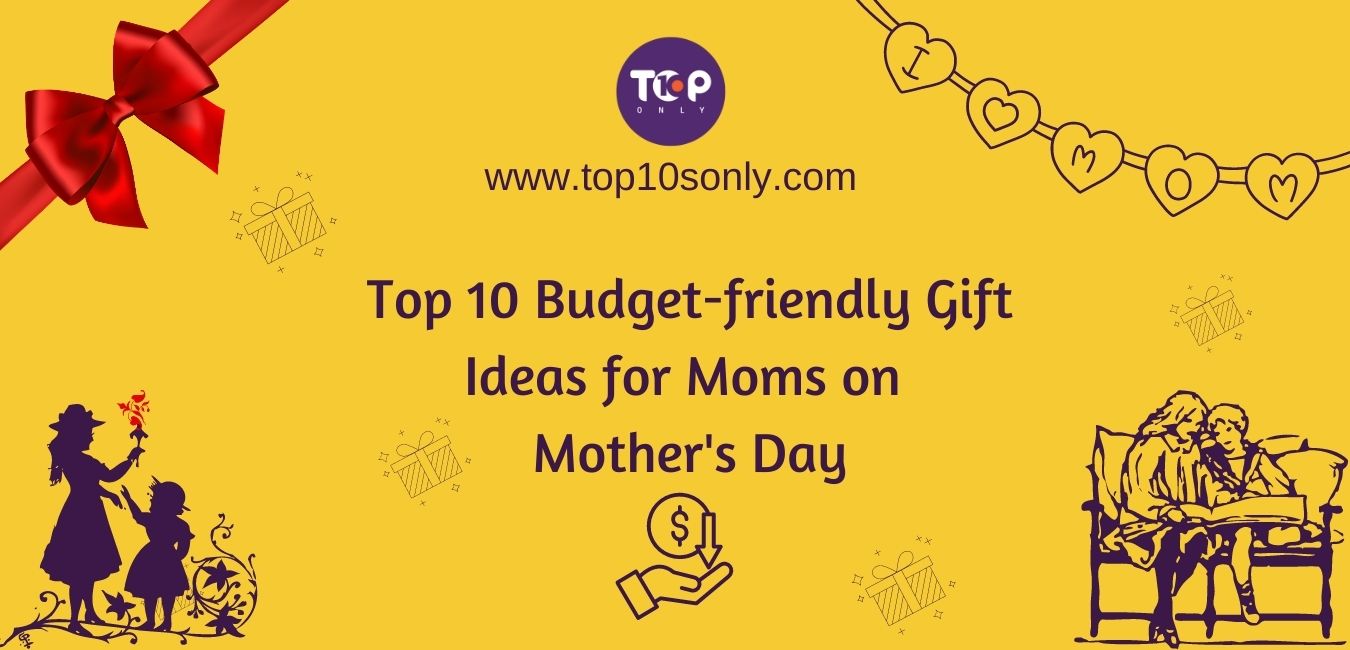 Mother's Day is a special occasion dedicated to honouring and celebrating the incredible women who have played a significant role in our lives. While we want to show our love and appreciation for our moms on this day, it's important to remember that heartfelt gestures don't always have to come with a hefty price tag. In fact, some of the most meaningful gifts can be both budget-friendly and sentimental, ensuring a beautiful surprise that resonates with your mom's heart. Top 10s Only brings you the Top 10 Best Budget-Friendly Gift Ideas For Moms On Mother's Day that are sure to bring a smile to your mom's face this year without breaking the bank. These budget-friendly gift ideas for moms will demonstrate that it's the thought and effort behind the gift that truly matters, showcasing your love and gratitude in a meaningful and memorable way.
List of Budget-Friendly Mother's Day Gifts
Delve into our selection of the finest 10 budget friendly Mother's Day gifts, guaranteed to create an unforgettable experience for your mom. We've curated a list for mothers to make them feel cherished. From heartfelt gifts to personalised hobby-based gifts, these affordable options are perfect for expressing gratitude and love without compromising on quality. Show your mom how much she means to you with these thoughtful and wallet-friendly presents. These carefully chosen presents will leave a lasting impression and show your appreciation without straining your wallet. Discover the perfect gift to make your mom's day truly memorable.
1. Gift Cards And Vouchers
Gift cards and vouchers make excellent gifts for Mother's Day. They offer the freedom of choice, allowing moms to select something they truly desire. With a wide range of options available, they provide flexibility, personalization, hobby-based gifts, and endless possibilities. Additionally, gift cards and vouchers are budget-friendly, convenient to purchase, and reduce the risk of disappointment. They give moms the opportunity to indulge in a spa day, enjoy a shopping spree, or savour a delicious meal, ensuring a memorable and cherished Mother's Day experience.
2. Mother's Day Special Gift Set
Indulge your mom with a budget-friendly gift set featuring an array of treats. Enhance her comfort with cosy cushions, infuse warmth with scented candles, and satisfy her sweet tooth with chocolates, cakes, cookies, and a selection of luscious dry fruits. This is the perfect Mother's Day gift you can send online, as this carefully curated hamper combines affordable luxury with heartfelt gestures, ensuring a memorable celebration for your mom. With a variety of irresistible goodies, like sweets, dry fruits, nuts, scented candles, etc., this gift set is a perfect blend of thoughtfulness and affordability, allowing you to shower your mom with love and appreciation without straining your budget. Make her day extra special with this charming assortment of delights.
3. Affordable Mother's Day Gift Items Featuring Photo Collages
Celebrate Mother's Day with heartfelt, sentimental, customised photo collage gift items. Wall hangings adorned with a carefully curated collage of cherished moments transform any space into a gallery of love. For a practical and timeless touch, choose a photo collage clock, blending functionality with sentimental value. Keep time in style, where each hour is a reminder of your special moments together. Give your mom a daily reminder of precious memories with a personalised photo collage mug, perfect for savouring warm beverages. Complete the sentiment with beautifully crafted photo frames, capturing the essence of your bond through custom collages. These unique gifts will touch her heart and create lasting memories on this special day. Let these customised items bring joy and warmth to your home, making every glance a trip down memory lane.
4. Best Mom Certificate With Trophy Or Cards
Honor the best mom in the world with a printed Best Mom Certificate accompanied by a trophy, an extraordinary gift that embodies your appreciation. Showcasing your heartfelt sentiments, this personalised Mother's Day gift recognises her exceptional love and dedication. The accompanying trophy adds an extra touch of admiration and recognition for her unwavering commitment. Let her proudly display this token of appreciation and be reminded of her incredible impact every day. Complement this heartfelt gesture with thoughtful Mother's Day cards that convey your deepest emotions. Celebrate her unconditional love, and make her feel truly special with this unique and meaningful gift ensemble.
5. Budget-Friendly Kitchen Storage Jars
This Mother's Day, help your mom organise her kitchen in style with budget-friendly kitchen storage jars. These practical and aesthetically pleasing jars are the perfect gift to declutter and beautify her cooking space. From sleek glass containers to charming ceramic jars, these storage jars are not only functional but also add a touch of elegance to any countertop or pantry. With airtight seals to keep ingredients fresh and organised, they make cooking and meal prep a breeze. Whether she needs a set for spices, grains, or snacks, these budget-friendly kitchen storage jars are the ideal solution. Surprise your mom with this thoughtful and practical gift, showing her that you care about her kitchen organisation and making her life easier.
6. Inexpensive Jewellery Boxes
This Mother's Day, delight your mom with a beautiful, budget-friendly jewellery box that combines elegance and functionality. A jewellery box makes a perfect gift to help her keep her precious treasures organised and protected. From sleek wooden designs to intricate mirrored boxes available online, choose from the range of styles to suit her taste. These boxes often feature multiple compartments and drawers, providing ample space for her favourite necklaces, bracelets, earrings, and rings. With soft velvet linings and secure closures, these jewellery boxes ensure her precious pieces remain untangled and safe. Not only do they offer practical storage, but they also add a touch of sophistication to her vanity or dresser. Show your mom how much you appreciate her with this timeless and thoughtful Mother's Day gift that celebrates her unique style and treasures.
7. Time-Saving Kitchen Gadgets
This Mother's Day, treat your mom to the gift of time-saving kitchen gadgets that make her cooking experience more efficient and enjoyable. Innovative sandwich makers help her whip up delicious and customised sandwiches with ease. Electric choppers take the hassle out of chopping vegetables and herbs, saving her valuable time and effort. With rotary graters, she can effortlessly grate cheese, vegetables, and more, adding flavour and texture to her culinary creations. These gadgets not only streamline the cooking process but also provide convenience and versatility in the kitchen. Show your appreciation for your mom's culinary skills by gifting her these time-saving kitchen gadgets that will make her cooking experience a breeze. Let her enjoy more moments with the family and less time in the kitchen, all thanks to these thoughtful and practical Mother's Day gifts.
8. Thoughtful Hobby-Based Gifts
Celebrate your mom's hobbies and passions this Mother's Day with thoughtful hobby-based gifts. If she loves reading, surprise her with a collection of her favourite books or a new release from her preferred genre. For music enthusiasts, consider high-quality ear pods that enhance her listening experience. Yoga mats are perfect for moms who enjoy practising yoga or meditation, providing comfort and support during their sessions. Inspire her artistic side with painting sets or jewelry-making kits, encouraging her creativity to flourish. DIY sets cater to crafty moms, offering a range of projects to explore. Gardening tools and seeds are ideal for green-thumbed moms, enabling them to cultivate their own beautiful gardens. By choosing hobby-based gifts, you're not only showing your support but also helping your mom indulge in activities that bring her joy and fulfilment.
9. Cosmetics And Beauty Products
Cosmetics, such as serums and nude lipsticks, can be wonderful, budget-friendly gift ideas for Mother's Day. These beauty products offer a touch of luxury and self-care, allowing moms to pamper themselves without a hefty price tag. Serums provide skincare benefits, promoting a radiant complexion, while nude lipsticks offer a versatile and effortless everyday look. With a wide range of affordable options available online, you can select high-quality cosmetics that suit your mom's preferences and make her feel special. It's a thoughtful way to help her feel beautiful and indulge in a little bit of self-care, all within a budget-friendly range.
10. Clutches And Wallets
Clutches and wallets are stylish and practical gift ideas for Mother's Day on a budget. These accessories are not only fashionable but also functional, providing a convenient way for moms to carry their essentials. With a wide variety of designs and colours available at affordable prices, clutches, and wallets offer a touch of elegance without breaking the bank. They make for a thoughtful and useful gift that can be personalised to match your mom's style, ensuring she feels special and appreciated on her special day.
Celebrating Mother's Day doesn't have to put a strain on your budget. With our top ten budget-friendly gift ideas, you can express your love and gratitude for your mom. From heartfelt DIY crafts to personalised trinkets, these affordable options allow you to create meaningful moments and make your mom feel cherished. Whether it's a custom photo collage item, a cosy cushion, or a printed Best Mom Certificate, these gifts are designed to make her day unforgettable. By selecting budget-friendly kitchen storage jars or a beautiful jewellery box, you help her stay organised and add a touch of elegance to her space. And don't forget the time-saving kitchen gadgets or hobby-based gifts that cater to her interests and passions. With these thoughtful and wallet-friendly presents, you can make Mother's Day a memorable occasion while staying within your budget. Show your mom how much she means to you without compromising on quality or thoughtfulness.
Frequently Asked Questions About Budget-Friendly Gifts For Moms On Mother's Day
1. What are some affordable gift ideas for Mother's Day?
Some affordable gift ideas for Mother's Day include personalised photo frames, coupons for services or experiences, potted plants or flowers, scented candles, a heartfelt letter or poem, or a thoughtful bookmark.
2. How can I find budget-friendly Mother's Day gifts that are still thoughtful and meaningful?
Look for sales, discounts, and promotions at local stores or online retailers. Consider DIY gifts that showcase your creativity and personal touch. Focus on items that hold sentimental value or reflect your mom's interests and hobbies.
3. Are there any DIY gift ideas that are both budget-friendly and special for Mother's Day?
Absolutely! You can create a personalised photo album, design and print custom-made cards, make a scrapbook filled with cherished memories, bake her favourite treats, craft a homemade spa kit, or assemble a customised gift basket with her favourite goodies.
4. What are some creative ways to show appreciation for my mom without spending a lot of money?
Offer to cook her favourite meal, write her a heartfelt letter expressing your love and gratitude, create a playlist of her favourite songs, plan a picnic in the park, organise a family game night, or arrange a movie marathon with her favourite films.
5. Can you suggest some unique and affordable Mother's Day gift ideas that my mom will love?
Consider gifting a plant or herb garden kit, a subscription box tailored to her interests (such as a book or beauty box), a DIY spa day kit with homemade bath salts and scrubs, a personalised recipe book filled with family favourites, or a virtual cooking or crafting class that you can enjoy together.