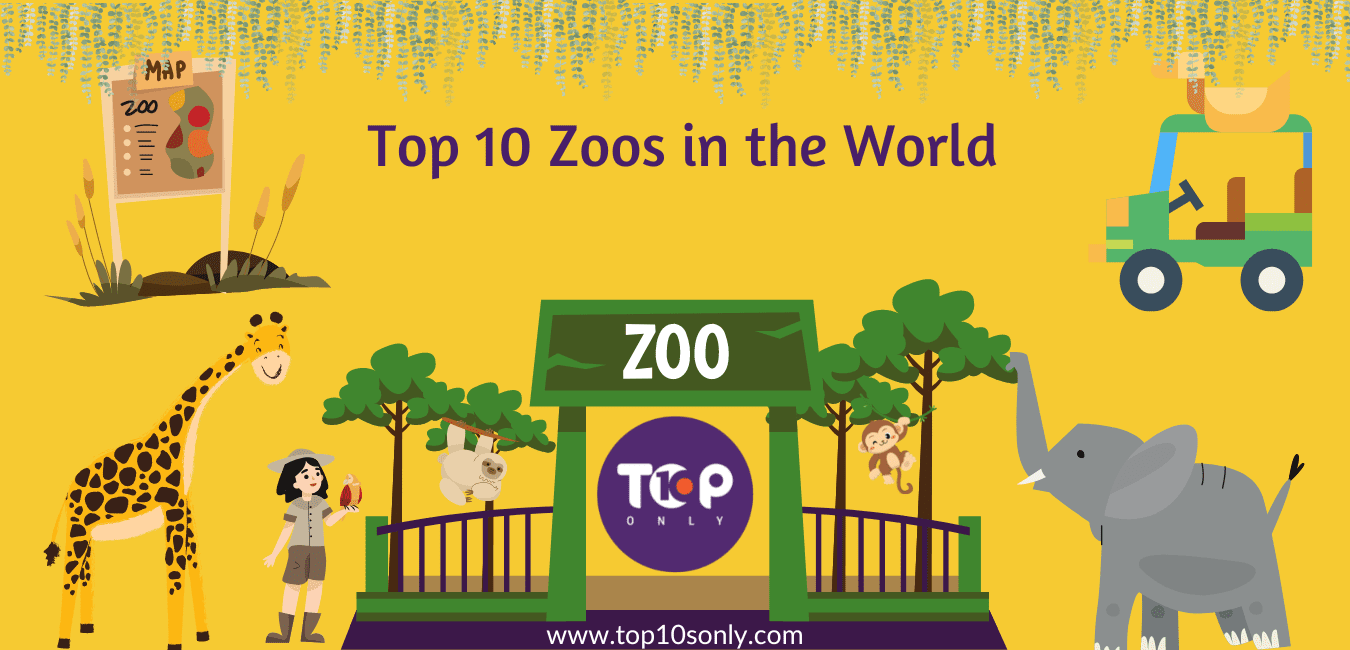 If you're wondering what are the top 10 best zoos in the world, look no further! Zoos are a fantastic way to experience the natural world up close and personal, providing a safe and enjoyable environment for both visitors and animals. The best zoos play a crucial role in conservation and education while providing a rare opportunity to see exotic and rare animals from all over the world. Zoos are particularly popular with families as they provide an enjoyable and educational outing for all. Top 10s Only has compiled a comprehensive list of the best zoos with the greatest collection of animals, giving you a sneak peek at some of the most amazing zoos the world has to offer. So, without further ado, let's take a virtual tour of the Top 10 Best Zoos In The World!
Top 10 Must-Visit Zoos Around The World
If you're an animal lover and enjoy exploring nature, then visiting a zoo can be an excellent experience. There are many zoos all around the world, but some stand out from the rest. In this list, we have compiled ten of the most popular zoos in the world, which offer unique opportunities to witness diverse flora and fauna from around the globe. Whether you're a solo visitor or planning a family trip, these top-rated zoos are sure to leave visitors with unforgettable memories.
1. Henry Doorly Zoo – Nebraska, USA
Omaha's Henry Doorly zoo is known for its effort in the conservation of animals and research. The zoo was initially a Riverview park zoo with 120 animals. Later, the zoo received a large donation from the World publishing company.
Desert Dome: This is the world's largest indoor desert and it is much bigger than it looks from the inside. Inside the desert is divided into three sections namely the Namib desert, Red Center of Australia and the Sonoran Desert. There are many birds, lizards, snakes and reptiles present inside the desert dome.
Kingdoms of the Night: this is located right after the desert dome so it is pretty easy to find. There are many nocturnal animals present in this section. In fact, this is the largest nocturnal exhibit in the world. There were some interesting animals such as mole rats, aardvark, alligators, beavers, frogs, and bats.
Children's Adventure Trails: This section has many interactive activities for kids to explore and enjoy. The prairie dog exhibit has tunnels through which kids can enter the prairie dog habitat and look at them via a glass bubble. There is also a stream, spider web and treehouse for kids to climb and enjoy.
Suzanne and Walter Scott Aquarium: The aquarium is also the largest in any zoos across the world. There are many species of crabs, sharks, sea turtles and penguins present here. There is a 70 foot shark tunnel that is very thrilling to walk through.
2. Singapore Zoo – Singapore
Singapore Zoo is one of the most visited zoos in the world and it is entirely cage-free. It uses mostly glass and moat to let the animals stay in their natural habitat and the visitors get to see the animals up close. It is best known for their conservation efforts to protect crocodiles.
There are four special features in the Singapore Zoo that the travellers can have fun visiting:
Wildlife Reserves Singapore: The animals in wildlife reserves are well treated and they also have a research and breeding center that breeds endangered species. Since the environment at the park is similar to their natural space, animals show improved behavior and are well protected. The park also is huge on sustainability by providing water filling stations and limiting the use of disposable plastic.
Juron Bird Park: The bird park has almost all of the bird species in the world. There are four large free to fly aviaries that almost bring to life the natural habitat of these birds. More than 100 penguins and many species of pelicans have found a home at the Jurong bird park. It also has a breeding and research center that takes special care in breeding different types of birds.
Night Safari: Night Safari is a thrilling experience filled with fun for everyone. Some of the animals that can be spotted during the night safari are Asian lions, Asian elephants, Pangolins and many more. There are also special shows that are conducted to entertain the visitors. Creatures of the night show lets you explore the nocturnal animals such as binturongs, civets etc.
River Safari:The zoo has a river and aquarium theme. This is Asia's first river based theme park and therefore it is a must visit. The River Safari offers you and your family fun boat rides that take you around the park. During the trip, you get to witness ten different ecosystems and more than 300 species of animals.
If you have Singapore on your mind, be sure to visit the zoo for some beautiful memories and see so many species of wildlife.
3. San Diego Zoo – California, USA
San Diego Zoo is known for implementing cageless and open-air exhibits of animals. The zoo also does a lot of conservation activities across many disciplines of animals. There are more than 200 scientists carrying out research on many animals. Housing more than 3700 animals you can find pandas, gorillas, monkeys and many more species of the animal kingdom in this zoo. There are also many endangered species of animals that are present here.
Swimming Polar Bears: Polar bears are very famous at San Diego zoo. The exhibit looks well lit up and you can see the bears having a time of their lives. There are many viewing points too so that the visitors can get a better look at them. One of them lets you see the bears underwater so you can see them swim. Watching them eat melons and carrots is a treat to watch.
Giraffes: Any zoo has giraffes and San Diego Zoo definitely has them too. They look gorgeous as they eat from the acacia branches and walk through. When you look at them curiously they do come closer to take a look at you too.
Elephant Spa: Elephants are a huge attraction at this zoo. If you are lucky to visit them at the right time, you can see the elephant take a bath and the zookeeper trimming their nails. Also any of the zoo keepers in the zoo would be able to answer any questions you may have about the animals.
Skyfari: The skyfari is an aerial tram that takes you around the park for an amazing view. You can see the park from a bird's eye view and also get a look at the San Diego skyline. It also gives your tired feet some rest and see some amazing animals from top.
If you are on a trip to San Diego, be sure to visit the zoo and have loads of fun watching the animals. You can also choose to go for a guided tour and get to know the zoo a lot more.
4. Berlin Zoological Gardens – Berlin
Berlin Zoological Gardens is located on the Western side of Berlin and it is one of the most visited sites in Europe. The Zoo is not just a zoo but there's a lot more to it. The zoo also has an app which the visitor can download and decide which part of the zoo he wants to visit. Berlin Zoo is the only zoo which has successfully bred all species and subspecies of flamingos. Another rare species found here is the black rhino. Housing more than 18,000 animals across 1600 species, the zoo is a marvel in architecture and natural beauty.
The animals live in asian style pagodas and houses that resemble closely to their natural habitat. The carnivore house has big cats and small predators, namely ring-tailed mongoose and narrow-striped mongoose. In the basement, there is a view of the nocturnal animals too. The bird house hosts several rare birds and several species of hornbills and parrots.
The zoo also has an aquarium which displays aquatic life , reptiles and most amphibians.
Apart from this, the zoo also supports conservation of wildlife species in other countries through the Stiftung Artenschutz species protection foundation.
The zoo has both historical and natural significance. There are always new babies the zoo is welcoming due to its breeding programs. If you are bringing kids to the zoo, it is very kid-friendly and has a petting zoo specially for kids to enjoy.
5. Taronga Zoo – Australia
Taronga Zoo is Australia's largest zoo which is located in Sydney. Hosting over 4000 animals, the zoo spans across an area of 69 acres. You can get to the zoo with the help of a ferry from Circular Quay and the zoo is full of kangaroos,, koalas and numerous other species of animals. Some of the special species of animals include a platypus and asian elephants. The zoo also has two sun bears that are very rare to find. There is also a kids trail which includes farm animals such as goats, chickens, sheep and pigs that the kids can touch and feed. 
The zoo also offers overnight family experience called Roar & Snore. There is also an aerial adventure called Wild Ropes that allows the visitors to climb and cross an obstacle path across the zoo while watching the animals.
6. Bronx Zoo – New York, USA
The zoo which covers an area of 265 acres is one of the largest metropolitan zoos in the world with more than 6000 animals. There are animals of all sizes such as Asian elephants, snow leopards, grizzly bears and ring-tailed lemurs. There are many exhibits inside the zoo such as World of brids, Sea lion feedings, Madagascar, African plains and Himalayan Highlands. Other attractions include Jungle World, Wild Asia Monorail, Children's zoo, Butterfly Garden and the Congo Gorilla Forest. There is also a treetop adventure that takes you on a zipline.
Congo Gorilla Forest: The Central African rainforest was recreated for lowland gorilla and okapi. The exhibit gives the visitors a realistic experience of the forest complete with waterfalls, tree tunnels and many ferns around the entire forest.
Jungle World: You can spot langurs, leopards and many more mammals in this indoor exhibit. Most of the animals here are from the Asian jungles.
Madagascar: Check out some rare animals such as wide eyed and ring tailed lemurs and red-ruffed lemurs in this section.
Tiger Mountain: Tiger mountains lets the guests enjoy looking at the Siberian mountain at close quarters.
7. Welsh Mountain Zoo – Colwyn Bay, Wales
The Welsh Mountain Zoo is set in the northern coast of Colwyn Bay. The zoo houses a variety of animals that are endangered and serves as a conservation charity. There are many species of animals present here. There is also a jungle adventure for all children who visit here known as the Tarzan trail. There is also a restaurant and penguin cafe here. The main purpose of the Welsh Mountain Zoo is to conserve the animals and raise awareness about wildlife. 
8. Tiergarten Schönbrunn (Vienna Zoo) – Austria
The Vienna Zoo is situated in a portion of the world-renowned Schönbrunn Palace grounds. This is the oldest operating zoo in the world, having been founded during the imperial era as a menagerie of exotic animals. The main purpose of the zoo is species conservation and nature conservation through science. There are many attractions in the zoo, including giant pandas. Some of the other attractions include a rainforest house, an aquarium, and an arctic polar region. This zoo is the first to have an elephant that was born in captivity and the first panda born through artificial insemination. There are plenty of things to do and see in this zoo. There are continuous guided tours and nighttime tours happening in the zoo for guests to enjoy.
9. Yokohama Zoo – Tokyo, Japan
Yokohama Zoo is a unique zoo which has as few fences as possible so that animals live in their natural environment as much as possible. The zoo has many divisions such as Asian tropical forest, subarctic forest, amazon jungle, African Tropical RainForest and Japanese Countryside. The zoo also has a breeding center which was started with the sole purpose of research and breeding.
There is also a play area for kids, restaurants, nature trails, cafes and plenty of places for families to sit and enjoy their picnic.
10. National Zoological Gardens of South Africa – Pretoria, South Africa
While it is not the most well known zoos in the world, National Zoo is one of the best for research and breeding programs. The standing proof of their conservation efforts is that most of the animals in the exhibit were born here. Spread across a large area of 210 acres, there are about 9000 animals from 705 species in the zoo.
There are golf carts across the zoo that can be rented on an hourly basis to take a trip around the park. The zoo also offers night trips and sleep overs. Additionally there is also a night tour and reptile park in the zoo.
These ten zoos with the best exhibits provide a unique and unforgettable experience for visitors of all ages. With their innovative and interactive exhibits, they offer a glimpse into the fascinating world of animals and conservation efforts. These zoos are not just places to see animals, but also institutions dedicated to education, research, and preservation. They have set a high standard for zoos around the world, inspiring them to prioritize animal welfare, environmental conservation, and public education. Visiting these zoos is not just a fun activity, but also an opportunity to learn, appreciate, and connect with the natural world.
If you enjoyed learning about the top 10 zoos in the world, you might also be interested in checking out our article on the Top 10 Best Circuses Around The World. Click here to read more and discover the best shows and performances that will leave you in awe!