Are you feeling exhausted from your daily routine and longing for a rejuvenating escape amidst the tranquillity of nature? Look no further than Ponmudi, the hidden gem nestled amidst nature's bounty in the state of Kerala, India. With its enchanting forests, gushing waterfalls, and misty peaks, Ponmudi is a tranquil hill station that will leave you spellbound. As you ascend the hill, the crisp mountain air fills your lungs, and the awe-inspiring vistas transport you to a world of pure bliss. Located at an altitude of 1100 metres above sea level, Ponmudi boasts a pleasant climate all year round. Whether you're a nature lover, an adventure seeker, or just looking to unwind in peace, Ponmudi has something to offer everyone. Trekking, bird-watching, and camping are just a few of the many activities available. Explore the Top 10 Best Places to Visit in Ponmudi, including the Peppara Dam And Wildlife Sanctuary, Mankayam Falls, Ponmudi Viewpoint, and many more, and be prepared to be enchanted by the breathtaking landscapes, mesmerising waterfalls, and exotic wildlife that await you in this natural wonderland. Each destination is unique, offering a different experience that is sure to keep you entranced.
Top 10 Best Places To Visit In Ponmudi
Top 10s Only is your ultimate guide to Ponmudi's best tourist places, helping you discover the top attractions and what is special in Ponmudi. From the picturesque waterfalls and breathtaking viewpoints to the rich wildlife and adventurous trekking trails, Ponmudi has something for everyone. Let Top 10s Only help you explore and make the most of your visit, ensuring that you don't miss out on experiencing the beauty and serenity of this hill station.
So, pack your bags, leave the hustle and bustle behind, and head to Ponmudi – a paradise on earth!
1. Peppara Dam And Wildlife Sanctuary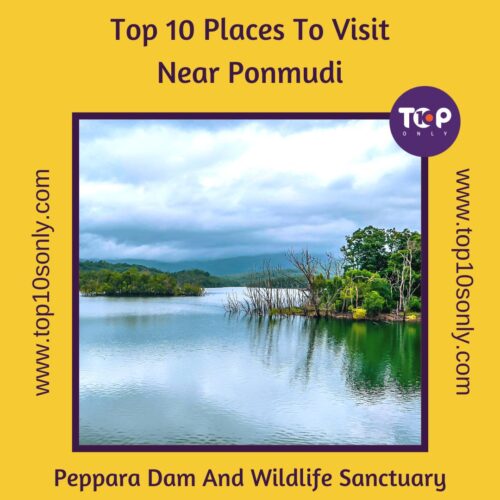 Escape into a world of biodiversity and natural beauty at the Peppara Wildlife Sanctuary! This 53 sq km sanctuary, established in 1983, boasts a diverse range of forest types, including tropical evergreen, swamp, and deciduous forests. Peppara Wildlife Sanctuary is easily accessible, with Thiruvananthapuram just 44 km away.
As you explore the sanctuary's winding roads and hiking trails, you'll encounter a wealth of wildlife, from majestic tigers and leopards to playful bonnet macaques and Nilgiri langurs. With an average annual rainfall of 2500 mm, the sanctuary's rivers and reservoirs provide ample opportunity for boating and fishing. And for those looking to escape the summer heat, the temperature ranges from a cool 16 °C to a balmy 35 °C. Take in stunning views of the sanctuary's major peaks, including Chemmunjimottai and Arumukhamkunnu, which reach altitudes of over 1000 metres. And for the adventurous at heart, trek to the picturesque Bonafalls, Vazahuvanthole waterfalls, and Kalarkad waterfalls. Additionally, visitors can explore the settlement areas within the sanctuary.
Peppara Wildlife Sanctuary is truly a nature lover's paradise, offering a chance to experience the serene beauty of nature. With its diverse flora and fauna, breathtaking waterfalls, and adventurous treks, Peppara Wildlife Sanctuary is a must-visit destination for anyone seeking an escape into the wilderness. If you're looking for the best Ponmudi sightseeing places, Peppara Wildlife Sanctuary should definitely be on your list. So get your backpack ready, put on your hiking boots, and get ready to embark on an unforgettable journey through the verdant forests of Peppara Wildlife Sanctuary.
Best Time To Visit Peppara Dam And Wildlife Sanctuary
Peppara Wildlife Sanctuary is open throughout the year, and the best time to visit is from January to March.
2. Varayadumotta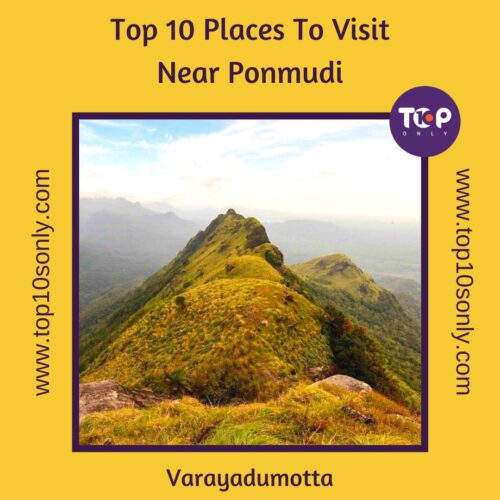 Discover the ultimate trekking experience in the picturesque Ponmudi hills of Kerala at Varayadumotta – a mountain ridge unlike any other. Set at an altitude of 1100 m, it is the tallest peak in the Ponmudi mountain range and a haven for the majestic Nilgiri Tahr, fondly called Varayadu by locals. This isn't just any ordinary trek – it's a journey that will test your endurance and push you to your limits. With varying elevations and unique shapes, the ridge offers an exhilarating challenge that adventurers seek. After Agastyarkoodam and Meesapulimala, this is the third most challenging trek in South India.
The trek takes you through the evergreen shola forests and dense bamboo jungles, with slippery trails and steep climbs that require caution and skill. It is an 18 km trek that takes approximately 10 hours each way, with no water sources on the main ridge, so you must carry enough water with you. But the reward is worth it – as you reach the summit, you'll be greeted with stunning views of the mountains and valleys around you, an experience you'll cherish for a lifetime. It is necessary to obtain permission in advance to hike along the ridge because it is a protected area within the Palode Reserve Forest. The two main trek routes to Varayattumotta are from the Mankayam checkpoint and the Ponmudi checkpoint, respectively.
So, what are you waiting for? Strap on your boots, grab your backpack, and take on the adventure of a lifetime at Varayadumotta, one of the good tourist spots in Ponmudi, Kerala.
Best Time To Visit Varayadumotta
Trekking to Varayadumotta is not available during the monsoon season. So, the best time to visit is from November to May.
3. Mankayam Falls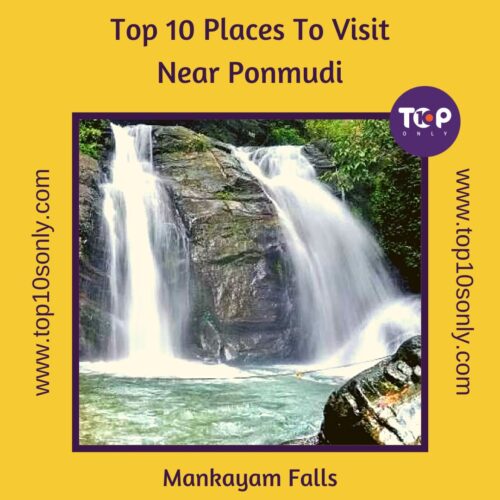 Are you looking for an eco-tourism spot with breathtaking views and a tranquil atmosphere? Look no further than Mankayam Falls! Tucked away near Palode in the Nedumangad taluk of Trivandrum district, Kerala, this spot is just 40 km from Ponmudi and 43 km from Trivandrum. Mankayam Falls is the perfect destination for those who seek a low-impact alternative to standard commercial tourism.
This picturesque spot is situated at an altitude of 500 metres and features milky cascades that are simply stunning. This is one of the largest falls in the area, and is sheltered by a sloped landscape with rocky patches. At the bottom of the falls, there is a small pond that provides a refreshing spot for a cool dip. In addition to the falls, there are two smaller waterfalls in the Kurisadi area. The entire area is covered with lush forest vegetation on the banks of the river. Mankayam also offers diverse trekking trails, with the one leading to Ayampara Waterfalls being a favourite among locals. Camping options are also available, making this spot the ideal location for a weekend getaway. The Vanasamrakshana Samithi (Forest Protection Group), working under the Forest Department, oversees the guiding facilities at Mankayam, and they have trained guides who can arrange for camping facilities.
So if you're searching for a serene and refreshing experience in the lap of nature, head to Mankkayam Falls in Ponmudi Hills, the best tourist place ever.
Best Time To Visit mankayam falls
Mankayam Waterfalls is open from 9 am to 5 pm, and you'll surely be enchanted by its beauty and tranquillity.
4. Ponmudi Viewpoint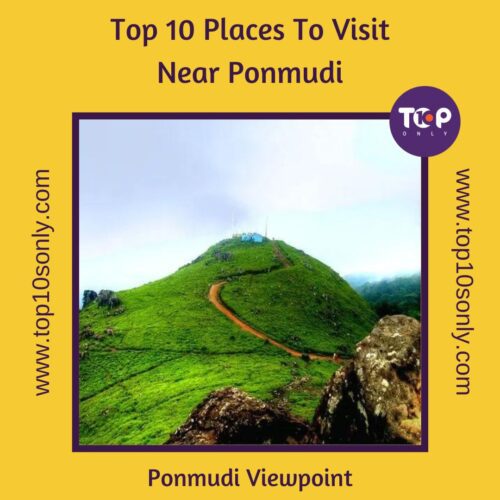 Ponmudi Viewpoint is a popular tourist destination as it offers a unique blend of serene natural beauty and exciting outdoor activities, making it an ideal location for vacationers seeking a quiet getaway. As you make your way to the top of the mountain, you will pass through beautiful tea estates and experience the magical calm of the location, taking over your senses. Once you reach the Ponmudi viewpoint, you can enjoy a 360-degree view of the Western Ghats' surrounding environment. The entire area appears to be wrapped in a green blanket, and the view is truly a visual pleasure.
Apart from the stunning vistas, the Ponmudi viewpoint also offers a range of outdoor activities for visitors. You can go for a trek or hike in the hills, explore the nearby waterfalls, or simply enjoy a picnic amidst the lush greenery. The hill station is also known for its rich biodiversity, and nature lovers can spot a wide range of flora and fauna while exploring the area.
Exploring Ponmudi's important places is a must-do when visiting Ponmudi, and the stunning Ponmudi viewpoint is a prime example, offering visitors a variety of outdoor activities to enjoy. Its serene natural beauty, exciting outdoor activities, and rich biodiversity make it an ideal location for travellers of all kinds.
Best Time To Visit Ponmudi Viewpoint
October to March is the ideal time for a trip to Ponmudi Viewpoint.
5. Koyikkal Palace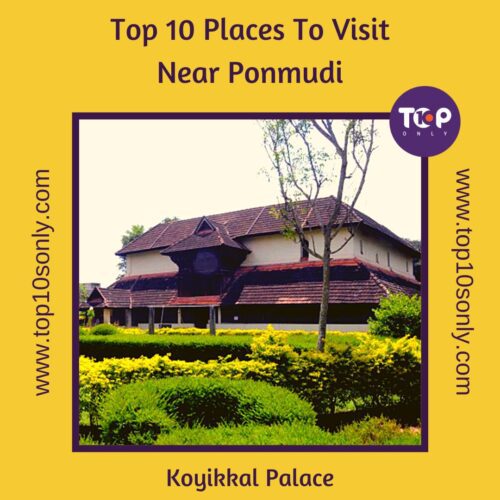 The Koyikkal Palace in Nedumangad, Thiruvananthapuram, is not only a cultural gem of Kerala but also one of the fascinating tourist places near Ponmudi that takes you on a journey into the past. Between 1677 and 1684, this magnificent double-storey palace was constructed for Umayamma Rani of the Venad Royal Family. It is currently home to the Numismatics and Folk Museum, two outstanding museums.
Step inside the Folklore Museum, and you'll be greeted with a mesmerising display of musical instruments, household utensils, and models of folk arts, giving you an authentic experience of Kerala's traditional lifestyle. It is also the only place in the state where you can see a unique musical instrument called the Chandravalayam. Reciting the ballad Ramakathappattu while playing the Chandravalayam is an experience you won't find anywhere else. The Numismatics Museum, on the other hand, will take you on a journey through Kerala's rich trade history. With an extensive collection of rare coins, including those presented to Jesus Christ himself, the Amaida, and coins used by various dynasties across India, it is a treasure trove of history. The palace itself is a marvel of Kerala-style architecture, with its distinct gabled roofs and beautiful frescoes and murals on its walls depicting scenes from Hindu mythology. The palace is situated amidst lush greenery, adding to its tranquil and serene atmosphere.
Best Time To Visit Koyikkal Palace
Take advantage of the opportunity to visit the Koyikkal Palace and its museums, which are open every day except Mondays from 09:00 to 17:00 hours. This cultural attraction is a must-visit whether you're an art enthusiast or a history buff.
6. Thavakkal Waterfalls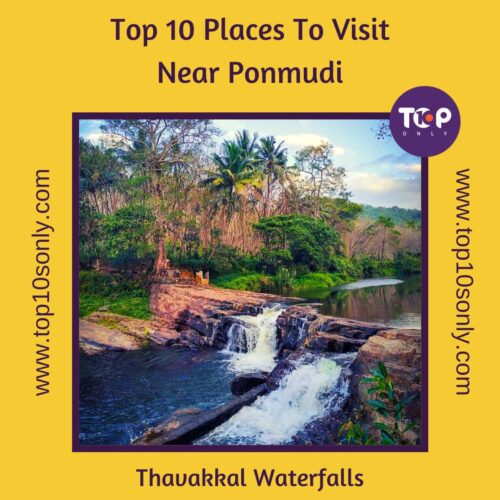 Thavakkal Waterfalls is a hidden paradise nestled in the verdant hills of Thiruvananthapuram, Kerala. This breathtakingly beautiful destination offers a serene escape from the hustle and bustle of everyday life. The waterfall is located near the town of Vithura and can be accessed via a scenic 1.8 km walk from the Vithura Bus Stand. The area is well-connected by road and offers stunning landscapes and a tranquil atmosphere, making it a popular weekend getaway for locals.
The waterfall cascades amidst the dense forest, creating a mesmerising spectacle that is accentuated by the soothing sound of gushing water and a cool breeze. Visitors can rejuvenate their senses and unwind amidst the natural beauty of this serene spot. Thavakkal Waterfalls is a must-visit destination for adventure enthusiasts with its rock climbing spots, natural infinity pool surrounded by waterfalls, and free fish spa. Visitors should exercise caution when swimming in the deep waters of the infinity pool, especially during the rainy season when flash floods can occur. Restroom facilities are not available, so visitors should bring their own food and water and avoid littering. The area is surrounded by lush greenery and offers several nearby attractions, including the Peppara Dam and Chittipara Rock, that are worth exploring. The Mankyam River, which runs alongside the waterfall, adds to the serene ambience of this natural wonder. To reach Thavakkal Waterfalls, travellers can take a flight to the Trivandrum International Airport, which is around 45 km away, and then take a taxi or bus to Vithura town. Alternatively, they can take a train to Trivandrum Central Station, which is about 40 km away, and then take a bus or auto-rickshaw to Vithura. Driving via Nedumangad Road or Kallar Road is another option.
Thavakkal Waterfalls is one of Ponmudi's best places to visit, a wonderful experience that offers visitors a chance to connect with nature and enjoy the beauty of Kerala's natural wonders. Thavakkal Waterfalls is an awe-inspiring destination that should be at the top of every traveller's bucket list.
Best Time To Visit Thavakkal Waterfalls
Tourists can visit Thavakkal Waterfalls from the months October to February.
7. Neyyar Dam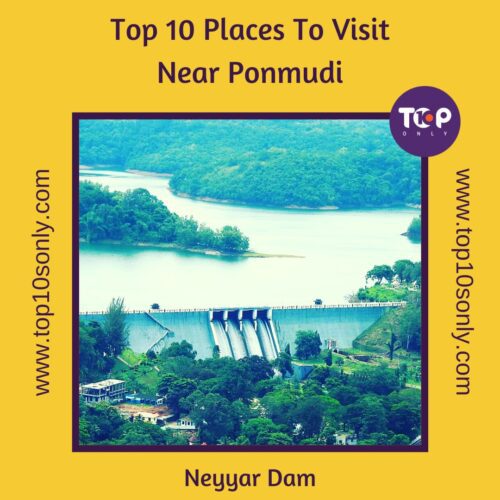 The Neyyar Dam is a must-see on the list of the top 10 best places to see in Ponmudi. It gets its name from the Neyyar River, and this scenic dam site and beautiful lake are a haven for tourists seeking serenity and isolation. Visiting Neyyar Dam, with its awe-inspiring natural beauty, is sure to lift your spirit. The dam, home to a variety of flora and fauna, is a part of the Neyyar Wildlife Sanctuary, from elephants to wild boars to a vast array of medicinal herbs. For those who appreciate nature, Neyyar is truly a paradise.
The dam was built in 1958 and is situated in the Trivandrum district of Kerala, hidden among the lush vegetation of the Western Ghats. More information about this lake and wildlife sanctuary, which is home to a number of medicinal plants and herbs, can be found by taking a tour of the Neyyar Dam. The wildlife sanctuary of Neyyar Dam extends from the Neyyatinkara Taluk to the Mundanthurai Tiger Reserve, located in Tamil Nadu. This sanctuary is the most visited attraction near Neyyar Dam and features a number of tourist hotspots, including Deer Park, Crocodile Park, Lion Safari Park, and Watch Tower. Trivandrum Airport and Trivandrum Railway Station are the closest airport and train stations, respectively, and are both 38 km and 32 km away from the dam, respectively.
Neyyar Dam and its surrounding wildlife sanctuary in Kerala offer a breathtaking experience for nature lovers and adventure seekers alike. With its proximity to the Trivandrum airport and railway station, it is easily accessible for tourists. Whether you're interested in trekking, wildlife spotting, or simply taking in the beauty of nature, a tour to Neyyar Dam is an experience that should not be missed.
Best Time To Visit Neyyar Dam
Neyyar Dam is best visited from September to May.
8. Vazhvanthol Waterfalls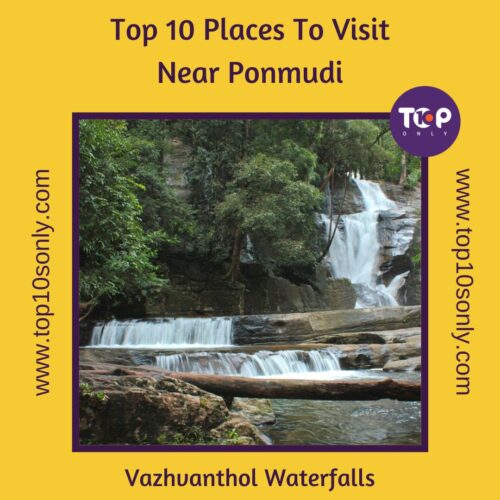 Vazhvanthol Waterfalls in Ponmudi, situated near Bonacaud in the Thiruvananthapuram District of Kerala, is an enchanting waterfall that can be easily accessed, making it a popular destination for visitors. The Vazhvanthol Waterfalls' distance from Trivandrum is about 48 kilometres. Upon obtaining entry passes from the check post, visitors can drive about one kilometre before continuing on foot for more than two kilometres to reach the waterfall. This trekking experience allows visitors to appreciate the beauty of the surrounding forests and hills. Be sure to pack the handy gadgets mentioned in our Top 10 Best Must-Have Travel Gadgets For Trekking article.
Apart from the tranquil waterfall, the area is known for its rich fauna, including a variety of butterflies that will captivate nature lovers. The forests surrounding the waterfall are also home to many exotic plants and animals, adding to the charm of the place. As there are no restaurants or shops near Vazhvanthol, visitors are advised to bring their own food and drinking water, providing an opportunity for a picnic amidst nature.
Vazhvanthol Waterfalls is an excellent option for nature lovers and adventure seekers looking for the best places to visit in Ponmudi. Its scenic location, refreshing waterfall, and verdant forests make it an ideal spot for trekking, picnicking, or spending quality time with family and friends.
Best Time To Visit Vazhvanthol Waterfalls
Vazhvanthol Waterfalls is best visited during the monsoon season. However, it is advised to take proper precautions as the place could be slippery.
9. Kallar Meenmutty Falls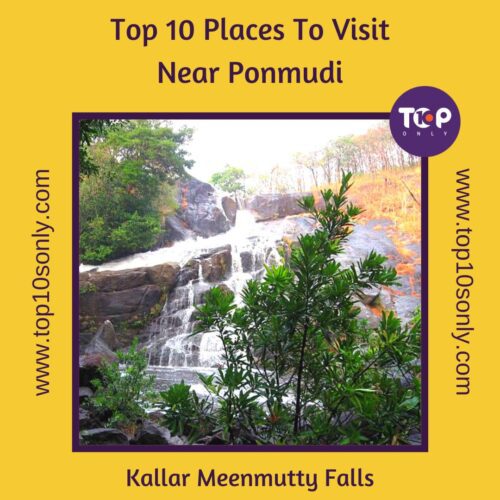 If you're exploring the wonders of Kerala, Kallar Meenmutty Waterfalls is a must-visit destination and one of the top 10 tourism spots in Ponmudi. This hidden gem is nestled in the Western Ghats mountain ranges, just 16 km away from Ponmudi Bus Station, and is a breathtaking natural wonder formed over the Kallar River. The serene water cascading from the golden peak of Ponmudi creates a picturesque waterfall that promises a glimpse of natural beauty that will leave you enchanted. It is a perfect place for nature enthusiasts and photography enthusiasts to capture the beauty of nature at its finest. With its mesmerising views and tranquil surroundings, a visit to Kallar Meenmutty Waterfalls is sure to leave you rejuvenated and refreshed.
The trek to the falls is an adventure in itself, with a 2-3 km trail through tropical woods flanked by gigantic trees forming a green canopy over the path. The trail is accompanied by the soothing sound of the stream and the occasional sighting of rare birdlife and butterfly species. You can even take a dip in the natural pools dotted along the way, but beware of the slippery rocks. The waterfall itself is relatively small in height, but it makes up for it with its striking beauty. Numerous small natural pools surround the waterfall, scattered with attractive round-shaped boulders and brightly coloured pebbles. Visitors are prohibited from getting too close to the falls, but you can still enjoy the beauty of the cascading water from a safe distance.
So why wait? Explore the natural wonders of Kallar Meenmutty Waterfalls today and immerse yourself in the tranquil beauty of nature.
Best Time To Visit Kallar Meenmutty Falls
The best time to visit is from mid-November to March when the sky is clear, and the trail is not too slushy.
10. Golden Valley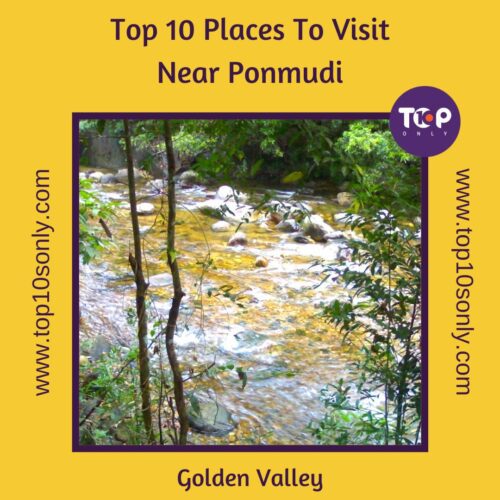 Discover the enchanting Golden Valley, nestled in the heart of Kerala's lush green Ponmudi region. Located just 16km from Ponmudi Bus Station, this idyllic spot is perfect for anyone looking to escape the hustle and bustle of city life and immerse themselves in nature.
Golden Valley's breathtaking beauty lies in its crystal-clear waters, golden sands, and stunning valley views. The valley is named after the golden stones and pebbles that adorn its banks, which add to its picturesque charm. The Kallar River, also known as the "river of stone," flows through the valley and forms a seasonal confluence with a tributary during monsoon season. This makes it an ideal location for a refreshing dip in the stream's cool waters or a trek through the lush forests that surround the valley. Families and friends can enjoy a peaceful ambience and let the children run wild in the meadows, making it an ideal location for a day trip. The District Tourism Promotion Council's modern tourist facilitation centre at Kallar provides recreation facilities and can help organise parties for visitors.
Golden Valley should be at the top of your list if you're looking for Ponmudi fun places to visit. With its stunning valley views, crystal-clear waters, and golden sands, it offers the perfect blend of adventure, nature, and relaxation. Don't miss out on the opportunity to experience the enchanting beauty of Golden Valley. Plan your visit today and indulge in the magic of this incredible destination.
Best Time To Visit Golden Valley
You can plan a trip to Golden Valley in Ponmudi between 6 am and 5 pm.
With its stunning natural beauty and diverse range of attractions, Ponmudi is truly a destination like no other. The top 10 best places to visit in Ponmudi offer visitors a chance to explore some of the most breathtaking landscapes, waterfalls, and wildlife sanctuaries in the world. Whether you're seeking adventure, relaxation, or simply a chance to connect with nature, Ponmudi has it all. From the Peppara Dam and Wildlife Sanctuary to the Golden Valley, every attraction in Ponmudi is a unique experience that promises to leave you awe-inspired. A visit to Ponmudi is an opportunity to immerse yourself in the beauty of nature and escape the hustle and bustle of city life. So what are you waiting for? Book your trip to Ponmudi today and discover the magic of this exquisite natural wonderland.
God's Own Country, Kerala, has plenty of scenic sights and memorable experiences to offer. Check out our Top 10 Best Hill Stations In Kerala, India article to find more exciting places to visit this vacation!
Frequently Asked Questions About Ponmudi
1. What is Ponmudi famous for?
Ponmudi is famous for its beautiful scenic beauty, misty hills, tea gardens, and pleasant climate. The region is popular for trekking, hiking, and birdwatching, and is home to several rare species of flora and fauna.
2. Which is the best time to visit Ponmudi?
The best time to visit Ponmudi is from November to March. During these months, the weather is pleasant, making it ideal for outdoor activities like trekking, hiking, and sightseeing.
3. Which is the highest peak of Ponmudi?
Varayadumotta is the highest peak in Ponmudi, located at an altitude of 1,100 meters above sea level. After Agastyarkoodam and Meesapulimala, it is the third most adventurous trekking spot in South India. It offers breathtaking panoramic views of the surrounding valleys and forests and is a popular destination for trekking and hiking. However, access to the peak is restricted, and visitors require prior permission from the forest department to trek to the summit.
4. What wild animals are found in Ponmudi?
Ponmudi is known to harbor a diverse array of wild animals and birds. Some of the animals found in Ponmudi include Asian elephants, sambar, lion-tailed macaques, leopards. Additionally, the region is also home to several species of birds, including Malabar grey hornbills, Painted Bush Quail, and Nilgiri Pipit, the Broad-tailed Grass Bird among others.
5. How many hairpins are there in Ponmudi?
There are 22 hairpin bends on the road that leads to Ponmudi. The road is narrow, steep and winding and requires a skilled driver to navigate through the hairpin bends safely. However, the scenic beauty along the way is breathtaking, making the drive to Ponmudi an exciting and memorable experience.