Vallavaraiyan Vanthiyadevan was considered an important figure, messenger, warrior, and loyal friend to the Chola Crown Prince Aditha Karikalan. He was also the well-wisher of one of the Greatest Chola Emperors in Tamil history, Rajaraja Cholan. He has also served the Chola empire under Rajendra Cholan. Vanthiyadevan played an important role in the Chola Dynasty; he was the Chief of the Samantas and the husband of Rajaraja Cholan's elder sister Kundavai Pirattiyar. 
List of Top 10 Interesting Facts About Vallavaraiyan Vanthiyadevan
We dug deep into history and scriptures but could not find much information or details about Vallavaraiyan Vanthiyadevan, except an inscription in the Rajarajeshwaram Temple in Thanjavur (Tanjore), Tamil Nadu, that he is the husband of the Chola Princess Kundavai Pirattiyar. In spite of these shortcomings, we've compiled the best list of top 10 interesting facts about Vallavaraiyan Vanthiyadevan based on the information we could gather. 
Vallavaraiyan Vanthiyadevan's Role in the Chola Dynasty
Vallavaraiyan Vandiyadevan played a vital role in the politics of the Chola empire. He primarily helped his friend Rajaraja Cholan expand the Chola footprint and maintain stability throughout his reign. Vandiyadevan lived through his dear friend's death and continued to play a role in the Chola kingdom during the reign of RajaRaja Cholan's son Rajendra Cholan. Vallavaraiyan stayed loyal to the state and the royal family, averting civil war, thereby contributing significantly to the golden age of the Chola empire.
The Lineage of Vallavaraiyan Vanthiyadevan
Vallavaraiyan Vandiyadevan is popularly considered a Prince of the Vana(Bana) dynasty in Tamil Nadu and this reference is in the Ponniyin Selvan books and the movie. Still, no historical evidence connects his family background to the Vana clan. It is also believed that Vandiyadevan could be a part of the Magadai Mandalam. This Tamil kingdom flourished in the 13th and 14th centuries and was situated near the Arangalur village in the Salem district of Tamil Nadu.
Historians dispute that he could have descended from the eastern Chalukyas or the Rashtrakutas. Another point to note is that, during the Chola reign and even before that, intermarriages occurred between different dynasties and South Indian clans, making it even harder to pinpoint his exact origins. Synonymous to numerous other regional leaders of his time, Vandhiyathevan could have been a small leader who acknowledged Chola supremacy and maintained strong connections with them.
As per Tamil evidential history, Vallavaraiyan Vandiyadevan's only reference was that he was the husband of Ilayapiratti Kundavai, and there is no mention of his parents, siblings, or other family or relatives.
Other Names of Vallavaraiyan Vanthiyadevan
Vallavaraiyan Vanthiyadevan is also referred to as Vallavarayan Vandhiyathevan, Vandiyadevan or Vandiya Devan or Vandyadevar.
The Love Story of Vallavaraiyan Vanthiyadevan and Kundavai Pirattiyar
Vallavaraiyan Vandiyadevan's love story with Kundavai Pirattiyar is one of a kind. Though it may not be as dramatic as the depiction in the Ponniyin Selvan books or the movies, it was heartfelt love with a lot of mutual respect for each other.
A little back story: RajaRaja Cholan's mother Vanavan Mahadevi took Sati along with her husband Parantaka (Sundara) Cholan II. Due to this, the young Rajaraja Cholan was left under the care of his elder sister Kundavai. She trained Rajaraja to become one of the most powerful Chola kings. Trusting his sister's choice and his unassailable faith in Vanthiadevan, RajaRaja gladly gave Kundavai's hand in marriage to him.
Kundavai was one of the most powerful princesses of the entire Chola Dynasty. At a time when women were only seen as caretakers, Kundavai was running a country when the men set out to battle other kingdoms. We need to note that it was only during the World Wars, women's empowerment came to the fore in the West, with women taking up work and contributing to the governance of the country while men were away at war. In contrast, even about 1000 years ago, ancient India's Chola kingdom was governed by Kundavai till her younger brother Rajaraja Cholan was trained to handle the throne.
The love between Vallavaraiyan Vanthiyadevan and Kundavai was nothing less than an ideal relationship – where we can see two independent individuals who mutually respected each other, get married and continue to perform their duties to their kingdom- both independently and together.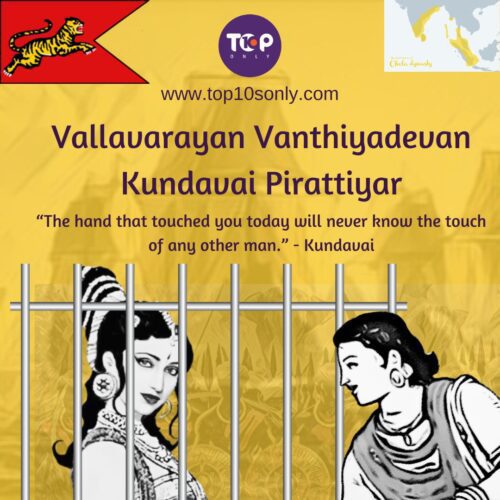 Personal Life of Vallavaraiyan Vanthiyadevan
If you are looking at the varalaru (history) of Vallavarayan Vanthiyadevan, you will find that there is not much information about his personal life other than being married to Kundavai Pirattiyar. As per 'The CōĻas' by K. A. Nilakanta Sastri, Vallaraiyan Vanthiyadevan had two more wives – Indaladevi and Mandaragauravanar Kundadeviyar. But, there is no indication of an offspring with Kundavai or his other two wives. Since there is no recorded history of Vanthiyadevan's immediate successors, it is uncertain whether he had children.
Places Ruled by Vallavaraiyan Vanthiyadevan
As per Nilakanta Sastri, Vanthiyadeven ruled a region which was later called Vallavaraiyar-nadu which is now a part of the Salem district in Tamil Nadu. It is believed that Vanthiyadevan also ruled over Bramadesam, a village in the Villupuram District of Tamil Nadu, where he lived with his other wives, while Kundavi spent most of her time in Palaiyaru, which was the ancient capital of the Chola Dynasty.
References of Vallavaraiyan Vanthiyadevan in Popular Culture
Vallavaraiyan Vanthiyadevan is mentioned in Kalki Krishnamurthy's Ponniyin Selvan. Though Kalki had initially started writing about the actual Vanthiyadevan, during the course of the 5-part book, Vanthiyadevan gains prominence and becomes the main character. Many historians consider the Ponniyin Selvan version of Vanthiyadevan as the brain-child of Kalki, who made him look like a hero, even though he did not have a significant role as per recorded history.
Ponniyin Selvan has also been taken as a movie by one of India's most prominent directors Manirathnam. In the movie, Karthi Shivakumar plays the role of Vallavaraiyan Vanthiyadevan.
Other popular books that mention Vanthiyadevan are 'Vanthiyadevan Vaal' (Sword of Vanthiyadevan) by Vikiraman, 'Vandiyadevan Senai Thalaivan' by Kalki Krishnamurthy, 'The CōĻas' by K. A. Nilakanta Sastri and 'Vallavaraiyan Vandiyadevan' written by Jesse Russell and Ronald Cohn.
Additional References of Vallavaraiyan Vanthiyadevan
Thiruvallam inscriptions reveal a donation of 'Vallavaraya Thevar' to a temple during the rule of Rajendra Chola I near the Brahmanic settlements (known as Brahmadesam) in Thiruvallam in the present day Vellore district. From multiple references, it is possible that Vallavaraiyan Vanthiyadevan was seen as a chieftain of the region.
As per the Sholinghur inscriptions, during Parantaka I's reign, Prithivipathi II, referred as Sembiyan Mahabali Vanarayan, – part of the Vana clan fought valiantly in Vallala (identified as Thiruvallam) and earned the respect of the Cholas. He, however, gave up his territory to the Ganga (people from the Ganges region who were asked to migrate by the Cholas).
The cordial and familial bonds of Vallavaraiyan Vanthiyadevan with the Chola icons Rajaraja & Rajendra might have led to them offering him to rule the same territory, which is probably the reason for speculations of him being part of the Vana clan.
Achievements of Vallavaraiyan Vanthiyadevan
There isn't much evidence that supports Vallavaraiyan Vanthiyadevan's individual achievements. We know he was a chieftain of a region and commander of the army that helped Rajaraja I and Rajendra I conquer and rule Ceylon in their prime.
He was also well-respected as Kundavai's husband and was a strong pillar of support to the father-son duo.
Kalki's novel Ponniyin Selvan portrays him in the limelight, but recorded history shows us that he has always been on the sidelines of these great men who ruled South India and crossed seas to spread their wings beyond the Indian shores.
Death of Vallavaraiyan Vanthiyadevan
As mentioned earlier, there is no historical evidence of the time or age of death of Vallavaraiyan Vanthiyadevan. As per the last reference, he settled in Brahmadesam with his other wives, while Kundavai spent the rest of her life in Palaiyaru.
If you're interested in reading about Chola history, head to our content on the Top 10 Greatest Chola Kings of Ancient India.
Frequently Asked Questions on Vallavaraiyan Vanthiyadevan (FAQs)
Is Vandhiyathevan real or a fictional character?
Vallavaraiyan Vanthiadeven was a real person who lived during the Chola regime. He also appears in the fiction Ponniyin Selvan written by Kalki Krishnamurthy. The role of Vanthiyadevan in the story combines the characteristics of the commander in the Chola empire with Kalki's imagination.
How did Vallavaraiyan Vandiyadevan die? What was the cause of death?
As previously mentioned, there is no historical record of the exact time or age at which Vallavaraiyan Vanthiyadevan died. According to the most recent reference, he took up residence in Brahmadesam with his other wives, while Kundavai lived the remainder of her life in Palaiyaru.
Who is Vanavaraiyan Vallavaraiyan Vandhiyathevan? Why was he called so?
Vallavaraiyan Vandhiyathevan was a commander in the Chola army during the reign of Rajaraja Cholan and Rajendra Cholan. He was referred to as Vallavaraiyan – Vallavan was his name, and Raiyan was a title given to him.
Who is Vallavaraiyan Vandiyadevan's wife?
Vallaraiyan Vanthiyadevan was married to married to Kundavai Pirattiyar, the Chola princess, and daughter of Sundara Cholan. As per history, he also had two additional wives, Indaladevi and Mandaragauravanar Kundadeviyar.
Who is Vanthiyadevan in Ponniyin Selvan?
Karthi Shivakumar plays the role of Vanthiyadevn in the Ponniyin Selvan movie.