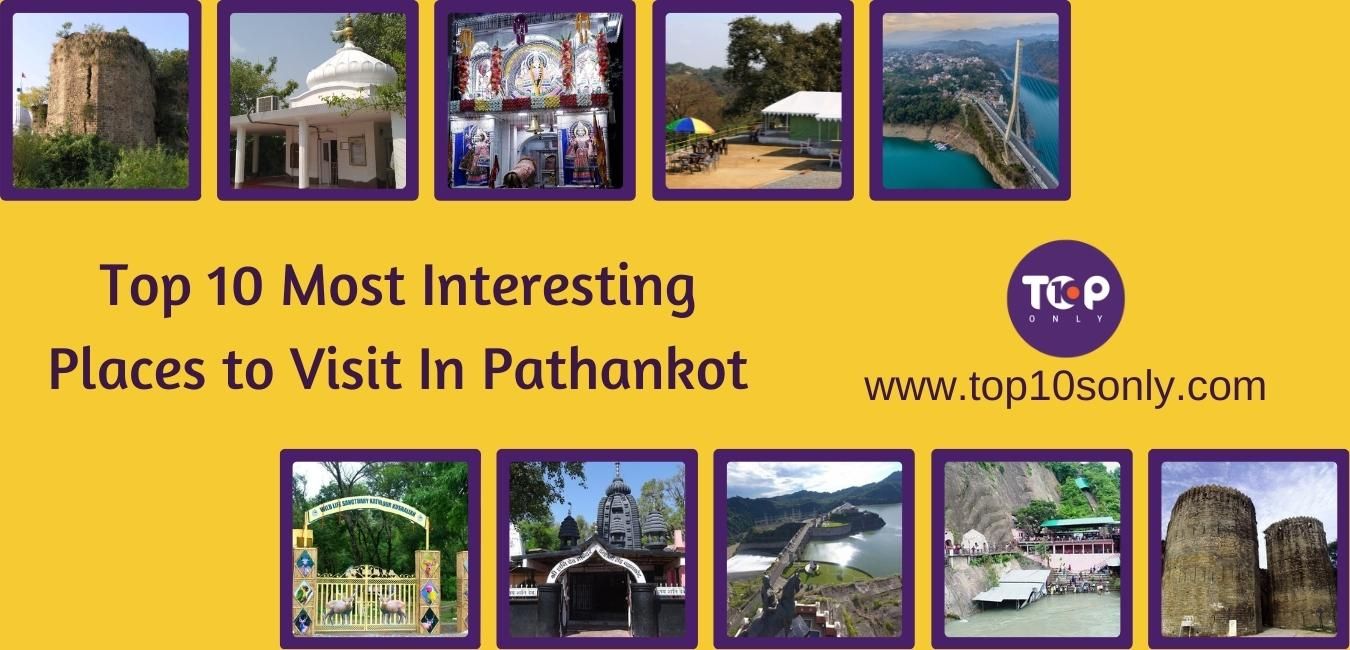 Sometimes, the paths less travelled offer the best adventures. Let's take a look at the city of Pathankot, a place that houses many wonderful sights that are guaranteed to satisfy adventure-seekers.
A Brief Look At Pathankot, India
The city of Pathankot is located in Pathankot District, Punjab. The Chakki River flows close to Pathankot, which itself is located in the foothills of Dalhousie and Kangra. One of the unique aspects of Pathankot is that this place is the meeting point for three Indian states – Punjab, Jammu and Kashmir, and Himachal Pradesh. Pathankot is often chosen as a transit point by tourists travelling to Dharamshala, Dalhousie, Chamba, etc.
From a historical viewpoint, Pathankot is quite significant, as it was once the formal capital of the erstwhile Nurpur Kingdom. Pathankot has had several names in the past, with the most notable ones being Audumbara and Dhameri.
Top 10 Places To Visit In Pathankot
There are several ways to reach Pathankot. The easiest, time-saving method is to catch a flight to Pathankot Airport. The Maharana Pratap Inter State Bus Terminal in Pathankot is the best option for visitors who choose to travel by bus. The nearest station is Pathankot Junction Railway Station for visitors travelling by train.
Pathankot has something for everyone. If you love hearing tales of ancient kingdoms, then there are plenty of historical places in Pathankot that will satisfy your interest. If spectacular nature tours are more up your alley, then there are lots of famous places in Pathankot that offer tourists amazing scenic sights.
1. Mukteshwar Temple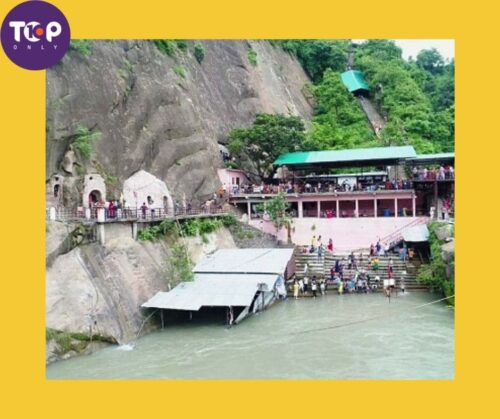 One of the main attractions of Pathankot is the famous Mukteshwar Mahadev Temple, a cave temple located on the banks of the River Ravi. This 5000-year-old cave complex is dedicated to Lord Shiva and is also called Mukesaran Temple.
Legend has it that the Mukteshwar Mahadev Temple was constructed by the Pandavas during their exile, and it is said to have been mentioned in the Mahabharat. Another popular legend associated with this temple is that Lord Shiva killed a demon here, hence granting it Mukti or salvation. This is how the temple gained its name – Mukteshwar, which literally means God of Liberation/Salvation.
The Mukteshwar Temple contains the idols of Vishnu, Hanuman, Ganesha, Mata Parvati and Brahma. Mukteshwar Temple is quite significant as it is considered to be a holy place, especially for those who wish to immerse the ashes of their loved ones. Hence it is also called 'Chota Haridwar'.
Mukteshwar Mahadev Temple is easily accessible as it is only 24 km away from Pathankot Junction railway station. The nearest airport is Pathankot Airport.
2. Nurpur Fort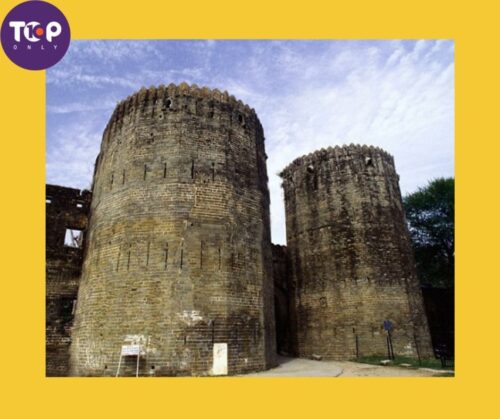 If you are looking for historically-relevant Pathankot tourist spots, look no further than this imposing monument from the erstwhile Nurpur Kingdom. Overlooking the Jabar Khud (a tributary of the Chakki rivulet), Nurpur Fort, which used to be called Dhameri Fort, is one of the main attractions of Pathankot. This ancient monument was once the main seat of the royal family. Nurpur Fort has been destroyed twice, once by the Britishers and then by an earthquake. There is a beautiful temple inside the fort called Brij Raj Swami Temple, believed to have been built in the 16th century, and it is a unique place as Krishna and Meera Bai are both worshipped. Nurpur Fort is open seven days a week, from 9 am to 5 pm. Visit this fascinating spot in Pathankot to experience a slice of a bygone era!
3. Ranjit Sagar Dam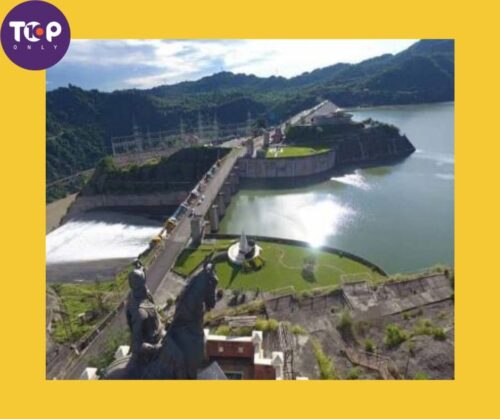 Pathankot is famous for its many tourist spots. One of the major attractions found here is the Ranjit Sagar Dam, also known as Thein Dam. The dam took almost half a century to complete and was formally inaugurated in 2001. This dam is a part of the hydroelectricity project commissioned by the Punjab Government and is believed to be the highest earth core-cum-gravel shell dam in India. Ranjit Sagar Dam has been built on the Ravi river and is used for both irrigation and power generation.
Visitors will need to get permission from the relevant authorities in order to enter the dam. Tourists can opt for boating and enjoy lush green surroundings as it makes a good picnic spot. The areas surrounding Ranjit Sagar Dam are a favourite spot for budding bird-watchers and ornithologists, especially during the migratory season.
4. Shahpurkandi Fort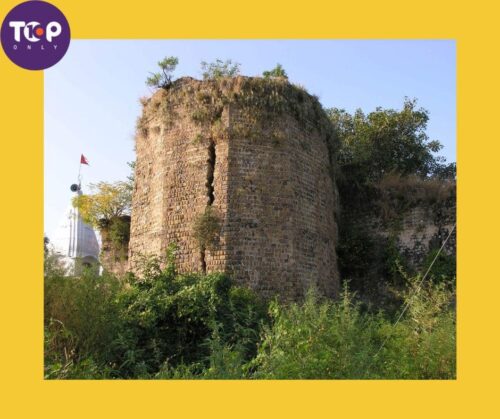 When we talk about Pathankot's tourism, one place instantly comes to mind – The famous 16th-century bastion of the erstwhile Pathania Dynasty of Punjab, Shahpurkandi Fort. Said to have been built in 1505 by King Jaspal Singh Pathania, Shahpurkandi Fort, located in the foothills of the Shiwalik Mountains on the banks of the River Ravi, used to be a strategic military fort during its prime years.
Today, Shahpurkandi Fort is one of the best places to visit in Pathankot, as it is quite picturesque. Tourists can view marvellous views of the city of Pathankot from the top of the fort. Shahpurkandi Fort is easily accessible via road. Visitors to this great monument in Pathankot will need at least two hours to fully enjoy the amazing sights this awe-inspiring fort has to offer.
5. Atal Setu Bridge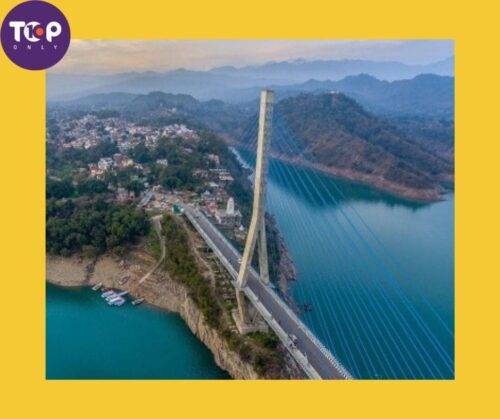 Tourism around Pathankot is quite impressive, just like the 592-metre-long cable-stayed bridge known as Atal Setu, one of the must-see destinations in Pathankot. This bridge was formally inaugurated on December 24, 2015. This is the day prior to the birthday of the former Prime Minister of India, Shri. Atal Bihari Vajpayee, after whom this bridge has been named. The main aim behind the construction of this bridge is to facilitate easier conveyance between the states of Punjab, Himachal Pradesh and Jammu and Kashmir.
For tourists, the Atal Setu Bridge is an amazing architectural wonder that offers a breathtaking view of the river and the surrounding areas. It's quite beautiful at sunset and offers tourists the chance to take some really awesome pics. Atal Setu is around 58 km from Pathankot Airport. It's almost an hour and a half away from the Maharana Pratap Inter State Bus Terminal in Pathankot.
6. Gurudwara Shri Barth Sahib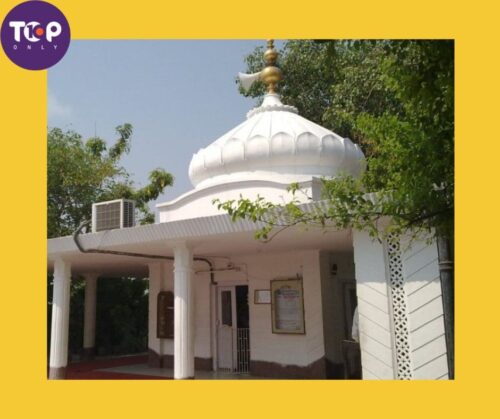 Gurudwara Shri Barth Sahib is very famous in Pathankot. This serene place is also called Gurdwara Tap Asthan Baba Sri Chand Ji, as it was built to commemorate Baba Sri Chand Ji. Baba Sri Chand Ji is the eldest son of Shri Guru Nanak (founder of Sikhism) and is believed to have spent over sixty years meditating in this place. This is why the Gurudwara is called Tap Asthan or a place of meditation.
Visitors to Gurudwara Shri Barth Sahib can see the original structure with very few modifications made. The Gurudwara has a domed top with a tall brass pinnacle. An octagonal pillar called Thamm Sahib bears the inscriptions of Guru Arjun Singh. One of the main highlights of this interesting place in Pathankot is a beri tree (Indian jujube tree) that is believed to have been planted by Baba Shri Chand Ji himself. Visitors are welcome to see Gurudwara Shri Barth Sahib at any time of the day, as this gurudwara is open 24/7.
7. Dhar Nature Retreat and Awareness Camp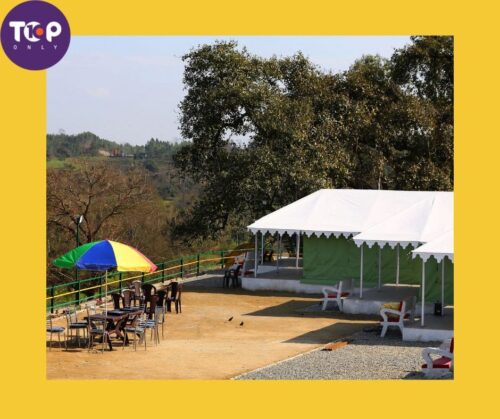 One of the best places at Pathankot is the Dhar Nature Retreat and Awareness Camp. Since its inception, it has turned into a bustling tourist hub. Here, visitors can sit back and relax while enjoying the beautiful lakeside scenery, either alone or with friends and family.
The Dhar Nature Retreat and Awareness Camp is located near Chamrod Village and offers majestic views of the Ranjit Sagar Lake and the Shivalik Hills. Visitors can stay comfortably in any of the eight all-weather tents with attached bathrooms.
This resort offers many attractions to tourists. For hiking enthusiasts, guided tours take tourists through picturesque forest areas. The resort offers plenty of water sports, such as speed boat rides, etc. For thrill-seekers, the resort offers ziplining on a 300-metre double zip line, as well as paragliding and quadbike riding.
8. Ashapurni Mata Mandir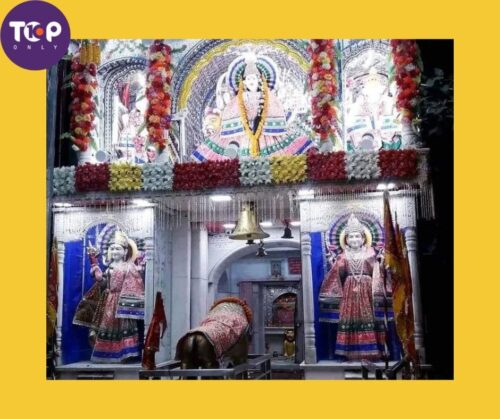 There are plenty of sacred places in Pathankot, giving religious-minded tourists a chance to embrace the divine. One of the most interesting places to visit in Pathankot is the Ashapurni Mata Mandir, one of the oldest temples dedicated to the powerful Goddess Mata Ashapurni. Ashapurni Mata Temple is located right in the heart of Pathankot, near the bustling neighbourhood of Androon Bazar.
For pious devotees, this is the place to go to get one's wishes fulfilled. Ashapurni Mata temple often experiences a huge rush of visitors, more so on Tuesdays. It is open from 5 am in the morning till around 10 pm at night. One of the best times to visit Ashapurni Mata Mandir is during the festival of Navrathri, as it is celebrated with great pomp and ceremony.
9. Kathlour Wildlife Sanctuary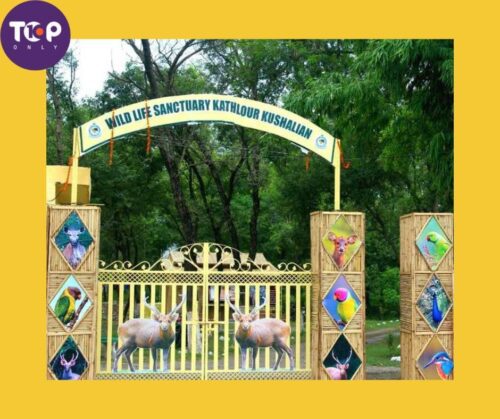 The Kathlour Wildlife Sanctuary, located along the Amritsar-Jammu bypass, is one of the best places near Pathankot. This wildlife sanctuary is quite vast, and it is estimated to be around 1,800 acres or more. To enter, visitors will have to pay a nominal entrance fee.
Visitors to Kathlour Wildlife Sanctuary are in for a treat! This awesome sanctuary is a safe haven for several animals and birds, like deer, pangolins, peacocks, spotted owls, white-humped vultures, etc. Two thirty-foot tall watch towers offer a 360-degree view of the surrounding forests and the river Ravi that flows through it. For nature lovers who don't mind a little exertion, a five-kilometre trekking trail is also there. However, for those who prefer to do sightseeing in comfort, there are multi-seater vehicles that allow small groups of visitors to experience all the great sights that the Kathlour Wildlife Sanctuary has to offer.
10. Shri Shani Dev Mandir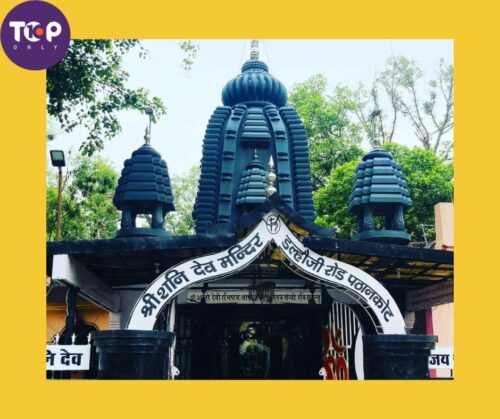 One place that should not be missed is Pathankot's famous Shri Shani Dev Mandir. This temple can be found on Dalhousie Road in Pathankot city. Dedicated to the worship of Lord Shani, this temple witnesses a huge rush even on weekdays, as the presiding deity is believed to help the devotees recover from various ailments and other miseries. A popular belief associated with Shri Shani Dev Mandir is that devotees get their wish fulfilled when they tie a sacred thread (mouli) on any of the pillars in the temple. The temple is open from 5 am to 12 pm and 4 pm to 9 pm.
Pathankot is a fast-rising tourist spot, and we hope our article about Pathankot's famous places will help when you decide to visit this incredible place.
Looking for more places to visit? Read about the Top Ten Must-See Places In Shirdi For Sai Baba Devotees!