Looking for an off-the-beaten-path destination in South India? Look no further than Karnataka, a state that's often overlooked by travellers in favour of more well-known spots like Goa and Kerala. But if you're willing to venture a little further, you'll discover a wealth of hidden gems in Karnataka that are just waiting to be explored.
Whether you're a nature lover or a history buff, there's something for everyone in Karnataka. From stunning waterfalls to majestic mountains and ancient historical sites, the state is brimming with natural beauty and cultural wonders that will leave you in awe.
Here is a list of the Top 10 Best Hills In Karnataka For A One Day Adventure Trip that will leave you mesmerized with their natural beauty and offer a thrilling experience to adventure enthusiasts.
List of Top 10 Best Hills In Karnataka For A One-Day Adventure Trip
If you are looking to get some fresh mountain air and rejuvenate your senses, Karnataka is a place which is not going to disappoint you. Some of the best charming hill stations in India can be found in Karnataka. These offer exotic wildlife, dense forests, natural beauty and a climate that is pleasant that makes you get the best experience of thrill and adventure. Additionally, the green cities are gaining a boost in tourism, and that means you get the good facilities needed to plan for Karnataka's most scenic one-day hill trips. So, without further ado, here are the top 10 breathtakingly beautiful hills in Karnataka.
1. Mullayanagiri Hills – Chikkamagaluru District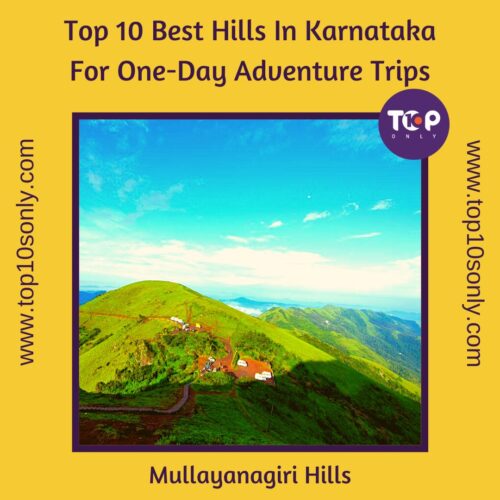 The Mullayangiri hills are the highest peak in Karnataka and are located about 20 km from Chikamagalur. At an altitude of 1950 m, it is one of the top 10 hills to visit for adventure in Karnataka, with many interesting trails. The route for trekking begins from a place called Sarpadaari and is a moderate-level trek of about 3km. The hill is fairly steep and takes nearly 1.5 hours to reach the summit. There is also direct road access closer to the peak with a less than 1 km trek.
Sights to see In Mullayanagiri Hills
Manikha Dhara Falls, Nandi statue, cave and water source, Baba Buddangiri and Deviramma temple.
Activities to do In Mullayanagiri Hills
Trekking, mountain biking and road biking are popular activities indulged by tourists to Mullayanagiri Hills.
Interesting Facts About Mullayanagiri Hills
The peak got its name because of the small temple present at the peak. It is said that it goes its name as Mulappa Swamy, a sage who meditated here and thus got the name. There are many versions of this deity, and the information is ambiguous. Another interesting fact is that camping and cooking are allowed, and you can get help from Temple authorities.
How to reach Mullayanagiri Hills
One can reach Chikmagalur by road using public transport or a car. If you are travelling by car, take the road via SH 57 and then get onto Mullayangiri Road. The other option is to take the train from cities like Bangalore, Mysore and Shivamogga.
Best Time To Visit Mullayanagiri Hills
To enjoy the Mullayangiri Hills trek to the fullest, choose the time between September and February, as the weather is most conducive during this time. Also, note that there are no shops available, so take water and food.
2. Kyatanamakki Hills – Chikkamagaluru District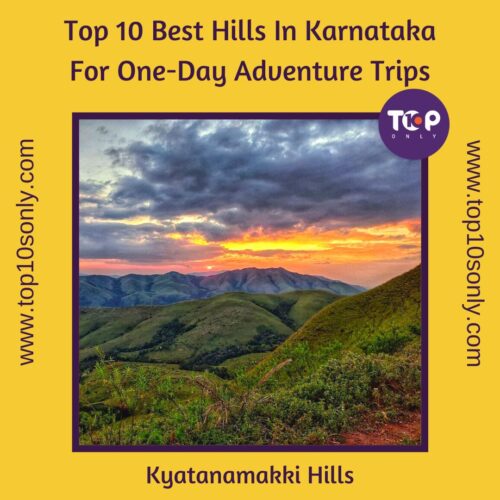 Kyatanamakki is one of the top unexplored hill stations near Chikamagalur and is one of the best one-day hill treks in Karnataka. It is located near Hornadu, Chikamagalut district and is a 4×4 offroad route from the base to the hilltop. The Kyatanmakki hills offer undulating mounds of overlapping hills with magnificent views. It has dense forests and gorgeous valleys, and the muddy trail gives you a thrilling experience. At the end of it, you will get to see a secluded but panoramic vista that is untouched and pristine.
Sights to see In Kyatanamakki Hills
Scenic views of the forests, valleys and juxtaposed hills are some of the awesome sights to see while touring Kyatanamakki Hills in Karnataka.
Activities to do In Kyatanamakki Hills
At Kyatanamakki Hills, tourists can participate in offroading activities that are commonplace at sunrise or sunset points.
Interesting Facts About Kyatanamakki Hills
Kyatanamakki Hills is also known as Gaaligudda because of the breeze that is there at the peak of the hill.
How to reach Kyatanamakki Hills
To reach Kyatanamakki hills, reach Horanadu, which is at a distance of 75 km from Sringeri. There are direct buses to Hornadu from many leading cities, including Bangalore. If the train is your preferred mode of transport, the Udupi railway station is the nearest. Take a local bus that is available daily to this place.
Best Time To Visit Kyatanamakki Hills
The best time to visit is after the monsoon when there is great greenery around. October to February is the best time because it gets hot during the summer, and the green hills turn brown due to the hot weather. The rainy season (June to September) is the least recommended time as it receives heavy rainfall and is extremely slippery.
3. Pushpagiri Hill – Kodagu District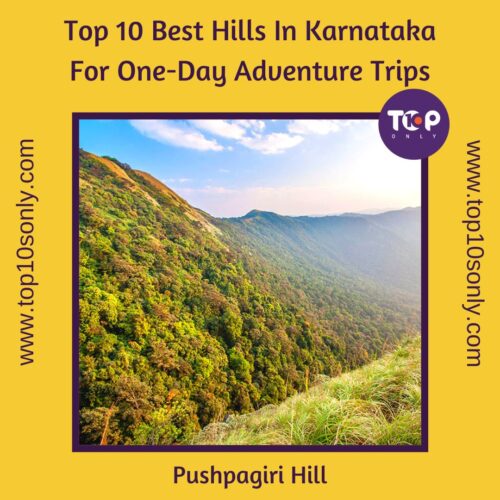 Pushpagiri is among the highest peaks in the Western Ghats of Karnataka and the second highest in Coorg, and it is 70km from Madikeri. It is a mountain peak that is among Karnataka's most scenic one-day hill trips. It is surrounded by mountains on all sides and is a trekker's paradise. Trekkers need to register at the checkpoint at the start of the trek, and it is recommended that they hire a guide for a good trekking experience. From the base to the peak, it takes about 4 hours and is about 7km. One has to trek through dense forest and rocky terrain, which is a moderate to difficult trek.
Sights to see In Pushpagiri Hill
Kodagu District is one of the most scenic places in Karnataka. At Pushpagiri, travellers can visit forests that are lush green, valleys and beautiful hills. The River Jarangi starts from the top of the hill.
Activities to do In Pushpagiri Hill
Pushpagiri Hill is a haven for adventure enthusiasts. Camping, hiking, and trekking are some of the most popular activities that can be enjoyed here. So, travel to this place and take in the scenic beauty of Pushpagiri. Trekking enthusiasts need to be prepared while travelling to this scenic hill in Karnataka. Get a head start by reading about the latest Top 10 Best Must-Have Travel Gadgets For Trekking!
Interesting Facts About Pushpagiri Hill
Pushpagiri Hill is popularly known as KumaraParvatha. The place has a lot of leaches, and one has to take the necessary medications and salt to get rid of them. Always carry a rain jacket as it rains most of the time at the peak.
How to reach Pushpagiri Hill
To reach Pushpagiri Hills, you can choose to drive or take the KSRTC bus to either Coorg or Somvarpet. You can take local buses to ply and get down at Heggadamane. A 2km walk takes you to the checkpost from where the trek starts.
Best Time To Visit Pushpagiri Hills
October through February is the best time to trek. Avid trekkers do it throughout the year but the safest time is to do it during the non-rainy season.
4. Baba Budan Giri – Chikkamagaluru District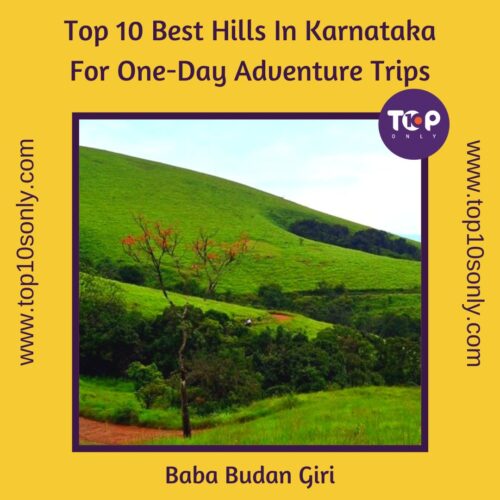 Baba Budan Giri is 36 km from Chikmagalur and is a peak in the Baba Budan range. Located at 1895 m altitude, it is one of the best single-day adventure trips to Karnataka's hill stations. The Baba Budangiri and Mullayangiri tangs are known as the Chandra Drona range as they have a natural crescent shape. There are two places where you can start the trek, one from Sarpadhair and the other from Attingudi. Take any of the routes to reach the Mullayangiri and then Baba Budangiri.
Sights to see In Baba Budan Giri
Travellers can see Baba Budangiri Temple, ancient cave exploration trails, Blade Ridge, and the temple of Deviramma Betta. At a short distance from the hill, there are three waterfalls, namely the Nellikayi, Kamana and Gada Theertha. As per mythology, one of the Pandavas, Bhima, created the Gada Theertha using his Gada to quench his mother's thirst.
Activities to do In Baba Budan Giri
If you are visiting Baba Budan Giri, try spotting wildlife, photography, camping and hiking. Make sure to pack correctly, as this is quite an adventurous place to visit. Check out our Top 10 Best Travel Gadgets You Need On An Adventure Holiday for more info.
Interesting Facts About Baba Budan Giri
There is an interesting story attached to the name of the mountain. Baba Budan was a Sufi Saint of the 17th century who came to India to preach the message of peace and Islam. He started staying here, and thus the mountain got its name. He also introduced Coffee by getting coffee beans from Mocha, Yemen. The shrine located in Baba Budan Giri is important for both Muslims and Hindus. At a short distance from the Dargah, there is a Dattatreya cave where Dattatreya Swami resided.
How to reach Baba Budan Giri
You can reach Chikmagalur via car, bus or train. Then take a bus from Chikmaglur to Baba Budangiri. You can also choose to take a shared jeep that leaves for the base camp for the trek.
Best Time To Visit Baba Budan Giri
The best time to visit this place is between March and April, as it is the flowering season. The trek route, however, is open all year except from mid-June to the end of July due to monsoons.
5. Kundadri Hills – Shimoga District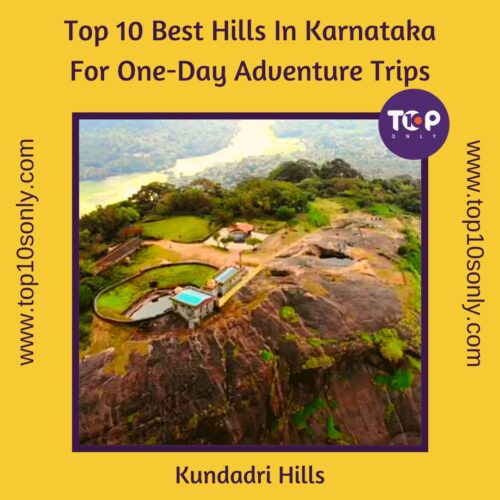 Kundadri Hills is one of the most beautiful hilltops located in the Agumbe forest ranges. It is at a distance of about 90 km from Shimoga and about 18 km from Agumbe. It is at a level of 3,200 feet above sea level and is one of the least disturbed and crowded hills in Karnataka. The trek to Kundadri takes you through some dense forests and offers spectacular views. It is one of the best hills near Bangalore for a one-day adventure trip. Camping is also a great choice at these hills, as you can get a beautiful view of the sunrise and sunset from this point.
Sights to see In Kundadri Hills
Kundadri Hill is famous for its Jain temple, two natural ponds, and awesome scenic beauty.
Activities to do In Kundadri Hills
If you enjoy trekking, camping and watching sunrise and sunset, Kundadri Hills is the place to be.
Interesting Facts About Kundadri Hills
The Jain temple at the summit is known to have been the residence of Kundakunda Acharya thousands of years ago. It is said that he did penance in this place and hence a holy site for Jains. This temple becomes crowded during Mahavir Jayanthi.
How to reach Kundadri Hills
The Kundadri Hills are in the Shimoga region and are thus well-connected. You can drive or use the roadways or the railways to reach Shimoga. To reach the hill, you can hire local transits that are frequently available at the base of the hill.
Best Time To Visit Kundadri Hills
This is one of those hills that can be visited throughout the year. If you are spiritually included, then visit it during Mahavir Jayanthi.
6. Vindhyagiri And Chandragiri – Hassan District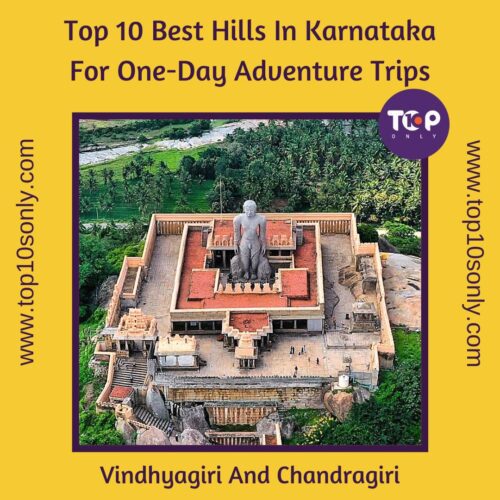 Shravanabelagola is one of the most famous tourist destinations in Karnataka. It is located in Hassan district and is one of the important Jain pilgrimage centres. There are two hills in Shravanabelagola, and these towering peaks provide breathtaking views. It has lush flora and a pristine landscape. The Chandragiri Hills are the smaller of the two hills but have fourteen temples that are important to Jains. The famous Bahubali statue is on the Vindhyagiri hills. You have to climb the stairs of 620 steps to reach the Gomateshwara temple. A climb of a few hundred steps will get you to the Chandragiri hills and is one of the ideal one-day outings in Karnataka for a family of varying age groups. 
Sights to see In Vindhyagiri And Chandragiri
Gomateshwara/ Bahubali temple, 14 Jain Basdis or temple, water pond between the two hills.
Activities to do In Vindhyagiri And Chandragiri
Vindhyagiri And Chandragiri are ideal destinations for travellers seeking out the Divine. In fact, Shravanabelagola is often teeming with spiritually-minded tourists. And, if you are looking for more such destinations, take a look at our Top 10 Best Temple Hills Near Bangalore In Karnataka For A Day Trip article!
Interesting Facts About Vindhyagiri And Chandragiri
It is said that Chandragupta Maurya and his mentor Bhadrababu Acharya visited this hill during 300 B.C. They meditated and attained salvation on this hill and are hence believed to have got the name of Chandragiri. It also has many sculptures built in memory of many Jain monks who came and spent considerable time in meditation.
How to reach Vindhyagiri And Chandragiri
Hassan is the nearest city to Shravanabelagola and is only 50 km away. This city is well-connected by rail as well as road. You can take a bus from the city, drive or hire a taxi to these hills from Hassan.
Best Time To Visit Vindhyagiri And Chandragiri
This place can be visited throughout the year, barring the rainy season. If you are visiting this place during summer, visit this before it gets too hot as the steps become hot and unbearable to walk barefoot. For those who cannot climb the stairs, there is a special palanquin service. Disabled or elderly can avail of this service.
7. Kopatty Hills – Coorg District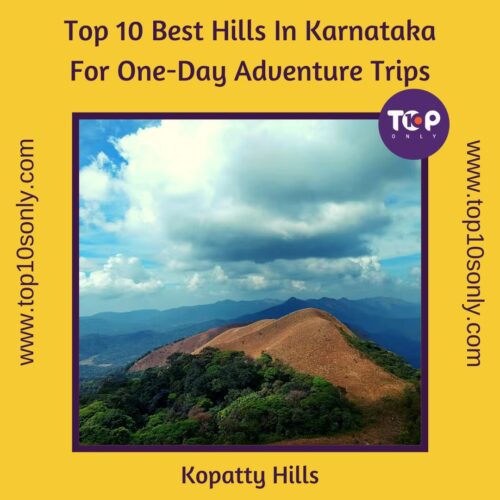 Kopatty Hills is located close to Madikeri and is about 10 km from Bhagamandala. These hills are part of the Talacauvery hill ranges and are one of the least famous trekking destinations but a must-include as a one-day outing in Karnataka for couples. The Kopatty hills are at an altitude of 4300 feet and are amidst varied flora and have unbeatable serenity, and are away from the city's hustle and bustle. It is one of the best treks, with endless tropical trails that pass through dense forests, valleys and meadows. The trek to Kotappy Hills takes about 10 hours to complete and has a damp passage with a moderate incline. Once you reach the top, you get a complete view of the Western Ghats.
Sights to see in Kopatty Hills
Dark and dense forest, streams, and a view of the Mandalpatti plateaus are some of the mindblowing sights that can be seen while visiting this beautiful hill in Karnataka.
Activities to do In Kopatty Hills
Trekking, hiking and sightseeing are some of the most popular things to do while touring Kopatty Hills.
Interesting Facts About Kopatty Hills
Coorg, the Scotland of India, is one of the most popular destinations to chill and also indulge in the wines and the local cuisine. Kopatty is a small village near Bhagamandala town and is one of the one-day adventure trips to Karnataka's lesser-known hill stations.
How to reach Kopatty Hills
Kopatty Hills is well-connected by rail and roadways. Many local transits from Kopatty Hills make reaching the base simple for everyone coming from any location.
Best Time To Visit Kopatty Hills
The best time to visit Kopatty Hills is from October to February when it is misty, and you can get to see the beauty of this hill to its fullest.
8. Mandalpatti Peak – Madikeri District
Located close to Madikeri city, the Mandalpatti Peak is one of the most famous hilltops in Karnataka. The place is a combination of great landscapes and valleys and is ideal for those who want to indulge in a little trekking expedition with family or friends. It is a part of the forest reserve of Pushpagiri and is at an elevation of 4050 feet. This is one of the best one-day hill station tours in Karnataka for nature lovers, as the panoramic view will force you to fall in love with this place. This is a great place for those looking for a relaxing and soothing environment and is worthy of your efforts to reach the top.
Sights to see In Mandalpatti Peak
Abbey Falls, valleys, streams, landscape, diverse flora, and fauna are the must-see sights to be viewed while visiting Mandalpatti Peak.
Activities to do In Mandalpatti Peak
Trekking, nature sightseeing, jeep ride, and overnight camping are just some of the unfilled activities that can be pursued while staying near Mandalpatti Peak.
Interesting Facts About Mandalpatti Peak
While it makes it to the list of best trekking places in Karnataka, it is recommended that you do not miss out on the experience of riding on the 4*4 jeep riding. Locals call it Mugilu Pete, or the market of clouds, for the misty environment it has for most of the year.
How to reach Mandalpatti Peak
Madikeri has a good network of rail and road. So you can either drive, take a bus or a train. Once you reach Madikeri, you can then take local transport to reach the exact location.
Best Time To Visit Mandalpatti Peak
The best time to visit this peak is between November and January, when the entire area is misty.
9. Yana – Uttara Kannada District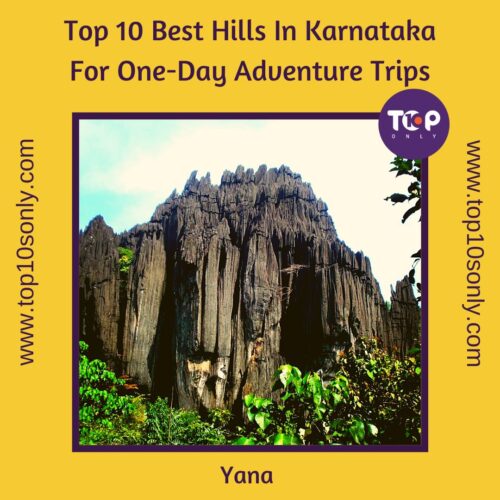 Yana Caves, located in the Uttara Kannada district near the town of Kumta, is a marvel of nature. It is a mysterious and alluring cave that is formed from the Karst limestone and is pitch black in colour. The Yana caves are in the centre of the Kumta forest, and the rocks stand 390 feet high. These huge rocks have two peaks, the Mohini Shikara and the Bhairaveshwara Shikara, the tallest among the two. The trek to the Top 10 Karnataka hill stations for adventure lovers offers delightful views of Yana and the lush green forest against the contrast of black caves. The rock formation is unique, and the area around it is complete with waterfalls and mountains. The beautiful structure is awe-inspiring and a thrilling experience.
Sights to see in Yana
In Yana, the most popular destinations are Lord Shiva Temple, with water dripping continuously on the idol, Bairaveshwara caves, and Vibhooti waterfalls.
Activities to do In Yana
Trekking, nature sightseeing, and overnight camping are the most popular activities that tourists indulge in while visiting the scenic destination of Yana.
Interesting Facts About Yana
As per Hindu mythology, there was Bhasmasura a demon king who made Lord Shiva happy. So Shiva granted Bhasmsura the blessing to ask for a boon. The demon king asked Lord Shiva to give him a boon where people burn into ashes when his hand is placed. The first test subject, unfortunately, was Shiva himself. To protect Shiva, Lord Vishnu took Mohini's avatar. Bhasmasura was infatuated with Mohini and asked her to marry him. But Mohini challenged him to a dance contest where there were steps which had him putting his hand over his head. Bhasmasura took the challenge and, without realizing his folly, put his hand on his head and immediately was burnt. The resulting fire and ash are believed to be the reason why Yana Hill is black.
How to reach Yana
Yana is about 25 Km from Kumta. Many local buses go towards Yana. Alternatively, you can drive to Sundholle, which is about 35 km from Sirsi. The caves are a 3km trek from this place.
Best Time To Visit Mandalpatti Peak
It is one of the most scenic hill stations in Karnataka for one-day trips. If you want to see the full glory of the forests, visit this place during the monsoon. However, it can be quite rainy. Winter is the best time to visit as it offers the best views. Avoid going in the summer as it is hot, and the humidity makes the trek difficult.
10. Kote Betta – Madikeri District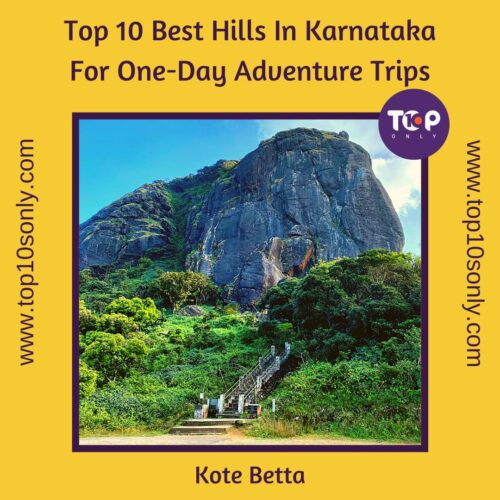 Kote Betta is a mountain peak that is about 50 km from Madikeri and 33 km from Somwarpet. It is one of the highest peaks in Coorg and stands at 5,400 feet above sea level. The words' Kote Betta' means Fort Hill and is called so because it looks like a fort. The jungle trek is a classic one as it passes through many terrains. The trek is moderately difficult, and the peak is at a 10 km distance from the base. The trail passes through green hills, coffee plantations, dense forests, and open plains and is one of the most breathtakingly breathtaking hill stations in Karnataka. At the peak, there is ample shade to enjoy the view of the mountain, the glistening blue sky, and the gorgeous forests.
Sights to see In Kote Betta
Visitors to Kote Betta can see the Hatti Hole Bridge, Shiva Temple, Eco Valley, and Mallali Falls.
Activities to do In Kote Betta
Kote Betta offers many activities. Trekking, taking in scenic beauty, photography, and overnight camping, where there's always a chance of catching a precious glimpse of the wildlife.
Interesting Facts About Kote Betta
As per mythology, it is said that Pandavas spent a significant amount of time in their exile in this place and has great significance.
How to reach Kote Betta
The best way to reach this place is by bus or driving car. You take a KSRTC bus from your city to Madikeri. Local buses ply from Madikeri to Somwarpet, which is the base for Kote Betta.
Best Time To Visit Kote Betta
November through February is the best time to visit Kote Betta.
Conclusion
Karnataka is blessed with immense beauty. It is not only the home to temples, beaches, and wildlife but also lofty mountains that are sure to allure adventure seekers and nature enthusiasts. Away from the bustle, these day-long hill excursions in Karnataka are for thrill-seekers for a family vacation or a solo trip. The adventurous paths and the mesmerizing scenery will make you fall in love with these places. So which of the above are you travelling to? Let us know!
Still wondering which destinations in Karnataka to visit this vacation? Check out our Top 10 Best Places To Visit In And Around Agumbe Hill Station, Karnataka article!
Frequently Asked Questions About One Day Adventure Trips To Hills In Karnataka
1. Which hills in Karnataka would be best for a day trip?
There are quite a few hills in Karnataka that would be ideal for one day trips, either alone, or with family and friends. Kopatty Hills in Coorg District, Mandalpatti Peak in Madikeri District, Pushpagiri Hill in Kodagu District, Mullayanagiri Hills in Chikkamagaluru District, etc. are just few of the one-day trip hills in Karnataka. Read more about these wonderful places in the article on this page!
2. What is a one day tourist?
One day tourist refers to a traveller who aims to make a journey to a popular destination and back home within the span of a day. It requires quite a lot of planning and we recommend reading up about the intended destination so as to make effective use of the limited time.
3. Which is the biggest hill in Karnataka?
Karnataka is home to many scenic hills. The biggest hill in Karnataka is believed to be Mullayanagiri Hill, located in the Chikkamagaluru District. Our article has provided many details about this famous hill in Karnataka and it might be prudent to read it before travelling to see this spot.
4. How do I plan a one day trip to Karnataka hills?
To plan a one-day trip to Karnataka hills, start by choosing a specific destination like Kyatanamakki Hills or Kundadri Hills. Research the attractions and activities available there. Determine your mode of transportation and create an itinerary, ensuring to allocate time for travel, sightseeing, and meals. Pack essentials and set off early to maximize your day.
5. Which is the Switzerland of Karnataka?
Without a doubt, Mullayanagiri Hill, located in the Chikkamagaluru District has been called Switzerland of Karnataka as it is one of the most beautiful places ever seen.